Flash Photography Techniques
Bouncing your flash ~ On-camera flash outdoors ~ Exposure metering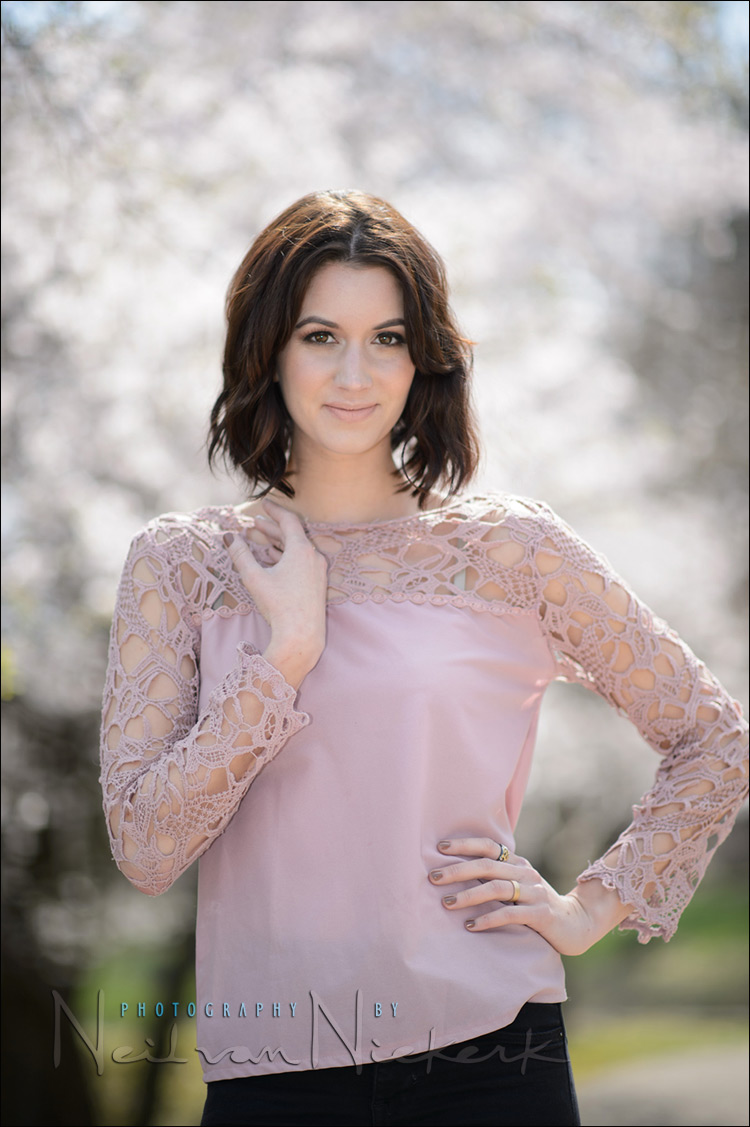 Using on-camera flash outdoors
Speaking very broadly, there are two ways of using on-camera flash outside – either as:
– a slight fill-flash, or as
– a brute light source to lift the shadow areas of a subject to the same level as the sunlit areas.
Of course, in between that, there is a wide spectrum of possibilities, but for simplicity of explanation, we will concentrate here on those two scenarios.
Metering correctly for ambient light is key here. It is important that you understand how shutter speed, aperture and ISO inter-relate. Then it becomes as simple as juggling the three inter-dependent controls – shutter speed, aperture and iso- and adding flash. TTL is most likely the easiest initially.
Here are our options with outdoor portrait lighting: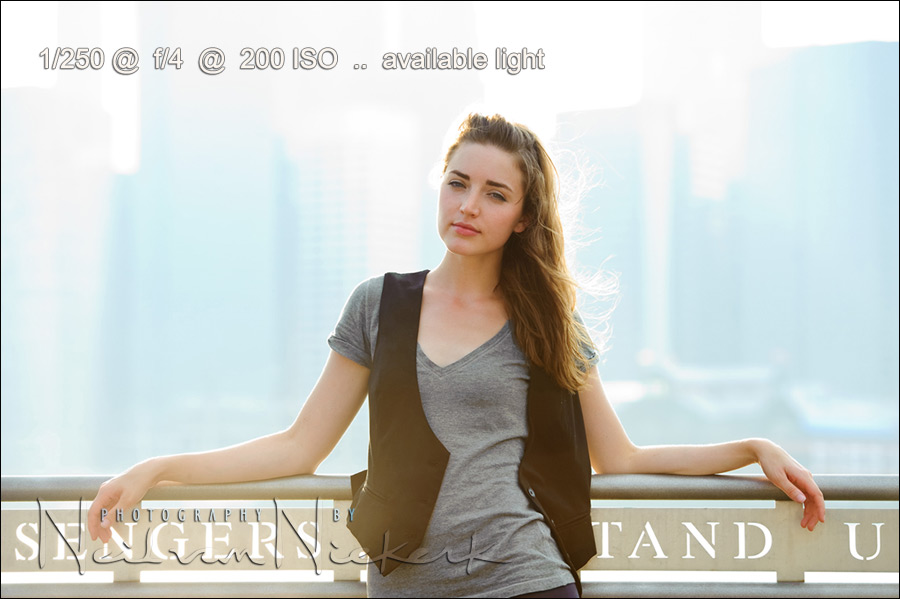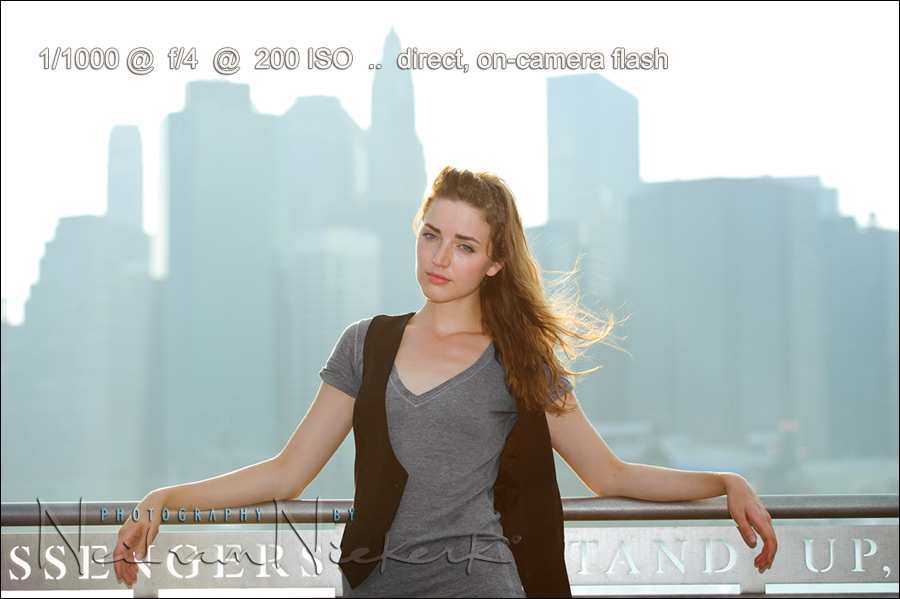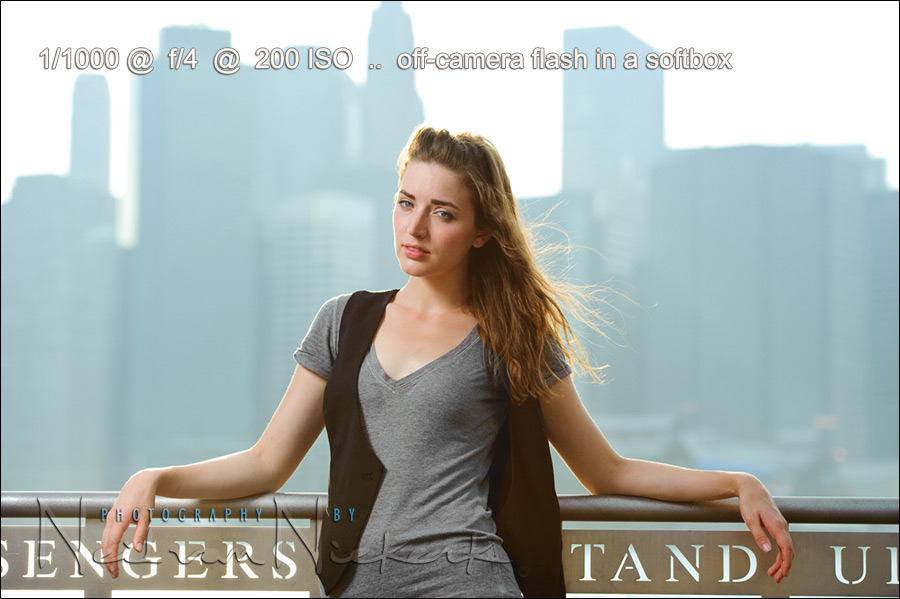 There, in a nutshell, we have three of our options when photographing portraits outside in bright light.
If I am limited and can't use additional lighting, then the simplest is to have my subjects turn their back to the sun (or bright light). This way there is no squinting, and there is usually nice open light on my subject. It's a very good work-around.
If I need to balance the exposure for my subject and the background, then I need to use additional lighting. Direct, on-camera flash does the job … but doesn't look as good as the off-camera light which gives us directional light.
So, where possible, I will go for Off-Camera Flash (preferably diffused). But, in a pinch, direct on-camera flash might have to do. And this is what we are going to look at with the example images in this tutorial:
---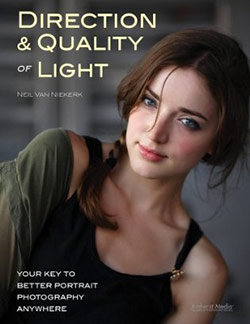 Direction & Quality of Light
I wanted to distill the essence of what we, as photographers, work with – light! Before we can truly grasp on-camera flash and off-camera flash, and really, any kind of photography, we have to be aware of the direction and quality of light. We need to observe the light that we have, and then decide how best to use it, or enhance it.
With this book, I try my best to share those "aha!" moments with you, and I do believe this book can make a difference to your photography.
The book is available on Amazon USA and Amazon UK, or can be ordered through Barnes & Nobles and other bookstores. The book is also available on the Apple iBook Store, as well as Amazon Kindle.
---
A.)  On-camera fill-flash
The following photos are really simple in their execution. I metered correctly for the available light on my subject, Adrienne, and then shot with flash straight on – but my flash exposure compensation was dialed down.
The idea here is to just use the flash to lift the shadows, and avoid shadows under the subject's eyebrows. The flash should ideally be imperceptible, and is really only used as fill-light.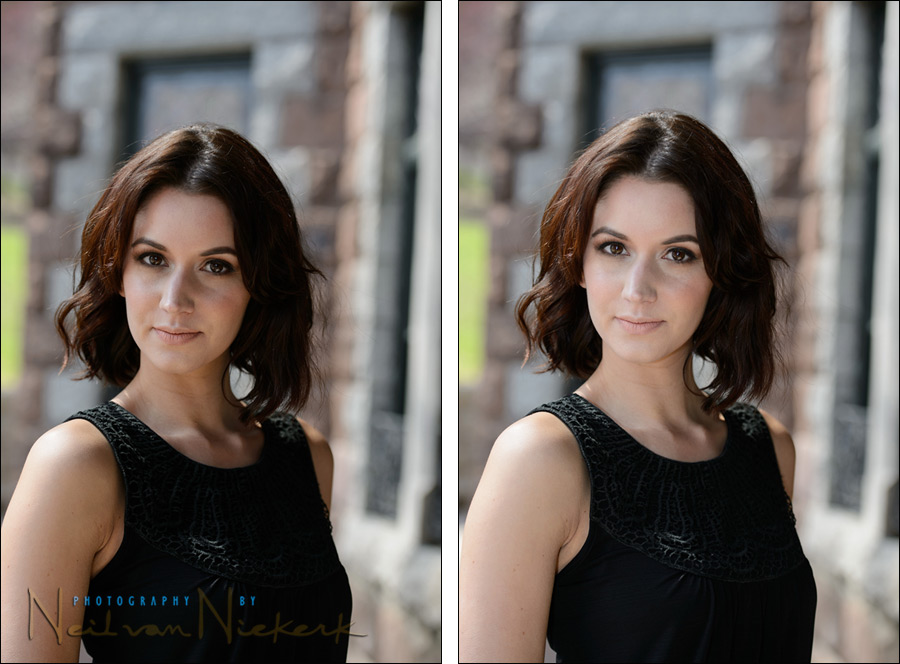 Fill-flash will help you control the contrast in your scenes and on your subjects. When doing so it's important to maintain a good relationship between the ambient light and the flash. If you do so, the image could look quite natural — almost as if flash was not used at all.
Here I used a bit of fill-flash at -1 FEC. I could've used other settings for the flash exposure compensation (FEC) as well. Check this article – On-camera TTL fill-flash – for further detailed explanation with examples.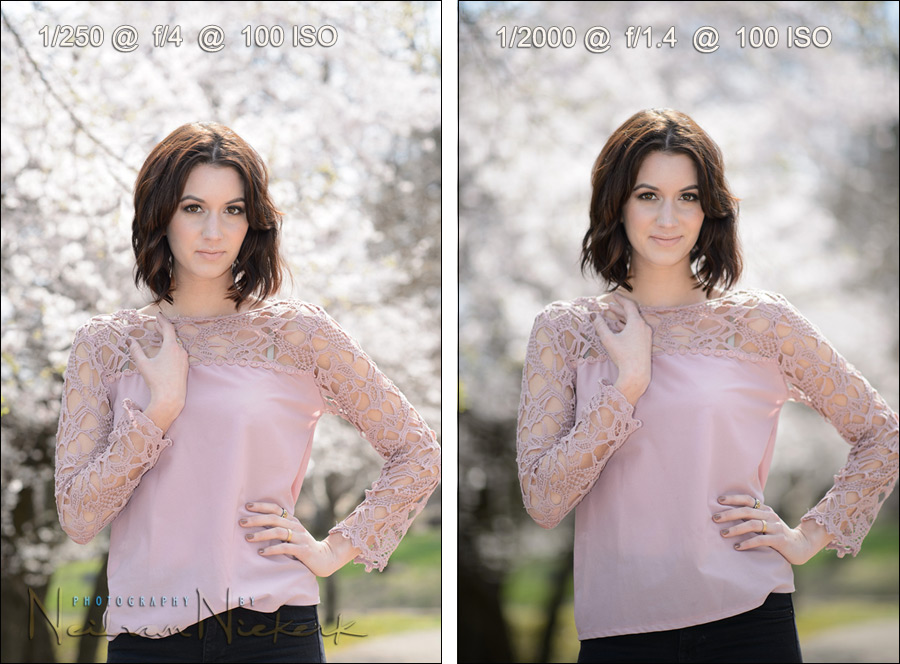 With the left-hand image, I used maximum flash sync speed. There's a specific reason for that, which is explained in that linked tutorial. For the right-hand image, I went into high-speed flash sync (HSS) to get that shallow depth-of-field.
But images had direct, on-camera flash as fill light. I don't often use a diffuser of any kind when I shoot outside with direct flash (as fill flash). The reason is that we only get softer light by creating a much larger light source. Using a generic light modifier on the front of the flash does not create a larger light source. It is therefore just simpler to use the flash directly—straight-on and without a diffuser — and dial my flash compensation down. Very often I work around -2 or -3 EV compensation on my flash.
If you prefer to use a small softbox on your flash, then it will definitely help in minimizing that hard flash shadow on your subject. Here you have to balance the need to work with less cumbersome gear, or have a (possibly incremental) change in how flattering the light of your flash appears.
---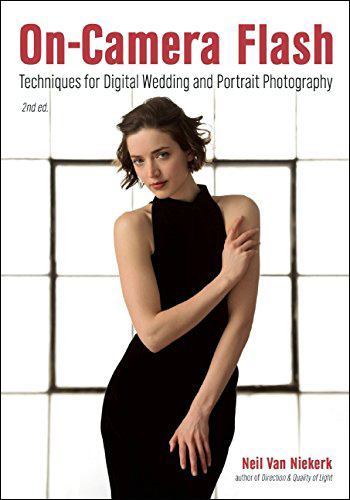 On-Camera Flash Photography – revised edition
This book is explains a cohesive and thorough approach to getting the best from your on-camera speedlight.
Particular care was taken to present it all with a logical flow that will help any photographer attain a better understanding of flash photography.
You can either purchase a copy via Amazon USA and Amazon UK, or can be ordered through Barnes & Nobles and other bookstores. The book is also available on the Apple iBook Store, as well as Amazon Kindle. Also check out the Amazon Kindle store.
Learn more about how the cover image was shot.
---
B.)  On-camera flash outdoors, as main source of light
With the examples above, we used subtle fill-flash, so the flash, even though direct and un-diffused, wouldn't be all that noticeable. But we often find ourselves in situations where we have to rely on direct on-camera flash outdoors.
Let's look at another example. Here I purposely positioned Adrienne part-way under an arch of this building, so that the light is uneven on her. No splashes of sunshine on her, just uneven and unflattering light on her face.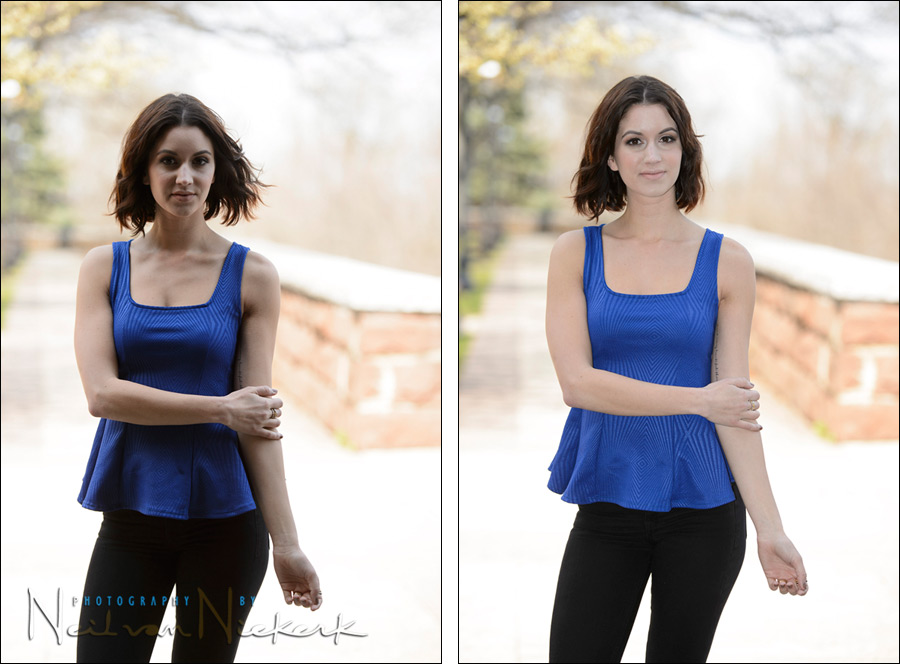 Direct, on-camera fill-flash immediately improves how this simple portait looks. Here I used direct on-camera flash without diffusion. A small softbox on the flash would've been helpful here in minimizing the shadow of the flash, but as it is, even direct fill-flash helps considerably in improving the photo.
In this specific scenario, the most important setting was the shutter speed of 1/250 second (the maximum flash-sync speed for this specific camera). The other two settings, ISO and aperture, hinged on the choice of shutter speed, taking the ambient light into account. The reason for this is that I was working in bright conditions and wanted the most efficient use of my flash.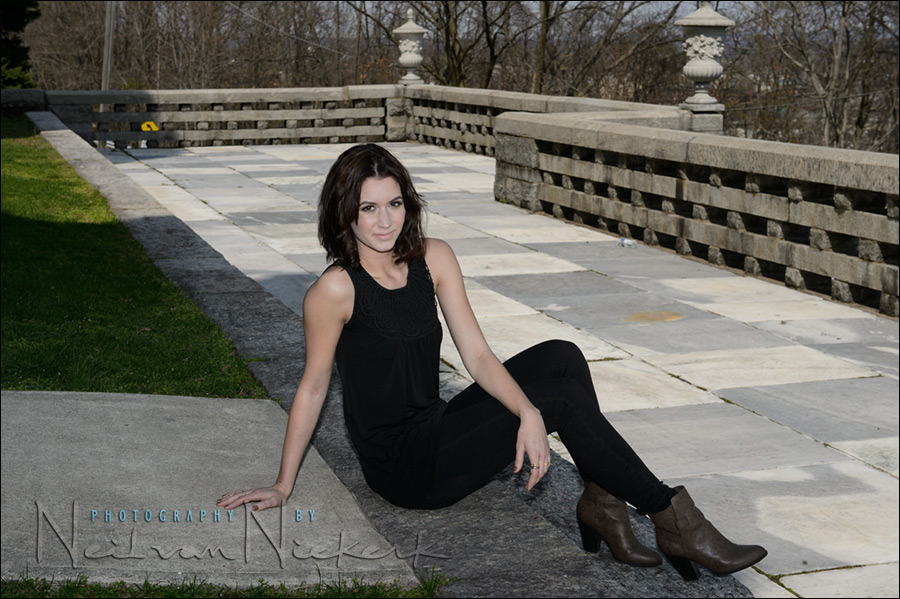 This photo was taken using full power manual flash to match the sun-lit background. I stood approximately 10 feet away from Adrienne, knowing that the flash's maximum output would allow f/11 at 10 feet. This maximum output is indicated by the flash's Guide Number.  GN  =  distance  *  f-stop
The Guide Number of your flash is an indication of the power of your flash – how much light it can deliver. Your flash's Guide Number (GN) is determined at 100 ISO, when it gives correct exposure at a certain distance, multiplied by the f-stop. It sounds like a crazy way to just come up with a number, but it works for us!
For a more in-depth discussion of how to use the Guide Number in bright daylight:
Applying the Sunny 16 Rule & Flash Guide Number.
Related articles
Help support this website
---