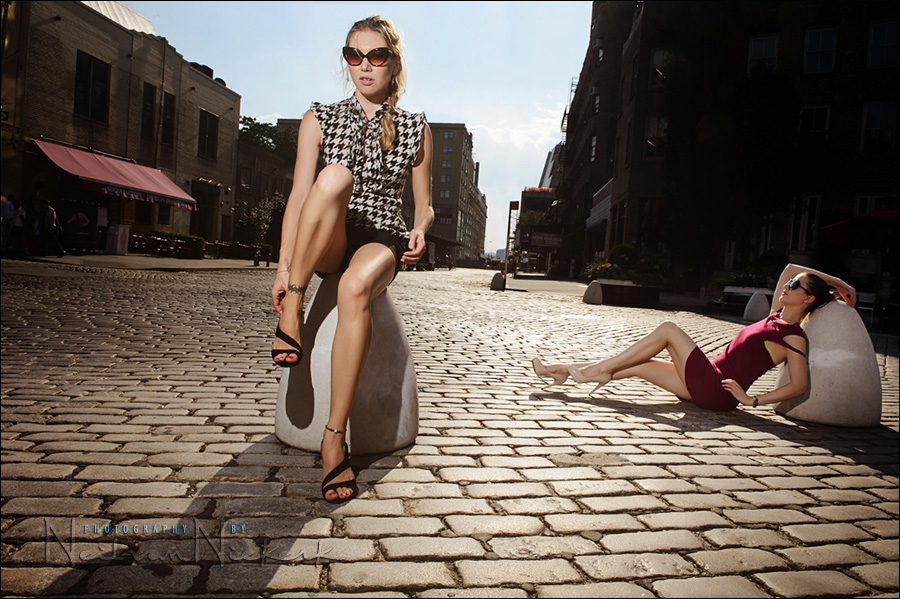 Flash photography: applying the Sunny 16 Rule & Flash Guide Number
In essence, if you know the GN of your flash, then you could use (bare) off-camera flash to match the sunlight, without even metering!
There is a super-useful shortcut built into those two simple values: Sunny 16, and the Guide Number.
Now, I am pretty sure that when you hear mention of the Guide Number of a flash, you're most likely switching off already, thinking that it is just an arcane list of numbers – different apertures against different power settings. But hang in there – this is very useful stuff to have a grip on.
And yes, since: GN  =  distance  *  f-stop
that is what the Guide Number tells you – the distance multiplied by the aperture is the GN.
But there is something immediately useful there in the Guide Number, which is hugely important. If you understand this, then you have an important key in your pocket about how to quickly match bright sunlight with your speedlight. It's really simple: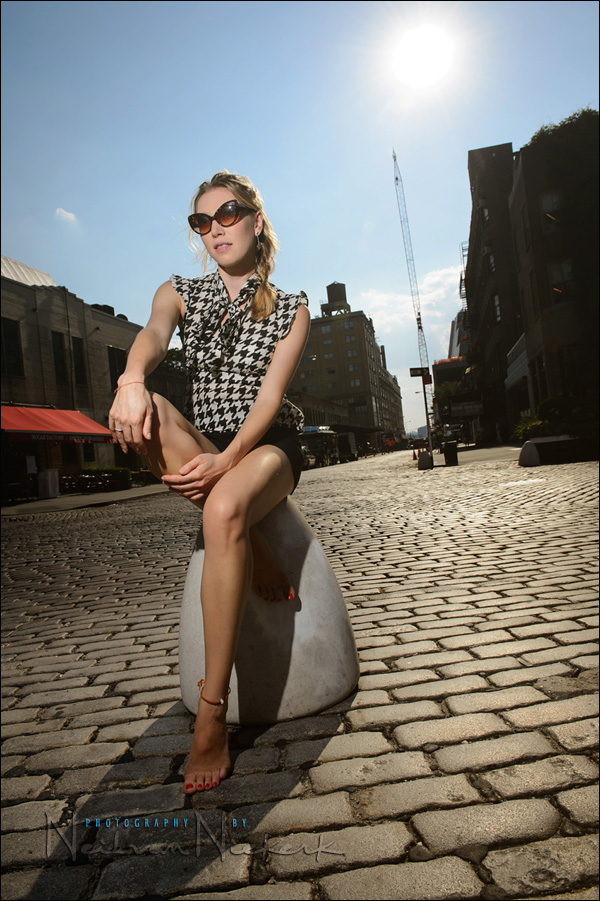 How the Sunny 16 Rule and the Flash GN inter-lock
So let's take this with an actual example (instead of just running tables of figures)
Let's say you are photographing someone in shade – maybe standing under an arch or under trees. Let's say the background is very bright – lit by bright sunlight. Or, as in the example at the top, two models backlit by strong sunlight.
You can use on-camera flash, or off-camera flash here. Same principle.
The background exposure would typically be: 1/200 @ f/11 @ 100 ISO. This is based on the Sunny 16 rule, where we shift the aperture and shutter speed up and down in correlation.
The Sunny 16 Rule says that for bright sunlight, our exposure would typically be: 1/100 @ f/16 @ 100 ISO OK … so now we have 1/200 @ f/11 @ 100 ISO. That's the ambient exposure for the background. Your subject is shaded, or in the shade … and you need to dump f/11 amount of light on them from the flash.
We can put the flash in full manual output. This makes sense in bright light.
If the guide number is 110 … (which is very close for the Nikon SB-900 / SB-910 and Canon 580EX II and Canon 600EX-RT for the flash-head zoomed to 35mm.)
Now, with the GN = aperture x distance, then the Guide Number of 110 implies that at full power (with the flash-head zoomed to around 35mm), we need: 110 = 11 x distance
The 11 is the f/11 for the bright background, as implied by the Sunny 16 Rule. So now we see we have to hold the flash 10 feet away from our subject.
110 = 11 x 10
GN = f-stop * distance
The correlation is that straight-forward:
If your speedlight has a GN of (around) 110 when zoomed to 35mm,
then simply hold your off-camera speedlight at a distance of 10 feet to get an exposure of f/11 …
which in turn matches the exposure for the bright background.
This is a real world example. This is how it works, and how you can get to very good exposure for flash and ambient light, without even using a light-meter!
Summary
The beauty of all this is that you got to your camera and flash settings without even metering! You could of course finesse this – but you got to these setting which are pretty accurate, without metering. In other words, your first test shot should be on the money! No futzing around.
Related articles
Photo gear (or equivalents) used in this photo session
A little bit of homework
If you take a test shot using this method, and your subject (lit by flash), is under- or over-exposed, what is your next step?
Video tutorials to help you with flash photography
If you like learning by seeing best, then these video tutorials will help you with understanding flash photography techniques and concepts. While not quite hands-on, this is as close as we can get to personal instruction. Check out these and other video tutorials and online photography workshops.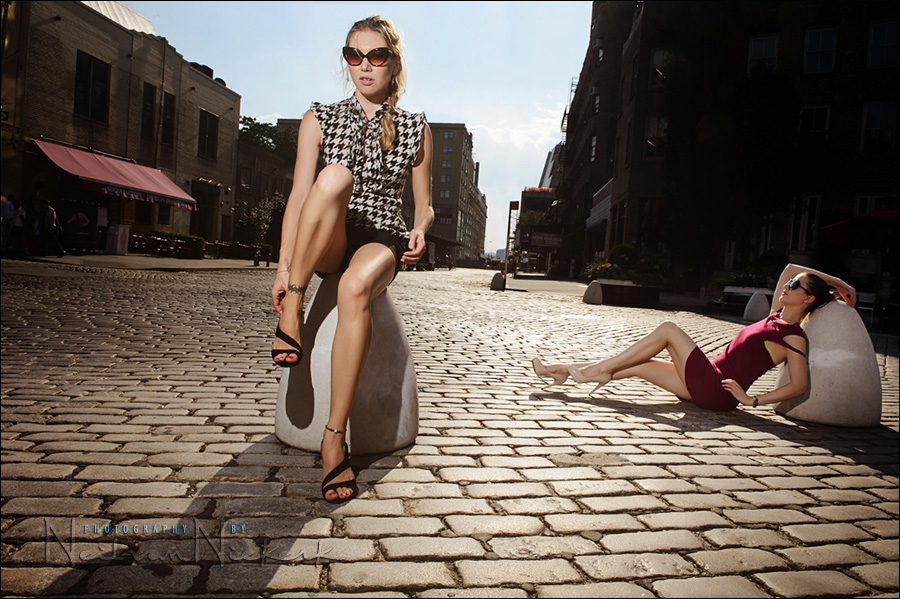 Improving the photograph by finessing it in post-processing
With the photograph at the top, it is obvious that the exposure for Anelisa wasn't correct in-camera. She is a short distance away from Yulia – so she would've been under-exposed by the off-camera flash.
While I'm a strong supporter of the idea to get it right in camera (as far as possible), there are times when massaging a photograph in Photoshop, can greatly improve it. And ultimately, it really is the final image that counts.
In deciphering how the photograph came about, let's look at the straight-out-of-the-camera image: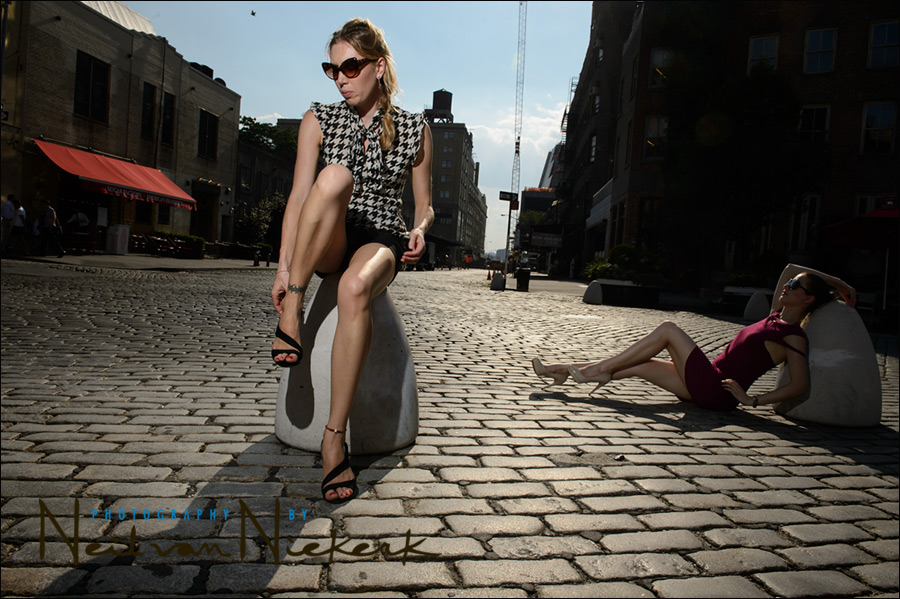 camera settings: 1/250 @ f/11 @ 100 ISO
Here is the un-edited, un-adjusted image. It was one of my test shots during a photography lighting workshop in New York. I was still getting to my basic settings, and Yulia wasn't quite ready yet – so her pose is not quite there, and her expression is unguarded. Yet, the image nearly hung together with Anelisa languishing in the background. But it needed some work in Photoshop.
But before finessing the image in Photoshop, I first had to do the major changes in the RAW file itself.
Counter-acting the strong sunlight with just one off-camera speedlight, we had to work with bare, un-diffused flash. So the lighting on Yulia was good. Anelisa though, was posing for another group of photographers in the workshop. But in zooming wide, and changing my composition, I could include both models. However, I didn't want to disrupt everyone in the group for my own photographs, and have them now light my background subject. So, instead of using additional lighting on Anelisa, or just discarding the image, I used local corrections brush with the RAW image.
I pulled the Exposure up on Anelisa between 1 stop and 1.3 stops across her frame. Since I shot at 100 ISO, the increase in noise isn't noticeable. It would be noticeable at 1600 ISO and higher, when viewing the image at 100% .. but at 100 ISO, the under-exposure has no impact at all on the noise possibly increasing.
You can see the effect that the flash, pointed at Yulia, still had on Anelisa, a bit further in the background – you can distinctly see the flash shadow on her legs.
So that took care of the brute adjustment – and the RAW file has better leeway for this kind of adjustment.
Then of course, I also did the usual changes in Exposure, Color Balance, Saturation and Contrast, in adjusting the RAW file.
Then, after generating a JPG from the edited RAW file, I pulled the JPG image into Photoshop:
– I swapped heads with another image; and
– removed clutter with the use of the Clone Tool and Healing Brush in Photoshop.
– I removed the crane, and the water-tower on top of the building.
– I desaturated the red of the awning on the left. The color was too strong and distracting.
– That pesky pigeon in the sky also had to go too!