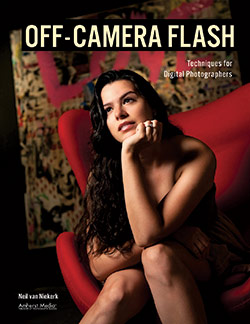 Off-Camera Flash Photography
With this book, I wanted the material in the book to flow as a truly accessible introduction to off-camera flash. The techniques here are within the reach of everyone.
As always, the aim was for those aha! moments when things become clear and just makes sense. And then, hopefully, inspire the readers of the book to see how easily off-camera flash lighting can expand our photographic repertoire.
You can either purchase a copy via Amazon USA or Amazon UK. The book is available on the Apple iBook Store, and Amazon Kindle.
---
Info about my other books on photography
1. On-Camera Flash Photography – (out of print)
2. Off-Camera Flash Photography
3. Direction & Quality of Light
4. Lighting & Design for Portrait Photography
5. On-Camera Flash Photography  (revised edition)
Also check out my list of recommended books on photography technique,
and my choice of best photography books.
Errata & Corrections – Off-Camera Flash
I would like to correct a few errors in my book, Off-Camera Flash Photography:
(No matter how many times work is cross-checked, entropy will have its way.)
On pages 49 / 50, the descriptions in the text for image 6-1 and 6-2 don't match the numbering of the images. 6-1 is the image with flash; and 6-2 is the image without flash (ambient only). Despite this hiccup in numbering the images, the images themselves and descriptions should be clear enough that this would not have been misunderstood.
On page 66, the first paragraph starts with "By angling the softbox away to a fair extent (images 7-8 and 7-8)." That second "7-8" should be "7-9" instead.
On the same page, the second paragraph starts with "In the second example (images 7-10 to 7-14)…" The images should be 7-10 to 7-13.
Image 7-14 is on page 68 and covers a different topic.
Image 10-10 (page 101) .. was shot with flash, and not just ambient light.
The settings were: 1/125 @ f3.5 @ 800 ISO … TTL flash
This means that the details for image 10-11 are also wrong.
The EXIF data here is: 1/40th @ f2.8 @ 1600 ISO
So the text of the two images were swapped around, and 10-10 isn't available light only.
Newsletter / forum / photography workshops
Stay informed of new articles via the monthly newsletter.
Also join us on the Tangents forum for further discussions.
If you need more direct help or instruction on flash photography,
I do present workshops & seminars and also offer individual tutoring sessions.