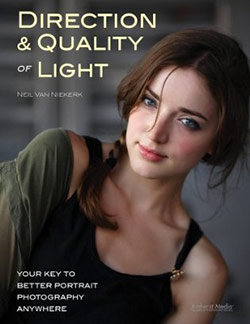 Direction & Quality of Light
I wanted to distill the essence of what we, as photographers, work with – light! Before we can truly grasp on-camera flash and off-camera flash, and really, any kind of photography, we have to be aware of the direction and quality of light. We need to observe the light that we have, and then decide how best to use it, or enhance it.
With this book, I try my best to share those "aha!" moments with you, and I do believe this book can make a difference to your photography.
The book is available on Amazon USA and Amazon UK, or can be ordered through Barnes & Nobles and other bookstores. The book is also available on the Apple iBook Store, as well as Amazon Kindle.
---
Info about my other books on photography
1. On-Camera Flash Photography – (out of print)
2. Off-Camera Flash Photography
3. Direction & Quality of Light
4. Lighting & Design for Portrait Photography
5. On-Camera Flash Photography – (revised edition)
Also check out my list of recommended books on photography technique,
and my choice of best photography books.
Errata & Corrections – Direction & Quality Of Light
No matter how many times work is cross-checked, entropy will have its way.
So I need to correct an error in my book, Direction & Quality Of Light:
The photo shown in Plate 1-12 on page 19, was shot with direct, off-camera flash. No diffusion. There is a contradictory statement there that a softbox was used. This is incorrect. Just the bare flash was used, off-camera on a monopod being held up by an assistant.
Newsletter / forum / photography workshops
Stay informed of new articles via the monthly newsletter.
Also join us on the Tangents forum for further discussions.
If you need more direct help or instruction on flash photography,
I do present workshops & seminars and also offer individual tutoring sessions.