Flash Photography Techniques
On-camera flash outdoors ~ Metering techniques ~ Flash exposure compensation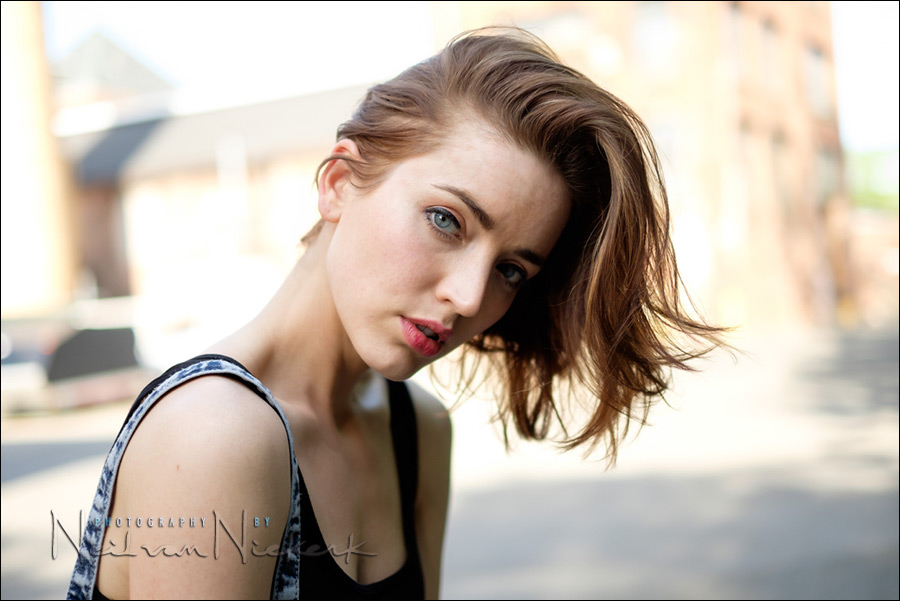 Exposure metering techniques
Camera technique can be distilled into a few elements:
– composition & framing, including lens choice
– timing of the photograph, ie that moment
– choice of aperture (for depth of field)
– choice of shutter speed (for subject movement)
– exposure metering, (which obviously ties in with aperture & shutter speed)
That's it! There's not much more we can do with our cameras at the time of exposure. Ultimately so much of what we do depends on how we juggle those three settings – shutter speed, aperture and ISO.
The balance between those three camera settings is determined by how we meter for correct exposure.
The photograph above was shot in Manual mode: 1/2000 @ f/1.4 @ 400 ISO
I metered specifically for the model, Anelisa, instead of allowing the much brighter background to influence my exposure settings.
This image helps explain why specifically setting the aperture and shutter speed in manual exposure mode, is different than using aperture priority (for example), and have the camera select the shutter speed for me.
Shooting in manual exposure mode on your camera
I shoot nearly exclusively in Manual Exposure Mode, and for very specific reasons:
– I want to control the accuracy of exposures,
– I want to control the consistency of exposures,
– I want to control the depth of field,
– I want to control subject / camera movement.
None of the other exposure modes give me this.
I do sometimes switch to Program mode or Aperture Priority, if need to swing my camera continually between heavy shade and bright sunlit areas. But most times I want to be in control of my exposure metering for consistency and accuracy.
There's a side-effect to using automatic metering that I've noticed among newcomers to photography – there is a tendency to blame the camera. It's a subtle shift in mind-set, but it is there. Instead of assuming responsibility and learning about good technique, it becomes a quest for a camera that will do it all. With manual metering you are in control. So if there is a problem, you are the one that needs to figure out why, and how to improve on it. You decide. Not the camera.
Reasons for shooting in manual exposure mode:
– your camera's meter relies on the reflectivity of the subject and assumes mid-tone grey. Even with matrix / evaluative metering your camera can only guess at what you're trying to achieve.
– if you use Program or Aperture Priority while using TTL flash as your main source of light, your camera will vary your shutter speed between shots, and your ambient light will therefore vary.
You have to understand the limitations of automatic metering, whether in camera or with TTL flash – and that lighter or darker tones within the same picture area, will affect your meter. And you most likely don't want it to. You want a lighter tone to appear light in the final photo. You want darker tones to appear dark. If it is an even mix of tonal values, then you'll most likely get an accurate meter reading in one of the auto modes.
There is a specific reason why I don't use general exposure compensation – I don't want to adjust my exposure compensation every time I change my composition. BUT, I do use flash exposure compensation (FEC) all the time, when I use TTL flash outside of a studio. Since the reflectivity and tonality of the scene that my camera's meter is reading changes all the time, I have to ride my TTL flash exposure compensation all the time … or much simpler, get correct exposure settings in manual exposure mode.
How do I meter for correct exposure?
In film days I would exclusively use a flash-meter for flash. For available light I mostly just carefully used my camera's built-in meter.
With digital, I still largely meter like that. But we have more tools available to us with digital.
So for me it has become an iterative process of:
– checking my camera's meter,
– checking the histogram
– and blinking highlights display,
– checking the image on the LCD, (although this isn't an accurate assessment of exposure),
– experience.
There is no fixed recipe in approaching metering in all kinds of situations. It's a mix-n-match of different techniques – all used to make sure I get optimum exposure for my images.
Ambient light, without flash
The reason why I strongly suggest shooting in manual exposure mode 99% of the time, is that for a specific outdoor scenario, the lighting normally doesn't vary much. And by determining proper exposure, your photos will look consistent in a sequence of photos,
– regardless of composition, and
– regardless of how wide or tight you're zooming, and
– regardless of the reflectivity of your subject matter (eg, lots of bright tones), and
– regardless of whether you have bright sky in a wide shot, or not, with a tighter composition.
If under the same even light and within the same setting, you're shooting vertical and horisontal and wide and tight and from a high viewpoint and a low viewpoint … your exposures will vary unless you're shooting in manual. It's the ONLY way if you want to get consistent exposures.
With this consistency in exposure, your digital workflow will be much easier.
Even more so if you shoot in raw.
Now, that is for ambient light. Onto flash. This gets slightly more complicated. For starters, we have to choose between Manual flash and TTL flash.
If you have flashes set up that are in a constant position in relation to your subject, such as with in a studio setup, then the ideal way is to shoot with manual flash. Using a flashmeter for this is usually the easiest way to determine exposure. This will fix your exposure to your chosen ISO and aperture.
If you're using on-camera flash and keeping in a static position in relation to your subject then it might be easier to use manual flash. This will once again keep your exposures consistent within a series of shots. With digital, you could do a few test shots, and chimp to figure out the correct exposure with your flash in manual. For a single photograph, it might just be simpler to shoot with TTL flash anyway.
Using a light meter with manual flash to get to correct exposure, is remarkably simple.
But as soon as you have flash on-camera, and you are moving around in relation to your subject, then you're better off with some kind of automatic metering of your flash. This means using your flash in Auto mode or in TTL mode. It really will make your life simpler with digital photography, to not shoot with manual flash in this case.
But now we run into the problem that suddenly the flash output is affected by the reflectivity and tonal values of the subject and the scene. Remember, your camera's meter will try and expose for any scene in the frame, as an average tone. Neither bright, nor dark. This is true for automatic flash as well. Which means you will HAVE to ride your flash exposure compensation to get optimum results with flash photography … if your flash is the dominant source of light.
If your flash is only fill-flash during daylight, then most likely the best use of flash will be as soft fill-flash. And in that case, the best results are usually with the flash exposure compensation dialed way down. And hence, the reflectivity of the subject will seem to have less impact on the exposure, since our exposure will be primarily for the ambient light.
When I shoot this way outdoors, I usually dial my Canon speedlights down to around -2 to -3 stops. But with Nikon strobes I tend to dial down less – usually around -1.3 or -1.7 … because I then use the Nikon speedlights in TTL BL mode, which balances flash automatically with ambient light.
But this also depends on how much flash we need to use as fill-flash. If we're photographing someone in the shade, and we need to bump the exposure up to match a sunlit background, then we're going to need a lot more flash. And therefore the flash exposure compensation will most likely be around zero.
There are no easy answers.
Anyone who tells you there is one magical do-all setting for flash, is lying to you.
Being ready is being half-way there
It is important that you start to anticipate things .. for example, if I am shooting indoors where my flash is my dominant light source, I'll most likely be shooting at 800 ISO or thereabouts, and using a slowish shutter speed to get some ambient light in .. say around 1/40th or so, but it really depends on the scenario. I'll also be using wide-ish apertures.
My Nikon SB-800 Speedlight will be set to TTL (and not TTL BL) and most likely have +0.3 exposure compensation dialed in … since it is the dominant light source in this set-up.
With Canon, this varies. With my 1D mk2 bodies, I usually kept my flash exposure compensation to
+0.7 as a default starting point. (I've heard of 20D shooters doing the same.) With my 1D mk2N bodies however, I've found that a default of 0 flash exposure compensation is best. (5D shooters have reported similar.) Also, with the 1D mk2(N) bodies, I have set Custom Function 14 to "Average". I found that when my flash is the main source of light, that using "Average" here gives me the most predictable results.  But when I need to use the Canon flash for fill only, then I get more subtle results with the flash metering set to "Evaluative".
Moving from dimly lit indoors to bright light outside,
I do three things as a matter of course as I step through the doorway:
– I dial down to my lowest ISO,
– I dial to my highest flash sync speed,
– and I set my aperture to an approximate value.
There is a specific reason why I gravitate towards my maximum flash sync speed.  There's a certain sweet spot there in terms of getting the maximum range from your strobe. This is quite useful when you need to balance a subject which is in shadow, against a brightly lit background, for example.
If I had been shooting indoors at f2.8 and f4, then I will be needing smaller apertures outside.
For 100 iso, 1/250th, you're looking at something like f11 outside … so I'll set f11 and fire off a test shot or two at a general scene and chimp quickly to see histogram, and blinking highlights, and then fine-tune my exposure. All of this in a few seconds .. and then I'm ready.
Overcast days will mean a different aperture than f11 for bright days, but 100 iso and 1/250th is always my starting point for Canon D-SLRs. If it is heavily overcast, I'll go to 200 iso, but I nearly always try to keep to as high a sync speed as possible.
With Nikon D-SLRs, my starting point is around 1/250th @ f10 @ 100 iso. This is because the there is a difference in the sensitivity of the sensors of the various camera manufacturers.
So moving from an indoors setting, as I step outside, my camera settings are pretty close to where I need to be. No fumbling for settings. I'm ready … because I anticipated what I'd need.
Related articles
Help support this website
---