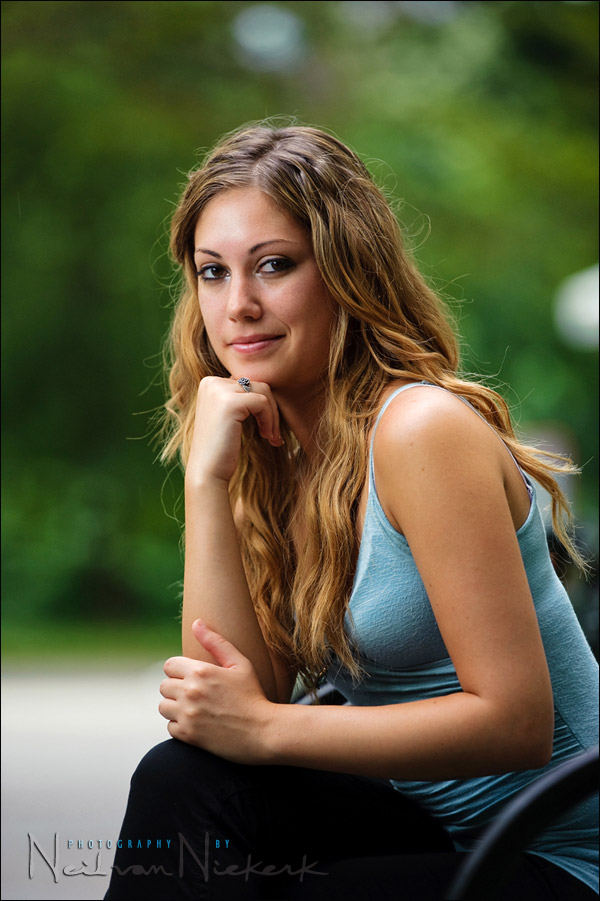 Flash photography tutorial – balancing flash and ambient light
An email I received recently from someone explained how she is struggling with flash. The basic building blocks of photography are all there and understood, but it somehow doesn't gel when she uses flash. She explains how she understands exposure metering, but "the minute I attach my flash, nothing makes sense." Having read my book and scoured this blog, she admits that at the point where she uses her flash and needs to set aperture and shutter speed, she is completely lost.
I'm sure this is something many many photographers struggle with – just feeling baffled by where to start. So while this stuff at some level is easy once you understand it, flash photography also seems to be one of those subjects where you have to immediately grasp a whole bunch of things for it all to fall into place the first time.
So I've been mulling this over in my mind for a few weeks now. I thought of how to break this down in a different manner that would help with that "aha!" moment shining through. I have written a few other articles on how to balance flash with available light, which are all linked in this off camera flash photography page. But it might be that I need to find another approach in my explanation of balancing flash with ambient light.  Break things down in a different way. And in breaking things down, we can see where we get stuck.  And break that down again. Finally we might get an "oh!?" moment of clarity.  And for other regular readers, this might just be a useful reinforcement of the concepts.
Now, at the very start of this,we have to realize there are two exposures taking place – flash and ambient light. This is the key. Then we have figure out how we're going to combine them.  The 'how' then includes exposure metering, but also includes direction of light.  For this article, we're just going to look at balancing flash with ambient light. We're going to use a few simple portraits of our model, Camille, as illustration here for an understanding of how to add flash to ambient light. We're purposely going to keep it simple to have things fall into place first.
Let's see where this leads to …
---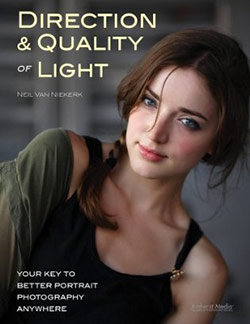 Direction & Quality of Light
I wanted to distill the essence of what we, as photographers, work with – light! Before we can truly grasp on-camera flash and off-camera flash, and really, any kind of photography, we have to be aware of the direction and quality of light. We need to observe the light that we have, and then decide how best to use it, or enhance it.
With this book, I try my best to share those "aha!" moments with you, and I do believe this book can make a difference to your photography.
The book is available on Amazon USA and Amazon UK, or can be ordered through Barnes & Nobles and other bookstores. The book is also available on the Apple iBook Store, as well as Amazon Kindle.
---
Balancing flash exposure and ambient light
1. At the heart of this, you absolutely do need to understand how shutter speed, aperture and choice of ISO inter-relate to give us correct exposure.  You need to grasp the fundamentals of exposure metering.  I've written some introductory pages on the topic of exposure metering. I would also highly recommend Bryan Peterson's book on Understanding Exposure (Amazon).  We can't proceed on understanding flash photography if these essentials are missing or poorly understood. This is the basis on which everything else rests. There is no shortcut. So let's assume we're good on this whole shutter speed / aperture / ISO thing, and continue.
2. The key in using flash and available light – consider flash exposure and ambient exposure as two separate events.  Two separate things are happening. We have ambient exposure, and we have flash exposure.
3. We have to balance those two things here:  flash & ambient light.
4. Natural ambient light is continuous. Flash is (near) instantaneous.
This is very important.  The two kinds of light are inherently different.
5. We have 3 exposure controls on our camera – we use shutter speed; aperture and ISO to control our ambient exposure.
6. Because flash is (near) instantaneous, shutter speed  has no effect on flash exposure. (This is true while we remain below maximum flash sync speed.) This is explained in a fair amount of detail in the article on high-speed flash sync. But for simplicity of explanation let's distill this to an essential – shutter speed has no effect on flash exposure.
This is just inherent in how a focal plane shutter works on a DSLR. But we'll keep in mind for later on, that things change a little when we have high-speed flash sync. For now, we'll keep to the simpler explanation where flash is that brief burst of light.  This is where we need to shoot at, or below, maximum flash sync speed.  Follow the link to the explanation on high-speed flash sync, and also the link explaining maximum flash sync speed, if you need more explanation, and need to see the diagram.
I think it is around this point that many photographers unravel when they try to understand the basics of flash photography. This part is essential though in our understanding.  We have to have a visual comprehension of how the camera's shutter works, and how the two curtains are timed in relation to the burst of flash.
7. Since shutter speed (largely) has no effect on flash exposure, it means that of the camera controls that we have, only aperture and ISO affect flash exposure.  But this is a little tricky though, for we need to distinguish between manual flash, and TTL controlled flash.  They are entirely different in their controls.  They are identical though in that they are very brief near-instantaneous bursts of light.
8. Manual flash and TTL flash – they are two entirely different ways of using flash.
Manual flash exposure is controlled by ISO and aperture (the two camera controls), but also by how far your light is placed from your subject. Distance!  And then obviously, the actual power of your flashgun also affects manual flash exposure.  In other words, the output your flash is capable of, or the power setting that you've set it to, will affect how bright the light is from your speedlight .. and hence the manual flash exposure.
TTL controlled flash exposure is where your camera (and flash) work together in automatically controlling your flash's output (as the camera reads it Through The Lens (TTL).  Since your camera is controlling the output to give you correct flash exposure, your choice of aperture and ISO (and the distance) doesn't have a direct influence on TTL flash exposure.  Your flash's power (ie, output) changes to give you enough light for correct flash exposure.
Manual flash will give you consistency since everything is set; but TTL flash is generally faster and easier to work with to get correct exposure initially.  This is of course open to debate, and I'm sure will be debated here … but let's run with this for now, just for explanation.  Manual flash for consistency and control; TTL flash for speed and ease.
Getting to correct exposure settings
9. We need to add those two things: ambient exposure + flash exposure = correct exposure
So there are the building blocks, and now we come to the crux  of it … getting to correct exposure.
Broadly speaking, we have a few scenarios:
– If we have correct ambient exposure (or close to correct ambient exposure),then our flash needs to be fill-flash.  It needs to be less than what would've given us correct flash exposure. We can't simply add correct ambient exposure to correct flash exposure, for then we'd have over-exposure.
– If we don't have enough ambient light for correct exposure (at our desired aperture / shutter speed / ISO), then we need to have correct flash exposure.  We can now decide what our settings should be, (f4 / f5/6 / f8 etc), and then add flash in such quantity  that we have correct exposure for our choice of settings.
– If we need to control the quality and direction of light, then we need to intentionally under-expose our available light somewhat, and then add correct flash exposure.
– If our subject is in shade, and our background is brightly lit, then we can use flash to bring our subject's exposure up to that of the background.  This is actually similar to the previous scenario where we didn't have enough ambient light and added flash to our under-exposed subject, to get correct exposure for our subject … in relation to our background exposure. Quite often our background exposure can be what WE decide it should be … and then we add flash to that amount.
So this is where we have some flexibility and choice.  And it is this last scenario that I'd like to expand on as a specific example.
Let's step through an example
Looking at this setup with Camille on location in Central Park, New York: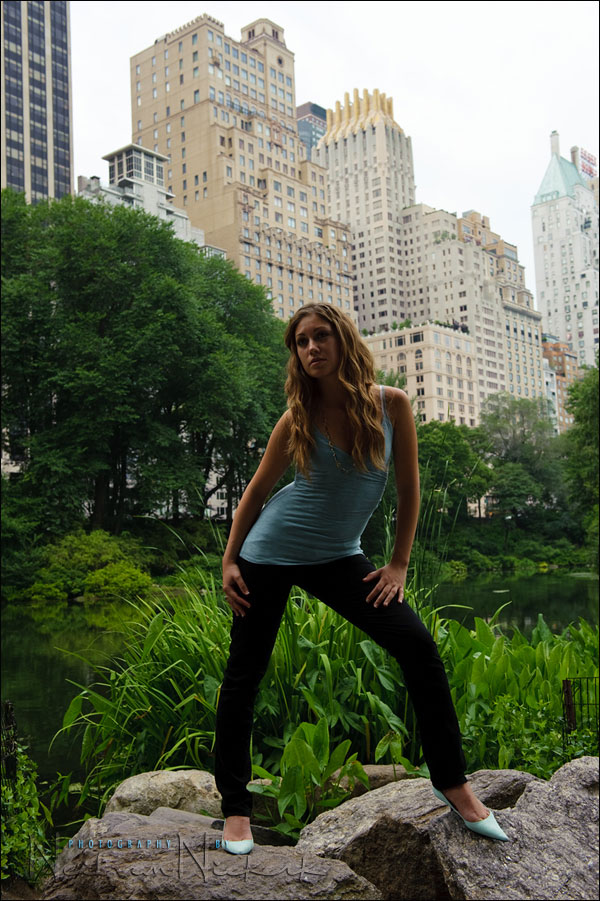 Our exposure settings were: 1/250 @ f5.6 @ 400 ISO
Why?  Because that is how bright our ambient light was, and THAT was how we decided we want our background to appear. Now it is imperative here that we see there are broadly three areas here in the background in terms of exposure and light:
– the overcast sky (very bright)
– the buildings (quite brightly lit)
– the foliage and rocks (not quite as brightly lit, and somewhat shaded)
Then we also have our model with her back turned to the main source of light – the overcast sky.
We can't expose correctly for ALL four of those areas – sky, buildings, vegetation and model – in ONE image.  It's just not possible.  So we have to decide what we want to do with our background.  In this case, I am going to let the sky blow out.  I have no in-camera control over that, except perhaps with a graduated filter.  However, with the irregular shape of the buildings, a graduated filter effect would be obvious.
I therefore made a decision, that *this* is how I want the background to appear.  And 1/250 @ f5.6 @ 400 ISO made it work. At these settings though, our model is completely under-exposed, and I would need flash to bring her up to that of how I want the background to appear.
With flash, I now have two choices:
– TTL flash, which is what I used here (as off-camera flash in a softbox). The camera now controls the flash to give me correct exposure .. or what it deems to be correct exposure.  If the flash appears to be under or over, I would simply nudge it up or down via my flash exposure compensation. You can't really meter for TTL flash, and it would be counter to what TTL flash is about – simplicity and ease of use.
– manual flash.  With manual flash, the proper way to do it here would be to hold a hand held meter in the model's position, and measure how much flash is emitted … and then adjust the power of the flash until you get f5.6 @ 400 ISO for that particular distance. Remember, flash exposure is independent of shutter speed while we remain at or below max sync speed. So we have the 4 controls for manual flash, as you'll remember: aperture, ISO, distance, power.
Here is the result: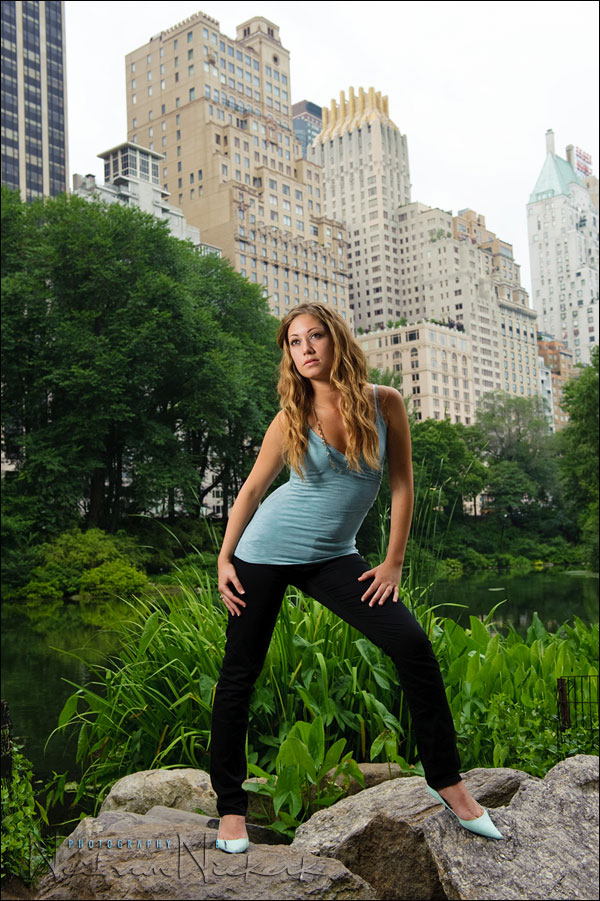 Fine, so I said we have a choice in how we want our background to appear. So as an example, let's say we wanted more detail in the trees and leaves and rocks, and didn't mind the buildings appearing brighter, even a little over-exposed. Perhaps this suits us better in how we want the scene to appear.  Our choice.
Here is the same setup at these camera settings:  1/250 @ f4 @ 400 ISO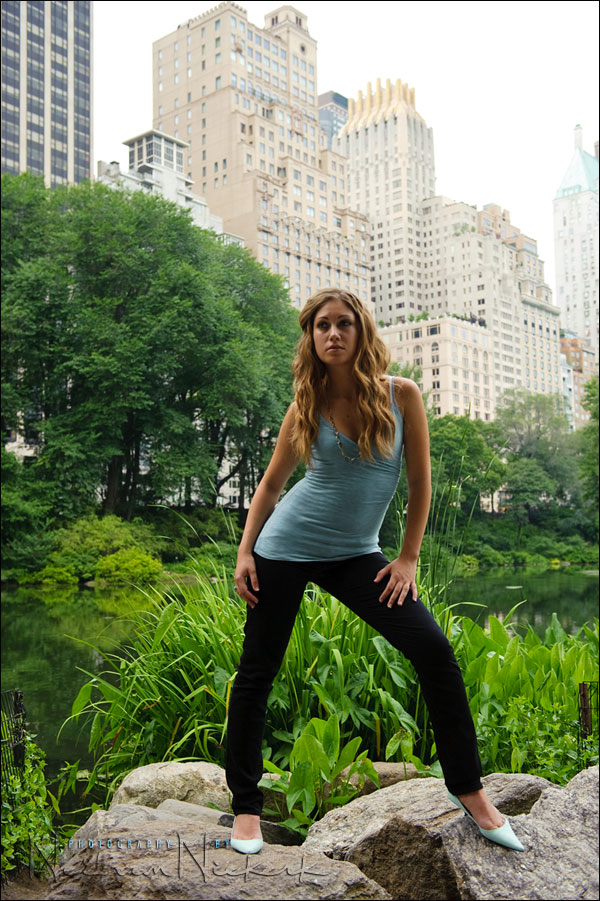 Our model is still under-exposed, but not as much. The extra stop of light by the increase in aperture, gives us a brighter image. And then we add flash.  How much flash? I let the camera decide via TTL flash metering: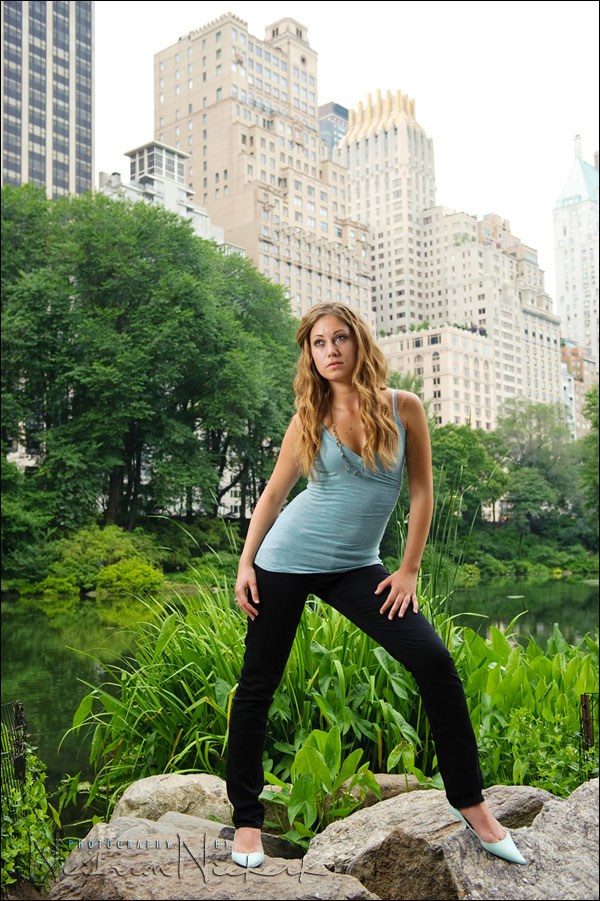 If I had decided to use manual flash, I would most likely have used a hand held light meter again, and adjusted my flash (in the off-camera softbox) to give me f4 @ 400 ISO for that particular distance.
The method remains the same as before, even though we have different settings. In a similar way, we could've used other combinations of settings, and have our background appear different.
Now let's look at the same setup, but where I had chosen my exposure such that my ambient light is correct for our model.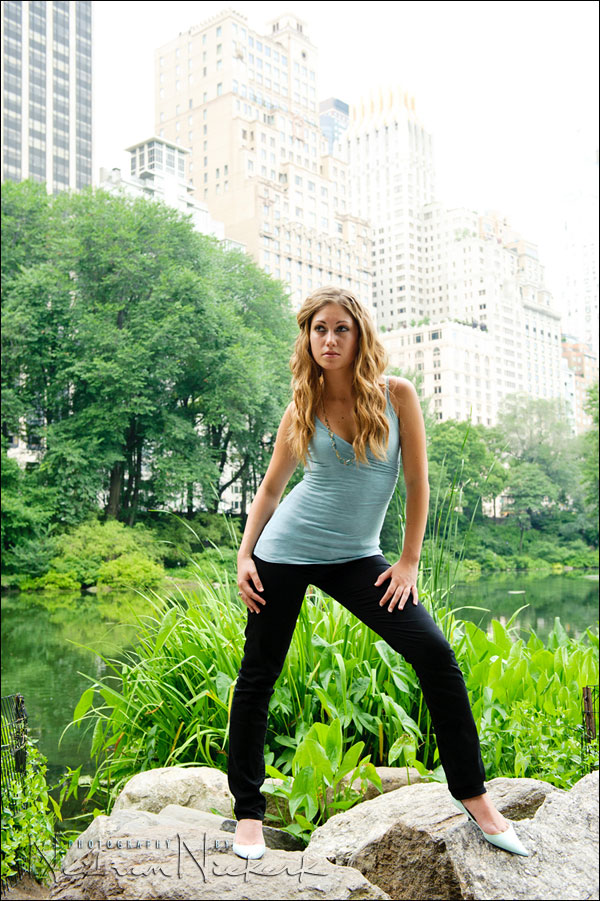 The general ambient exposure for her is correct here, but the light on her face is a little uneven.
Exposure settings: 1/125 @ f4 @ 500 ISO.  (no flash)
Since we have correct ambient exposure here, I can't simply add f4 @ 500 ISO worth of manual flash.  The TTL flash metering might well be pulled down by the camera via the intelligent Matrix / Evaluative TTL flash metering systems built into DSLRs. This then would be the point where we would've added some fill-flash instead.  Even if I had used TTL flash, I would still have pulled down the FEC down somewhat. How much? That would depend on taste or feel.
When I shot this sequence, I had a different tutorial in mind, and didn't shoot a fill-flash example, but the explanation should be clear enough. The shadow areas on her face would lift with a touch of fill-flash.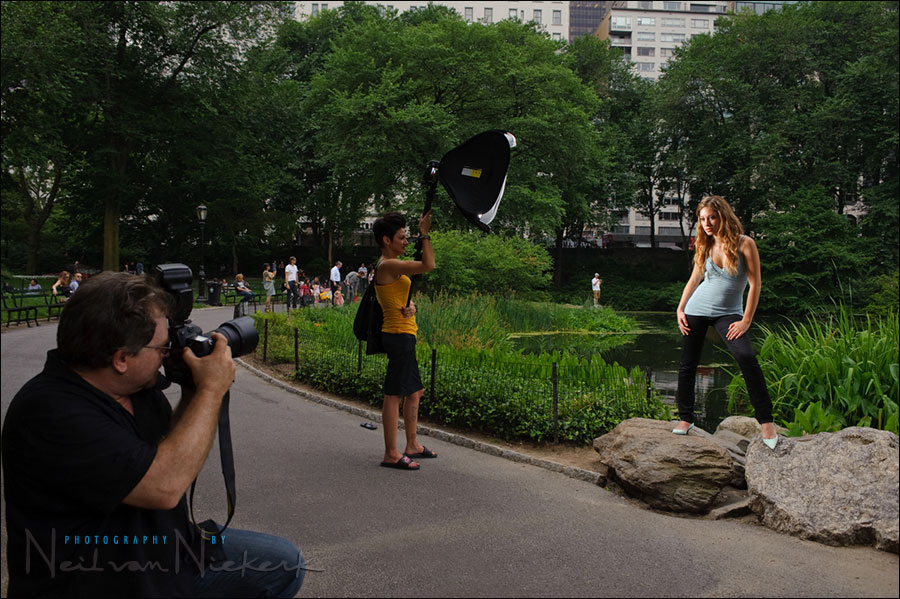 Summary
In re-reading this article after having written completed it, I see now that what I had initially visualized as a concise and immediately insightful article, has sped up into a longer rambling piece. Hopefully though, this article will help those who struggle with the basic idea of combining flash with ambient light. The thought-process here is just as true if you use other additional light, such as video light. There is a method here, and it is flexible.  It allows you choice in what you want to achieve.
Related articles