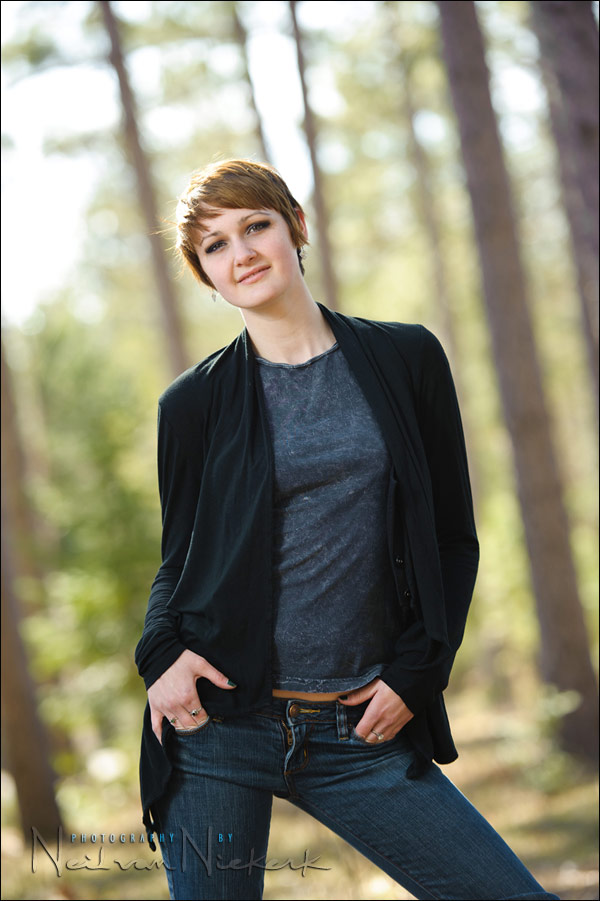 Off-camera TTL flash
This image of Amy, one of our models at a workshop, is a fairly straight-forward portrait using off-camera flash in TTL mode. And it is ideal for an overview again of how easy the ambient & flash exposure metering is. The basic approach with this on-location portrait is to expose for the ambient light in the background, making sure our subject is somewhat under-exposed … and then to add off-camera flash with a softbox. The first question that came up was – how did I meter for the ambient light?
Metering for the ambient light
With this scenario, one has to grasp that there are broadly two main areas in the background that we could expose for. There is the brighter sky area, and then the less bright trees in the background. We can not expose for both of those 'correctly'. You have to decide what your background is, and then decide how you want to expose for it.
I chose to expose for the trees in the background. This would then let our model be under-exposed to an extent … and then we bring up the exposure on her with off-camera flash. In choosing the trees as my background, I allow the brighter sky area to blow out. But in the composition of the image in the camera's viewfinder, I made sure the blown-out sky area is a relatively small portion of the background. My main background area is the patch of out-of-focus trees.
This is an approach that I have emphasized over a number of articles on this site – you have to be specific in how you choose the background in the composition of your photos.
Exposure metering was simply done by looking through the viewfinder, eliminating the bright sky areas in the frame, and getting my settings in manual exposure mode. I purposely over-exposed a bit with this image, taking the exposure 2/3 of a stop up from the zero of my camera's built-in meter.  Why 2/3rds of a stop? Because I chose it that way.
In a sense, there is a no 'correct' exposure for the background in this specific scenario. You can choose to make it bright and airy with pastel tones … or under-expose and make it moodier and darker. Your choice.
So that's how I metered for the background areas. I fix these settings in my camera by using manual exposure mode. Then my composition won't affect my camera settings.
The next question that came up was – how did I meter for the flash?
Metering for TTL flash
The surprising answer was … I didn't meter for the TTL flash. You can't really. You have to rely on the technology. That's the beauty of using TTL flash though – largely you can rely on the technology to get you there. The camera and flash will (via the pre-flash) figure out how much flash to add to the final exposure.
Then you can check on your camera's preview whether you like the flash exposure, and then dial it down or up, via the flash exposure compensation (FEC) button.
That then is also the limitation of TTL flash exposure metering – you have to rely on the technology to give you results that you would like and need. And you can only really figure this out by checking the camera preview, and then adjusting the FEC to taste.
For a situation where you need to work fast, TTL flash is fantastically easy to use. But for a situation where you need numerous photographs consistently exposed, you will have a much slower post-production workflow than if you had shot with manual flash that you metered for.
---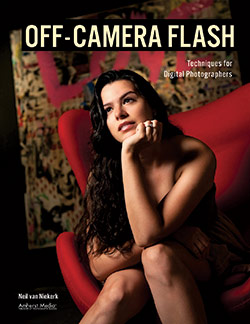 Off-Camera Flash Photography
With this book, I wanted the material in the book to flow as a truly accessible introduction to off-camera flash. The techniques here are within the reach of everyone.
As always, the aim was for those aha! moments when things become clear and just makes sense. And then, hopefully, inspire the readers of the book to see how easily off-camera flash lighting can expand our photographic repertoire.
You can either purchase a copy via Amazon USA or Amazon UK. The book is available on the Apple iBook Store, and Amazon Kindle.
---
Manual flash vs TTL flash
With manual flash, you have to balance those 4 controls to give you correct flash exposure.
two of the controls are on the camera – ISO, aperture
two of the controls  are via your flash – power, distance
So you'd use a lightmeter to calculate the manual flash exposure. Or perhaps you could use the histogram to determine correct manual flash exposure. Once you have your flash exposure fixed for that specific distance, and camera settings, then every exposure will be nailed. Constant. But if you change one of those four parameters (ISO, aperture, power, distance), then you have to juggle something else to get correct exposure again.
But where TTL flash shines in comparison, is in the flexibility in changing your settings. TTL flash will follow your settings, and give you (what it deems to be) correct exposure.
Here are two examples where I changed my settings between shots, also showing the ambient-only exposure. This shows how the TTL flash will just follow my settings, and give me correct flash exposure. Simplicity itself.
1st image group: 1/320 @ f2.8 @ 200 ISO
2nd image group: 1/500 @ f2.8 @ 200 ISO
Not a large jump in ambient exposure – just 2/3rd of a stop, but it still shows the TTL flash exposure picking up the slack and giving me correct overall exposure for our model.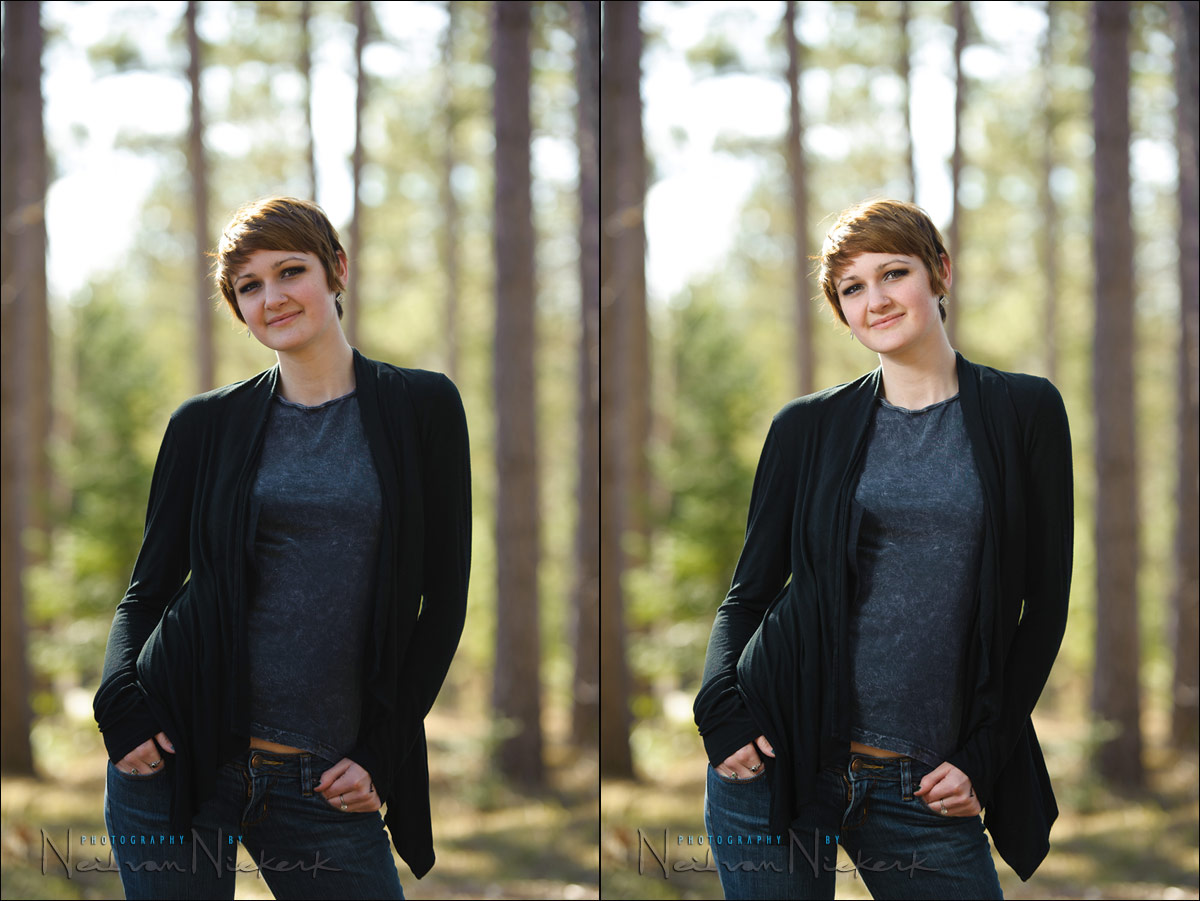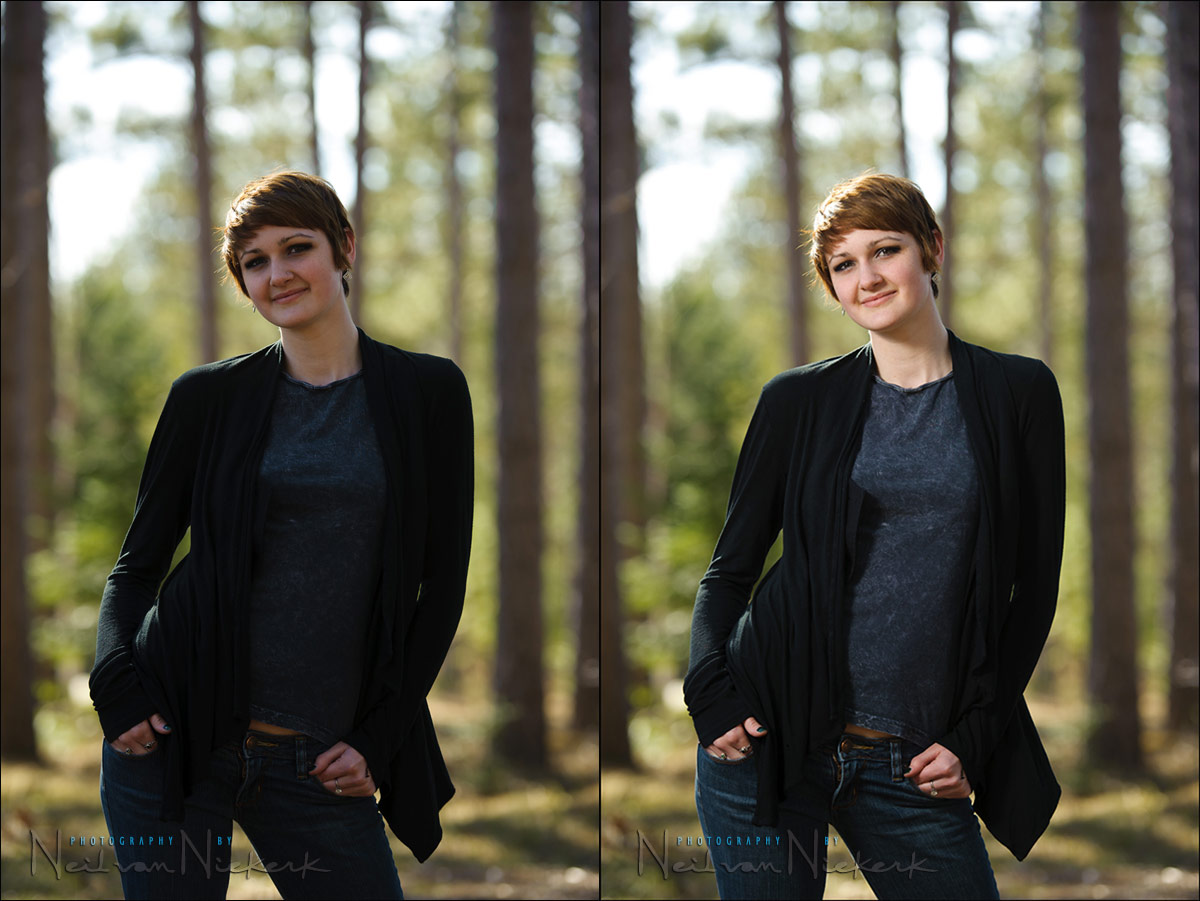 Summary
With this article I wanted to emphasize again how easy it is to use off-camera flash, especially when TTL flash is used. There's a certain latitude we have in choosing our settings (while keeping our subject under-exposed to an extent), and then relying on the TTL flash technology to give us correct flash exposure.
So now we have to be less concerned about specific settings, and can concentrate on other essential elements of the final photograph:
– directing our model,
– composition,
– direction and quality of light.
Photo gear used with this photo session
Related articles