Best fill-flash settings
When we think about what might be our best fill-flash settings, we need to understand that there is a whole range of ratios in which we can balance available light with flash. Anywhere from:
– correct ambient exposure with just a touch of fill-flash,
all the way to where we:
– under-expose the ambient light, and use flash to give us the correct exposure.
There are of course numerous possibilities inbetween those two scenarios. None of which are particularly more 'correct' than the other ways we match flash and available light. For simplicity of explanation though, it is easier to describe the two 'extremes', and hopefully this will make it easy for us to figure out the inbetweenie scenarios … where we mix some flash with the available light, and still get good lighting and great exposure.
This range of scenarios we deal with, are discussed in this article.
Now, when we talk about 'fill-flash', we're usually describing the scenario where our ambient exposure is correct, and we're just lifting the shadows with a mere hint of fill-flash.
So for anyone who wants to know the best fill-flash settings, you have to think in terms of your ambient exposure first and foremost. That is your starting point – correct exposure for the available light. Then you can add flash to it. But just a touch of fill-flash. In other words, "best fill flash settings", would revolve around your camera settings for correct (or close to correct), ambient exposure.  And then adding a touch of flash to even out the shadow areas or lift the contrast.
In this photo, my exposure for the couple was correct. I didn't allow the brighter street scene or background to influence my camera settings. I based my exposure on the couple. The next step was adding fill-flash with my on-camera speedlight.
Since I shoot in TTL mode most of the times when shooting on the move, I simply dialed down my flash exposure compensation (FEC) to around -2EV or -3EV. Somewhere there. Adjusted to taste.
Understanding how to use FEC to adjust the amount of flash (in relation to the ambient light), is essential to understanding how to achieve the best fill-flash settings.
---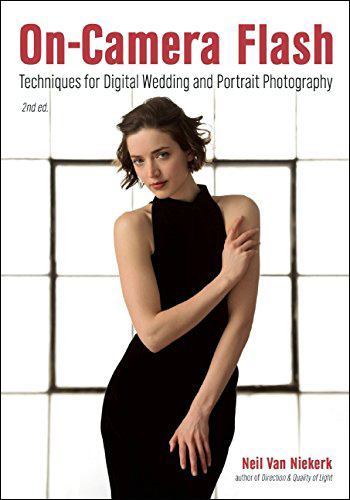 On-Camera Flash Photography – revised edition
This book is explains a cohesive and thorough approach to getting the best from your on-camera speedlight.
Particular care was taken to present it all with a logical flow that will help any photographer attain a better understanding of flash photography.
You can either purchase a copy via Amazon USA and Amazon UK, or can be ordered through Barnes & Nobles and other bookstores. The book is also available on the Apple iBook Store, as well as Amazon Kindle. Also check out the Amazon Kindle store.
Learn more about how the cover image was shot.
---
If I had used manual flash, I would approach it the same way.  I'd set my manual flash to give me 2 or 3 stops less exposure than the aperture I am using. If I am shooting at f5.6 then I would set my manual flash to only give me f2.8 or f2 worth of flash exposure.
The fill-flash in this case is coming from the camera's point of view – but since it is dialed down, it isn't that noticeable. While off-camera lighting would look better, using on-camera fill-flash like this is definitely a good work-around, especially when we don't have the means for off-camera lighting.
With this sequence of images in the alley, my camera settings were: 1/400 @ f3.5 @ 800 ISO … and FEC was set to -3 EV. Since I find my Nikon D3 and Nikon SB-900 tends to give more flash than I like as fill-flash, I am constantly dialing it down more. The high shutter speed had two uses here – to make sure I don't get subject blur as the couple moved and danced there. The other side-effect of the high shutter speed was that I had bumped my flash into high-speed flash sync territory, and that cuts down tremendously on my flash's output capability. This then helps me pull down the often-times too-strong fill-flash from the  D3 and SB-900 combo.
Related articles
Video tutorials to help you with flash photography
If you like learning by seeing best, then these video tutorials will help you with understanding flash photography techniques and concepts. While not quite hands-on, this is as close as we can get to personal instruction. Check out these and other video tutorials and online photography workshops.