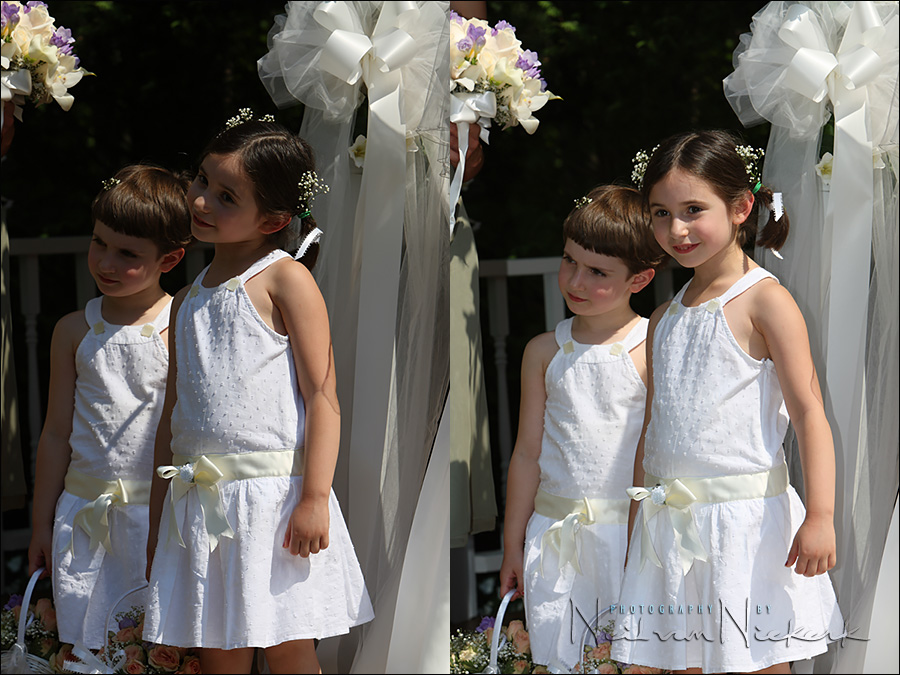 How to overpower bright sunlight with on-camera flash
The photograph on the left shows one of the toughest lighting conditions you get to deal with. Your subjects are half in the sun / half in the shade … and there is no way you could interrupt and change things in your favor. There is no way to have the flower-girls move. No way to bring in additional, off-camera lighting. You can't scrim the sunlight either with large reflectors.
There are these times when your options are limited, but you still have to get the best out of this challenging situation. There is one viable option here, crouched down in the center aisle – use on-camera flash to bring up the shadow detail.
There have a few articles here on how to overpower the sunlight with off-camera flash …
… and they all follow a specific train of thought to get ourselves out of trouble. Even in this article – engagement photo sessions: posing, lighting & context – there is an algorithm in place.
Same with this scenario where we use on-camera flash. In fact, it is even a little easier: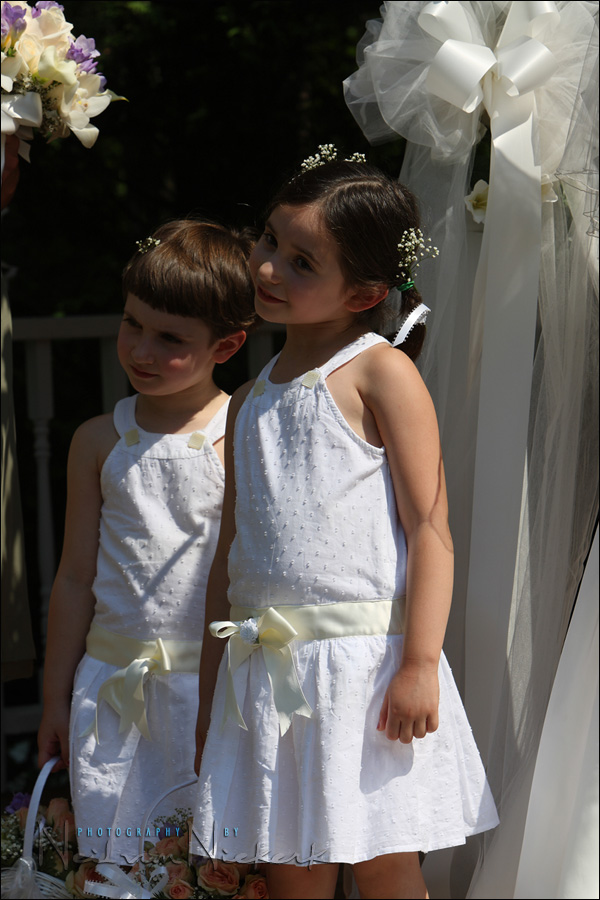 Step-by-step: optimal camera and flash settings
1. Best camera settings
We don't want to worsen a tough situation, so we won't have the camera settings at somewhere between the brightest areas and shadow areas. Then we'd just be blowing out the brightest parts of our subjects.
The Sunny 16 Rule immediately suggests a good starting point: 1/200 @ f/11 @ 100 ISO
Sunny 16 Rule is actually: 1/100 @ f/16 @ 100 ISO, but our flash will needlessly work harder at f/16 than it would at f/11. For that extra stop in our aperture (f/16 instead of f/11), our flash would have to deliver twice as much light. It also means your batteries will run down faster at the smaller aperture. f/11 just makes more sense than f/16 does.
Why f/11 though? Because that is linked to the maximum flash sync speed. At max flash sync speed, we have the widest possible aperture, without our flash going into high-speed flash sync (HSS).
Why not HSS? Because we lose approximately 1-2 stops of light here from our flash. We are already in a tough spot, so it would be a better starting point to not go to HSS immediately.
For this wedding, I was using the Canon 1D mk III, which has a max flash sync speed of 1/300. Therefore the actual camera settings I used were: 1/300 @ f/9 @ 100 ISO. For simplicity of explanation here, we're going to work with the idea that our max flash sync speed is 1/200 – that of the Canon 5D mark II and Canon 5D mark III, and similar cameras.
So there we have our starting point:  1/200 @ f/11 @ 100 ISO
2. Double-check our exposure metering
We can't just rely on Sunny 16 Rule nailing it for us. We need to double-check our exposure metering.
We can do so using the histogram to determine exposure. We should even check with the blinking highlights display of our camera. Keep in mind that the edges of her dress could very well be blinking – but that's not an issue really. Rim lighting or specular reflections will do that. As long as large patches of our subject isn't blowing out, we're good.
3. Flash settings
We can shoot in either manual or TTL flash here. The results should be similar. If our position is fixed, then manual flash would be the better option though.
Since we won't be bouncing our flash – this would make no sense whatsoever here – our flash will give us the distance scale on the back of the display.
This distance scale directly relates to the Guide Number of the Flash. But without even going there, we can simply read the distance off the back of the flash for our camera settings. It should be around 10 ft / 3 meters (for the flash zoomed to 35mm), for top-end speedlights like the Canon 600 EX-RT and Nikon SB-910 (affiliate links).
This is something you can check for yourself, right there, right now, with your camera in your hands.
This implies then that to be in range of the output the flash is capable of, we need to be around 10 ft / 3 meters from our subjects. In this practical scenario, we have more leeway – we can be a little further away because the flash adds to the available light. So we might be able to be a few feet further away, and still get the best results.
If you were using TTL flash, and the flash looked too bright, you'd just dial in less FEC. With manual flash, you would be adjusting the flash power.
4. No flash modifiers
I didn't use any flash modifiers here – they cut down too much of the light, and don't make a substantial enough difference. If you think about it – the speedlight is a small light-source – the flash-head. If you place a plastic cup over it, your light source stays more or less the same size. Nothing gained. But you did lose some light.
Similarly, I wouldn't have my flash in a half-bounce position either. That too would make no sense – throwing flash unevenly across my scene.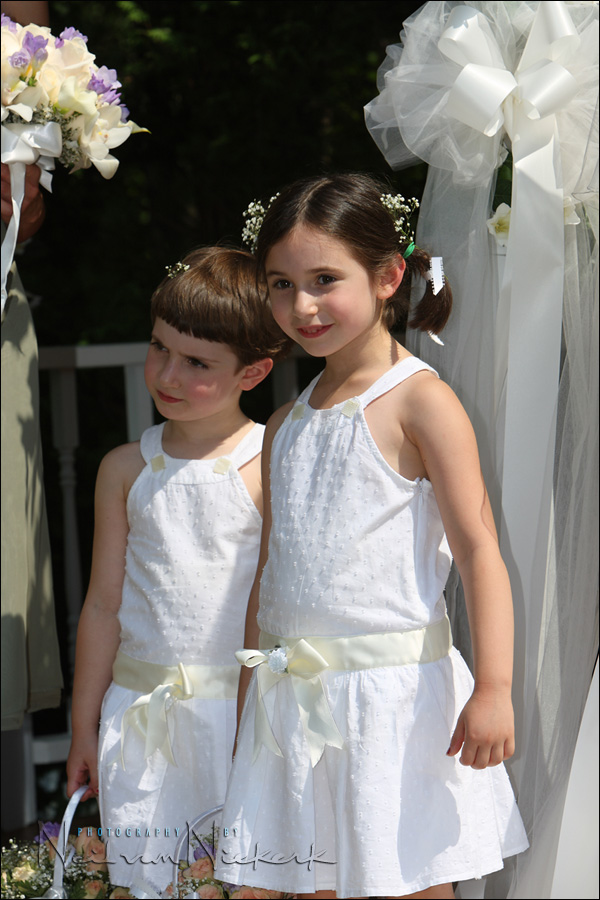 Summary
If you've followed this practical exercise  – overpowering the sun with off-camera flash – what are my settings? – you would've noticed that it is exactly the same thought-process. Just because it is now on-camera flash instead of off-camera flash, it didn't change the algorithm to get to the best camera and flash settings.
In this way, step-by-step, our camera and flash settings fall into place. There is no wild guessing, and no frantic dialing of the camera's shutter speed and aperture. We're calmly in control, making the best of a tough scenario.
---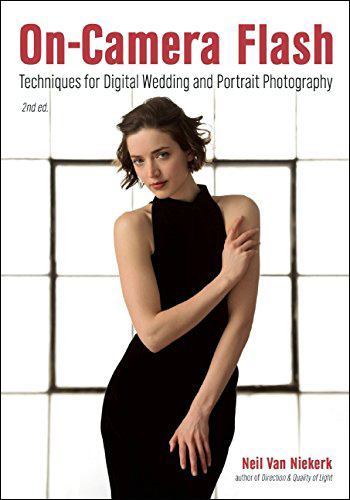 On-Camera Flash Photography – revised edition
This book is explains a cohesive and thorough approach to getting the best from your on-camera speedlight.
Particular care was taken to present it all with a logical flow that will help any photographer attain a better understanding of flash photography.
You can either purchase a copy via Amazon USA and Amazon UK, or can be ordered through Barnes & Nobles and other bookstores. The book is also available on the Apple iBook Store, as well as Amazon Kindle. Also check out the Amazon Kindle store.
Learn more about how the cover image was shot.
---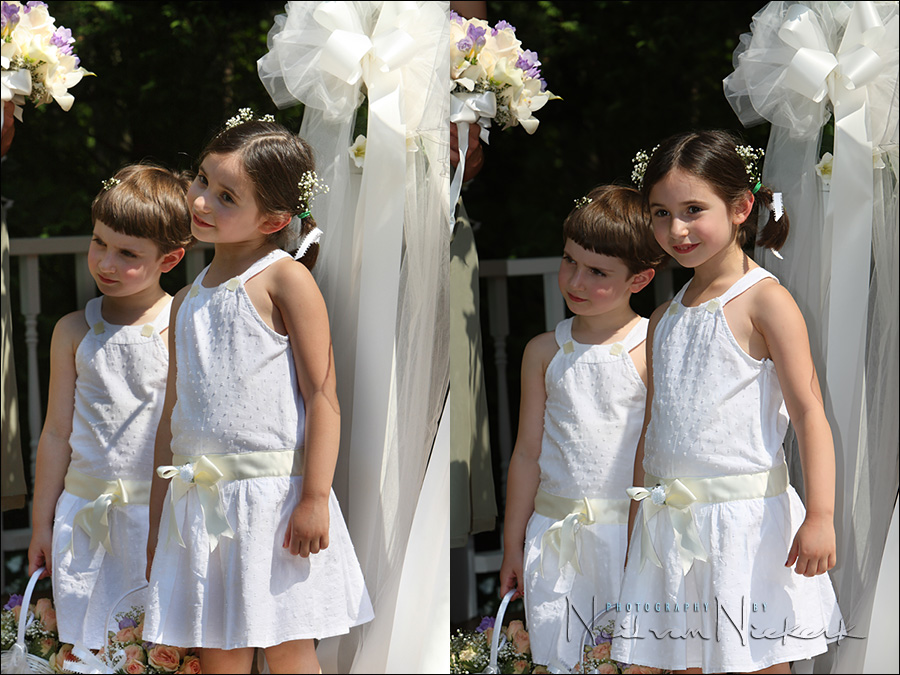 Another option
This image on the right is the one where I used flash to light the shadow details. It needed no work in post-production to look like this, and as far as I am concerned is a perfectly acceptable image of these two flower girls.
With the image on the left, I used the available-light only image, but did some work in Photoshop. Here I created two JPGs from the RAW file, each at different exposures. Then I combined the two JPGs as layers in Photoshop and masked off certain areas so I could get detail in the shadows and retain detail in the highlights. This does look good, but this does take time.
So there you have the choices. Personally, I would be quite happy to accept the compromise of fairly hard fill-flash in this situation to bring up the shadow detail. Doing it this way and still controlling my exposure properly by using my camera in manual exposure mode gives me a very good image already during the actual moment of taking the photograph.