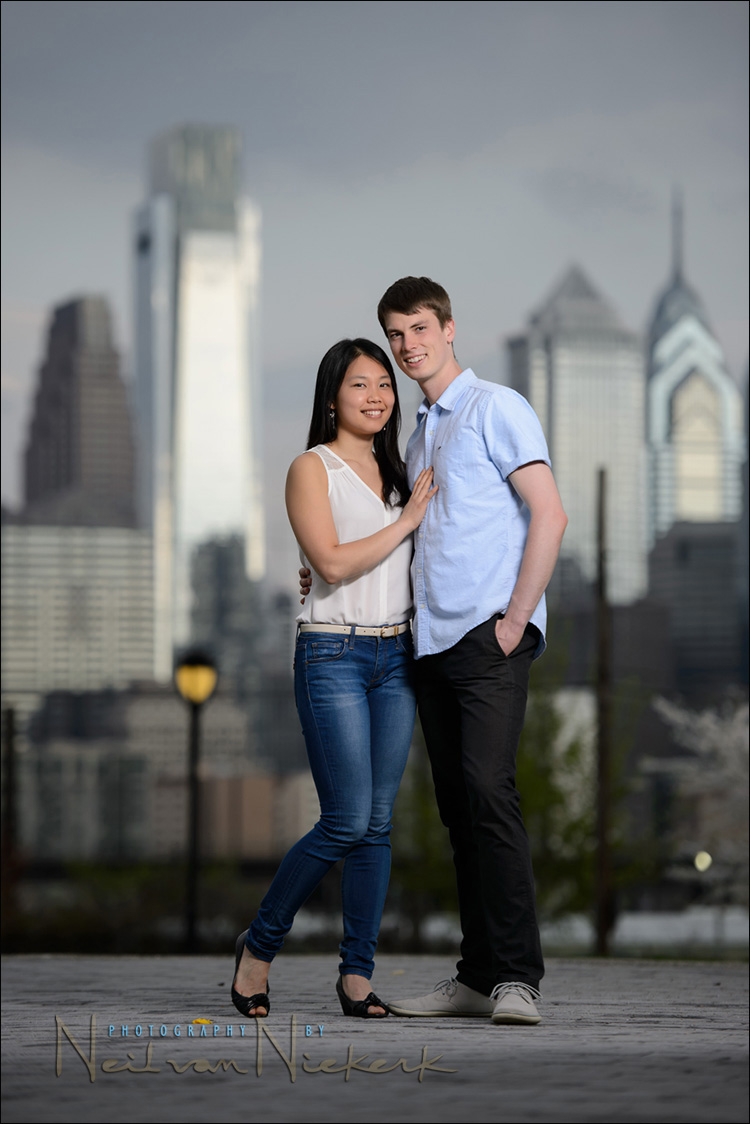 Engagement photo sessions: Posing, lighting & context
I love this photo! I also like how it came together. This was within minutes of meeting DaWeon and Toban for their engagement photo session in Philadelphia. We had only chatted on Skype before. Embarrassingly enough, I arrived late to the meeting place for their engagement session through my misunderstanding about the address. No excuses there. But it did mean I had to work fast – the setting sun was lighting up the Philadelphia skyline, and I had to nail a series of photos very quickly.
DaWeon and Toban had said they wanted the city to feature in their engagement photo session. And of course, I am always under a self-imposed instruction that the photos have to look great and have to please and even surprise my clients.
More than pre-visualizing a shot, you have to be able to immediately recognize what needs to be done to get the photograph that you know is possible.
Everyone who regularly follows the Tangents blog, would know that my approach is one where I work with a structure – an algorithm that will make sure the shot works technically. But I also want to be open to surprises. Chance.
That idea of allowing serendipity and change to influence a photo session, has been a regular topic lately:
With clients though, I am more inclined to favor my chances of success by working with structure to my photography technique. The images need to work! There needs to be a solid yet fluid baseline from which I can be creative and look for opportunities and play off the couple's playfulness.
A few things had to come together to make this photo (and the entire series of photos) successful:
– lighting,
– composition
– context,
– posing.
And these are things I have to control. No time to wait for luck to favor me with some random goodness.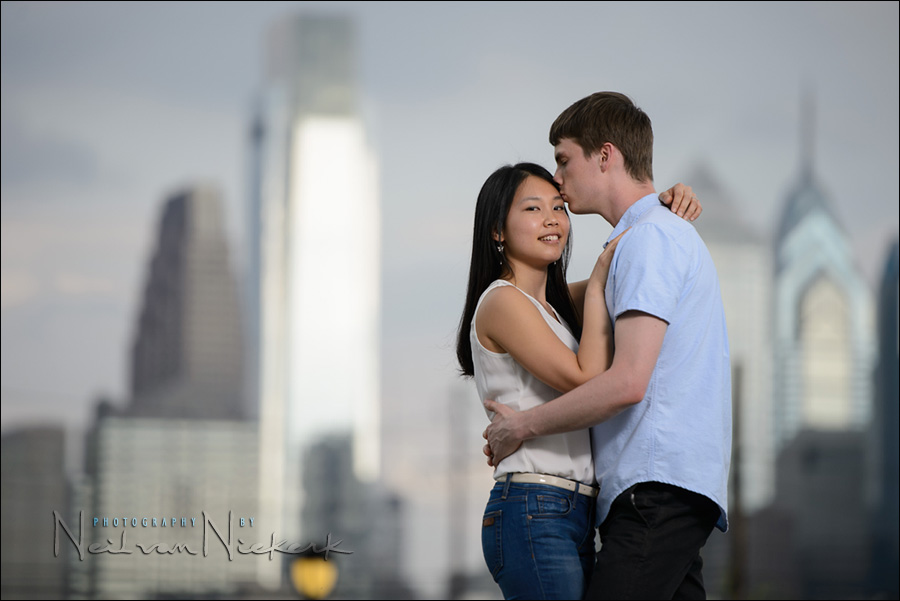 Camera settings & photo gear (or equivalents) used for the main photo
1/1000  @  f/3.2  @  100 ISO  … with Profoto B1 off-camera flash
Lighting & posing
I want to discuss two of those specific elements – lighting and posing:
Lighting
The Profoto B1 flash has proven to be a game-changer for me for several reasons. Most obvious, the ease of use and setting up, as well as the sheer power for a portable unit. But the way that the B1 has changed things for me, is that I can now confidently go to high-speed flash sync (HSS) mode.
Previously, with speedlights, I always went to HHS mode conservatively when working in very bright light. I would first make sure I was able to get proper flash exposure at normal flash output (at maximum sync speed). Then I would find the necessary aperture and then add that much flash. If I could get correct exposure in bright light with a speedlight at max sync speed, then I knew I had a chance that HSS might work for that distance and aperture.
If we look at the camera settings I chose –  1/1000  @  f/3.2  @  100 ISO – will show that the late afternoon sun reflecting off the buildings were quite bright. Not too far Sunny 16 even!
I wanted to create that separation between the couple and the background. The city could just be context. A pretty backdrop.
With the Profoto B1, I can now comfortably deviate from my usual algorithm when shooting in bright sunlight with flash. Instead of first going to max sync speed, I can now immediately go to my chosen aperture – in this case, f/3.2 … a wide aperture for shallow depth-of-field. Then I find the appropriate shutter speed. The inverse of how I would approach this with a speedlight! Better yet, I now have much softer light than a speedlight because I can use a softbox – in this case my usual narrow Profoto RFi 1'×3' softbox (affiliate) – and still have a wide aperture.
Posing
I don't often rigidly pose people – I prefer a more "organic" approach to posing where I adjust and correct someone's pose very quickly before taking the photo. This way their pose or stance is still natural for them, but has been improved for the camera. It can be subtle – the way they shift their weight or place their hands. Check the various articles on posing for more tips and suggestions.
There's one thing I'd like to point out about DaWeon's pose in the image at the top (and here on the right):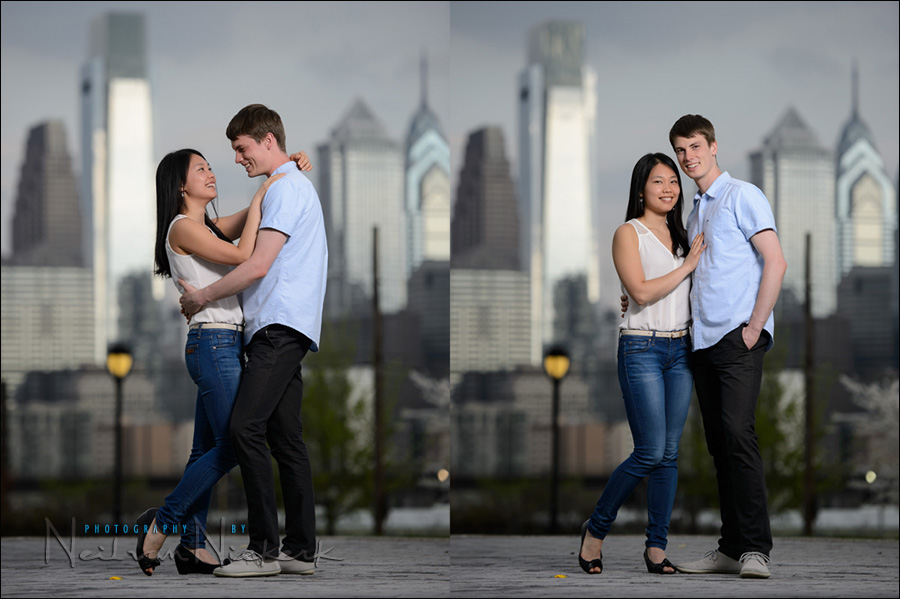 Notice the way she has her front knee bent. She naturally fell into this pose, so there wasn't anything for me to adjust with how she placed her feet and her legs. But notice how her front knee is bent forward. This creates an inverted triangle from her waist and to her knees. This naturally looks more slender. Not that DaWeon needed a pose that looks more slender, and less bulky – but this is how I would pose any woman as a starter pose.
The opposite of this would be with your subject's rear leg cocked forward, creating a triangle shape like on the right. This immediately looks larger and more bulky. You can try this yourself in a mirror to see the difference in what happens when the other knee is bent forward.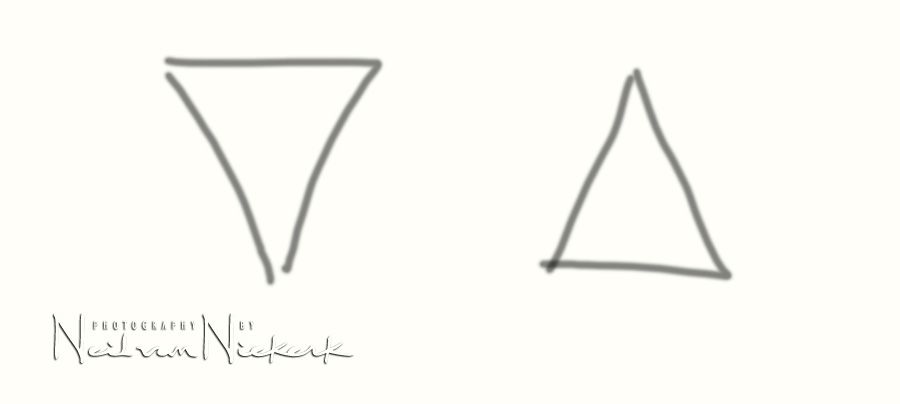 Related links
More images