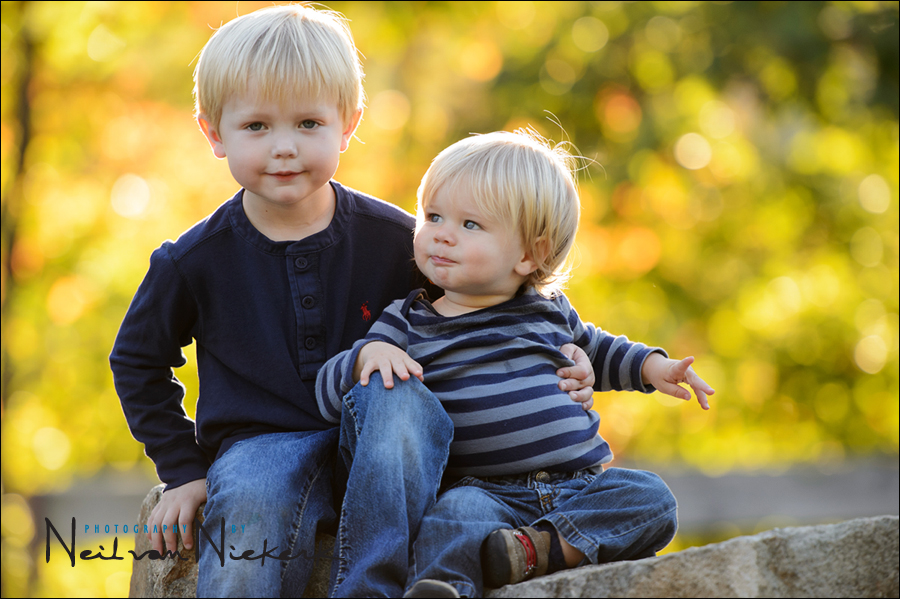 Using tele-converters: Extra lens compression for tighter portraits
One of the techniques to have your subject really stand out from the background, is to use the longest focal length on your 70-200mm telephoto zoom. One of the first things I do, is to zoom to maximum focal length, and then step backwards to find the composition … and then only zoom wider if necessary.  Doing it this way, forces you to use the longest focal length. This compression focuses attention on your subject by creating separation from the background.
To extend the range of my 70-200mm f/2.8 lens, I always keep a 1.4x teleconverter in my bag. This extra 1.4x boost in focal length gives me reach, or as in this case, that extra compression to help with my photograph's composition:
The setting
The setting for photographing these two boys, Will and Ian, was this parking area. But I also knew that the sun on the Fall colors would be a fantastic background. The light on them from the front was just the open sky – soft and even. No need for additional light really.
This shows approximately the position I shot from. And again, you can see this is a "nowhere" location. Aside from the glorious colors in the background, there isn't anything else to work with here.
Comparing the effect of longer focal length
Stepping through a sequence of images, you can see how the longer focal length compresses the photo more and more.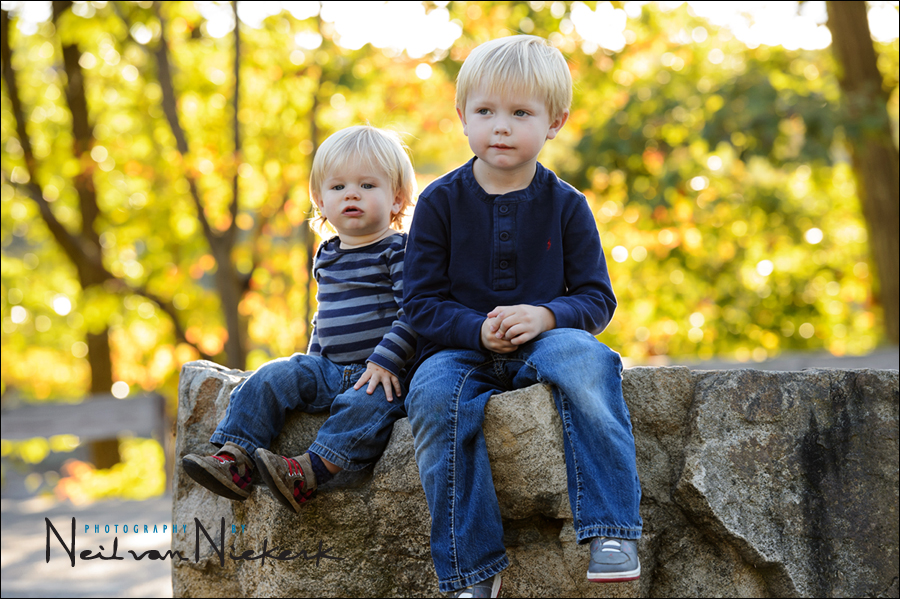 70-200mm lens, used at 135mm
1/250  @  f/5  @  800 ISO
70-200mm lens, used at 200mm
1/250  @  f/5  @  800 ISO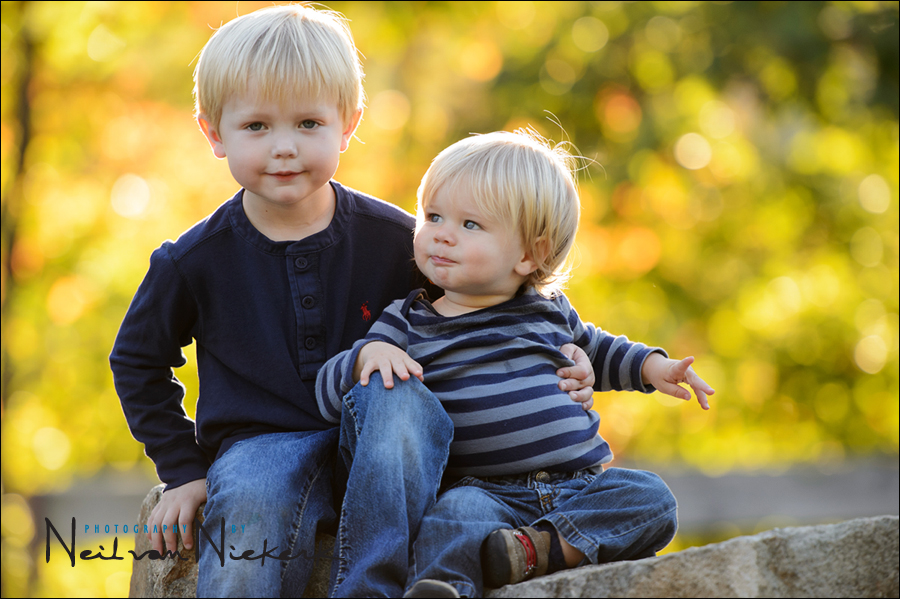 70-200mm lens, with a 1.4x teleconverter, to give an effective 280mm focal length.
1/400  @  f/4  @  800 ISO
I increased the shutter speed to help against camera shake.
With the initial photos, I started at 135mm and progressed to the 200mm end of my 70-200mm lens. But I felt there was still too much of the parking lot's railings in the photo. I needed tighter framing. So I added a 1.4x tele-converter. The 200mm focal length setting now became an effective 280mm length!
Comparing the last image (shot at 280mm) and image above that (at 200mm), you can see the boys are about the same size in the framing of the photo. By stepping back until I got the framing I wanted of the two boys, my background had now become "enlarged" with the longer focal length. With this tighter framing, I was able to eliminate even more clutter from the background, and have just the two boys against this golden splash of color.
I prefer the 1.4x teleconverter since you only lose a stop, and the f/2.8 becomes an effective f/4 which is still a wide enough aperture to allow a faster shutter speed. A 2x teleconverter loses two stops of light, and that f/2.8 aperture becomes a more modest f/5.6 aperture. Having both a 1.4x and 2x teleconverter handy is great, but given the choice, I would pick the 1.4x first, since it is more useful for portrait photography. Wildlife and Sport photographers will have different needs of course.
With all this in mind, I do keep a 1.4x tele-converter in my camera bag. It is so small that it barely takes up any space. But when I need that extra bit of reach with my longest lens, it is just the thing.

Camera settings & equipment (or equivalents) used for final image
1/400 @ f/4 @ 800 ISO – 280mm focal length
Related links