Available light portraits – Composition and light
Over time I noticed that my style in photographing portraits have gravitated to a specific look where everything is quite simplified – the lighting, the background and the framing of the shot. Whether I use the available light, or video light, or off-camera flash, or even on-camera bounce flash, there's a certain uncomplicated look. I'd like to think of it as elegant unfussy simplicity.
Analyzing this, it is easy to see there's a specific method here. It's a method which helps especially when under pressure. Here, even allowing extra time for the crazy peak-time traffic here in New Jersey, I was still running late for the photo session with Christy. When I arrived, falling back into a familiar rhythm of shooting portraits, allowed me to get images that work, very quickly.
The essential idea is that the light has to be good, and the background has to be complimentary. Then it is a matter of posing our subject, and composing the frame. Invariably then, the starting point is finding that intersect between good light and a good background. And if  you don't have great available light, then you need to create it with additional lighting.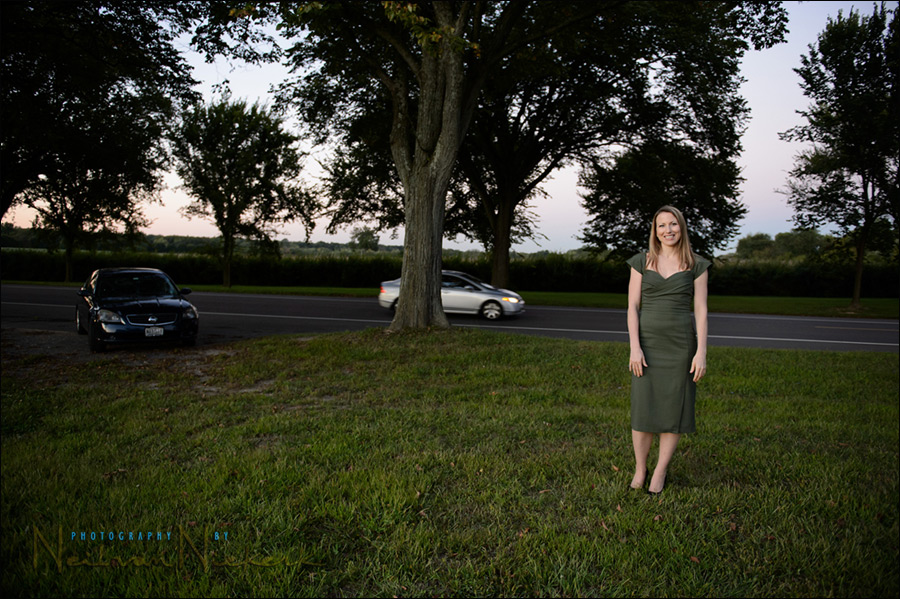 Here's the pull-back shot of exactly where I photographed Christy – it's just a grassy stretch next to the side of the road. Nothing much there.The image at the top was shot at 180mm, which is towards the longer end of my 70-200mm f/2.8 zoom. This is an essential lens for me – fast telephoto zoom with stabilization. It allows me to shoot in low light with relatively less chance of camera shake. The shallow depth-of-field also adds its own characteristic to the image.
More importantly here, the longer focal length allows me to pick out the specific background that I want. I can choose my background, and even a small sideways movement of a few inches can change the background of the portrait. Shooting from lower down, I moved my own position to frame Christy against the brighter background, and with that natural vignette there of the out-of-focus trees. All of this isn't random, but specific decisions.
camera settings for the image at the top:
1/160 @ f/2.8 @ 1250 ISO … available light only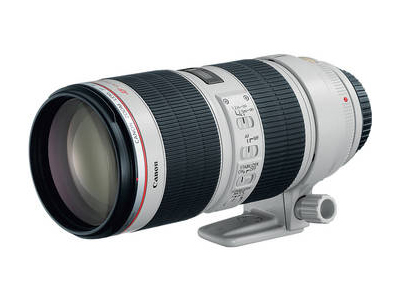 Canon EF 70-200mm f/2.8L IS II
  (
Amazon
)
Nikon 70-200mm f2.8G VR II
  (
Amazon
)
The starting point – with the sun setting over the horizon, there was a golden glow to the light. I asked Christy to turn her back to that, hoping for some of that rim-light to perhaps work its magic. But it wasn't strong enough for the effect I wanted – the light was already fading. Also, shooting in this direction didn't look like it would lead to much in terms of an interesting background.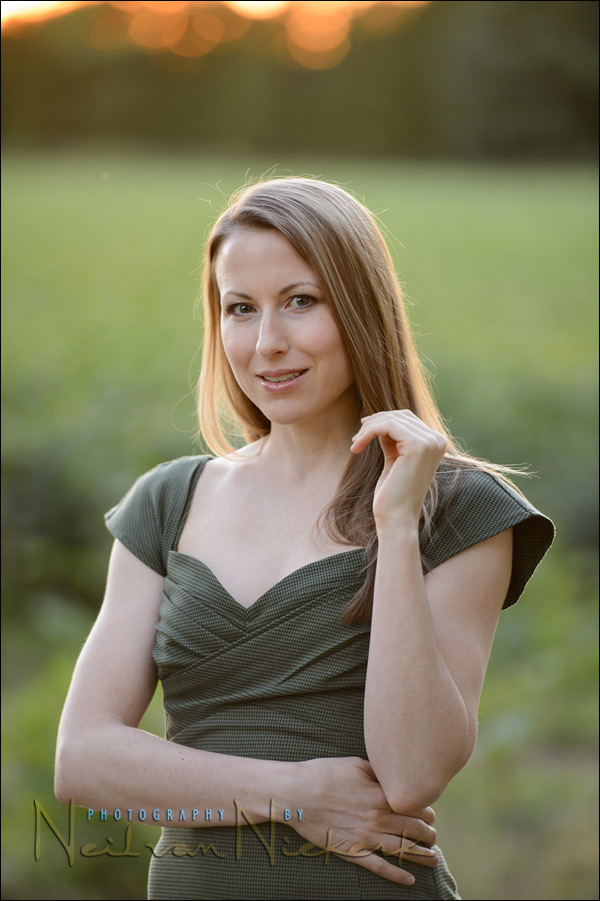 Then, turning around, I saw the patch of brighter sky between the trees, and knew this would make a great natural frame. It even worked for the full-length images.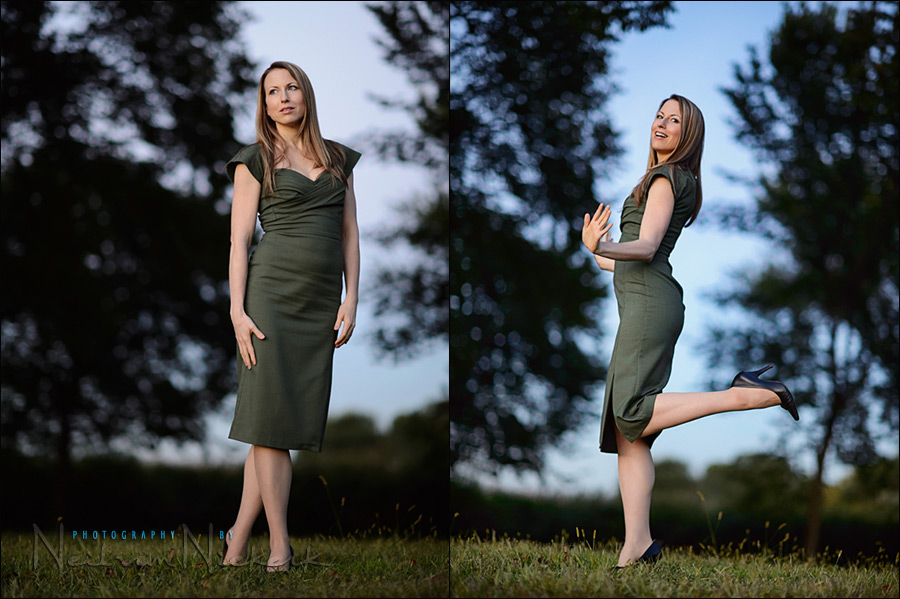 Photo gear (or equivalents) used in this photo session
Related articles