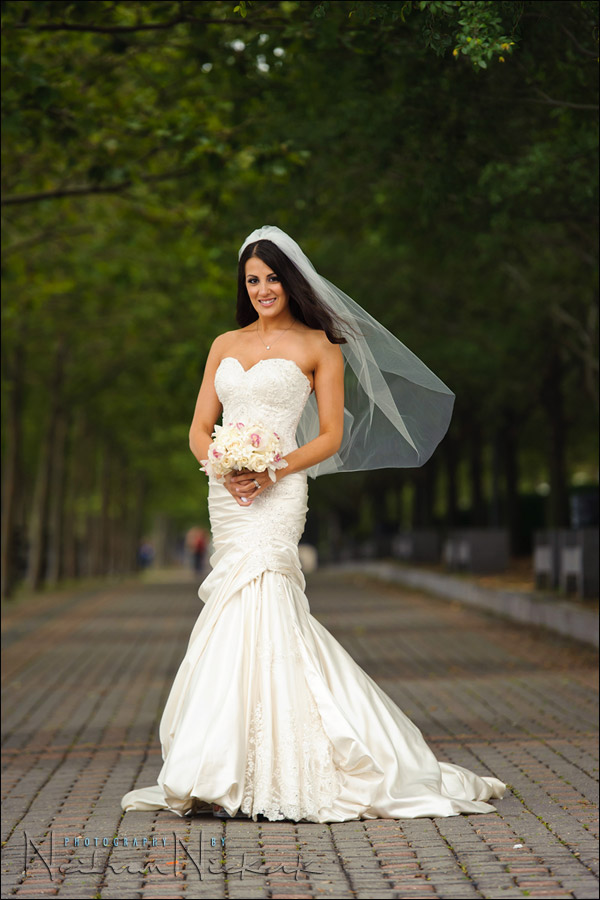 "Using the available light" is not a random decision
Since I often use flash or additional light, there was some surprise in the (favorable) comments in the Facebook album when I mentioned this photo was shot without any flash. Not even fill-flash. Just the available light. But where I posed the bride, was a specific decision. It wasn't just random.
Now, I often get the feeling that when someone boasts they only use available light, that it is meant to disguise that they don't know how to use additional lighting. My thought here is that unless you find yourself in great light, or alternately position your subject so that the light works in your favor … you're very likely to find that the available light just isn't as flattering as it could be. Ultimately, this comes down to the point that using light – whether found (ambient) light, or light added by the photographer – is best as a conscious decision by the photographer.
Of course, for many genres of photography, (sport, news, theater, and so on), these choices are out of our control. We then just best deal with whatever the situation throws at us. So there are those times where we really don't have any say in it. But when we do have control over the shooting scenario and our subject … then, how light is used, is best as a conscious choice by us as photographers.
Back to the image at the top. This was taken during the romantic portrait session of the couple after their wedding. I have photographed in this area quite often, so I knew that this photograph would work. Especially so for someone with such natural elegance as Jen, our bride here. You may remember Jen from the rainy day photo-session with her fiance, Chris. The article was also used in my book on off-camera flash. Oh, and while we're busy with these flashbacks, Jen and Chris were also the couple in the photograph used in the article on using on-camera bounce flash outdoors at night.
But I digress … back to the image at the top. The composition is supremely simple. Uncluttered. The receding lines lead your eye right into the middle, towards Jen. (For a final edit for an album, I'd still clone out the out-of-focus people in the background.) So the composition is straight-forward.
The way I had her pose, is also straight-forward, yet elegant. The one thing to note here, is how I had her pop her front knee towards the side. This creates a slimming effect on any one … versus popping the rear knee forward, which visually creates a larger shape.
Now, where I positioned Jen, was quite specific. I had her stand right at the entrance of the row of trees, just past the first tree. This diagram might explain it better: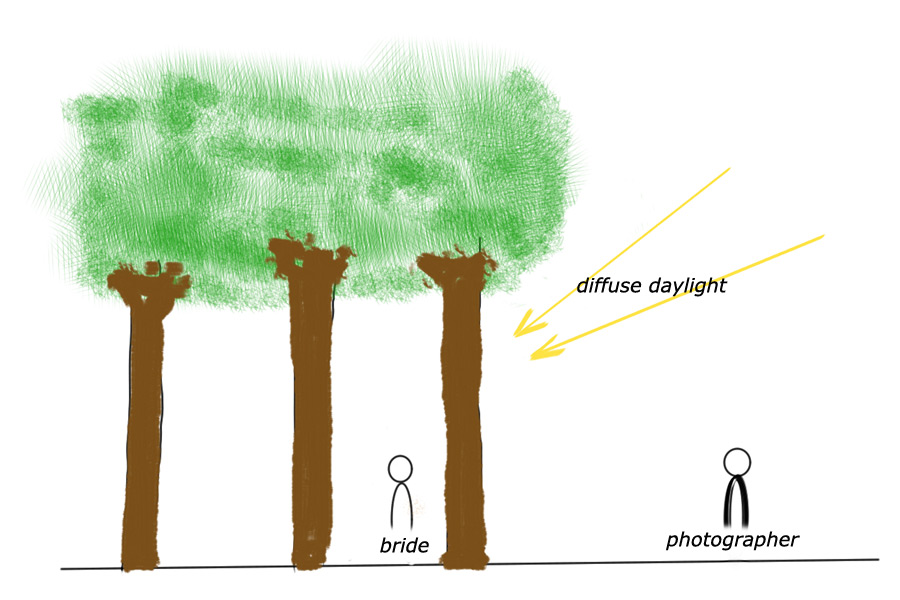 In positioning her here, the light is now coming from a specific direction, and very soft. The light isn't coming from over-head like it would've if we'd worked elsewhere. By having her stand there, we are in a way mimicking the effect of a massive softbox in the studio, placed 45 degrees or so, above our subject. Immediately we reduce the chance of heavy shadows under the eyes. The light is now coming from a specific angle.
I could have, if there were backgrounds that would've complemented this, moved to the side, and had more of a directional effect to the light. Remember, if you change your position in relation to the light and your subject, the light changes completely! It is important that the connection is seen between the way that Ulorin Vex was lit by flash in that image, and how the light in this instance would've changed if I had changed my position. It's all connected. It's all about the direction of light.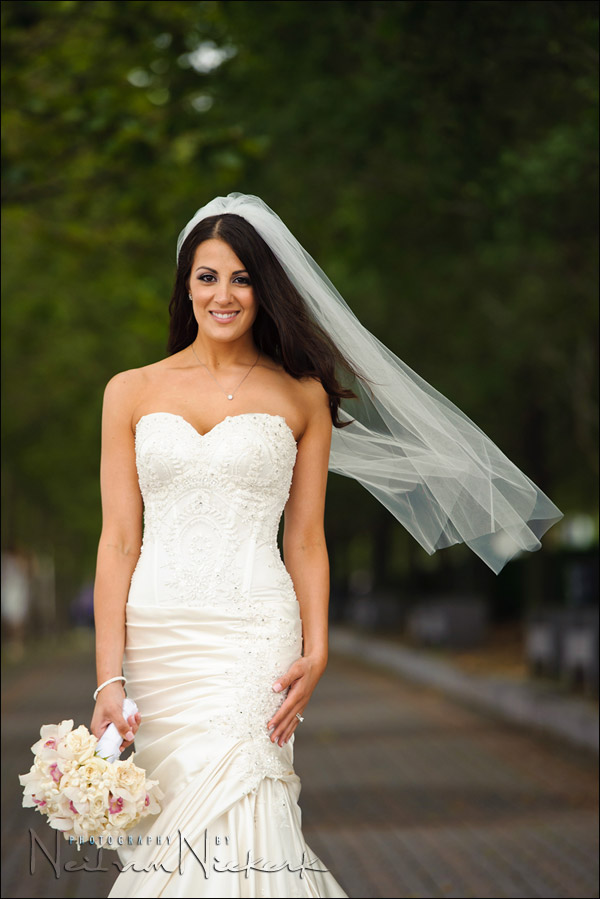 So, relating all this to the topic here – I used the available light. But it wasn't just a random thing. It was specific, but it was also a quick decision. I knew that by positioning her there, I'd control the direction most of the light would come in from. The same idea would work by posing your subject within a doorway, for example.
Camera settings & photo gear (or equivalents) used during this photo session
---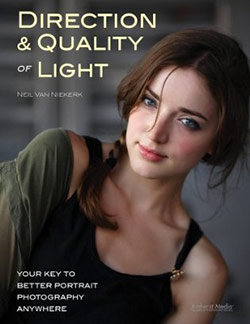 Direction & Quality of Light
I wanted to distill the essence of what we, as photographers, work with – light! Before we can truly grasp on-camera flash and off-camera flash, and really, any kind of photography, we have to be aware of the direction and quality of light. We need to observe the light that we have, and then decide how best to use it, or enhance it.
With this book, I try my best to share those "aha!" moments with you, and I do believe this book can make a difference to your photography.
The book is available on Amazon USA and Amazon UK, or can be ordered through Barnes & Nobles and other bookstores. The book is also available on the Apple iBook Store, as well as Amazon Kindle.
---
Related articles