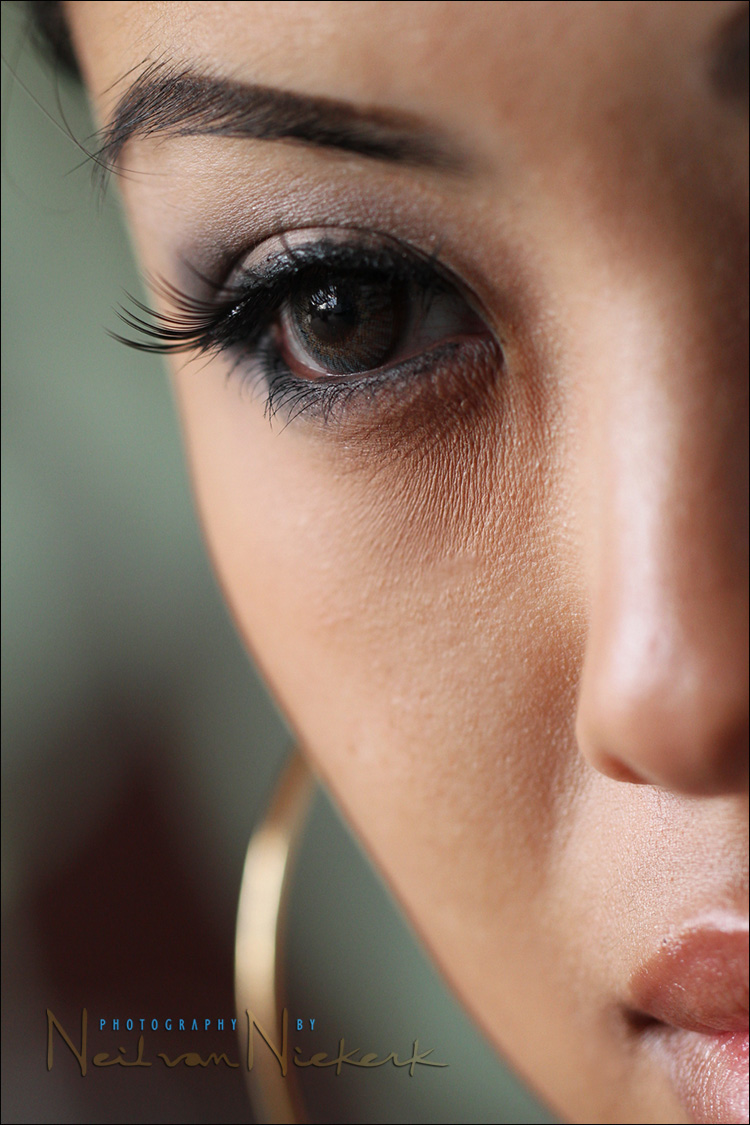 review: Canon EF 100mm f/2.8L Macro IS lens
The specialty of a macro lens is in allowing you much much closer to your subject than a normal optic would .. with the ease of continuous focusing from infinity to the closest distance.  No need to screw in additional rings or lenses or reverse your lens.  A macro lens works as a close-up lens, and as a more usual optic.  And that's the versatility of it.
The main feature of the Canon 100 mm f/2.8 IS macro lens (B&H / Amazon) is that it offers stabilization.  Now this might not seem such a big deal to photographers who work with a tripod and photograph more static subjects – but the moment you want to shoot on the move, and play around fluently with your composition and angles – then using the lens hand-held becomes a huge advantage.
Instead of photographing the usual macro subjects – flowers and insects – I decided to test the Canon 100 mm f/2.8 IS macro lens (affiliate ), during a portrait session with a model, Annisa.
In the photo above, my settings were 1/200th @ f3.2 @ 400 ISO.  In testing the lens with and without the IS enabled, there is a clear difference in the crispness of the (handheld) images.  There's no doubt that the IS works, and is a major improvement on the previous generation of this lens ..
Of course, I had to machine-gun the series of images to get a few images which were critically sharp.  This is because the depth-of-field was minimal at f3.2 at such a relatively close focusing distance.  If I merely breathed, or the model moved ever so slightly, the photograph would be out of focus.   That I had to do this was no fault of this exemplary lens, but rather a by-product of the way that I chose to shoot – handheld.   The stabilization will definitely help with camera shake, but won't affect how sharp my subject appears due to subject movement .. or my own movement towards or away from my subject, however small a distance it might appear to be.
One more photograph of our model, but this time at  1/100th @ f4 @ 400 ISO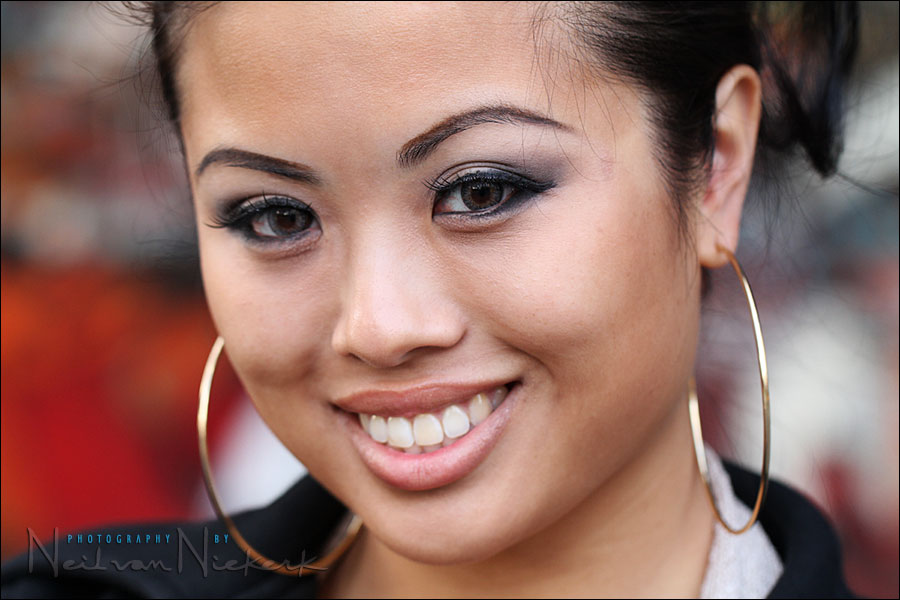 … and it is super-sharp on her one eye, while in an enlarged view,  her mouth goes gently out of focus at such a short focusing distance.   Once again, the lens' stabilization is without a doubt a huge boost here in the results you can achieve.
I used the Canon 7D camera (affiliate) for this photo session, so the 1.6x crop factor helped compress the perspective for portraits.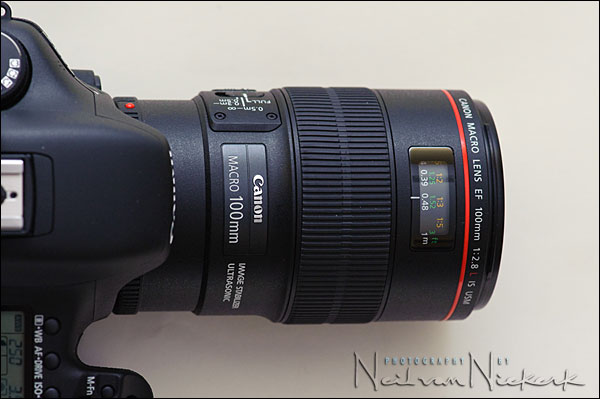 Specifications
Minimum focusing distance: 12″ / 0.31 meters
Filter size: 67mm   (the older lens has a filter size of 58mm)
Weight:  1.38 lbs / 625g  (ever so slightly heavier than the previous lens)
Length:  4.8″ / 123mm   (a fraction longer than the previous lens)
Optical performance
The optical performance of this lens is very impressive!  This lens is sharp.  Even at f2.8
The edge-to-edge sharpness is superb, as you'd expect from a macro lens.
Auto-focus performance
Theis updated lens focuses noticeably faster than its predecessor. Macro lenses have a tendency to be slow to focus because of the extreme range that it can focus – hence the focus / distance limiters – but this lens has a very firm response when you initiate auto-focus. Fast and assured.
Controls
The lens offers the usual controls via the buttons on the left-hand side of the lens barrel:
– focusing ranges,
– auto focus / manual focus
– stabilization on / off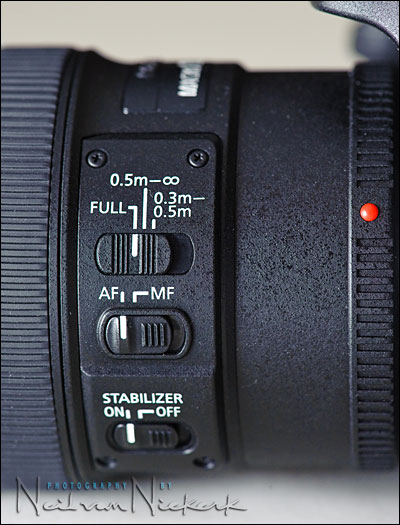 Summary
If you need a stellar macro lens for your Canon camera, and would also like it to double up as an effective portrait lens, then this is it!  Optical performance is truly great, and the lens handles well and offers stabilization.  This is as good as it gets.
If you are interested, you can buy the Canon 100 mm f/2.8 IS macro lens via these affiliate links: (B&H / Amazon)
Reviews of other Canon gear
Other Canon photo gear that I've reviewed.