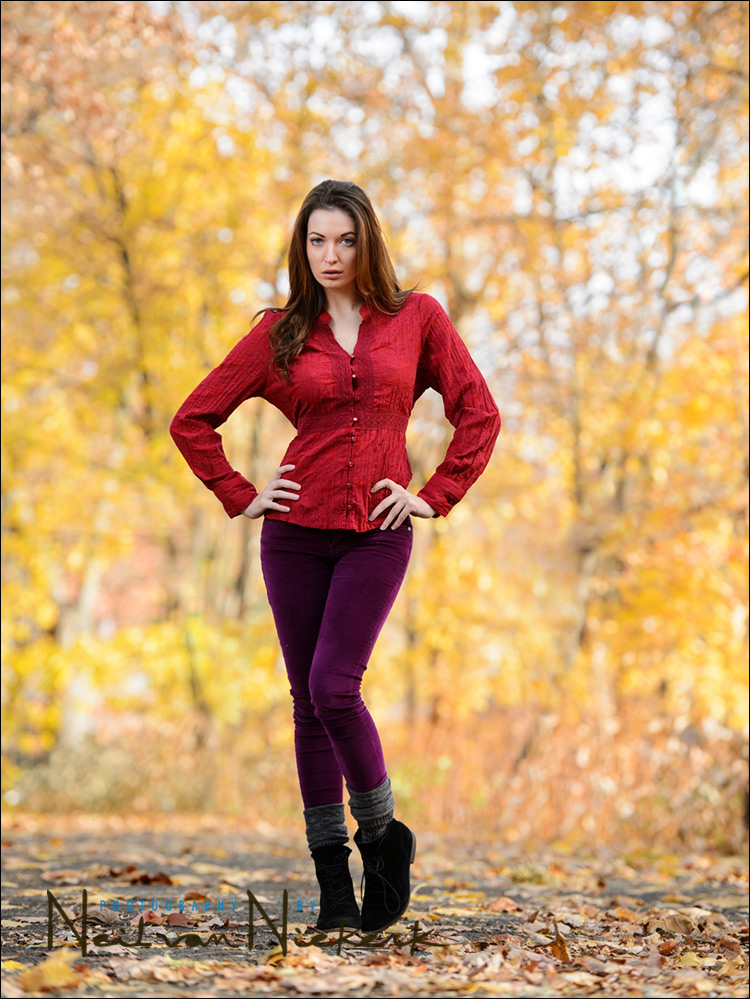 Photography composition – Getting down lower for a better perspective
It's a bit of a cliche perhaps, seeing a photographer on the ground, laying on his side, or sprawled on the ground. What might look like a strange form of attention-seeking, is actually a very solid way of improving your composition with full-length portraits. The lazy temptation is to just stand there, camera to the eye, and take the photograph. What happens then (usually), is that the photographer is shooting down on the subject. The best advice generally, is to step back for full-length compositions. When you shoot down on someone, especially with a wider angle lens, is that the perspective distortion cause the feet to appear much smaller, and your subject's head to be disproportionally larger.
With a longer focal length, such as used in this outdoors portrait of Elle, perspective distortion is less of a concern. The lens was zoomed to around 135mm, and that means her head and feet are equidistant to the camera. No distortion. (By the way, this was taken during a photography workshop at my studio.)
However, if you, as the photographer, take the photo just standing at full height, then you are still shooting down, and you're getting far too much of the ground in the image. The path here behind Elle isn't awful, and doesn't distract. But it's the colors behind her which helps make this image pop, complementing the colors of her clothing.
So let's look at a series of three images, shot while I was standing up, kneeling down, and finally, laying flat on the ground. Notice how the background changes as my perspective changes.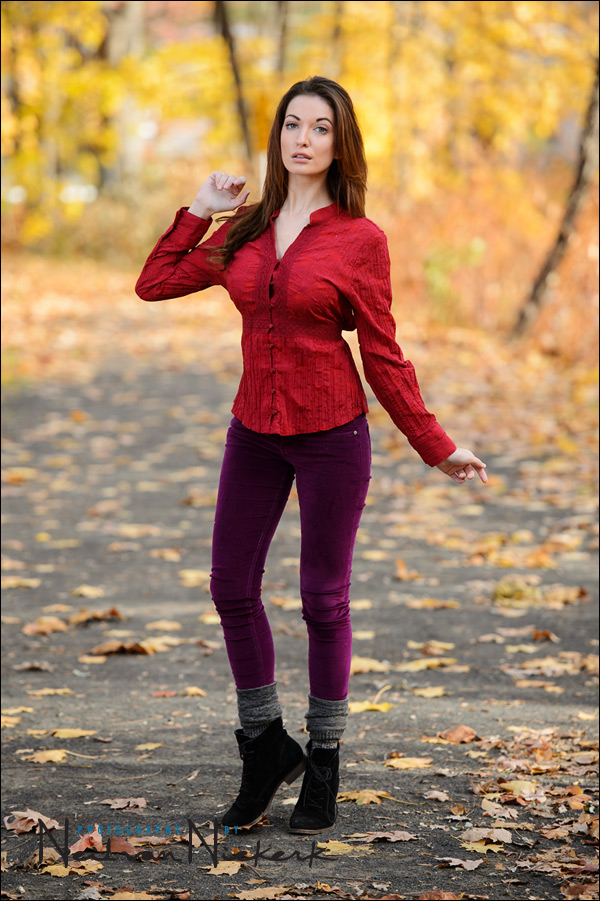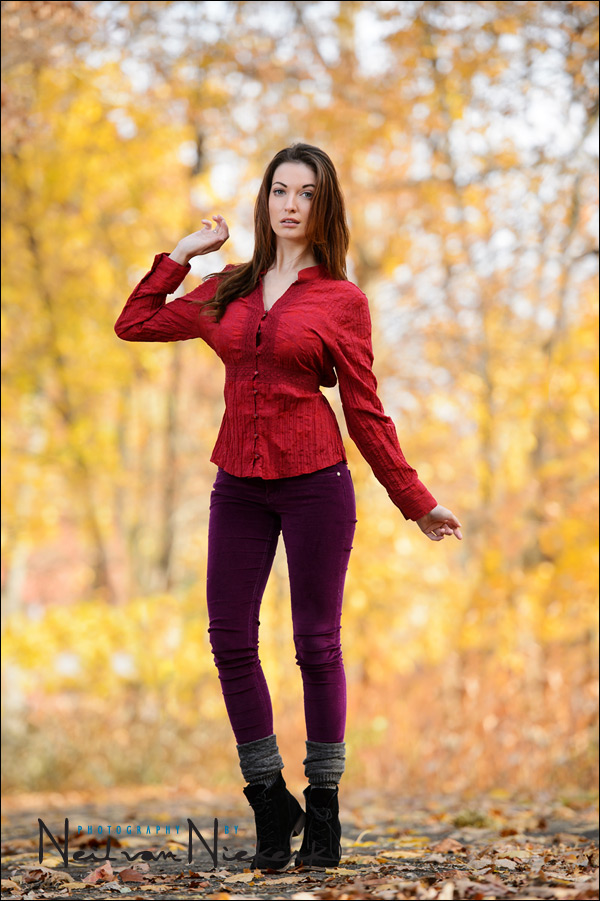 By eliminating much of the ground, this straight-forward portrait of Elle has more impact. This is something I always check for when photographing someone – whether I can tighten the composition by shooting from a lower angle. Even a slightly lower angle would've eliminated most of the pathway here.
---
Books on photographic composition
---
And as always, a pull-back shot to show the lighting setup. Just a touch of fill-flash to give flattering light on her. Notice that shadow on the ground there at her feet? I specifically posed her there so that there would be no dappled light on her. It's very much part of lighting technique for on-location photo sessions – pick your battles!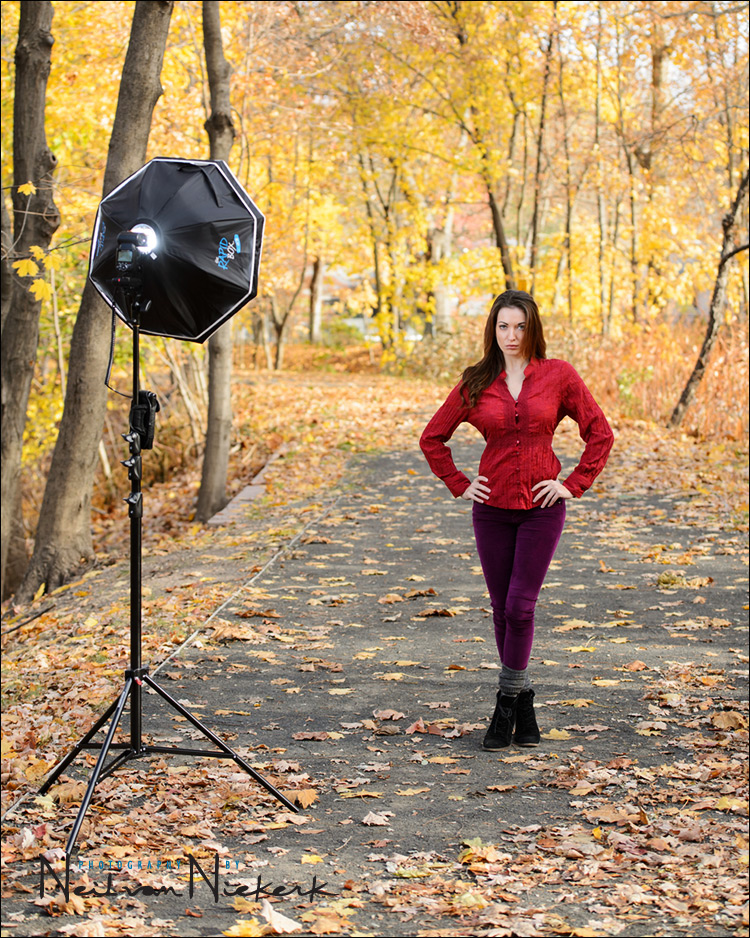 camera settings: 1/250 @ f/3.5 @ 200 ISO … manual flash.
Photo gear (or equivalents) used in this photo session
Related articles