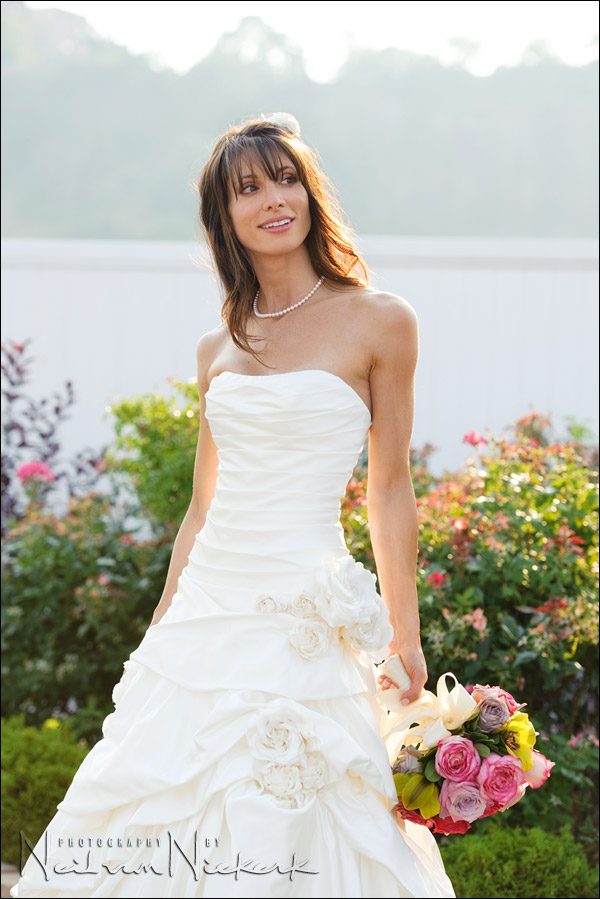 Wedding day portraits – Simplifying composition for effect
With this article I want to reinforce the idea from a few recent posts about being very specific about your composition. By simplifying the image, we have greater impact. We include only what we need to include in the frame to enhance it.  Just as important, is what we exclude: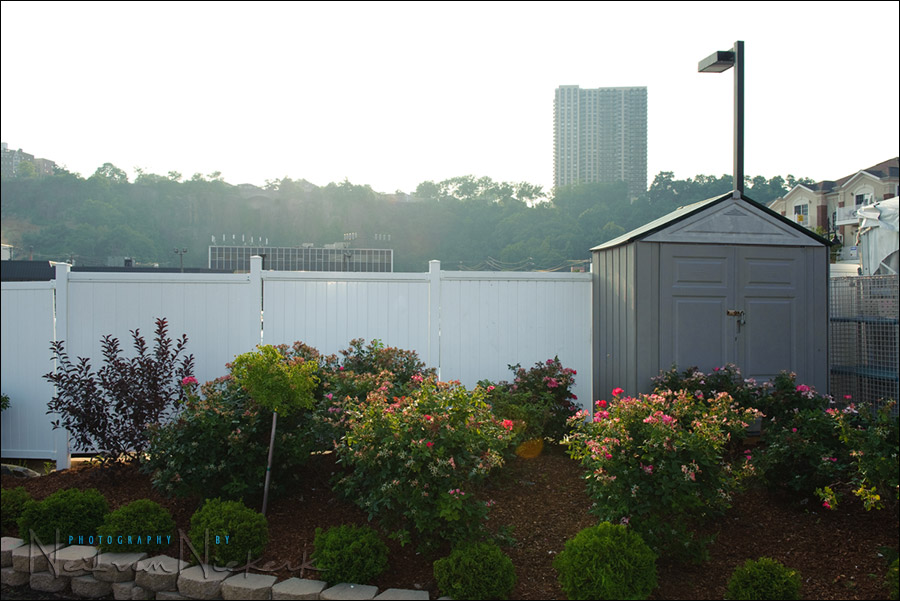 That is the pull-back shot.  To my left were apartment buildings and the walkway along the Hudson river waterfront. To my right was the reception venue and chairs and the outdoor bar area. All visual clutter. If I had turned around, I would be facing the magnificent Manhattan skyline, but the sunlight was brutal at this time.  Harsh.  There would be no way to pose the bride, Jaime, and her bridesmaids without people squinting and being uncomfortable.
Foregoing the grand vista of New York as a backdrop, I was frantically looking for something – anything – to work as a simple background. Similar to this recent article, where I described how I shot tight with a longer lens, I decided to use the same approach here again. That pullback shot shows the wall and hilltop and buildings in the background.  By shooting tight with a longer lens, I could be specific about what I included in the frame.
Better yet, in exposing correctly for the bride, the background would blow out completely. She would be rim-lit by the sun behind her.  That creates separation from the already out-of-focus and over-exposed background.  Now the background actually works for us.  The light falling on her face now, is open shade.  Clean open light. Now all we need to do is direct our subject, whether a bride or a model or family member.
settings: 1/400 @ f4 @ 200 ISO … with on-camera TTL fill-flash.
The point that I want to stress here, is that this approach simple but always an effective approach when photographing in bright sunlight.  If I'm in trouble like this in terms of finding a suitable background, and I'm working in harsh sunlight, then this method is always a good way to get solid results quickly.
Related articles