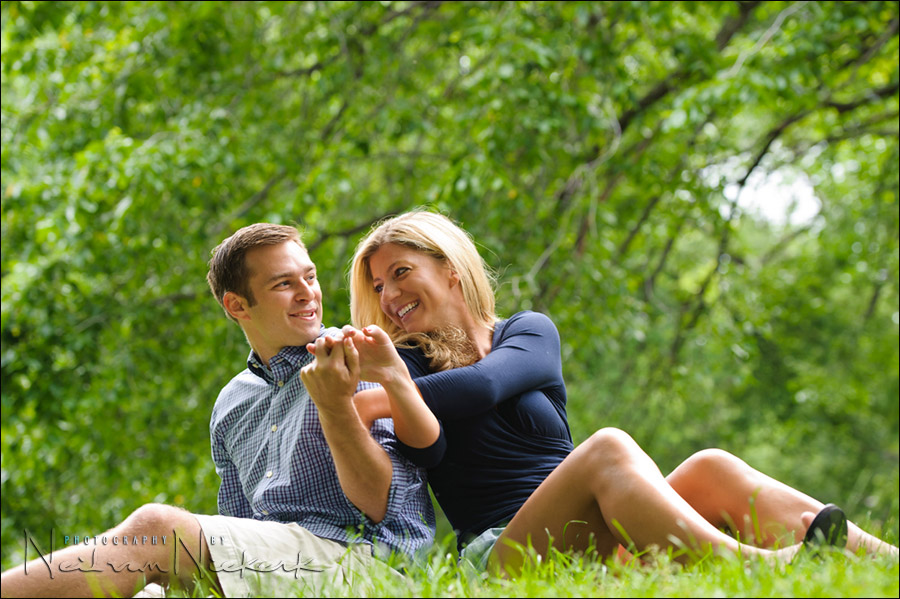 eliminate & simplify – the first steps in photography composition
These two images were taken from more or less the same spot.
All that changed was my vantage point, and my choice of lens.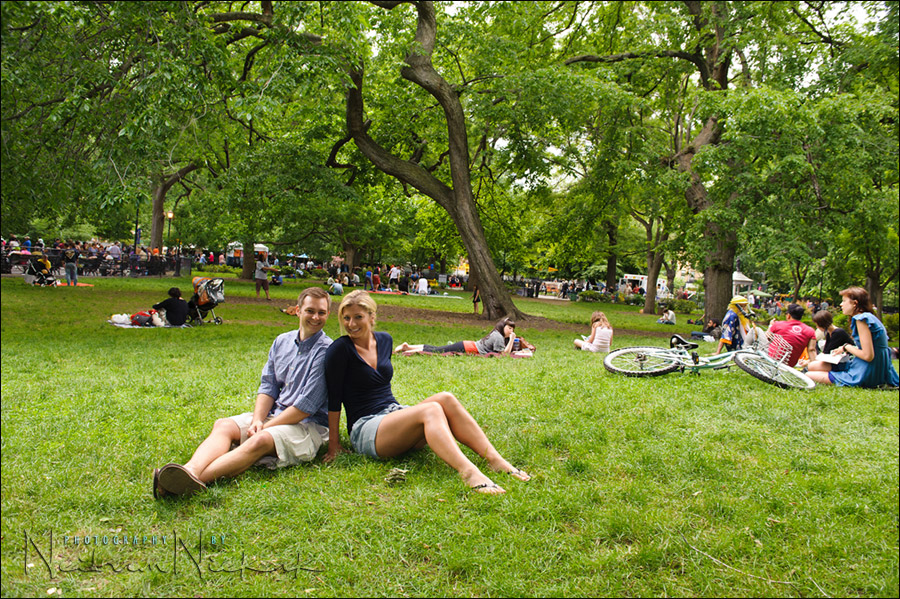 This vibrant park in Manhattan seemed like an interesting place to photograph, but when photographing a couple, I really want the accent to be on them. The best way to do this is to frame them so that the background is as simple as possible, but still complements the final photograph. I had the couple sit on top of this grassy mound, and I lay down on the grass, and framed them tightly against the trees in the background.
Even though I was working with a 70-200mm f2.8 lens, I was shooting around 90mm in focal length. But this was enough, coupled with my low viewpoint, to eliminate any distracting elements from the frame. It is essential to look at the edges of the frame when you compose. And that is the key here in the composition – simplicity.
Working with a telephoto zoom such as the 70-200mm f2.8 makes this much easier of course.
Now, people also naturally have the tendency to stand with their backs against a wall or against something when they pose for a photograph. As photographers, there is the temptation when posing a couple to always pose them directly against a background of some kind.
A neat and effective trick is to have your subjects stand well clear of the background. This can allow you to move your own position, and get a varied background. For example, with these two photographs from a sequence, we used some artwork by painters as a background. But we stood well away from it on the edge of the sidewalk. (I was cautiously in the middle of the road!) This allowed me to move to either side, and get images which look quite different, even though the couple didn't move much between the two images chosen out of this sequence.
Working with a longer lens makes it relatively easy to play with the background and with the composition like this.
The wide aperture is also very useful in blurring the background. Even though the jump in aperture from f2.8 to f4 is incremental in the change to the depth-of-field, it is noticeable.
For me, the 70-200mm f2.8 lens is essential and very much part of what defines the style that I shoot in. I wouldn't want to be without it.
---
related articles