Lighting for on-location photo sessions – pick your battles
When doing a photo session with a couple on location, I mix up the lighting as needed. Some sequences are shot with shoot available light only; for other sequences I may use off-camera flash with a softbox. Sometimes I use on-camera TTL fill-flash if that helps working faster.
Even in varying the way I may use the available light and flash, I still aim to have a consistent look to it all. My specific style has to be apparent. Or perhaps, in the way that I work, my style becomes apparent. The one way that I help make things easier for myself, and remain consistent, is that in working with the available light; or working with the available light and flash (both on-camera and off-camera) … I pick my battles. I don't try and make *everything* work. Rather, I specifically choose where I pose a couple, or what I have as the background.  All of this in relation to the existing light and my flash.
camera settings for the image above:  1/250 @ f/4.5 @ 100 ISO … TTL flash, off-camera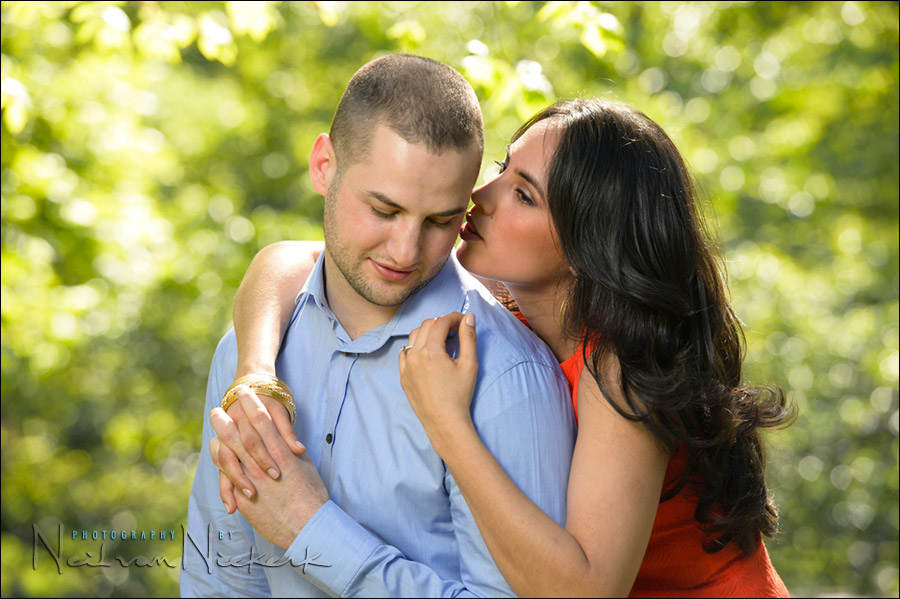 With these photos of Licet and Daniel, taken at different spots in Central Park in New York, my approach was the same – shoot against a background that is back-lit, with parts of it blowing out. Then I use off-camera flash with a softbox to bring the expose of the image up to the correct level. The softbox helps give me studio quality lighting on location, pretty much every where I place the couple.
camera settings for this image:  1/250 @ f/5.6 @ 400 ISO … TTL flash, off-camera
By turning them against the light from the sun, I get some rim-lighting, and I let the TTL flash pick up the exposure. In this photo, parts of her arm is over-exposed, but this doesn't bother me. It is more important for me to capture their expressions and how they interact with each other. At some level it is even more important for me to keep the flow of the photo session going, rather than micro-adjusting my settings and how they are positioned.
Photo gear (or equivalents) used during this photo session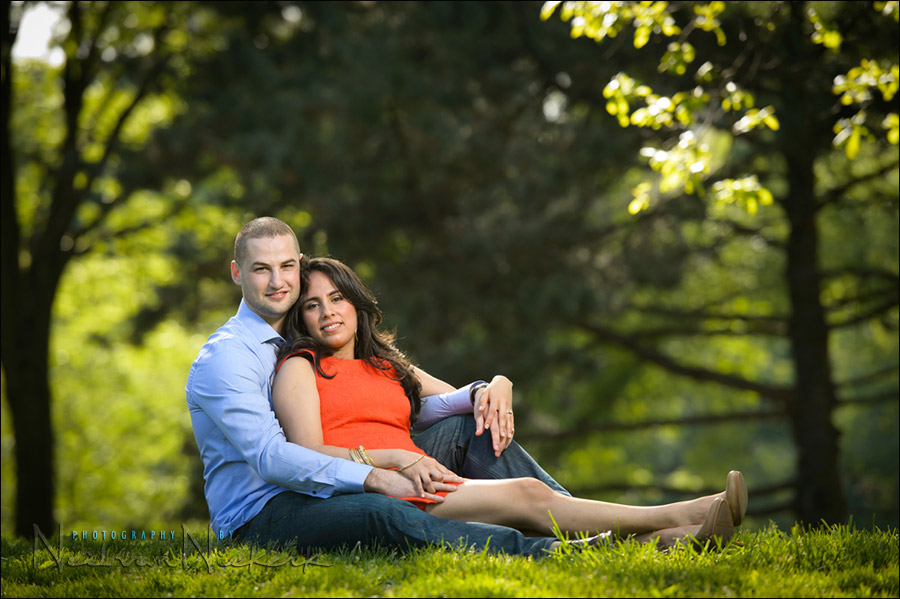 With this image, the compression of the 70-200mm lens at the longest focal length, helped. There were also groups of people in this part of Central Park, but by laying down on the ground and shooting up, and using the long lens, I was able to eliminate distractions and simplify the composition. This way, it looks like they were the only people there.
The long lens and off-camera flash help to give the photographs some snap.
camera settings for this image:  1/250 @ f/4.0 @ 200 ISO … TTL flash, off-camera
For all three preceding images, the exposure metering for the background weren't too specific. There's about a 2 stop leeway in terms of what would've looked good. So if a test shot looks good, I'm happy. I don't drive myself nuts trying to meter for a background that has large bright areas. They can blow out.
Then I let the TTL flash take care of the exposure for the couple. TTL flash really helps in making a photo session in various locations move faster.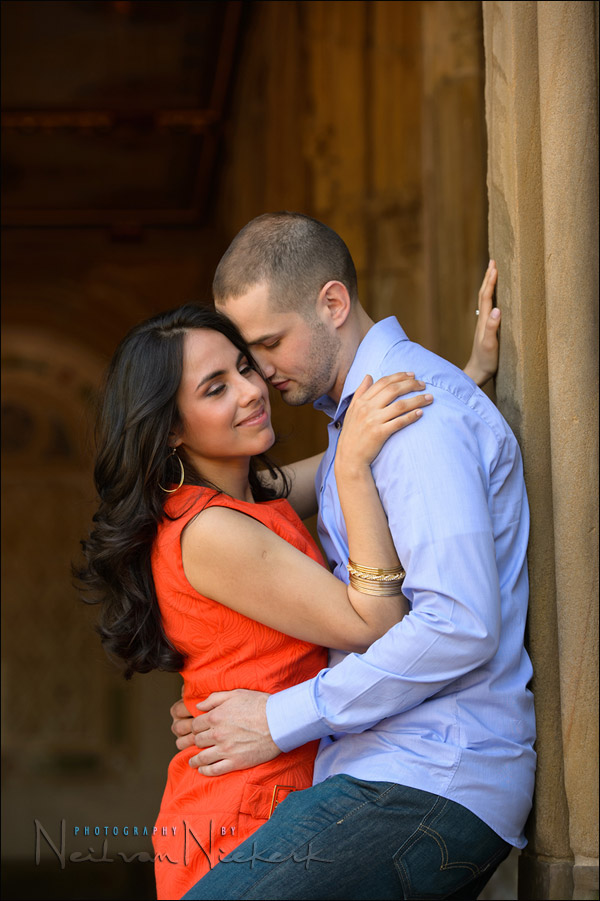 While looking for interesting backgrounds and good spots for the images, I am very aware of what the available light is like … and if it works, and I don't need additional light from my flash, then even better.
Here I had Licet and Daniel under the arches at Bethesda Fountain. The available light is coming in from a perfect angle. No need to do anything to the light.
camera settings for this image:  1/250 @ f/4.0 @ 400 ISO … available light only.
Deeper in under the arches, the light is very even. But the light levels are much lower.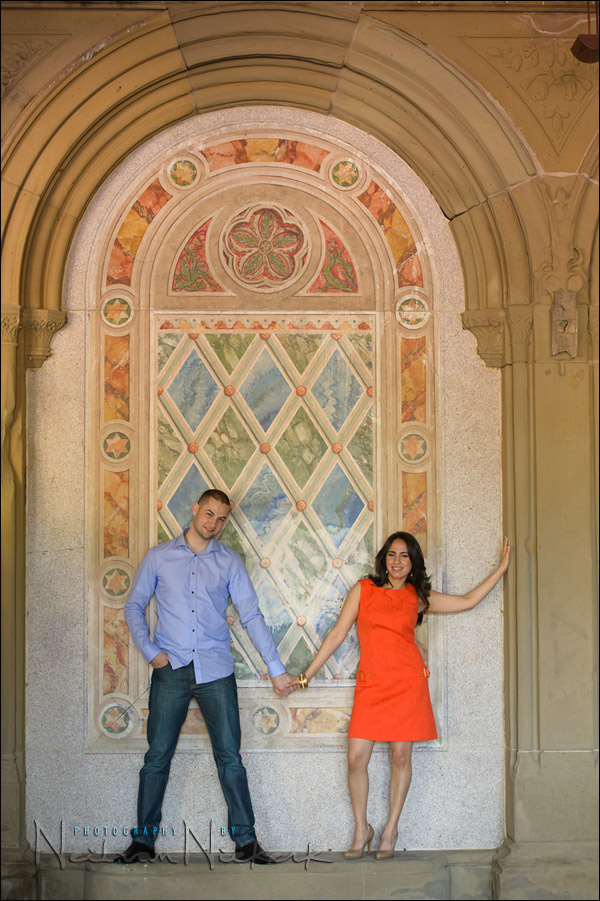 camera settings for this image:  1/125 @ f/3.5 @ 1000 ISO … available light only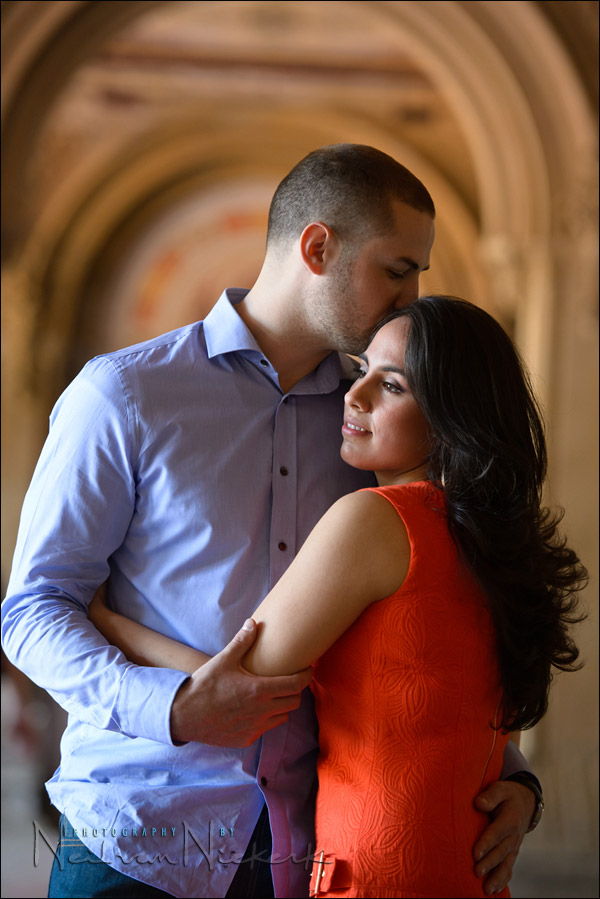 Posing Licet and Daniel at a 90 degree angle to the direction of the available light, gave more dramatic light. But it did need subtle posing to make the most of it.
The photo above is one of the two images I selected from this sequence. The image below is one of the steps working towards this. I liked the light, but Daniel's shoulder was blocking the light on Licet's face. So with that pose, I quietly asked them not to move … don't change a thing … then I told him to pull his shoulder back by an inch or two. That subtle movement opened the light on her face. Perfect.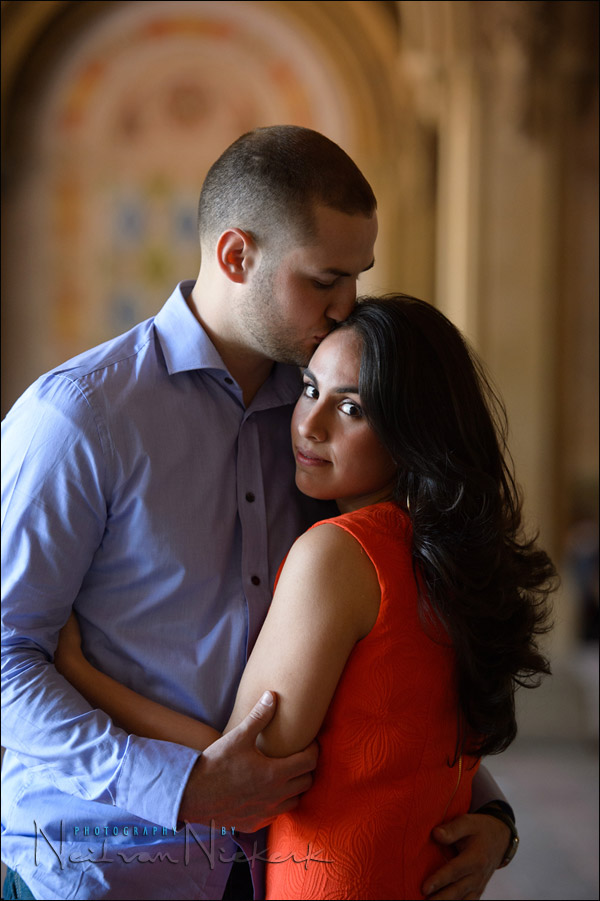 camera settings for these images:  1/100 @ f/2.8 @ 1000 ISO … available light only
---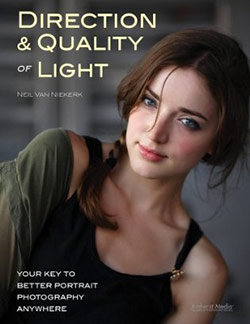 Direction & Quality of Light
I wanted to distill the essence of what we, as photographers, work with – light! Before we can truly grasp on-camera flash and off-camera flash, and really, any kind of photography, we have to be aware of the direction and quality of light. We need to observe the light that we have, and then decide how best to use it, or enhance it.
With this book, I try my best to share those "aha!" moments with you, and I do believe this book can make a difference to your photography.
The book is available on Amazon USA and Amazon UK, or can be ordered through Barnes & Nobles and other bookstores. The book is also available on the Apple iBook Store, as well as Amazon Kindle.
---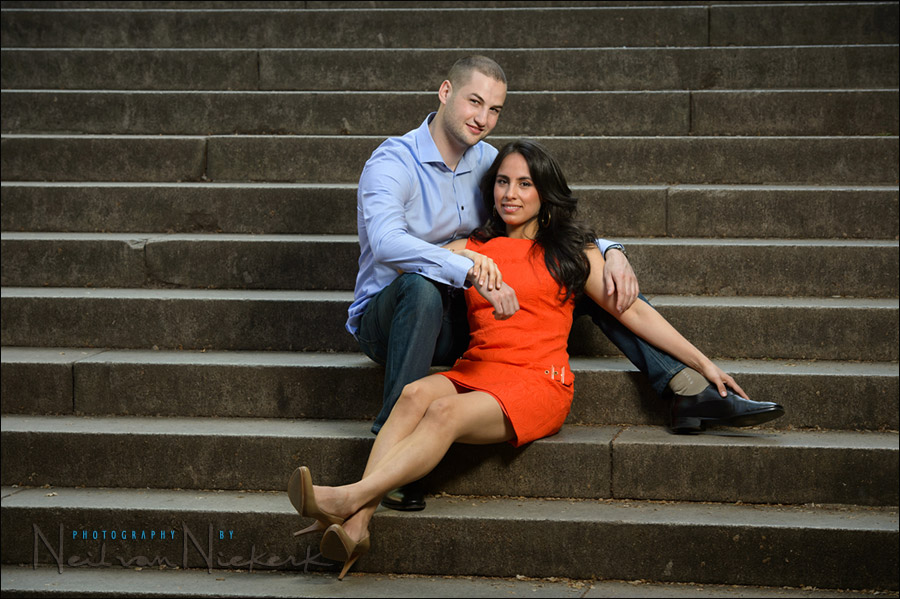 Again, with this image on the steps, I used the longer focal length to eliminate clutter, and simplify my composition.
In posing them, I started by positioning Daniel … and then adding Licet, by having her lean against his leg. I usually start with only one person first, when I pose a couple. Then I add the second person.
In terms of lighting – simplicity again. It's a Lastolite softbox and a speedlight. I used TTL flash.
camera settings for this image:  1/200 @ f/6.3 @ 800 ISO … TTL flash, off-camera
Here is the pull-back shot, and the photo without flash, just for comparison.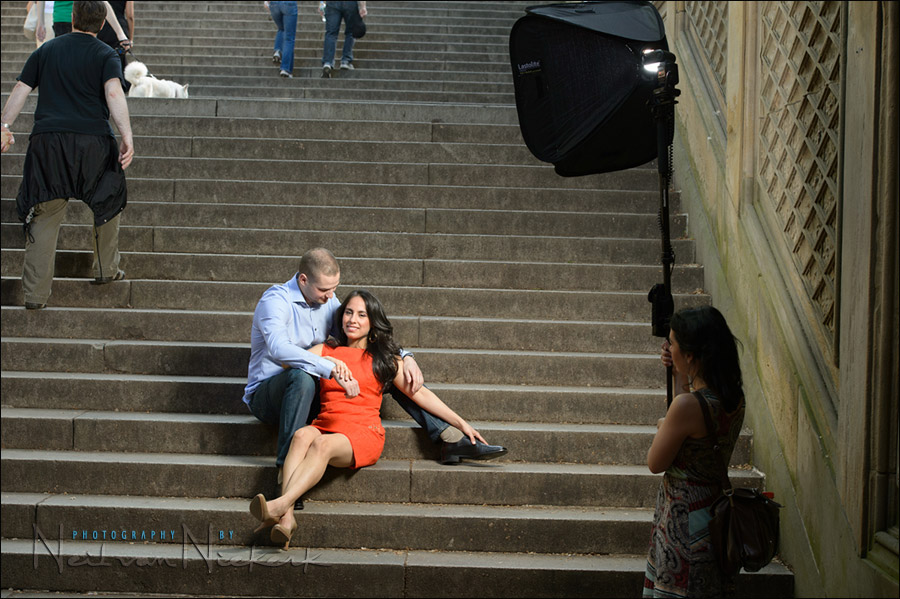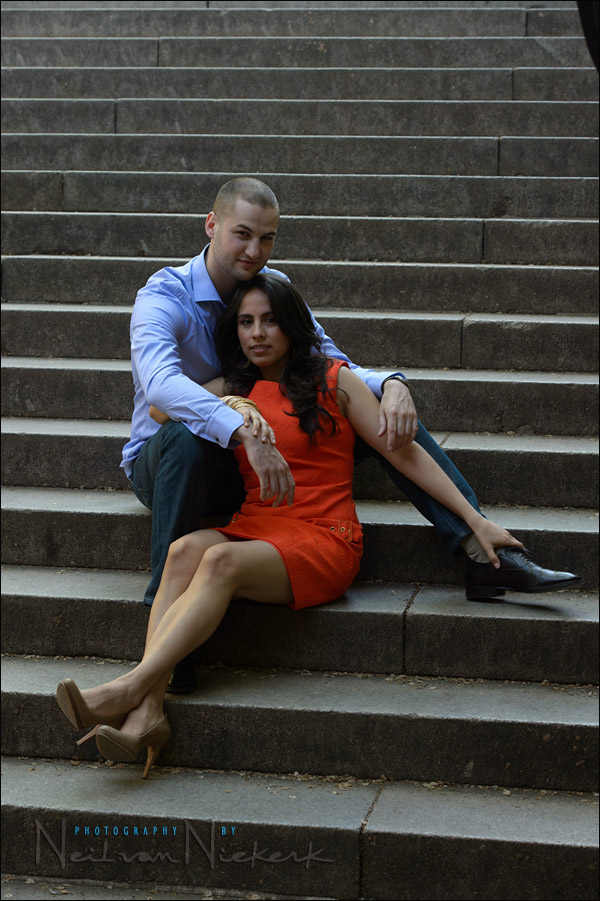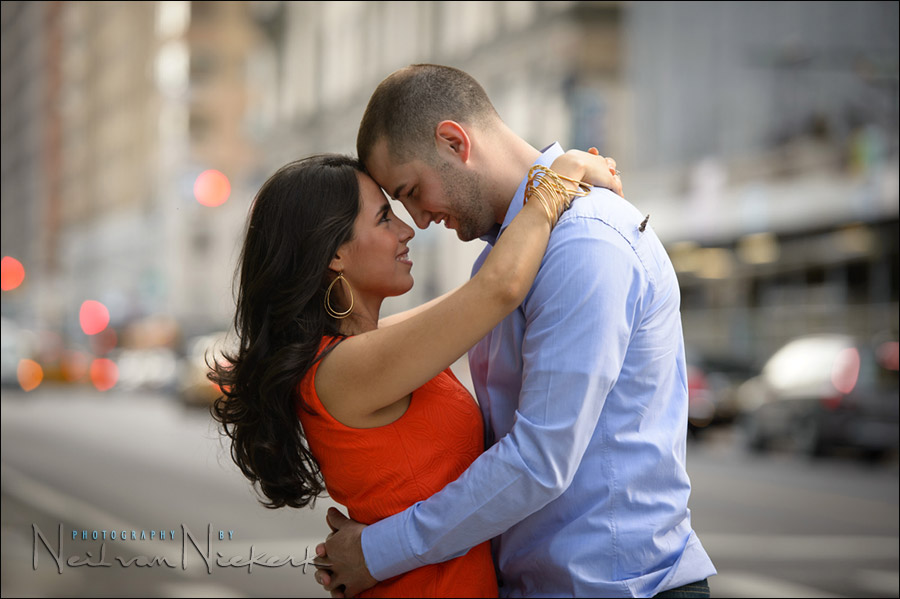 From Central Park, we explored a little bit of the Upper West Side, visiting the areas they know, as a backdrop to their photos.
The main idea here in this article is that, while I look for variety in the images I give a couple, it works in my favor if I keep it fairly simple and consistent in terms of my lighting. The simplicity helps me in working faster. The consistency helps in maintaining my style.
I'm able to keep it all quite consistent, by specifically "choosing my battles". I don't try to make everything work. I just make about a dozen setups work, with different angles and poses … and then move forward.
Photo gear (or equivalents) used during this photo session
Related articles