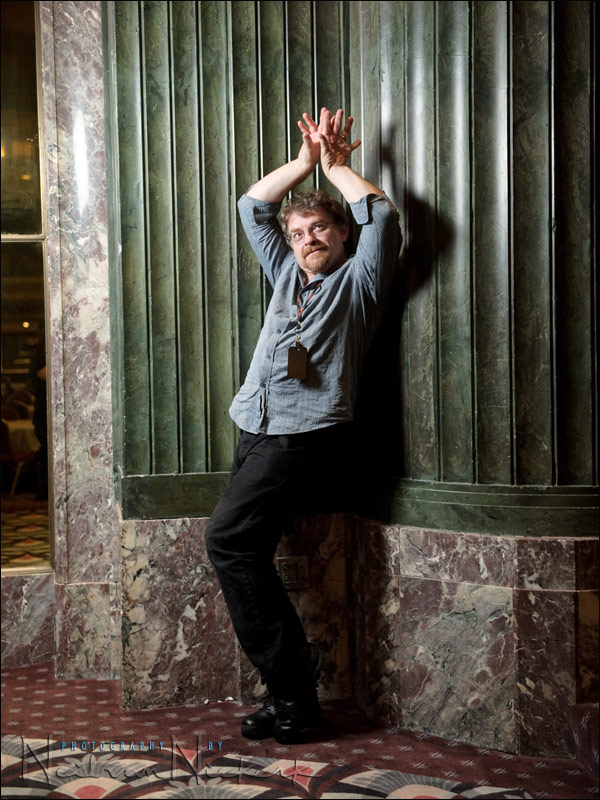 How to pose people for portraits
When you work with models, or subjects who are used to presenting themselves to the camera or an audience, it is much easier for the photographer to pose them. The challenge though is how to pose people who aren't used to pose in front of the camera. Then it is up to the photographer to guide them, and give clear instruction how they should pose for the camera. The question just came up in the Tangents forum – how to pose everyday normal people.
The photograph above is of me as I was showing a model at the After Dark photography workshops how I wanted her to pose. Now you may well say that I was showing a model how to pose, and not an inexperienced subject … and some may even say that I am hardly 'everyday' or 'normal'. However that may be, this image neatly underlines my advice on posing.
You need to be able to show your subjects how you want them to pose.
If you're working with subjects who aren't used to the camera, then you absolutely need to be able to show them what you want them to do – how to position their feet, their hands, their body and head. Just vaguely pointing, with vague verbal instructions just won't get you as far as physically showing them.
Let them mirror your pose
As mentioned in a previous article on tips on posing people / working with a model, my best advice is to to ask your subject to mirror your body position and movements. This is exactly what I was doing here … but goofing around a bit as well, breaking the ice. Get in there and show your subject what you want them to do. Then you can do minor corrections to their pose or stance or hand position – either by verbal suggestion or a physical gesture.
To summarize those tips on working with a subject or posing a model:
1. have your subject mirror your pose
2. internalize a few ideas
3. give your subject positive instruction and feedback
These points are just as valid when you are working with camera-inexperienced subjects.
Internalizing a few ideas
Let's concentrate on the second suggestion there – internalizing a few ideas.
This comes back to the basic idea that if you can't show your photo-inexperienced subject what you want them to do, then you're lost.
There are numerous books on posing. (I have Amazon links to a few suggestions at the end of this article.) But you can't simply look at a series of poses and memorize them. It doesn't quite work that way. To build up a "memory" of poses, you need to internalize them. You need to be able to copy the poses yourself. Physically. In front of a mirror even. Seriously, this is something you can practice. And it is something you need to practice and memorize.
Break up a 'blocky', straight-on poses
The best way to break this stiff pose up, use the  up / down – forward / back guideline as an idea. Start off by not having both hands, or both feet, on the same plane.
Have one foot higher or more forward than the other. For example, if you're photographing a guy .. have him stand with one foot higher up on the steps. Or his one foot on the lower beam of a wooden fence that he is leaning on. Similarly, you can break up a pose by figuring out where his feet can be, so that he isn't simply standing flat-footed. You really want to break up a pose where someone is simply standing there, straight-on to the camera, flat on their feet, hands to their side.
If they have both feet on the ground, have then place their weight on the back foot;
– have men turn their front foot towards the camera,
– have women slightly 'pop' their front knee forwards to the side
The same with their hands: one hand up, one hand down; or one hand forward from the other. Have a woman hold her one arm loosely wrapped around her waist, with her fingers on her waist; the other hand up to her face. There are numerous ways to work with the up/down and forward/back idea.
But you need to be able to show them.
So, study, internalize … and get in there and show your subjects what to do.
Related articles