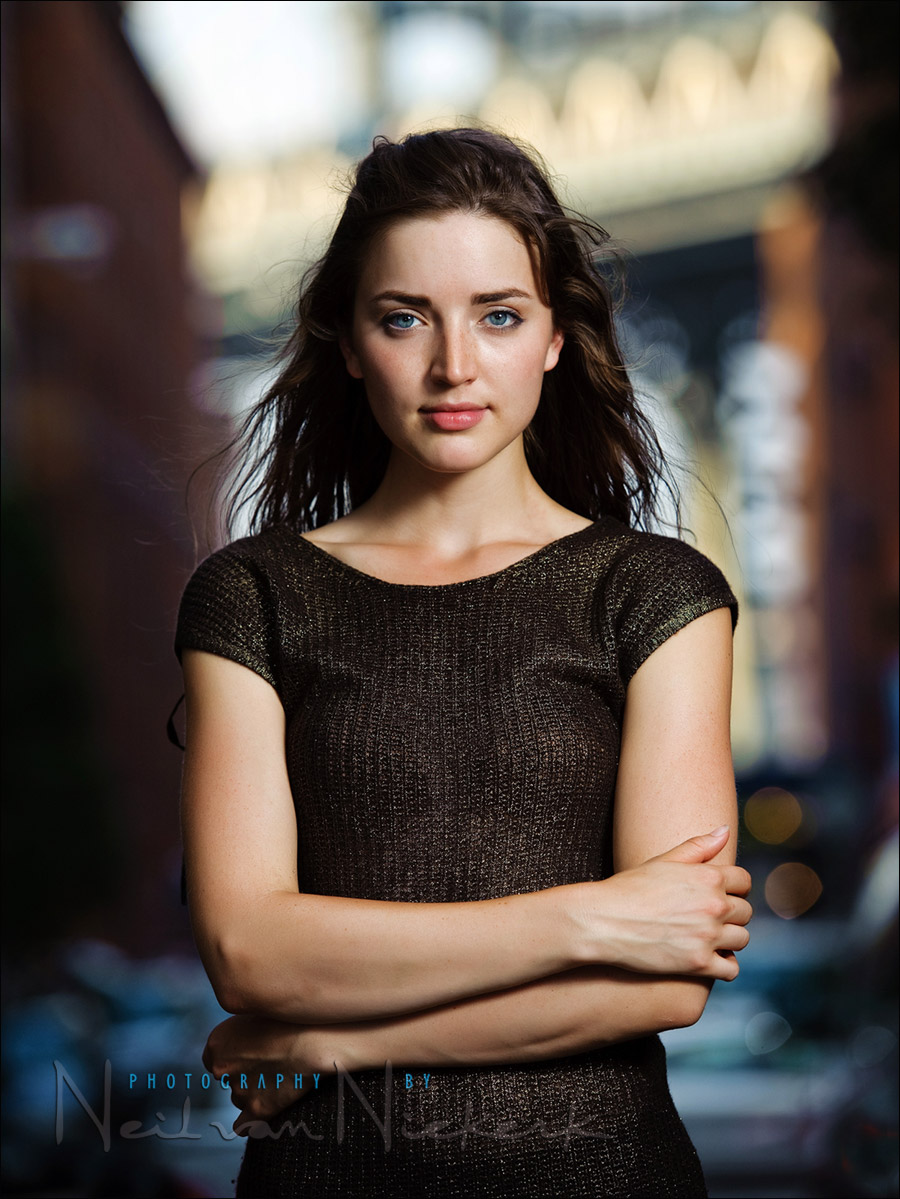 Camera settings: Shutter speed, Aperture & ISO
A presentation that I've given on several occasions, is called 'Just Give Me The F-Stop'. The presentation is based on the perception that many photographers, in trying to get to grips with flash photography, try to break it down into what they think are the understandable elements – the numerical values of the settings used. They want numbers, believing that in knowing a certain image was taken at 1/125th @ f4.5 @ 400 ISO, that they might get closer to understanding lighting. They want the f-stop.
However, the scenarios we encounter as photographers vary so much, that it becomes meaningless for anyone to "give you the f-stop".
Far more important are the methods we use with on-location lighting, such as how to get to correct exposure, and how to get beautiful light, and how to enhance the existing light with controlled use of flash. It is in this intersection between available light and flash that we get great results in seamlessly blending flash with available light. Of course, this is also true for other additional light, such as video light, or even the use of reflectors.
Regular readers of the Tangents blog will be familiar with this topic, but I'd like to expand on this idea a little more …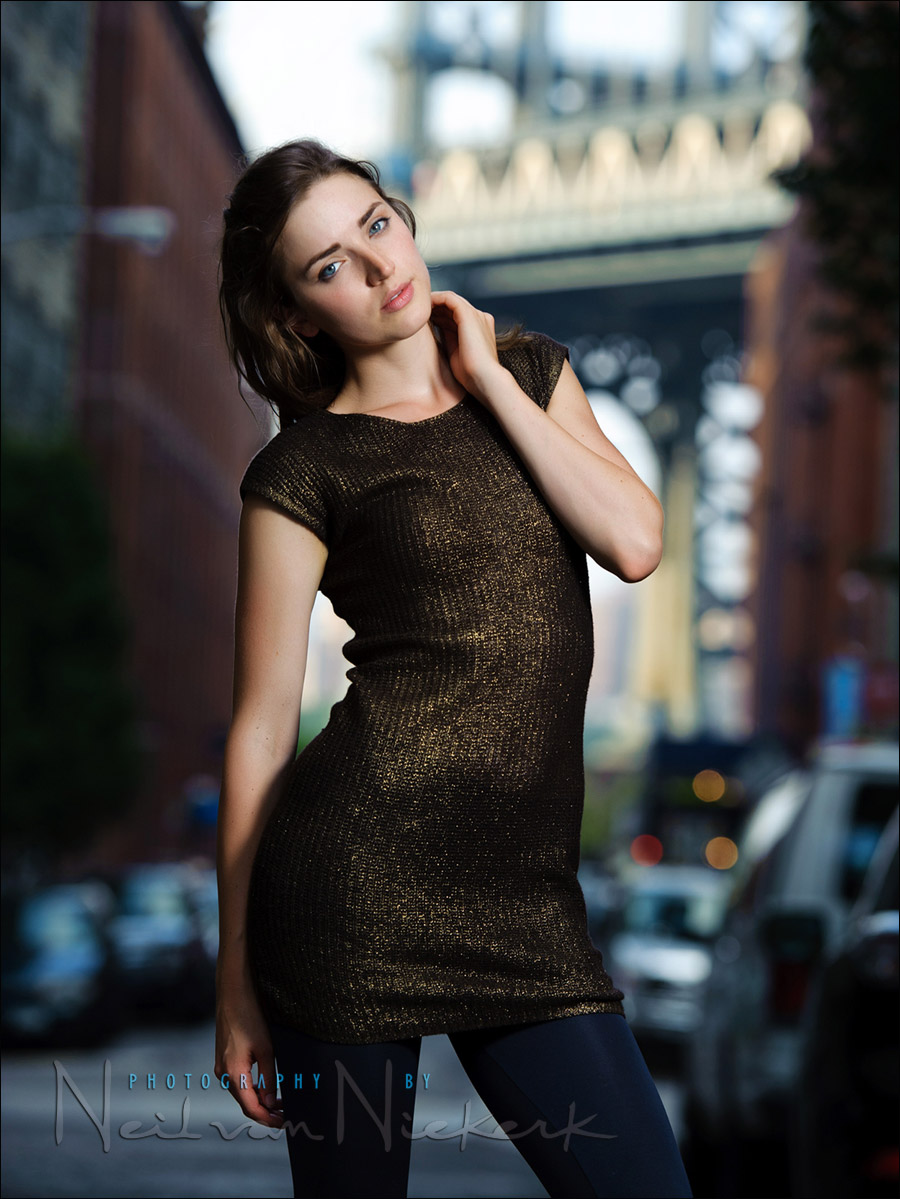 The photographs of Anelisa was taken as part of a sequence to show the difference, if any, between using an umbrella and a softbox. But the ambient light changed too much between setting up the different light modifiers for us to make any observation from this.
But I really like these images – her pose; the light on her; the background; the way her hair moved in the slight wind; the composition and framing; the final choice in the balance between available light and flash.
From the actual photograph, a few elementary things can be deduced already.
– This is a wide-ish aperture, but doesn't look like f1.4 or such a wide aperture. Most likely in the region of f2.8 to f4 somewhere.
– The separation between her and the background, as well as the perspective and the compression of the image, indicates this was a longer focal length. Most likely a 70-200 range zoom used at the longer end.
– There appears to be a fair amount of available light in the background, so this wasn't a slow shutter speed, nor a high ISO. Since flash was used, we're probably in the region of being close to maximum flash sync speed. As for ISO, going by the brightness of the background, we're most likely in the region of 100-200 ISO.
This isn't so much reverse engineering, as a common sense analysis of a simple portrait. These are things nearly any photographer should be able to deduce, especially since the photograph isn't a complex one.
That the specifics of the EXIF tell us that our camera settings were 1/250 @ f3.5 @ 200 ISO isn't then of particular use. The ball-park ideas about our settings were enough, and could be gleaned from the image at a glance anyway.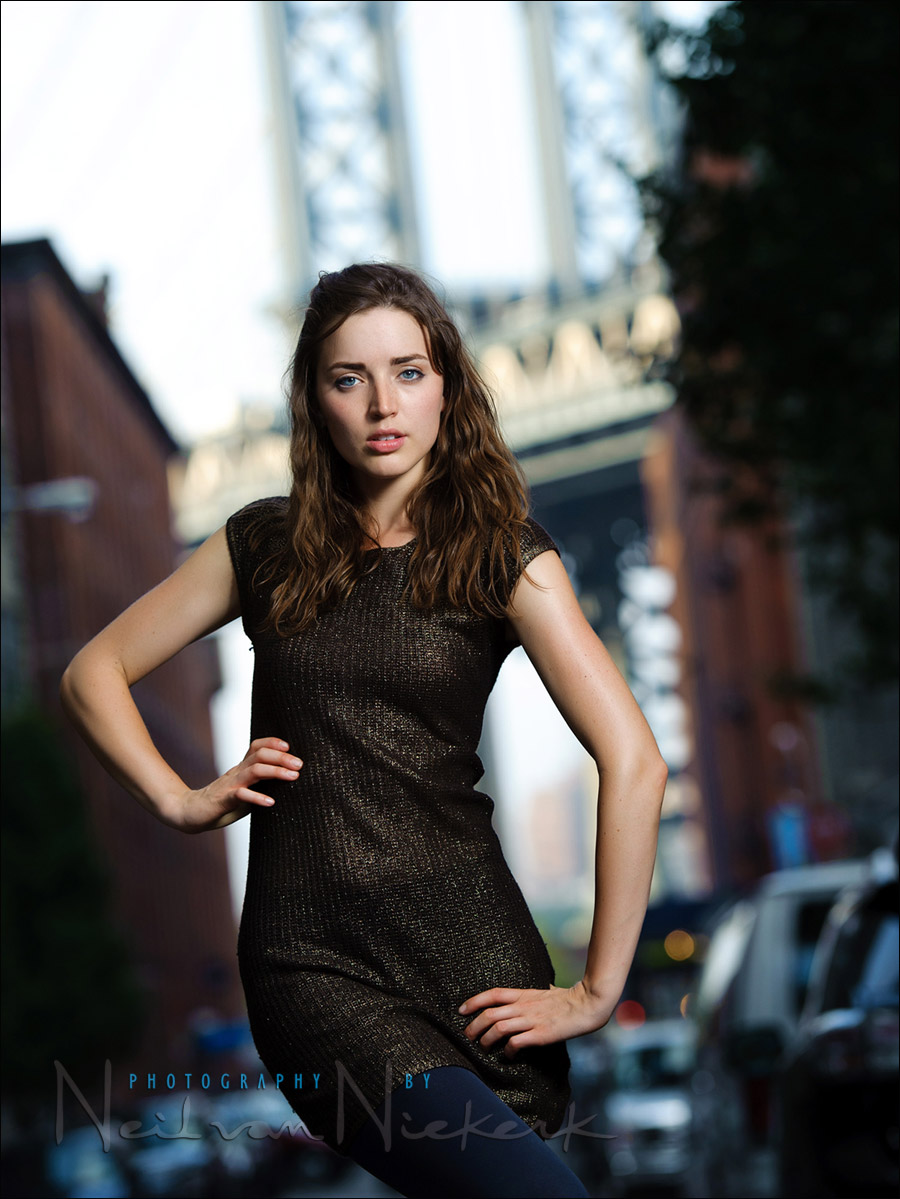 What is more important than the EXIF data
The more interesting aspects of this, and nearly any other portrait photograph you'd ever see would be:
The idea / concept;
The pre-visualization (if any);
The circumstance and back-story;
Working with the subject / posing and positioning your subject;
Composition / the viewpoint and angle;
The thought-process behind the lighting;
The post-processing of the image.
Oh, a host of things would be more useful to know than whether a photograph was f/3.2 or f/4.0
So where am I headed with this train of thought?
Well, the way that shutter speeds, aperture and ISO settings inter-relate, is absolutely essential to understand. You have to know these things. If you don't, then there is homework to be done. Also, knowing how your choice of aperture affects depth of field, is inescapably necessary if you want to be serious about photography. But these elementary concepts are really best studied with a good basic book on photography, and your camera in hand.
Of course there are other essential basic things we need to know – but to fixate on the specific numerical values – that is a dead-end street. If you find yourself constantly needing to know the EXIF data of an image, or specific numerical values, then I do feel that you're following a too technical path to the beauty of photography. Photography isn't about cameras or camera settings. I know, I know, quite ironic coming from a gear-head like myself. And perhaps also ironic since much of this blog is about photography technique. Still …
---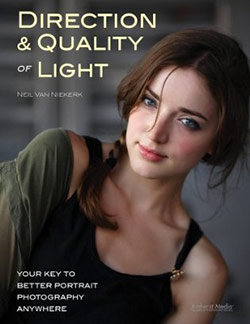 Direction & Quality of Light
I wanted to distill the essence of what we, as photographers, work with – light! Before we can truly grasp on-camera flash and off-camera flash, and really, any kind of photography, we have to be aware of the direction and quality of light. We need to observe the light that we have, and then decide how best to use it, or enhance it.
With this book, I try my best to share those "aha!" moments with you, and I do believe this book can make a difference to your photography.
The book is available on Amazon USA and Amazon UK, or can be ordered through Barnes & Nobles and other bookstores. The book is also available on the Apple iBook Store, as well as Amazon Kindle.
---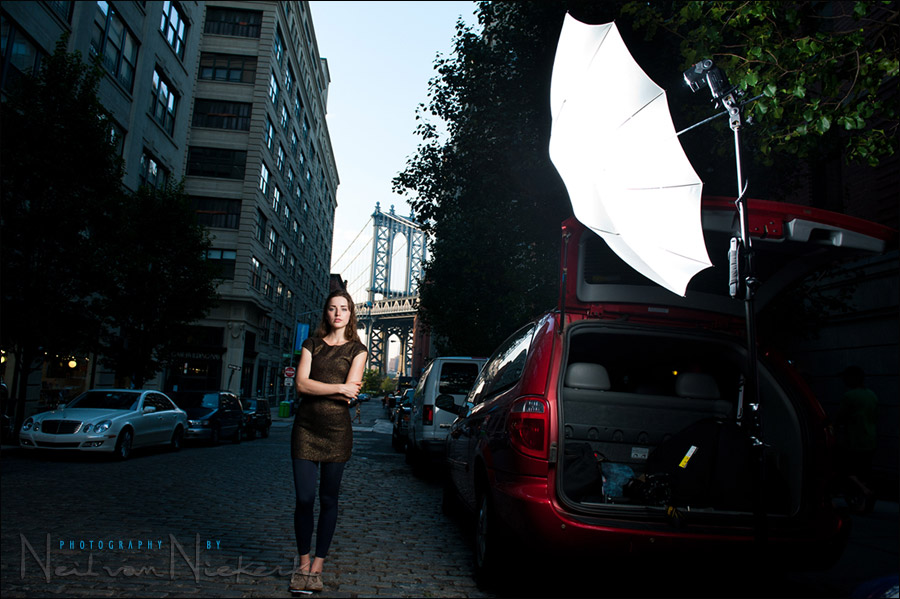 The lighting set-up used here
Here is the set-up, right next to my van where I had parked it in the street in Brooklyn. Instead of walking much further to find a background that looked urban, I decided to do it right there in the street. We'd quickly step out of the way when any car slowly ambled towards us on the cobbled street. The light-stand wasn't in the street, but right behind my car. For simplicity of setting up, I used a shoot-through umbrella.
Here is the final image as shown at the top, and the same without the off-camera lighting. As you can see, the background light changed in just a minute or two and is less bright here, and less warm, as clouds moved in.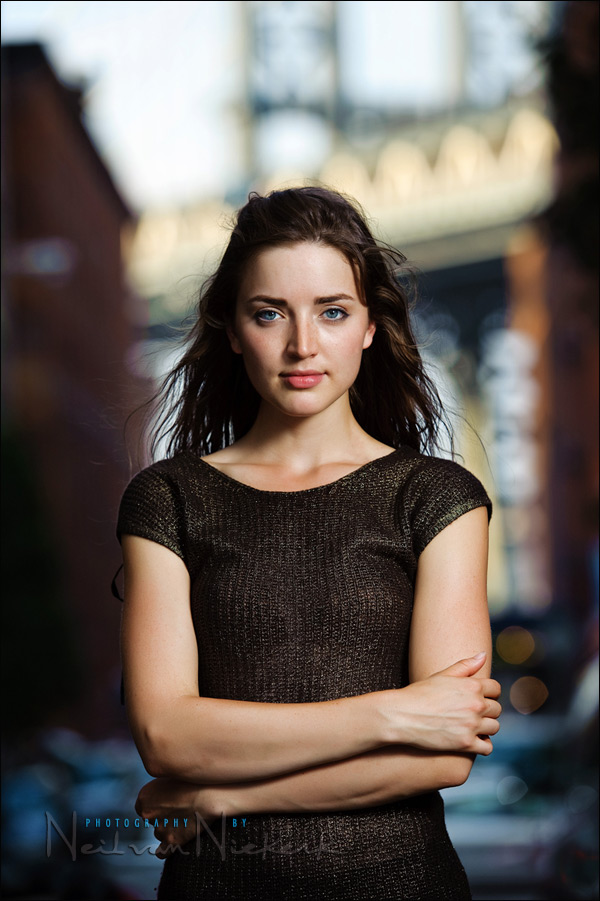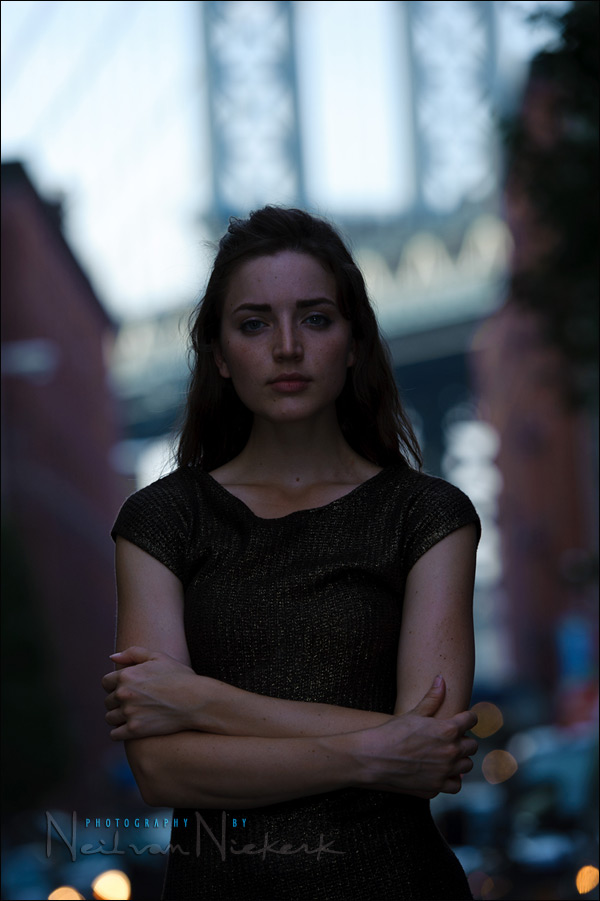 Summary
When reading up about photography, it should be kept in mind that the specific numerical values of camera settings are usually not all that essential to understanding technique, nor the art of photography.
Related articles