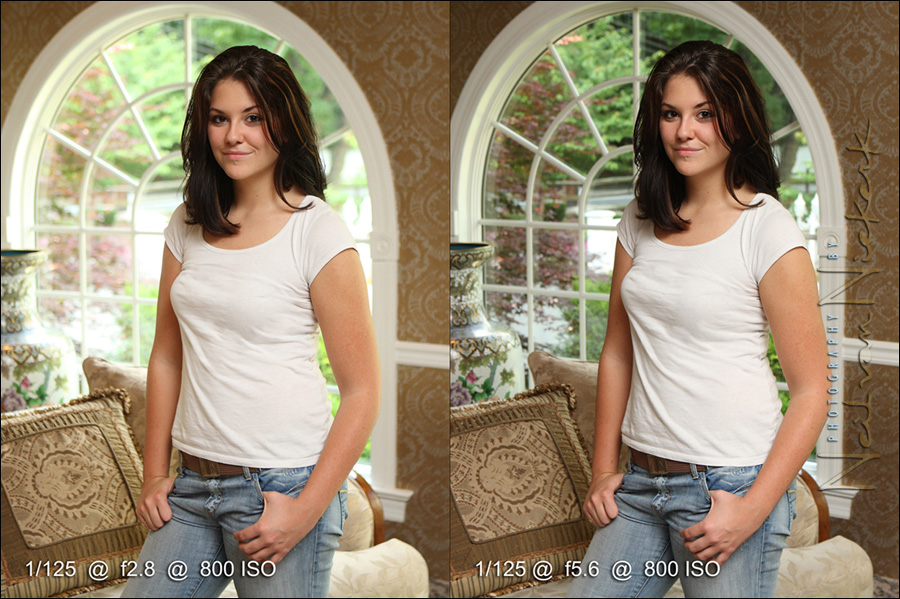 When aperture doesn't control the flash exposure
The axioms regarding flash photography that get thrown around most often, are:
ambient exposure is controlled by shutter speed,
flash exposure is controlled by aperture.
While these are true, there's also an over-simplification happening here. Just rallying those two statements in a perfunctory manner, we actually lose understanding of how flash and ambient exposures actually inter-relate.
The problem with the first statement is that it disregards that aperture and ISO both control ambient exposure as well.
The second statement – that flash exposure is controlled by aperture, falls down a bit on two counts:
–  flash exposure is controlled by aperture – but only for manual flash.
–  ISO also affects manual flash exposure.
Where these short-cuts (or axioms) came into being, is that with flash, our exposure is controlled by 4 things:
– aperture / ISO / distance (light source to subject) / power of our light.
This leaves shutter speed as our only independent control for ambient light. **
** The exception, or complication if you will, is that if you go to high-speed flash sync, shutter speed becomes a linear control of the flash exposure. But we'll leave that aside now, to focus on the explanation of how TTL flash and manual flash differ.
As explained in more detail in this article – with manual flash, we control those four factors. With TTL flash, the camera changes the power as we change any of the other three variables. This means that the camera will adjust our flash exposure as we change those settings.
It is essential to understand this specific difference between TTL flash and manual flash – it changes things a little. Actually, things change a lot, since how the exposure is controlled for manual flash and TTL flash are now entirely different.
This affects how we control our flash exposure – and this is where I feel the axiom that the simplified axiom that "aperture controls flash exposure", becomes misleading.
With TTL flash, aperture effectively becomes transparent
Restating all this again – with TTL flash, your camera and flash work together to control /calculate flash exposure … and then adjust the power the flash emits, to give you (what it deems to be) correct flash exposure … regardless of your choice of aperture, or your choice of ISO, or the distance of your flash to the subject.  Of course, these things have to be within reason.  You have to work within the capabilities of your flash.
Let's see how this works.  Here are two images that I used in my book on flash photography techniques, and I'd like to use them with a slightly different take.
With our model, Jackie, positioned in front of a window, we have two things to expose for:
– we have the ambient exposure to consider for the outside background,
– and we have flash exposure to consider for our subject, Jackie, who would be under-exposed if we didn't add additional light.
Ambient exposure for the background – shutter speed, aperture and ISO.  Simple enough.
Flash to light our subject – the settings will depend on whether we are using manual flash or TTL flash.
As mentioned, if I had used manual flash here (for example with a softbox), then I would have to meter my manual flash for the specific aperture and ISO and distance and power setting of my flash. And then juggle those four things to give me correct exposure as metered with a flashmeter.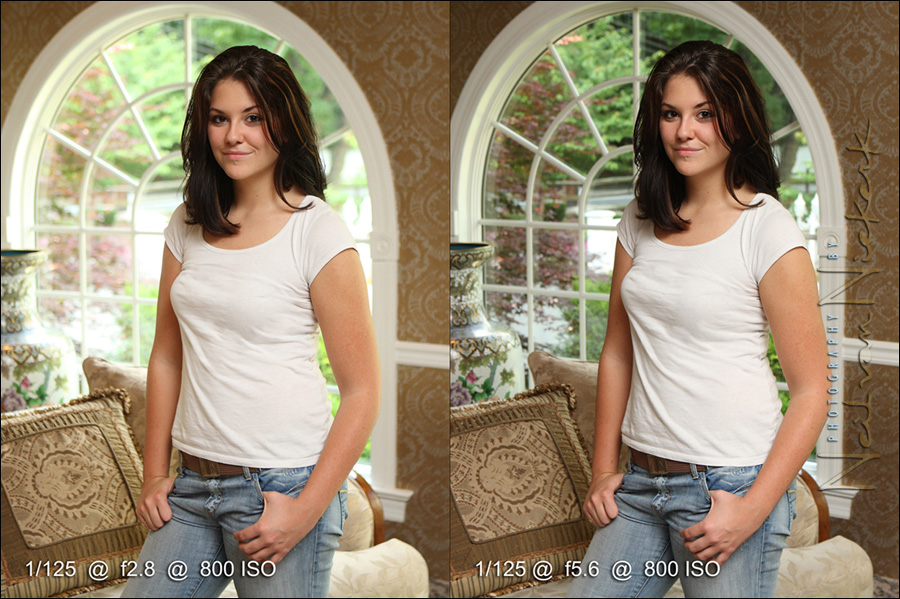 But in this case, I used TTL flash that I bounced over my left shoulder into the room. And I purposely set out to use TTL flash here in a way to illustrate this point: With TTL flash, aperture effectively becomes transparent.
In other words, with TTL flash, our choice of aperture, (within reason), has no effect on flash exposure.  (This is also true for our choice of ISO.)
Why this distinction is important
For photographers who are familiar with manual flash, this distinction might seem of small importance – sure, TTL flash is an automatic metering of the flash. Seems simple enough.
Then let's look at a scenario:
Let's say you are photographing people at an event – it could be a bride during her preparation, or it could be guests at the cocktail hour of a corporate event. Same thought-process.
You are using bounce flash in TTL mode, because bounce flash easily gives you soft diffuse light .. and bounce flash is usually quicker in TTL mode as you move around the room.
Now, for some reason, your TTL flash exposure is suddenly incorrect. Let's say the black evening dresses are throwing off your TTL metering, causing your flash to over-expose.
Having memorized that "aperture controls flash", you dial camera from f/4 to f/5.6 because that, according to How Things Work, is how you pull the flash exposure down. Except it doesn't this time. It doesn't work that way with TTL flash – because, with TTL flash, the aperture becomes "transparent" to the flash exposure.
Instead, you need to dial your Flash Exposure Compensation (FEC), because that is now the way you control your flash exposure. Not the aperture. The FEC. It might seem a trivial distinction to some, but from experience, I know that this throws newer photographers entirely – they want to adjust the aperture, because that is what they've been taught.
In this way it becomes an important to fully understand how TTL flash and manual flash differ – and how to control either. You'll be a stronger photographer if you're able to handle either of those two flash modes unhesitatingly.
Looking at our exposure settings again
Let's look at my choice of exposure settings for those two images – traditionally, if we wanted our background darker while using flash to light our subject, we would change our shutter speed.  Normally I too would've changed my shutter speed from 1/125th to 1/250th before I would've made any changes to aperture or ISO.  That would gain me a stop already on my background exposure, without my flash having to work harder.  It absolutely makes sense to change shutter speed first to change ambient exposure, before changing any other exposure control.
But in this example, I willfully went the other way.  I kept my shutter speed constant .. and changed my aperture.
Now, if this had been manual flash, I would've had to change my ISO or bring up the power on my flash or bring the flash closer to my subject to compensate for the change in aperture.
But with TTL flash, the flash and camera calculated the exposure it thought I needed, and automatically compensated for the change in aperture.  I did not have to change anything.  My camera and flash did.  I did have my flash exposure compensation set to +1.0 EV for every image in the extended sequence.
As I changed from f2.8 to f5.6 .. I could continue shooting and get the same (TTL) flash exposure. My camera and flash followed my change in settings seamlessly to give me exactly the same flash exposure at f5.6 as it had at f2.8
Sure, the flash had to work much harder.  In fact, it had to dump 4x the amount of light at f5.6 as it had at f2.8 … but my exposure remains the same.  And this is the reason why even with TTL flash, we'd rather change the shutter speed first to affect our ambient exposure .. even if we don't "have to" like we would "have to"' with manual flash.
And as you can clearly see, in changing our aperture, our background exposure changed.
So back to those two axioms about flash, but this time in regard to using TTL flash exposure as I had in this sequence.
ambient exposure is controlled by aperture in this instance,
flash exposure was NOT controlled by aperture in this instance.
Summary
My sincere belief with this is that if we can completely understand how flash and ambient exposures inter-relate, we will … well, we will have exactly that .. complete understanding of how flash and ambient exposures inter-relate.
Related articles