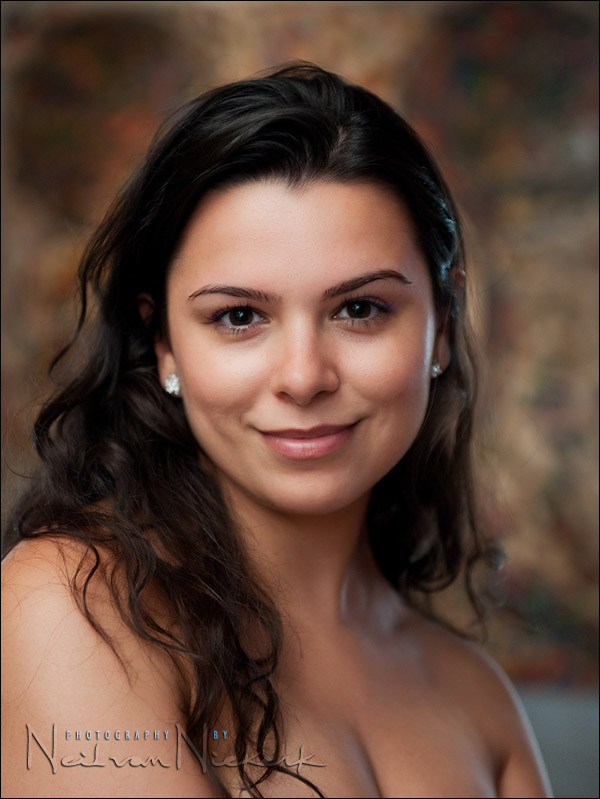 Photoshop Tips – retouching for portraits
When retouching portrait photographs, I have a certain look that I (currently) like – a slightly 'polished' look, but still natural. Definitely not 'plastic'.  With a few steps in Photoshop, and a few steps that I may or may not add, I can easily get to the styling in post-processing that I want.  Some of the steps are specific, but others are added depending on taste or 'feel'.  Some of the steps involve Photoshop plug-ins which are essential for me …
The photo above is of Oktavia, taken during part of this photo session. Instead of off-camera flash in a softbox, I used bounce flash for clean open light on her. The out of focus background is a piece of artwork – a pointillist Mickey Mouse. I thought it might be a cute idea to place her in front of it, and have the ears barely discernible. Mickey's face then creates a kind of halo around her. There is some ambient light coming in from camera-right.
Retouching layer
The first step is creating a JPG created from the RAW file that has correct exposure, decent contrast, and pleasant white balance.
Pulling the JPG into Photoshop, the actual first step is to create a duplicate layer. This initial duplicate layer is the one that I retouch any skin blemishes on. I use the Clone and Healing Brush in Photoshop for this. (The person who designed the Healing Brush should be nominated for a Nobel Prize.)
When I am done retouching the image on this layer, I create a duplicate layer of it.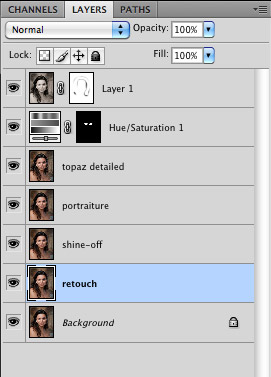 Shine Off, by Image Trends
If I feel it is necessary, I run a Photoshop plug-in called
Shine Off
on that duplicate layer.
I rename the layers as I progress, so that I always have a clear idea of which layer is which, in case I need to back-track and delete a layer. Or duplicate it.
Shine Off is a truly astonishing plug-in. It will save you a lot of time and effort in removing most of the sheen on someone's skin where it appears. It just works! I use it with the default settings, but usually pulled down to about 60%
I create a duplicate layer of this one, ready for a next step.

Buy ShineOff Plug-In
Use code: neilvn10 for 10% off.
Imagenomic Portraiture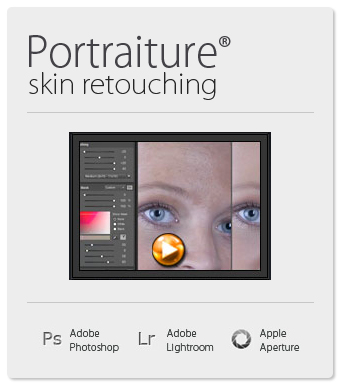 On the duplicate layer of the Shine Off edit, I run
Portraiture
. This too is one of those plug-ins that made a huge difference in my workflow for portrait photography. The Portraiture plug-in renders skin smoothly. Too many photographers run Portraiture aggressively though, giving that plastic doll look to skin. Not good.
I do run it at 100% on the defaults, but we'll change the opacity later on … and still add a twist to the proceedings.
We'll keep it at 100% for now, and create a duplicate layer again of the Portraiture layer.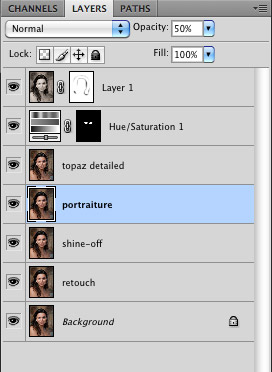 Topaz Adjust – Detailed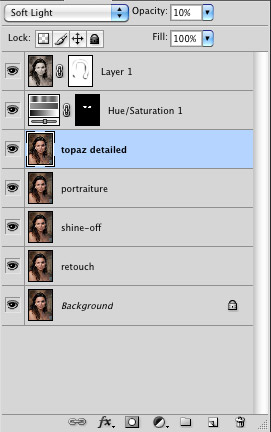 Now here's the twist. The previous layer was over-smoothed, but with this layer, we over-enhance the local contrast by running the 'Detailed' action in Topaz Adjust.
The photograph will look quite heinous at this point, but we're going to use it as a 'Soft Light' layer, and then pull the opacity down to 10% or 20% or somewhere around there. It depends on taste.
This just punches up the contrast and saturation a bit. This step in a way returns some of the nuances we might have lost with the Portraiture step. The photograph should look pretty good right now.
Now we pull the opacity of the previous layer (Portraiture) down to taste. I usually settle for around 50% but you can see what you like. Perhaps more, perhaps less.
Further adjustments
From here on, I might or might not do some further editing on the photograph. It varies, depending on what I want to achieve, and how much more time I want to invest in a single image.
For this photograph, I removed a blue-ish tint I saw around her eyes.
Then as a final step, I added a black-and-white version of the photograph as another layer, and blended it as an Overlay layer at reduced opacity. It changes the contrast in a way that I like. However, I brought back some of the detail in the darker areas of her hair, by brushing it in with the layer mask.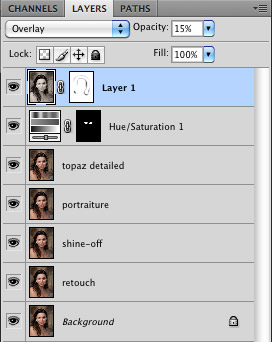 Summary
This is obviously not something you'd do in a high-volume workflow, but it does work well with individual portrait images. And of course, all this is a matter of personal taste. I leave steps out, and change opacities as I please. It's all wide open to interpretation.
Finally, the comparison between the first retouching step, and the final image.
Related articles