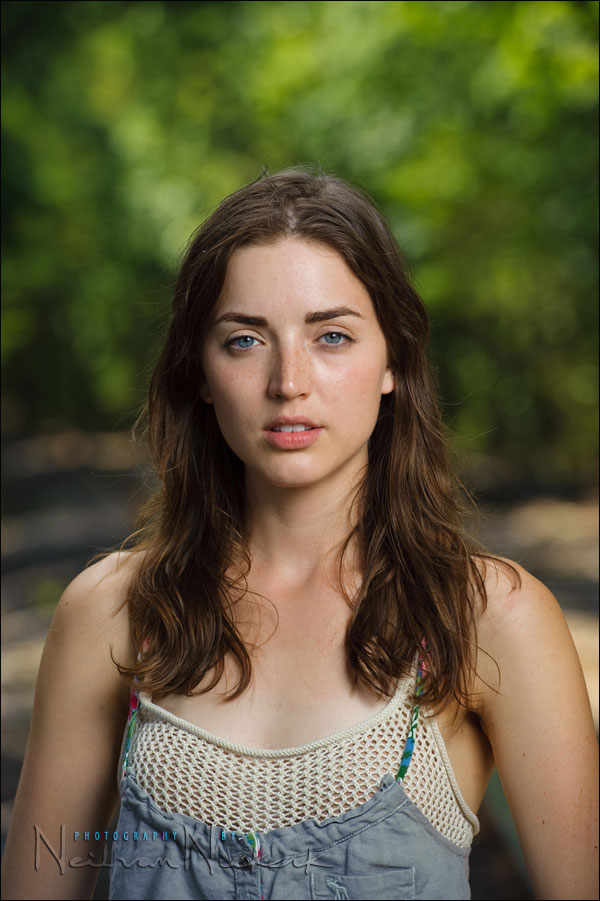 Comparison between a softbox, a white shoot-through umbrella and a bounce umbrella
I've had several requests from readers of the Tangents blog about how the light from a softbox would differ from the light from an umbrella. Spurred on by that, and by my own curiosity, I met up a while ago with my favorite model, Anelisa, specifically to do comparison shots.
And here it is …
Click on the photo above to see the side-by-side comparison.
There is an on-location (ie, non-scientific) comparison (from left to right) between :
a 24×24 softbox with a double baffle,
a 42" white shoot-through umbrella,
a 42" bounce umbrella with a black backing.
It is tough making a finer judgment on which light modifier give the best results. While what would count as 'best result' is open to interpretation, I do prefer softer light. This test isn't super controlled, and small differences do creep in. But I did try to keep everything as equal as possible in this comparison There are some slight changes in how Anelisa held her head, and I really did try and set up the softbox and umbrellas fast enough that the available light remains the same. I also kept the position of the light-source the same distance from her … which meant moving the light-stand slightly forward for the shot with the reflective umbrella.
Yet, I can barely tell a difference between these three light modifiers when used under these typical situation when shooting outside. So ultimately it perhaps comes just down to personal preference, and to which one is more easy to assemble, carry and set up.
---
Using direct (un-diffused) flash off-camera is common practice and can give dramatic results. The smaller light source does give a harder more contrasty light. Using a large diffuser or modifier such as a softbox or an umbrella will generally create softer shadows. Even a medium sized softbox is quite a forgiving light source in comparison to the light from a direct flash.
Sometimes the simple option of a direct speedlight is easier to move around with on location, or when you need to a lot of light from your flash to match the bright sun. My preference is to use a softbox until the point where I can't get enough light from my speedlight in the softbox.
An umbrella is the most convenient light modifier to carry around. It folds closed into a relatively compact size, and is supremely easy to assemble and disassemble.
A softbox gives you more control though. It gives a more focused swathe of light, and depending on how your softbox is baffled, the softbox can give you more light than an umbrella. You also have more control in how the light spills onto the background. However, this isn't usually a problem when working outdoors and using a simple lighting setup.
Where it makes a difference, is that softbox is easier to handle outdoors where you have a bit of wind. An umbrella tends to scoop the wind, and leave you at the mercy of how the wind blows.
Because an umbrella is easier and faster to set up, I prefer to use umbrellas with wedding portraits and formals. You could work with a medium sized softbox indoors when you have a small group of people. But because the spread of light is more contained with a softbox, you might be better off with two umbrellas when you're dealing with a large group. Umbrellas aren't expensive though, so I would suggest getting two 42" umbrellas anyway. I generally use 60" umbrellas indoors when I can.
Umbrellas can be used in two ways – (white) shoot-through umbrellas, or as a reflector. Umbrellas that are meant to be used as reflecting umbrellas can come with different materials – white, silver, gold, or a mix between silver and gold. While the silver umbrella can be more efficient, the light from a white umbrella is softer since the light is more scattered.
Therefore, as a start, a white umbrella with a black removable backing is recommended. This type of umbrella can then be used either as a shoot-through umbrella, or as a reflector.
Re the umbrellas, I mostly use bounce umbrellas with a black backing when I work indoors or outdoors. The main reason is that it minimizes the risk of getting lens flare when I stand further back than my lights. With a shoot-through umbrella, I have the risk of getting lens flare at this point.
Generally, the only time I use shoot-through umbrellas, is when I am photographing indoors and need to disperse a lot of light around. For example, I might do this when using the flashes as additional lighting at a venue.
For all that, I prefer working with a softbox on location.