Finding interesting available light & White Balance options
It's always a feel-good moment to discover interesting available light while out on a photo shoot. Something unusual to add a new flavor to a different sequence of images.
While photographing a model with Tilo Gockel and Mike Silberreis (both from Germany on a visit to NYC), we started off with off-camera flash to help with the strong sunlight. (You might remember Tilo from a recent guest article on product photography on a budget.)
Then, while positioning Olena, I saw part of her dress had a patch of bright light on it. Turning around to see where this came from – I expected sun flare from nearby building window – I saw that it was actually the sun reflecting off a traffic sign right next to us. The light that was reflecting off this traffic sign was pretty hard, but had an interesting specularity, yet appeared flattering. So we shot an entire long sequence here, ditching the off-camera flash.
I switched over from my 85mm f/1.4 to the  Sigma 50mm f/1.4 DG Art  lens that I was testing out, to shoot portraits with more of an environmental flavor. (I also wanted to see how this Sigma performed at wide apertures.)
The image at the top was shot at: 1/1000 @ f/1.6 @ ISO 64
Yes, the Nikon D810 has 64 ISO as its native lowest ISO.
---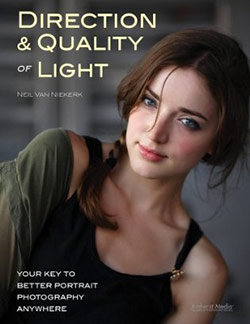 Direction & Quality of Light
I wanted to distill the essence of what we, as photographers, work with – light! Before we can truly grasp on-camera flash and off-camera flash, and really, any kind of photography, we have to be aware of the direction and quality of light. We need to observe the light that we have, and then decide how best to use it, or enhance it.
With this book, I try my best to share those "aha!" moments with you, and I do believe this book can make a difference to your photography.
The book is available on Amazon USA and Amazon UK, or can be ordered through Barnes & Nobles and other bookstores. The book is also available on the Apple iBook Store, as well as Amazon Kindle.
---
Choices in white balance settings
The color balance here is quite warm, even though I had reduced the warm tones in post-processing the RAW file. With the Daylight WB that I shot at, the photo appeared with more red tones. Somehow the light reflecting off the stop sign was very warm.
camera settings: 1/640 @ f/1.8 @ ISO 64
So now I had to choose what white balance I preferred. There are always options.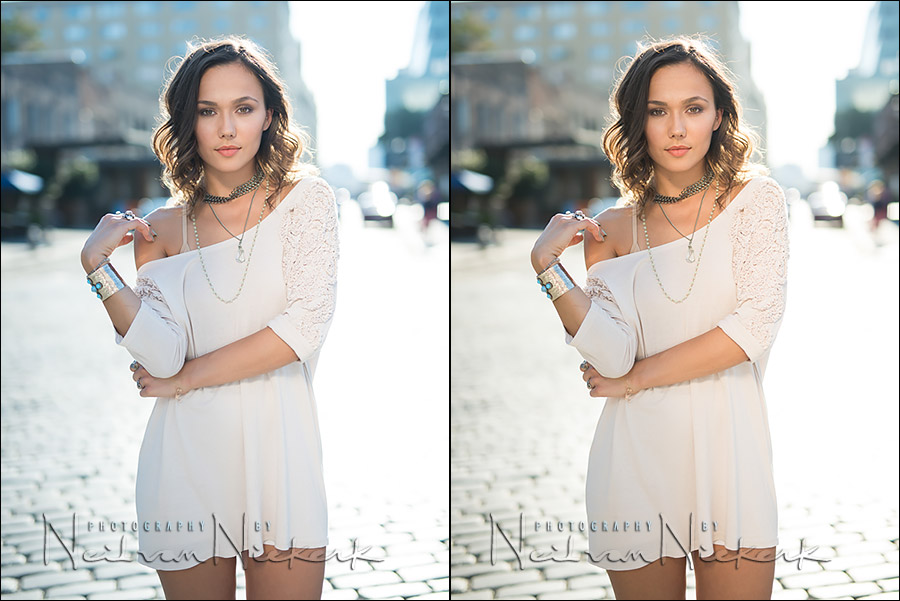 The left-hand image was adjusted (by eye) for a more neutral color balance on her skin tones, by adjusting the RAW file to approx 4000K. The right-hand image was adjusted (again by eye) for more warmth, in keeping with how the scene looked at the time. Sun-drenched. But the right-hand image wasn't as warm as the out-of-camera image shot with Daylight WB.
This again just underlines the idea for me that you are better off with the option of having a RAW file to play with, rather than sticking to a narrower (and potentially tougher) idea of "getting it right in camera". Besides, what exactly is "correct" here?
Looking again at the image at the top: here is the version where I went for more neutral skin tones by adjusting the RAW file to approx 4000K white balance. Because the light on her was somehow so red / warm, this now pulls the background to much colder tones, similar to how you'd do it when gelling your flash for effect.
This gives the resulting image a look that slightly resembles a cross-processed photograph.
Going with the warmer color balance again, and the comparison between "neutral" and "hey, this looks pretty good with the warm colors". Yup, that's a legit white balance setting. It should be anyway.
camera settings: 1/640 @ f/1.8 @ ISO 64
Photo gear used during this photo session