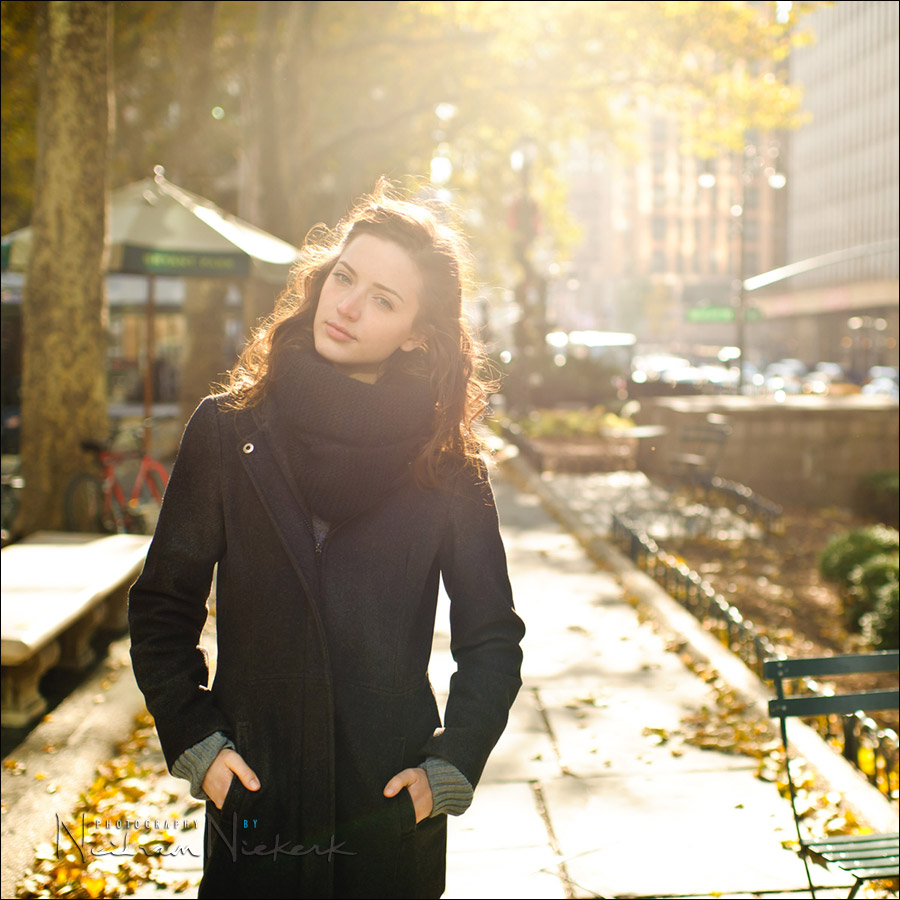 Photography – Observing and using the available light
With a few top-end point & shoot cameras to test, I met up with Anelisa on this crisp late-Fall afternoon in New York. Similar to how I often work, the idea was to walk around and explore and find interesting places and interesting light to take photographs in. So when at this particular spot in Bryant Park, and I saw the light was just incredible, I ditched the point & shoot cameras, and grabbed my Nikon D3 with the Nikon AF-S 35mm f/1.4G (affiliate) on it.
Since the idea with today's photo shoot was to *find* interesting and flattering light – as opposed to creating it with off-camera flash – I had no additional lighting with me. Not even a speedlight. It was all about observing and using the available light.  And this is how we found ourselves here in this particular spot …
The photograph at the top was taken in this spot with the light from the sun coming from behind. The spotlight effect on Anelisa's face is from the sun reflecting off a building behind me. That hard reflection of the sun created this fantastic light on her.
camera settings: 1/1000 @ f2 @ 200 ISO
Nikon D3;  Nikon AF-S 35mm f/1.4G
Turning Anelisa around, the photograph looks very different as that sun's reflection in the building creates a hot-spot in the image that just blows out completely.
The light falling on Anelisa now is the light filtering through the leaves. I positioned her so that there were no splotchy highlights on her face.
camera settings: 1/500 @ f2 @ 200 ISO
Nikon D3;  Nikon AF-S 35mm f/1.4G
So with both those images, it was a careful observation where the light was coming from – and in this instance we had two light sources – the sunlight, and the reflection in the building's glass facade. When we moved away for other photos, the light just looked bland and undramatic.
And here I am, showing Anelisa what we're getting. And don't laugh at the woolen hat. It was cold!  Comfort trumps style when it becomes cold. And I just know I'm going to be asked about the pointy tip – I had to pull the hat up so that it doesn't cover my ears, otherwise I couldn't hear Anelisa while shooting there.
Another example from earlier on in the day. Having Anelisa step away from the sidewalk into this entrance area outside a building, I was able to "force" the light to come from a direction that I wanted … in addition to getting a pretty awesome background. The idea here in how I positioned Anelisa is quite similar to that described in the article, "using the available light" is not random.
camera settings: 1/1000 @ f2 @ 200 ISO
Nikon D3;  Nikon AF-S 35mm f/1.4G
This article is a continuation in the theme of specifically working with the available light in how we photograph our subjects. Observing and using the available light is also reliant on how we position and direct our subjects.
Related articles
Photo gear used with this photo session  – 35mm f/1.4
The photos here have a specific look – there's a sense of place. Context. It's a fairly wide view, but without spatial distortion that you get from super-wideangle lenses. That's the effect of the 35mm lens. Also, the background gently melts away with the shallow depth-of-field. That's the wider apertures that a 35mm f/1.4 lens allows you.
In this case, I used the Nikon AF-S 35mm f/1.4G. The Canon equivalent, the Canon EF 35mm f/1.4 EF USM, is a legendary performer. But if you want this quality at a more affordable price, then Sigma's ART series is something to look into: Sigma 35mm f/1.4 DG (for Nikon)  /  Sigma 35mm f/1.4 DG (for Canon)
Here's my review: Sigma 35mm f/1.4 ART lens, with sample images.