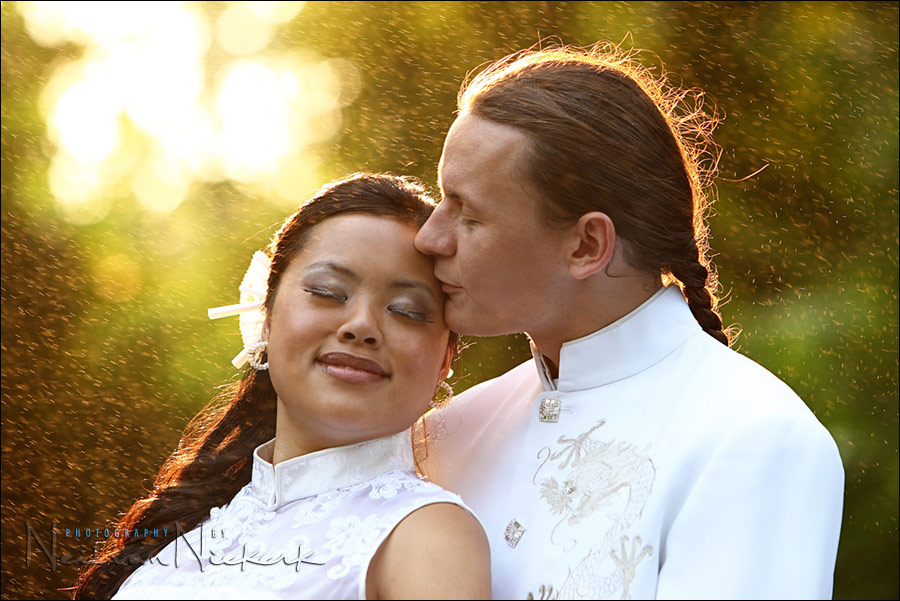 photography – looking for, and using the available light
Let me say this out straight – I hate gazebos. I hate gazebos and fountains and I especially hate having to photograph a couple at whatever landmark/feature that a reception venue has, where every other couple from the last five years has been photographed. There, I've said it. I feel better now, with that weight off my shoulders.
Wedding portaits should be about capturing the romance, and capturing the relationship between the couple. I want to show how much they are in love with each other, rather than the wooden structure that the reception venue bought from Home Depot. I would much rather work with the couple and with the light that is available … and augmenting the existing light with some flash or video light if needed.
This photograph from a wedding a few years back, remains one of my favorites in my wedding gallery. The portrait session with Simone and Damien and their family and bridal party was to take place in the late afternoon. The maitre d' of the venue suggested I use the fountain on the venue's grounds as a backdrop for the couple.
Instead, I looked at where the light was coming from … and it was stunningly beautiful glowing light. And the best part of it was, the spray from the fountain was lit up by the glow from the late afternoon sun. This created that ethereal looking golden mist behind them.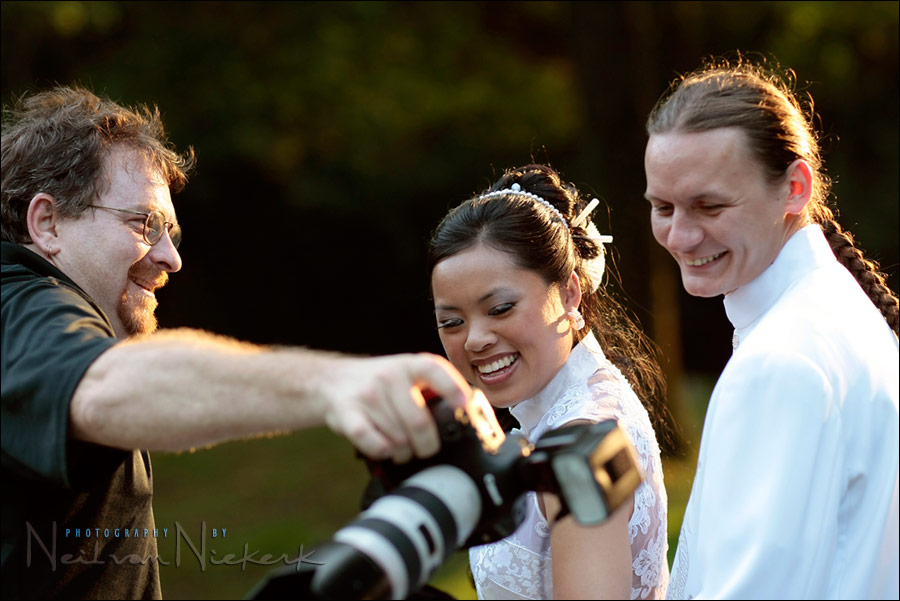 And yes, the couple loved the sequence of photographs.
camera settings for main image: 1/250 @ f4.5 @ 640 ISO .. available light only
Nikon 70-200mm f2.8 AF-S VR II  /  Canon EF 70-200mm f/2.8L IS II
Reinforcing my decision here was seeing that the sunlight would've fallen across everyone's face if they had been posed in front of the fountain. The sun was coming in at a 90 degree angle to where they would've stood, and would've caused uneven patches of light on them.
Looking for, and using great light, and looking for a great backdrop to place the couple in context, is so much better than just routinely photographing them against unconnected objects in the landscape like a gazebo or fountain. Wedding photography should be about the couple. It should be about moments and romance. Indeed, we need more cowbell, less gazebo!
---