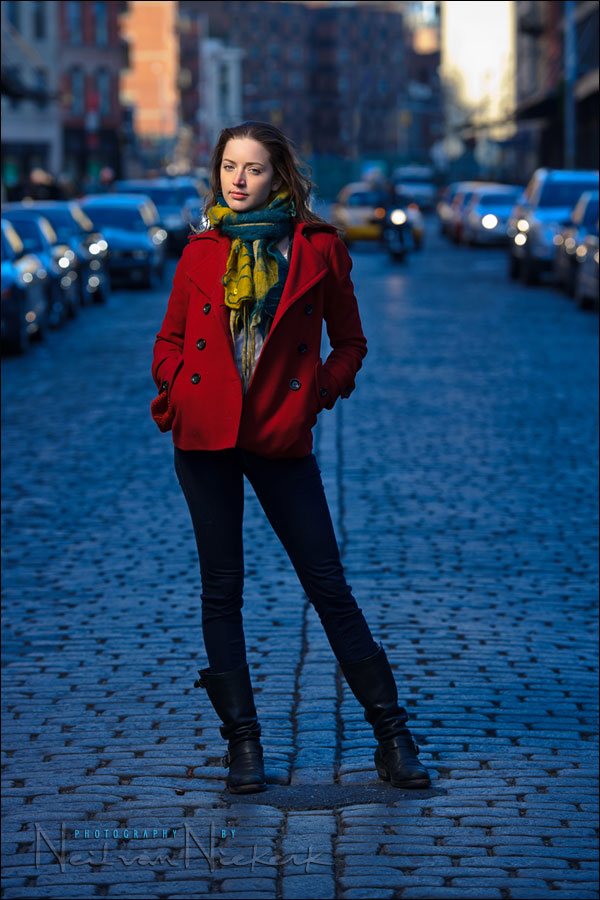 Gelling your flash for effect – Blue background
The idea of gelling your flash for effect has been a topic here a few times. I most often use gels on my flash to correct my flash when working with tungsten / incandescent light. There are times though when I gel my flash just for effect, creating a shift between my foreground (lit by gelled flash) and my background.
In the examples shown in the several articles here, there wasn't the type of background where the effect can clearly be seen on easily recognizable "neutral" background. In the article turning day into night, we turned the sky a dark shade of blue. With the sequence of photos of a model, Bethany, there was a reflective mirrored wall as background that we changed the color of. The effect looks stunning, but the mirrored wall might not be something that makes the color shift obvious to the casual visitor here.
With that, during a recent personal workshop in Manhattan, while working with Anelisa again, I took the opportunity to specifically take this sequence of images. They will hopefully clearly show how we can create a more dramatic effect by shifting the color balance of our flash in relation to the available light …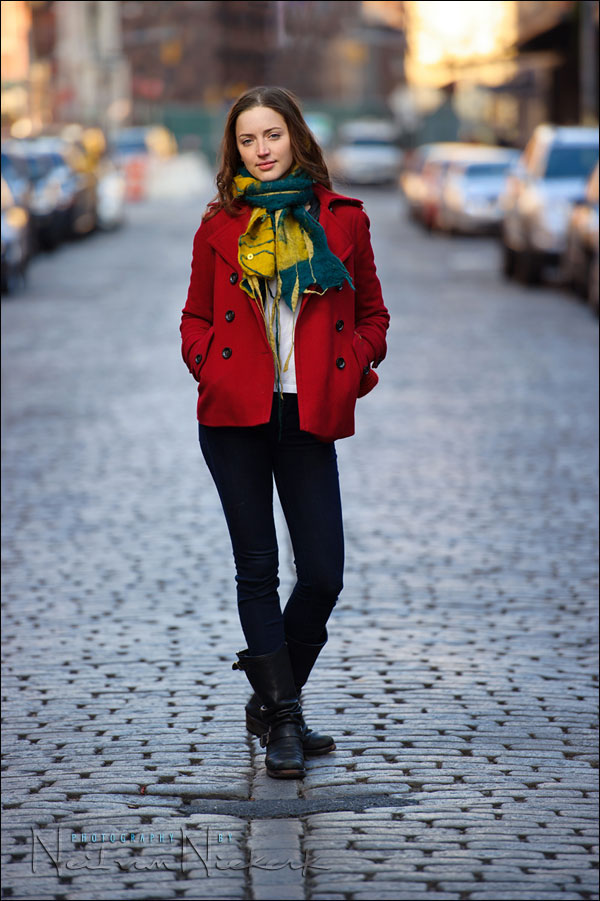 Here is the starting image. We're working in the shaded area here, so my White Balance is Cloudy. Keep in mind that I inevitably will change my WB as part of my usual RAW workflow. It's an adjust-to-taste thing. Therefore, I regard my WB as being "Cloudy RAW".
The technique is a straight-forward one. We get our basic exposure based on the background. Keep in mind that we can not expose correctly for the shaded areas such as the ground, AND the sunlight buildings at the same time. The simplest approach here is to under-expose for our subject – the model – and then pick up the slack with flash. In this case, I used TTL flash since we could work faster. But I had to adjust my exposure in RAW, because of over-exposure. More about that in a short while.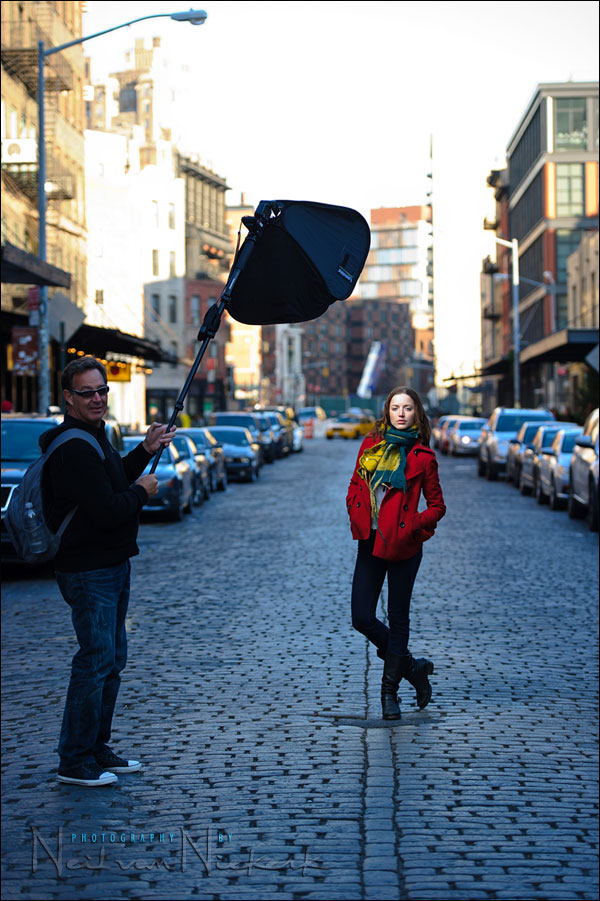 Here is the pull-back shot to show how the light was held in relation to Anelisa. I wanted the light to come from nearly-the-front and to the side. So the softbox was held higher up so I could get the longer shot that I wanted, without the softbox getting in the shot.
Here is the image without the flash.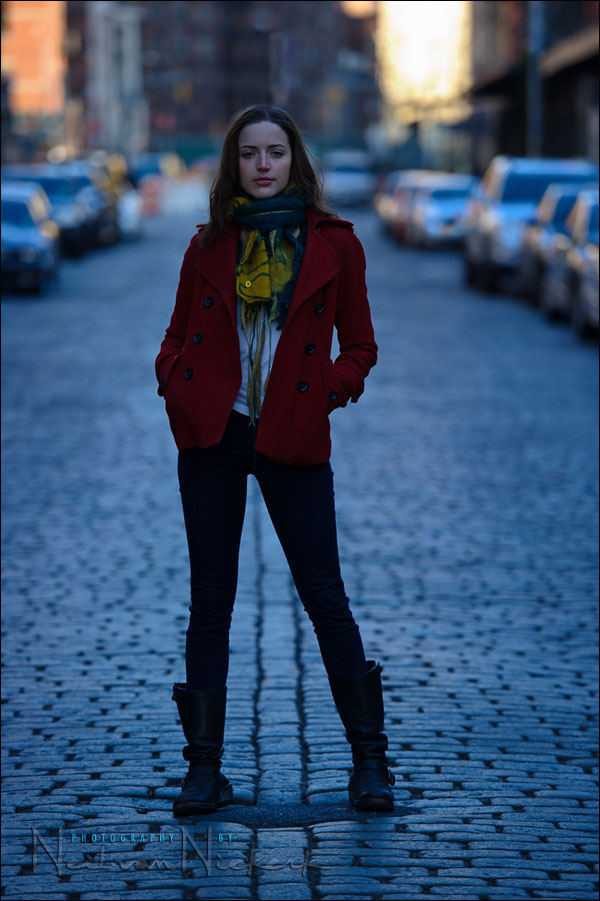 image settings:  1/250 @ f2.8 @ 200 ISO
How to get the optimal camera & flash settings
Knowing that I am gelling my flash with 1/2 CTS gel, I changed my camera's WB to 3850K … but in editing the RAW files, I changed the WB of this sequence of images (incl the ambient-only shot), to 4650K. The predominance of blue tones of the available light, made the 3850K gelled flash still look too cold. Hence, my WB was … 3850K RAW. That has to become new terminology! Cloudy RAW. Daylight RAW. Incandescent RAW. 3850K RAW.
With this sequence, the flash over-exposed by 1 stop. Since it is TTL, the flash's exposure can vary depending on composition and how much dark tones there are, and how much of the subject / scene is lit up by flash. So this ambient-only shot, and the pull-back shot above, and the following flash shots, had the exposure pulled down by 1 stop in the processing of the RAW file, than they were in-camera.
I could've spent the minute or two there to finesse my flash exposure with my FEC dial, but Anelisa had to leave soon, and there were cars constantly moving by, and it was cold. So sometimes I just rely on the latitude of the RAW file to help me out.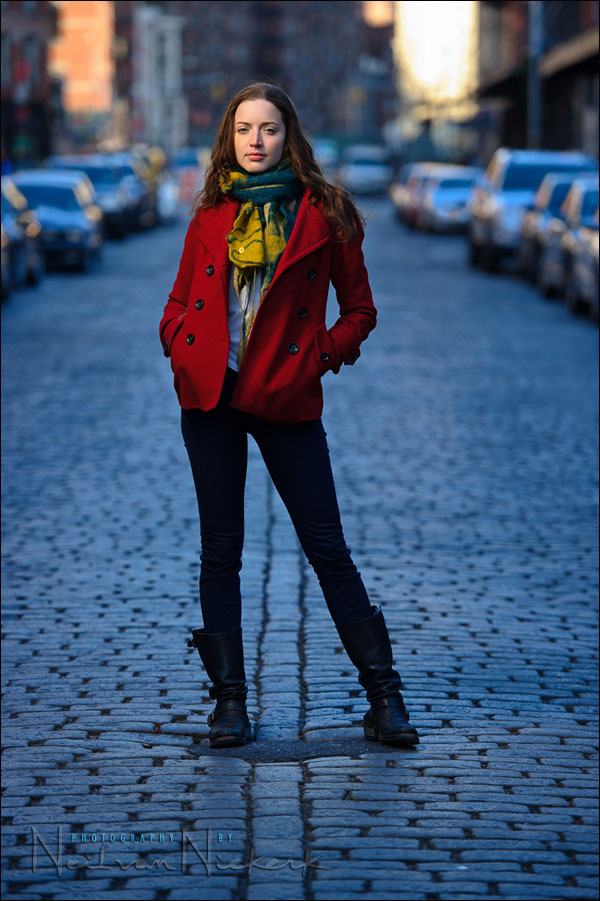 image settings:  1/250 @ f2.8 @ 200 ISO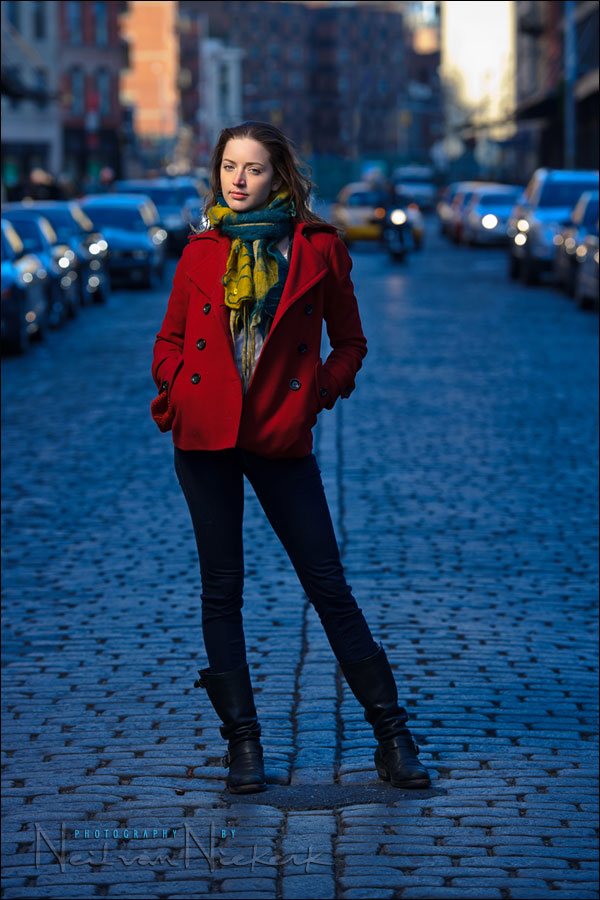 image settings:  1/250 @ f4 @ 200 ISO
With this photo, I dropped my available light by another stop by closing down my aperture.
While I had enough leeway with my flash exposure to jump into high-speed flash sync territory with an 1/500 shutter speed, I chose to stay at maximum flash sync speed, and change my aperture. Since I am shooting in TTL mode, the change in aperture will only affect my ambient light, and not my flash exposure.
Remember the rule that aperture controls flash exposure? Well, it is only true for manual flash. Not TTL flash. TTL flash will follow your choice of settings … while you remain within range of what your flash is capable of.
By changing my ambient exposure like this, under-exposing it even more, my flash is starting to dominate, giving a more dramatic effect.
Photo gear (or equivalents) used during this photo session
You can buy gels through these affiliate links: