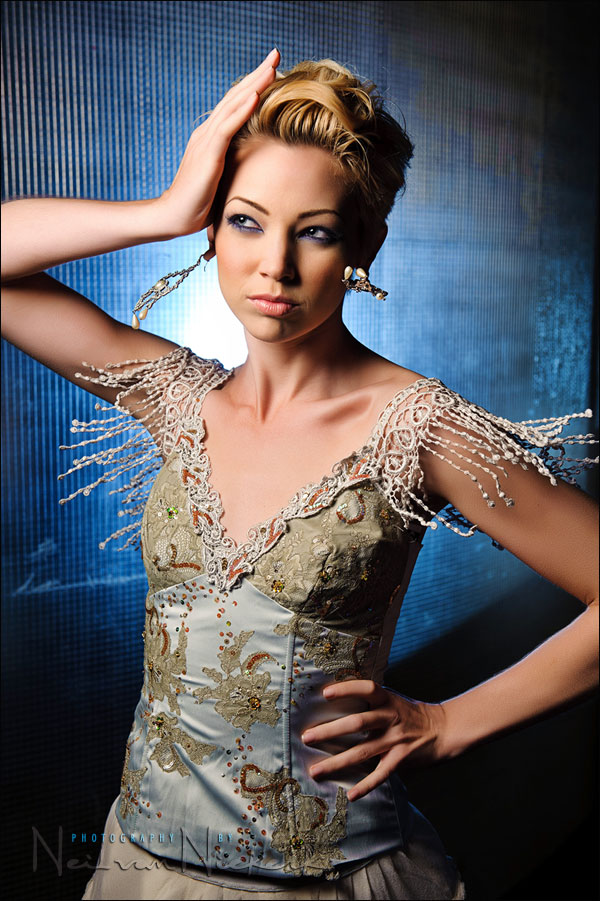 Multiple off-camera flash – gelling your flash for effect
All the light you see in this photo, is from two speedlights. The blue color in the background is because I gelled my one flash. While that might give you the idea that I gelled the background flash with a blue gel, what I actually did, was gel my main flash with two 1/2 CTS gels (affiliate). That's all I had with me, but I wanted those hard cold blue tones to the background.
A single 1/2 CTS gel would take the flash to 3700K. Adding a 2nd gel didn't take it as far as a full CTS would've, but closer to 3350K, going by my settings with the RAW file.
By having my main speedlight (in a softbox) now at a color temperature of around 3350K, meant the background shifted towards blue in comparison. Intended effect achieved!
Now, about the placement of the speedlights, and to explain what the spectacular background actually is ….
---
---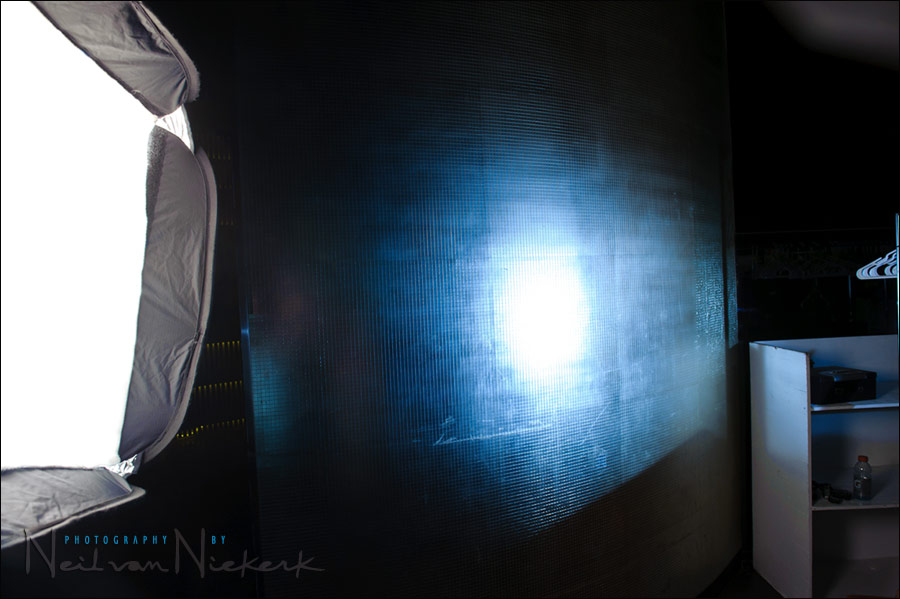 Photographing Bethany in the foyer of the night-club where we did these photo sessions, I saw this curved wall lined with small mirror tiles. Just like one giant curved disco glitter ball. All kinds of awesome. But it needed light. This club, outside of hours, was dark!
In this first pull-back shot above, you can see the main light on the left – the Lastolite EZYBOX 24″×24″ softbox (affiliate). In the middle you can see the blue hot-spot on the mirrored wall as the other flash lit it up.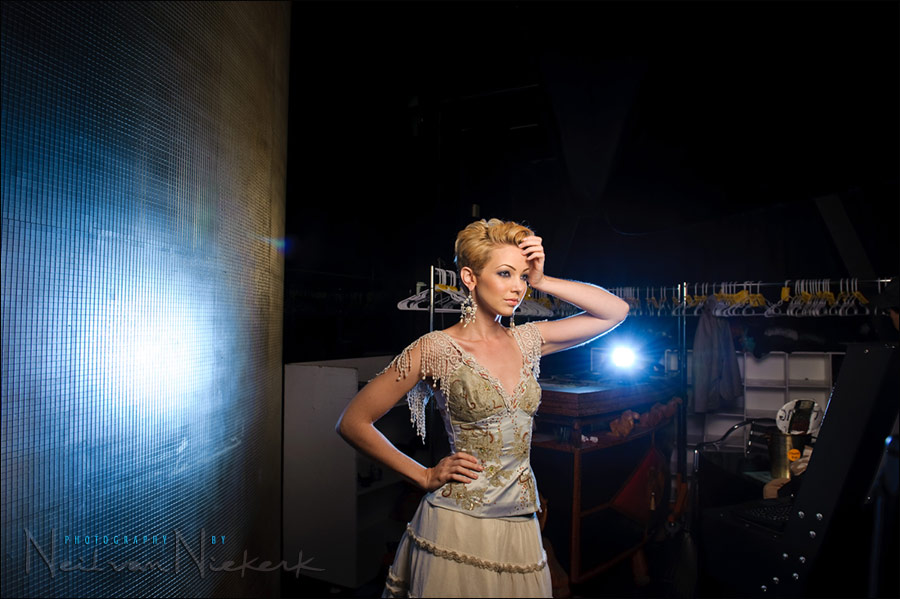 This pull-back shot, shows Bethany in relation to the flash providing the background light. The area was too small to do a complete pull-back shot, getting everything in a single frame. This background speedlight had a black foamie thing to flag / block any direct light from hitting Bethany.
Without the blue background, the results were nice … actually pretty good … but not as other-wordly as the final images.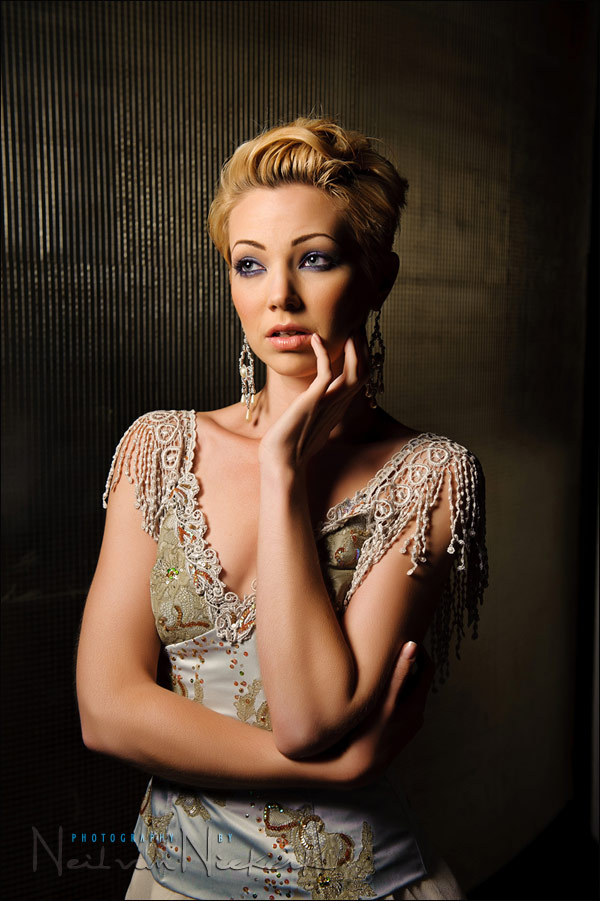 Adding the blue background (via the un-gelled flash), immediately gave it an unusual feel. Something like a modern-day Marie Antoinette in a futuristic night-club.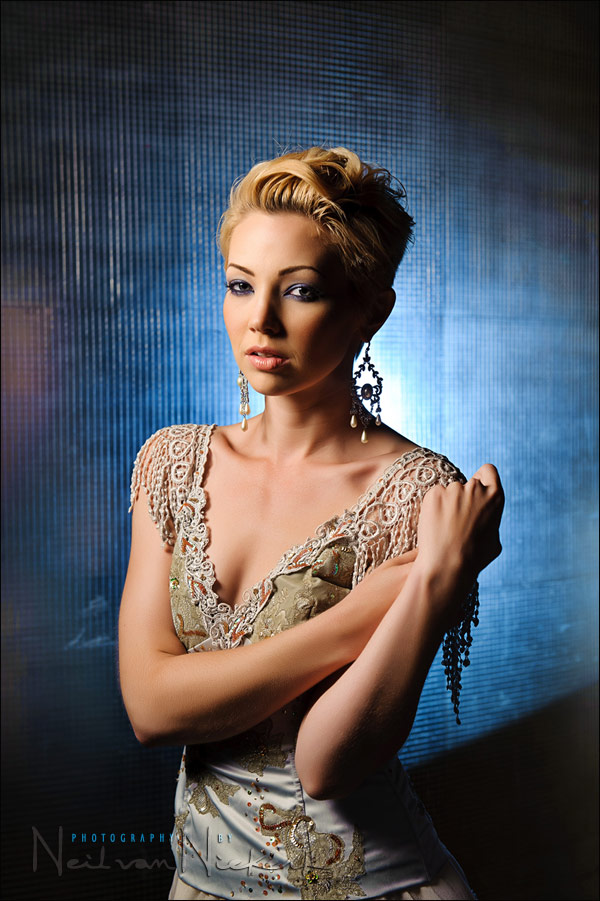 The statically posed shots we came up with looked really good … but then Bethany suggested some movement to get her jewelry swinging around … so we did a sequence of photographs were Bethany spun around on the spot. Quite a few missed shots as I mis-timed or she blinked … but in the end we got several shots that worked. The image right at the top of this page is a favorite, as well as this next image.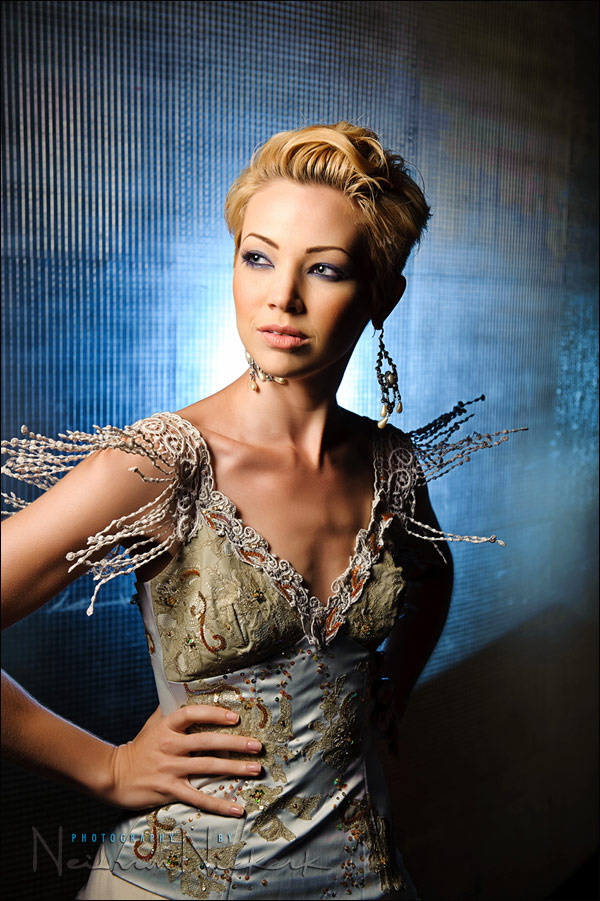 A fabulous model in an unusual setting … all sweetened with some interesting light, and I think we have  some eye-catching results.
Technical details & settings
The two speedlights were both fired via two PocketWizard FlexTT5 transceivers (affiliate). I had another FlexTT5 transceiver on my camera, on top of which was an SB-900 controlling the output of the two speedlights.
The light on the background was adjusted to taste by looking at the camera's preview. I'm not even sure it would be possible to use a light-meter to meter for that, since there is so much reflection of light. So it was quicker for me to set a low power setting of around 1/16th full power, and adjust from there. I controlled the output with my on-camera (with TT5) SB-900 speedlight which was the Master controller. (I don't recall the exact final power setting of the background light though.)
As mentioned earlier, this background light was flagged with a black foamie thing to make sure that there was no direct flash on her from that side.
Both speedlights were set to manual output since it was much simpler controlling the exposure like this. There was no real way to predict what TTL flash would do here with such a reflective background.
Camera settings & photo gear (or alternatives) used in this photo session
1/60 @ f6.3 @ 200 ISO … with multiple off-camera speedlights
Gelling your flash
Since I frequently gel my flashguns to turn the WB of my flash much warmer (usually for  Incandescent light), I use these gels that I cut up and tape to the top of my speedlight's head. One of these sheets (which aren't expensive), will give you a lifetime supply of these filters. For me, these gels are an invaluable part of flash photography.
Tape the gels down on your lens hood when not in use.
Related articles