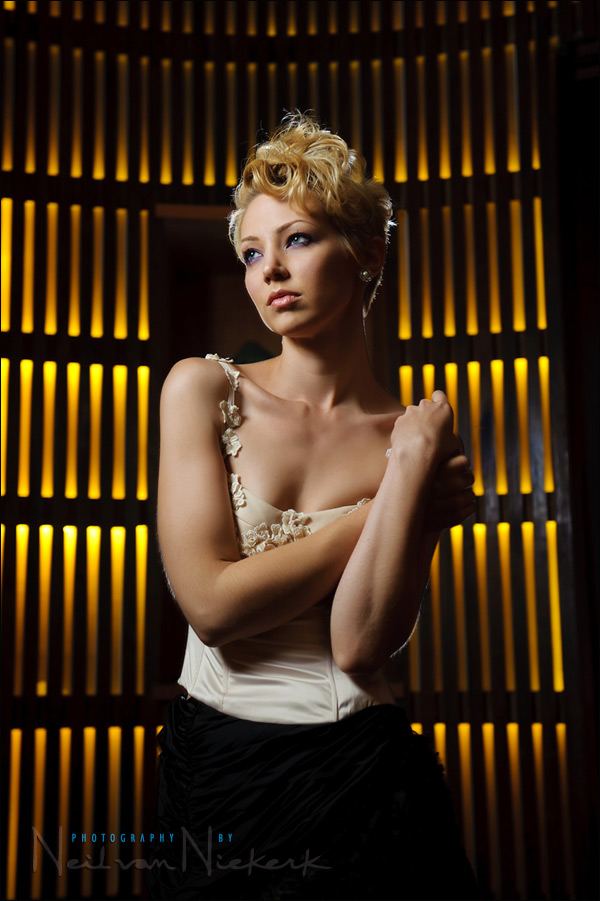 off-camera flash – creating separation with back-lighting (model: Bethany)
Another image from the photo session with Bethany, when I was in San Francisco earlier this year. This interesting background is part of the lobby area of a San Francisco night-club. I knew the wooden panelling and subdued incandescent lighting would make an interesting background because of the repetitive pattern and glow. A slow shutter speed brought the background light in … and then I used flash to light her. I didn't gel my flash – specifically so that the background light would go that warm. The pull-back shot will show the simplicity of the lighting …
The main light was a speed light in the Lastolite softbox. To separate Bethany from the background, I used another speed light as backlighting.
The main light was set to TTL originally, but as she moved, the exposures varied a bit. This is because the amount of darker tones vs lighter tones (such as her dress), changed in the overall image.  As I zoomed in and out, my TTL exposures would also change, since my composition affected the TTL exposure for the same reason – more darker tones / less darker tones. So I had to change my main flash to manual exposure for better consistency.
The speedlight in the softbox was mounted on a PocketWizard FlexTT5 transceiver (B&H) which allowed me to control it via the FlexTT5 (and master speedlight) on my camera.  I started at 1/16 power on the main light, and adjusted it from there via the Master speedlight on my camera.
The background light was also set to manual. (Probably around 1/32 manual output since it was direct flash.) Any back-light like this is best controlled as a manual flash. Since the backlight doesn't actually contribute to the overall exposure (and only adds that rim-light), it doesn't make much sense to have it as TTL flash. The back-light speedlight was also triggered via a PocketWizard FlexTT5 transceiver (B&H).
I used a speedlight on the camera's FlexTT5 instead of the PocketWizard AC3 Zone Controller (B&H), since I needed the infra-red AF assist of the flashgun in that dark lobby area.
camera settings: 1/10 @ f4 @ 400 ISO
In terms of posing – I left this mostly up to Bethany, since she is an experienced professional model. I did ask her to direct her gaze towards the softbox, so that the light would fall on her face from a flattering angle … and hence give that gradient across her cheek closest to the camera. I also had her angle her body slightly away from the light, so that the light came in over her shoulder, and not hit her directly on the front of her body.
Equipment used with this photo session:
Nikon D3;  Nikon 24-70mm f2.8 AF-S (B&H)
Nikon SB-910 Speedlight controlled by PocketWizard FlexTT5 & AC3 Controller
or alternately, the Canon 600EX-RT Speedlite controlled by Canon ST-E3 Transmitter
Lastolite EZYBOX Softbox Kit (24″x24″) (B&H)
(1x) Manfrotto 1051BAC light-stand (B&H)
related articles
– multiple off-camera flash: gelling your flash for effect
– mixing the white balance of different light sources
– available light portrait