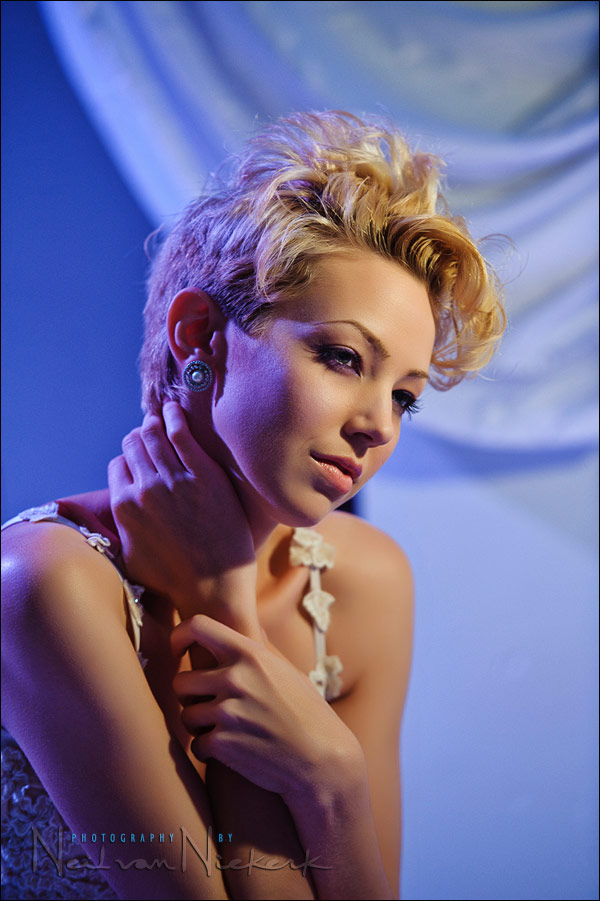 directing & posing – using randomly found available light as portrait lighting
During a trip to California, I was keen to meet up with another favorite model, Bethany. We were allowed to shoot in a night-club on a Sunday afternoon when it was all quiet with no one there. It's an interesting place to work with a beautiful model, and I had a multiple-flash setup ready to use.
However, the first series of photos of Bethany was shot with just the available light there. But first I had to recognize the light as being interesting light for a portrait. I had to "see" it first. As it happened, I only recognized that this might be useful light for a portrait when I did a few test shots while Bethany was having her hair and make-up done.
As photographers we should always be aware of the light, and how the interplay between light and shade affects our subject. And how the quality and color of light changes. Sadly though, I didn't recognize that the light was interesting just by looking at this scene. I only saw it once the test images popped up on the back of the camera, and I went hmmm!
Here is a pull-back shot to show the light sources – the main light was simply that bare incandescent light-bulb which the make-up artist used to do Bethany's make-up. Simple as that.
The magic happened in how the warm Tungsten light worked with the much colder existing light within the night-club. I'm not sure what the other light source was, but it looks like it might be Daylight balanced light-sources in the night-club. Perhaps more blue / colder than that. Whatever it was, it looked great in that first few shots of Bethany's prep.
When Bethany was ready, this is then where we started.
posing and directing a model
When working with hand-held video-light, we most often work by moving the light until it falls onto our subject in a way that is flattering. But with the single light-source now being static, I had to direct Bethany so that the light shining on her was flattering. It helps in that Bethany is an experienced model, being able to work with very little direction from the photographer. But she, like most models, will have no immediate idea what the photographer is attempting in terms of lighting. I did show her the test shots during prep, so she knew what I was after, but she still needed to be directed.
In posing her, I had her leaning into the light a bit, taking care that I got loop lighting. The way that the shadow falls  under her nose, means it is just that 'loop' of shadow there. It is most often the way that I use a hard or small light source. It keeps from weird shadows falling over your subject's mouth, or a strong shadow of your subject's nose falling across their cheek. So I tend to keep it simple like this, since it is usually the best place to start and get good results immediately.
Now it was just a matter of a few quiet instructions like, 'drop your chin a little bit'; 'turn your head slightly more to me' … until the light looked good falling on her.
And there we have the resulting photograph.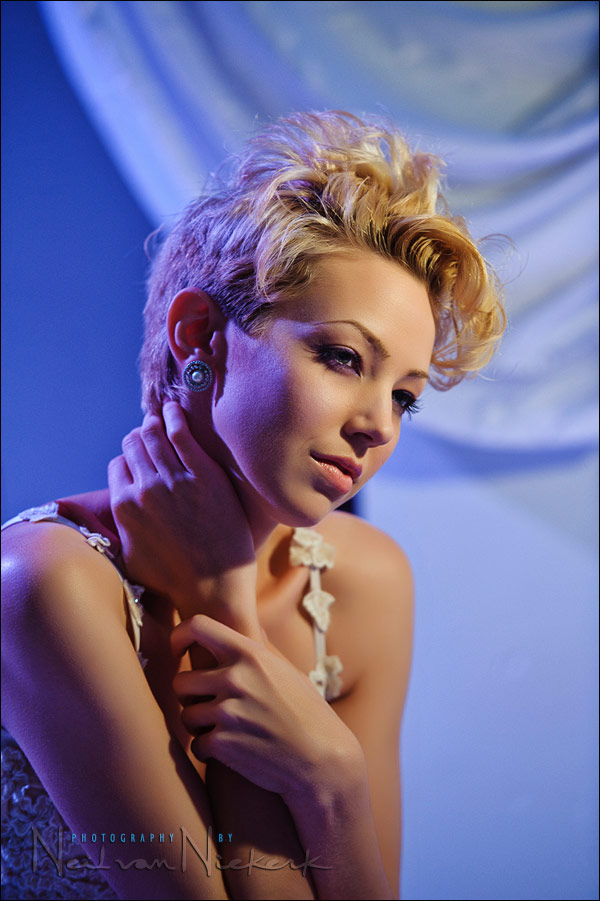 camera settings & photo gear (or equivalents) used during this photo session
camera settings:  1/60 @ f2.8 @ 1000 ISO
related articles