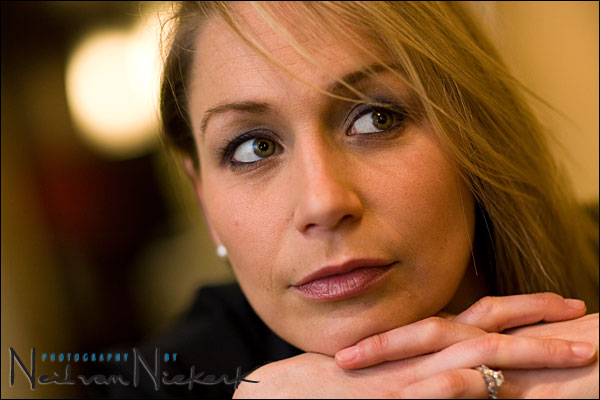 flash and tungsten lighting – gelling your flash for incandescent lighting
Flash, for me, is an essential tool in sweetening the available light and improving the quality of the existing light.
I often see comments on the photography forums to the effect that with cameras like the Nikon D3 or Canon 1D mk3, where you have exceptional high-iso noise performance, that you don't need flash.  The crucial point that is missed though, is that flash is not merely there just to use when the light is so poor that you can't stop any motion blur from your subject, or stop camera shake spoiling your photos.
In these two examples, I used flash (gelled with a ½ CTS filter) to more closely match the available light in color. Instead of just accepting the uneven lighting on  my model, Jennifer, and accepting that there will be darker areas around her eyes … I used directional bounce flash to make the lighting on her more flattering.
I used my usual black foam half-snoot to block any direct light from my flash on her.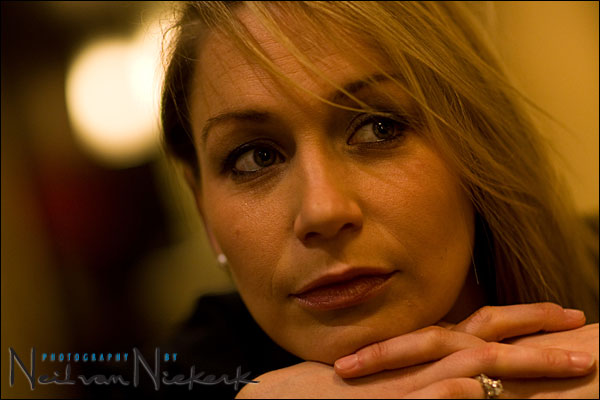 [ settings: 1/125 @ f1.8 @ 800 ISO ]
---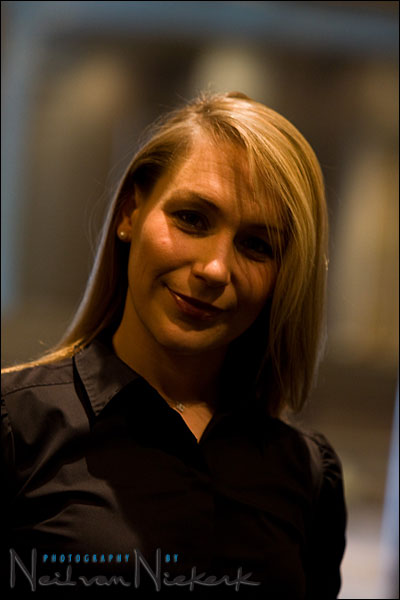 In this illustrative sequence of images, I deliberately placed my model under a spotlight in the ceiling to show how to deal with this specific lighting problem.
Normally we would try to position our subjects so that we don't have to deal with this kind of harsh uneven light.
If you cannot move your subject, here is how to deal with this kind of lighting situation with an overhead Tungsten spotlight.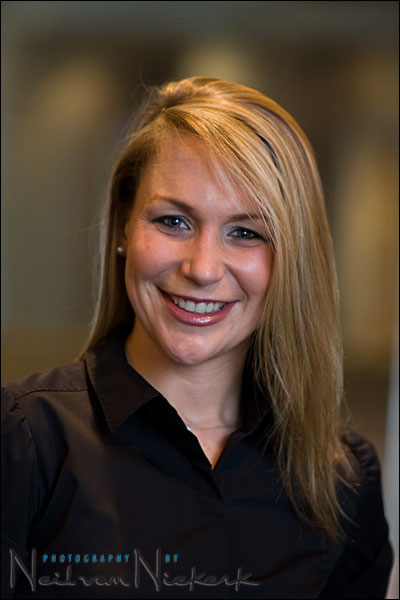 Bouncing flash off to the side of me, towards my left and slightly over my shoulder, I was able to lift the shadow areas completely, and even out the light.
BUT … the flash was not gelled for the Tungsten ambient light. You can immediately see that there are areas of skin tone that are blue, and other areas that are yellow. This isn't as pleasant-looking skin tone than if the flash had been gelled.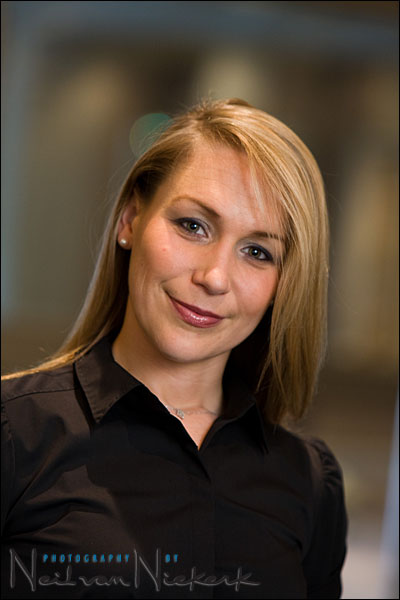 Here I did gel my flash. In this case, I used a piece of ½ CTS gel taped over my flash-head. This turns the blue-ish light from the speedlight into much warmer tones, similar to that of Tungsten lighting.½ CTS gel will filter the light from the flash to approximately 3800 K.
Incandescent light's WB varies a lot around 2800 K. The WB from my flash will be different than 3800K because I bounced the flash off a non-white surface, which also changes the color. (Correcting for this to get to a pleasing skin tone is part of a raw workflow.)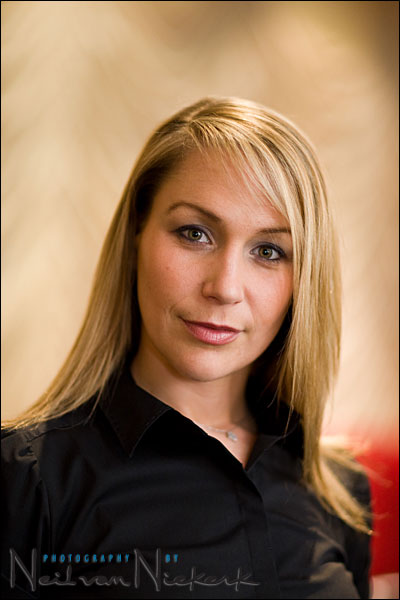 In comparison, here is how I would normally have handled this straight-forward portrait – by placing my model away from the over-head light, and then using bounce flash to give soft and directional light on her.
In controlling where we bounce our flash we can get a simple portrait with nice modeling on the face – the shadows and well-lit areas balancing nicely.
You can buy gels through these affiliate links: Related articles