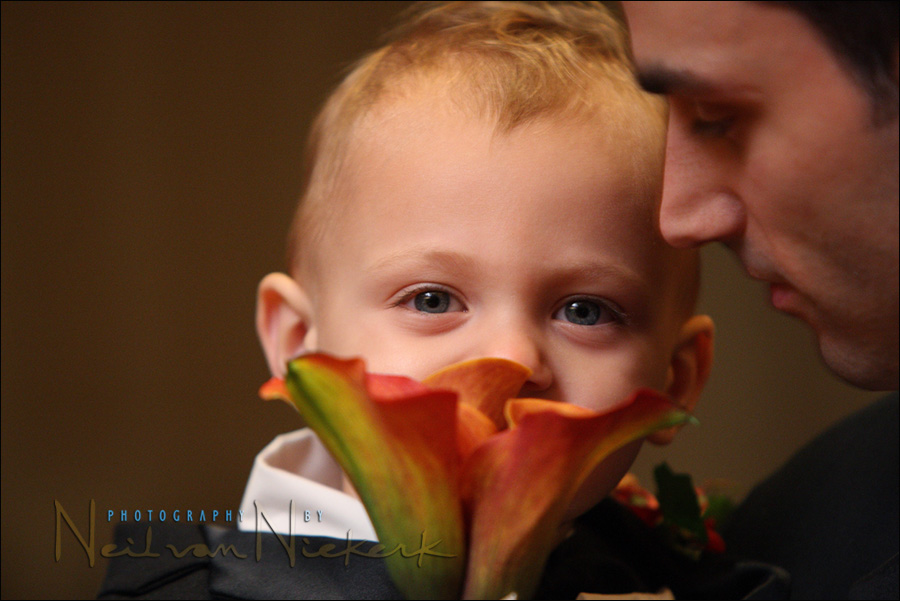 my choice of on-camera flash modifiers
There is a fundamental principle in lighting : the larger your light source, the softer your light.
Using any of the myriad of flash modifiers that are on offer, helps in achieving that – spreading the light from the on-camera Speedlight much wider, thereby creating softer light that direct flash would've given.  However, (and this is a big however), these flash modifiers also throw light forward.  Ultimately all flash modifiers do the same thing – they disperse a lot of light around the room, while throwing some measure of light directly forward to lift shadows under the eyes and bring a sparkle to the eyes.
That is a huge step up from using direct flash – (or poorly bounced flash.. ie, flash at 45′ or 60′ forward) – but won't be as good as directional light.  Directional light falls onto your subject from a specific angle.  This direction can very often be carefully chosen even when you use an on-camera flash indoors.
For this candid portrait of the ring-bearer, I touched up the WB in RAW, and that's that. Simple, and it looks just great. The light is soft, and the little guy wasn't bothered by any direct flash … since there was NO direct flash at all.
The way I achieve directional light from my flash is by adding what is in effect, a half-snoot on my on-camera flash.  The half-snoot (or flag) will partially block the light, and also direct it.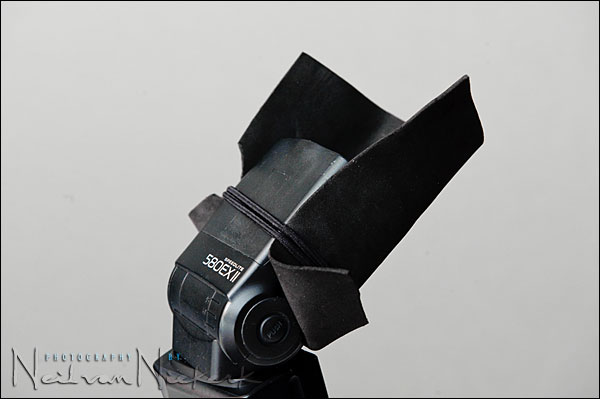 This piece of black foam around my Speedlight has two advantages:
1. Directional light.  I can now much more precisely direct where I want my light to come from.
2. Less annoying to others. In turning my flash to the side or to point behind me, I would risk blasting other people directly in the face with flash. This piece of black foam keeps that from happening.  I now direct my flash over people's heads, and I don't blitz people in their faces with direct flash when they stand next to me or behind me.
To further explain this, here's a video clip where I demonstrate how to use the black foamie thing to flag the light from your on-camera flash.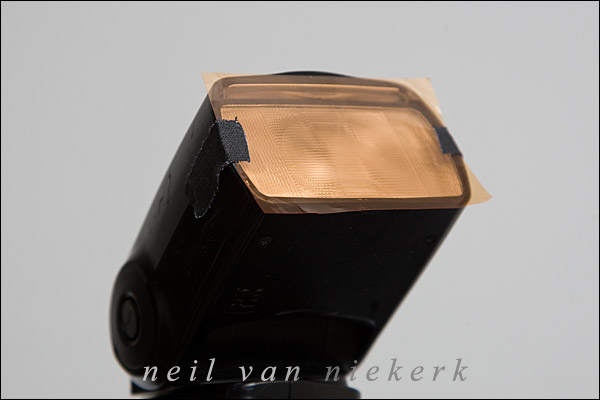 I also very often when shooting in tungsten light, use a filter on my flash to bring the cold light of the flash closer to the warmer tones of tungsten light. I simply stick a piece of gel over the head of my Speedlight with some gaffer's tape. It is low-tech, but it works.
By gelling my flash for tungsten I change the grungy orange backgrounds to a more pleasing warm tone.
The gel used in the image of the baby above, was full CTS.  I keep my camera's WB to Tungsten.  And in post-production I fine-tune the WB, since by bouncing my flash, it picks up an additional color from the walls and ceiling.  The gel shown in the illustration here is 1/2 CTS.  I then keep my WB of my camera to 3800 K, which is still much closer to Tungsten, than the 5400K of flash.
The black half-snoot / flag that I add to my Speedlight is just as simple.  It's a piece of thin black foam bought from an arts store, and then cut smaller. I keep the piece of black foam tied to my Speedlight with a hair band that I stole from my daughter.  Yup, low-tech and simple … and it works!
It can also be manipulated and shaped. Also check out this follow-up article on why I chose a piece of black foam to flag my flash, rather than using something white. And that is the flash modifier I most often use. Total cost is less than $2.00
And there they are – the only light modifiers that I use when I use on-camera Speedlights. In my work as an wedding photographer in New Jersey / New York, I often do use off-camera lighting, whether Speedlights or Q-flashes.  But with on-camera strobes, these are the only light modifiers I use.  And they are all I really need when working indoors.
gelling your flash
Since I frequently gel my flashguns to turn the WB of my flash much warmer (usually for  Incandescent light), I use these gels that I cut up and tape to the top of my speedlight's head. One of these sheets (which aren't expensive), will give you a lifetime supply of these filters. For me, these gels are an invaluable part of flash photography. 
Tape the gels down on your lens hood when not in use.
You can buy gels through these affiliate links: Related articles