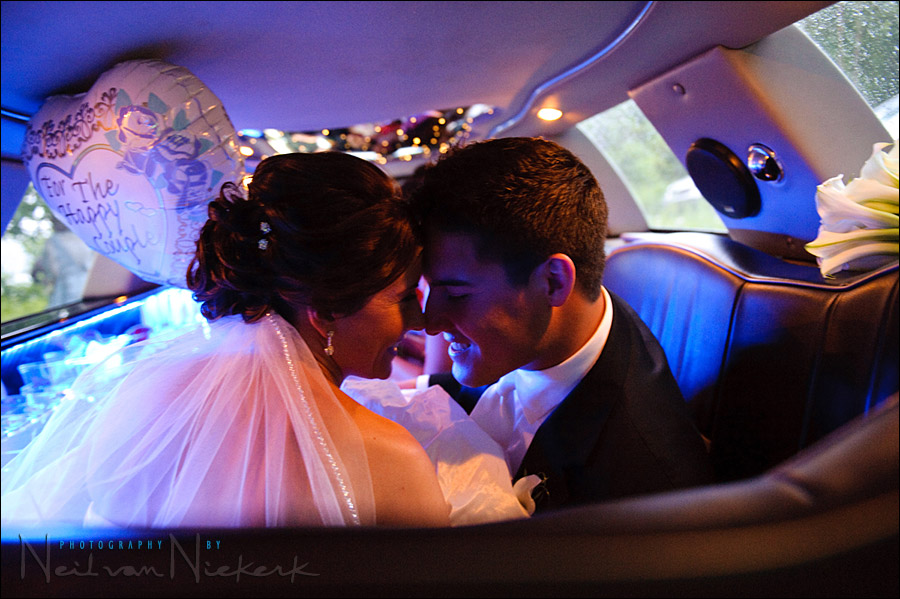 available light photography – dealing with high ISO noise
Most times when you read about dealing with high-ISO noise, the information is about how to use noise-reduction software to minimize noise.  This time however, when I say "dealing with high-ISO noise", I meant in the sense of just dealing with it / accepting it.  I do have Noise Ninja and Neat Image, and would recommend them if you have an image suffering from excess noise.  However, often times, it might just not be necessary.
The image above was shot with the Nikon D3 (and Nikon 24-70mm f2.8 lens), late afternoon on a rainy day as I was leaning in from the driver's rear window looking into the limo.  I asked the couple to lean forward and snuggle in .. and grabbed a few frames.  The light was pretty dark .. but flash would've spoiled the ambiance and neon colors.  So I exposed for the existing light at 1/15th @ f2.8 @ 3200 ISO
As you can see from those settings, there isn't much headroom either way.  I am wide-open on the zoom, and at the maximum recommended ISO .. and a pretty slow shutter speed to handhold the camera.  This means I *had* to be at that very high ISO to ensure a usable image at all.
How does it look?  I think that overall it looks fantastic.  When you do  you go to the 100% view of the image …
.. you can see some image softness from subject movement and camera shake.  The digital noise also becomes noticeable… but in my opinion, not objectionable.  I should mention that the image was bumped up by 1/2 stop when I edited the RAW file, making the digital noise slightly more apparent.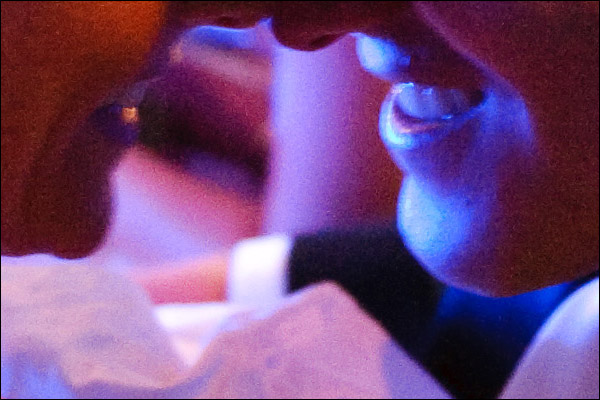 The impact of an image, and how it imparts a sense of place and mood, and shows something of value .. all of that trumps the concerns for pristine image quality.
Back to the high-ISO noise there – if you consider how the image might be used, it is usually less noticeable than you may think from the 100% view on your screen.  High-ISO noise appears to print differently than it usually looks on the computer screen.  On top of that, the image size when you print it, also has an influence.
In this instance, I had a 24×36 inch canvas print made of this photograph, with no noise reduction added.  Just the image as it is.
From normal viewing distance, it looks just great.  With your nose closer to the canvas, you can see the noise … but that would be just silly in my opinion.  The print is meant to be viewed from a proper distance.   And the high-ISO noise just doesn't come into account then.  Even more so since the canvas print does give a more painterly quality to it.
I've shown this large canvas print to my client, and she loved it.  I love it, she loves it … and that's as far as I need to get involved in the finer details of processing the image.