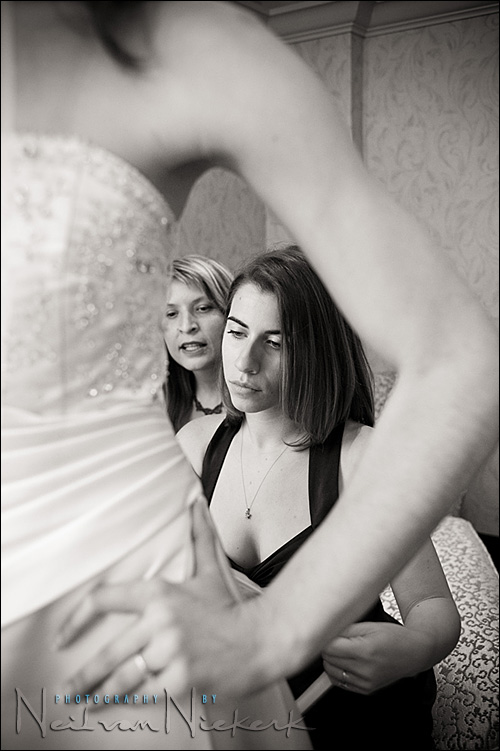 Choosing on-camera flash light modifiers
One of the things I always emphasize if you want to achieve the best results from your on-camera speedlight, is to be aware of the direction of light from your flashgun.
When you know which direction you want your light from your flash to come from, then the simplest way to figure out what direction to bounce your flash towards, is to consider the simple geometry of it all.  Yup, triangular geometry from your days in primary school.  And from Science class in high school, you can also consider the Angle of Incidence = Angle of Reflectance.
The key here is not to think of your speedlight as being your light-source anymore, but of the area that you're bouncing flash from, as being your light source.
Now, looking at this image where the bridesmaid is lacing up the bride's dress, you can see that the light from my flashgun comes from behind where the bride is standing.  To achieve this, I flagged my flashgun so that no direct light from my flash fell onto the bride's dress right in front of me.  Doing this enabled me to have more light fall on the bridesmaid behind the bride.  In other words, I sent more light to the subject in the background than the foreground.
Bouncing off the wall like this, gives form and shape and dimension to my subject.  You can see that the light on the bridesmaid's face is directional.  It isn't flat.
To achieve these two things;
– directional light (that is also soft),
– lighting my subject in the background more than the foreground,
would be impossible with the generic plastic light modifiers that can be purchased.
You simply can't achieve this kind of effect with on-camera flash while plonking a piece of (over-priced) tupperware onto your speedlight.  A plastic light modifier on your flashgun would've given a more direct-flash look as well.
The usual plastic light modifiers that are added on top of the flashgun would throw too much light on the foreground, and less on the background.  In other words, the bridesmaid kneeling behind the bride would've been less well-lit.  You'd get an entirely different look to the light with one of the usual light modifiers.  Especially so when working in close proximity to your subject, those flash modifiers will give you more of a  direct-flash look.
Instead, the better way to use an on-camera speedlight here, is to figure specifically how I want light from my flashgun to fall onto my subject.
---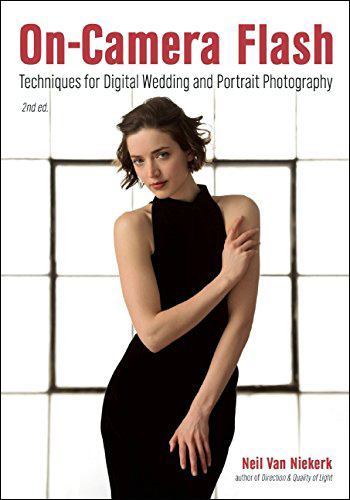 On-Camera Flash Photography – revised edition
This book is explains a cohesive and thorough approach to getting the best from your on-camera speedlight.
Particular care was taken to present it all with a logical flow that will help any photographer attain a better understanding of flash photography.
You can either purchase a copy via Amazon USA and Amazon UK, or can be ordered through Barnes & Nobles and other bookstores. The book is also available on the Apple iBook Store, as well as Amazon Kindle. Also check out the Amazon Kindle store.
Learn more about how the cover image was shot.
---
While shooting indoors, my best advice to improve the results from your on-camera speedlight when there are surfaces to bounce your flash off :
– throw the tupperware away, and then
– consider the direction you want your light to come from.
This will give you images with soft, directional light – and no tell-tale sign that on-camera flash was used.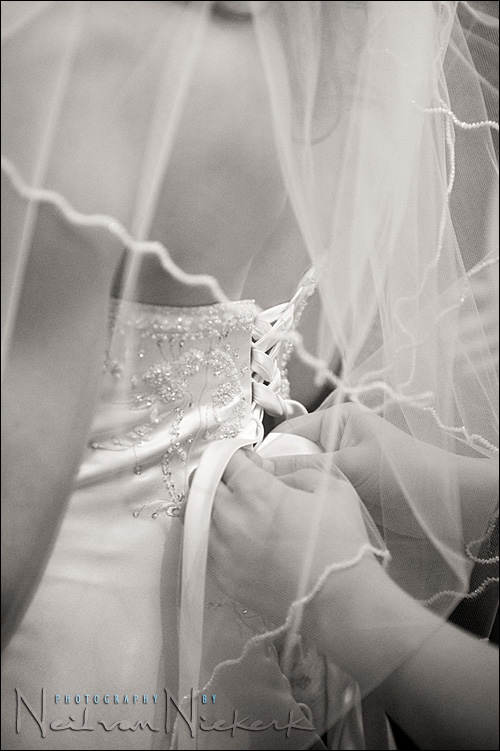 Related articles