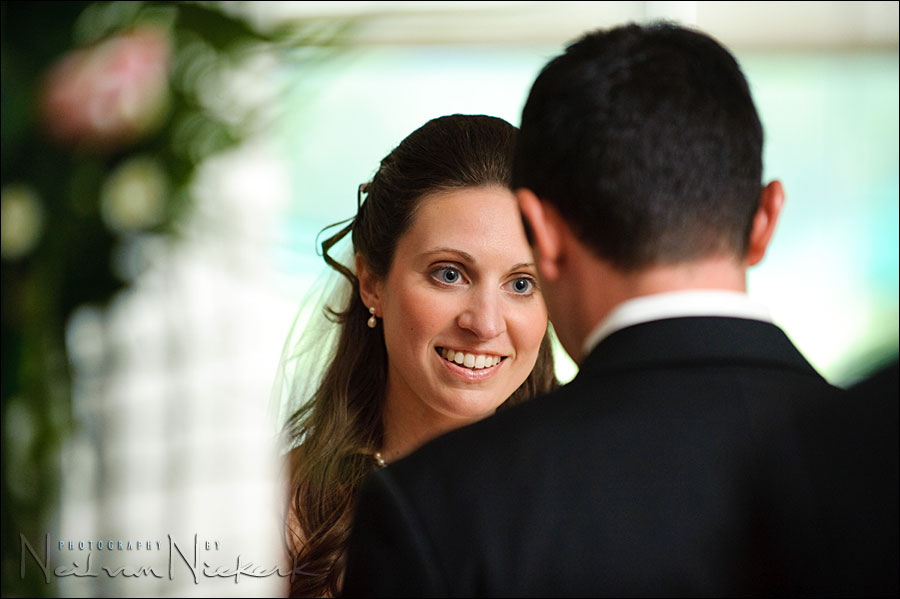 directional bounce flash
With this recent wedding – the same one as posted here– the ceremony was moved indoors because of the approaching thunderstorms.  The ceremony was going to be held in the large reception room in the late afternoon, under the chuppah.   I once again had no choice but to add flash to balance the shaded side to areas lit by window light.
I want to post this image as an example again of how I use directional light from my on-camera flash.  Instead of using a generic light modifier on top of my speedlight, I used The Black Foamie Thing.  I was using the 70-200 mm f2.8 to capture the bride's expressions as she exchanged rings with the groom. Now, from my point of view where I was standing, I had more than a 180′ range in how I could rotate my flash-head to bounce flash to light up my subject.  I also had about a 120 degree angle in how I could swivel & tilt my flashhead from right behind me, over & above me, and even tilting the flash-head forward here.  So I really had a wide range in how I could bounce my flash.
But for me, only one direction really made sense …
I most often approach bounce flash photography as if I were in a studio and had to place the softbox to light my subject.
Which, with multiple bounceable surfaces like I had here with this indoors ceremony, meant that it just didn't make sense to bounce my flash above me or even tilted forward.  I can't off-hand think of any situation in a studio where I'd have a single softbox directly above my subject for a portrait.  It just doesn't make much visual sense.  (However, if you can somehow make it work like that in a studio … great!  Knock yourself out!)
If I bounced flash behind me,  or even behind me and to either side of me, then the light would be very flat.  And I would light the back of the groom's head better than any other part of the scene.  And again, that just doesn't make visual sense.
How I actually ended up bouncing my flash – and this is a near-instant decision – was to point my flash-head to the  2 o'clock position, and tilted about 45′ or 60′ up.  In other words, my flash was pointed to my right and forward from the camera's point of view.  And tilted upwards by 45-60′.   Not  90′ to my right, but instead, 30′ forward from that 90′ position.
The reason why I chose this angle, is that I wanted light to come from the side of the bride.  That way I get that directional quality to my light.  And this gives form and dimension to my subject.
I didn't bounce to my left (10 o'clock position), since the chuppah's structure was in the way.  But mostly because there was a room divider to my right.  A very easy surface to bounce flash off.
From this point on, it is just a matter of choosing my shutter speed, aperture and ISO so that:
– my available light registers to some degree,
– I have minimal depth-of-field,
– and at least a hand-holdable shutter speed with a stabilized / vibration reducing lens.
Settings:  1/250th @ f3.2 @ 1600 ISO
My flash was set to TTL, so that I could shoot fast, and not have to be concerned right there with getting the correct manual setting on my flash.   I am quite happy with allowing TTL flash technology to make my life easier under pressure.