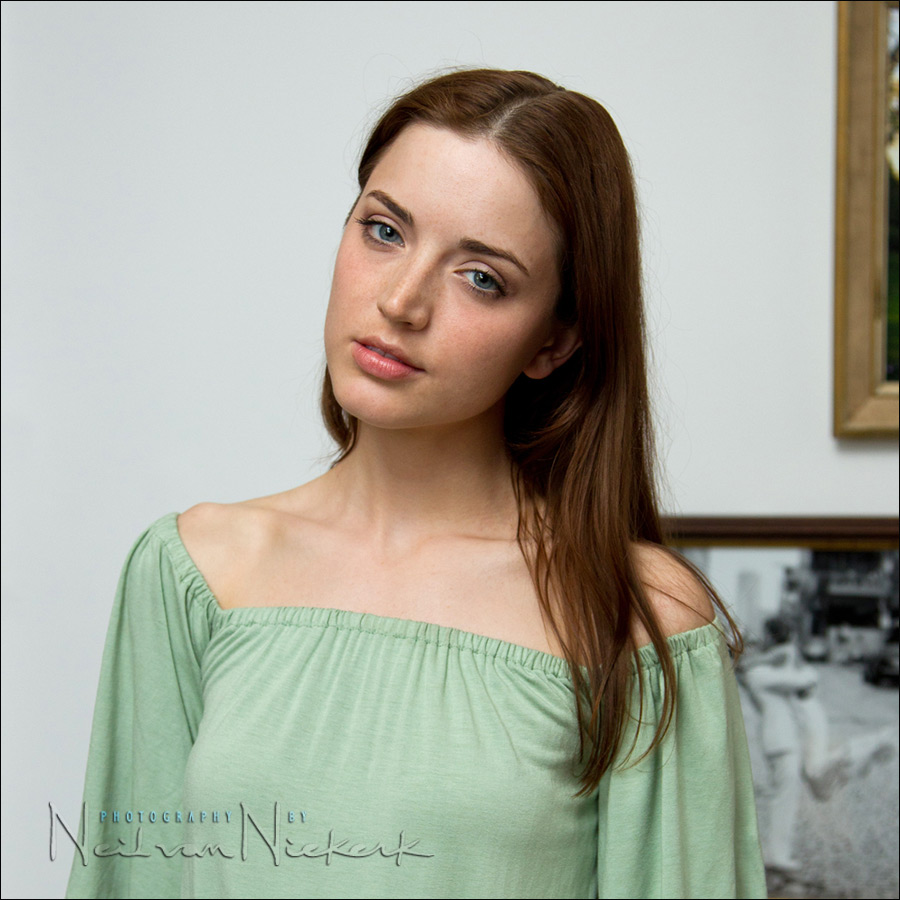 Bouncing your on-camera flash behind you
A comment posted to the article, directional light from your on-camera flash, asked a lot of questions about bounce flash photography. While most of these have been answered over time in various articles, it might be a good thing to pull it all together in directly answering those questions here.
This uncomplicated portrait of Anelisa that shows specific elements in how I bounce flash:
directional light which can be observed here as that gradient of light across her cheek
no hard shadows from direct flash
To get flattering light from my on-camera bounce flash, I most often bounce the flash behind me, or somewhat towards the side.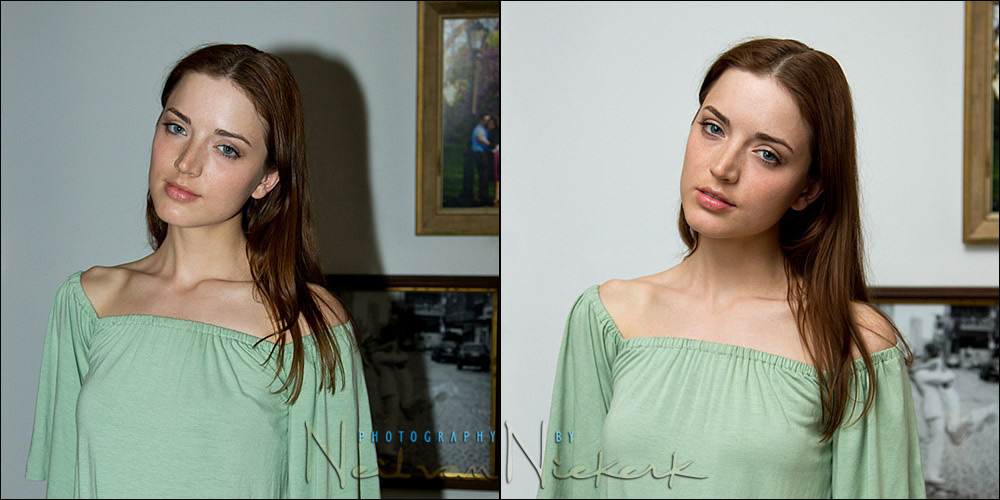 Here is a typical comparison between direct on-camera flash (where you get that side-ways shadow), and the clean open light you get from bounce flash.
For the eagle-eyed followers of the Tangents blog who suspect they've seen the image at the top before somewhere, yes, you have. It was used to illustrate this article a while back: Flash photography basics.
---
FAQ about flash photography
I've read so many contradicting opinions on all lighting questions that I just didn't know which to believe!
However, having read many of your articles you have impressed me with your knowledge and creativity that you've become my only point of reference. Your images are stunning and your site is so well written that I rarely go anywhere else for inspiration.
Thank you! One of the things I have consistently tried to do, is show examples. I was always frustrated when in photography forums you'd get someone grand-standing and making sweeping comments, without showing examples of their results. "I can photograph an entire wedding with just a 50mm lens!"  Sure buddy, but show us a full gallery of your awesomeness. You know, stuff like that. So I do post examples. If someone doesn't like the results, then that is fine too. At some level it *is* a matter of taste.
1.) What do you bounce your flash off?
I've a few questions for you, if you don't mind. I appreciate that you may have answered these elsewhere but there's so much to take it I most likely missed them somewhere along the line. Any help you can give would be most appreciated. I also appreciate that these questions may seem a little basic!
1. You often say that you simply bounce your flash behind you (in general terms), and I get the impression that you do this regardless of what is behind you. Is this the case? If so, what if there is no wall or other surface sufficiently close for the flash to bounce back effectively? What would you do? I admit that my physics knowledge is somewhat lacking, but if a surface is so far away, does the flash light not die by the time it gets there and back onto the subject? Or, am I to assume that your flash is capable of such distances? (I use a Canon 580ex II).
When I say "bounce my flash behind me", I rarely bounce directly behind me. It's usually at an angle over a shoulder, or upwards at an angle off to the side – depending on where I want my light to come from.
In this example – bounce flash photography at wedding receptions – I bounced into the huge reception room behind me. No specific wall behind me. Just the room. But at a high enough ISO and a wide-ish aperture, enough light will return to light your subject properly.
What if there is really nothing to bounce your light off? Then you adapt or improvise. We're photographers and can't just passive about how we use our cameras and shrug our shoulders when the stars don't align for us.
But there are scenarios where we can actually use bounce flash outdoors to sweeten the image:
– using on-camera bounce flash outdoors at night
– using bounce flash outdoors
– finding something to bounce your flash off
– wedding photography – using bounce flash outside
2.) Does your body block the light from bounce flash?
2. When bouncing behind you – and I think this may apply for portrait orientation more than landscape – do you not get in the way of the light when it bounces back?
Nope. By the time the light returns, it is a huge spread of light, and you are very unlikely to be in your own shadow.
Your light source isn't the small flash-head, but the large surface you bounced your light off. So you now have a huge light source.
3.) How much FEC should you dial in when you bounce flash?
How do you know how much +ve FEC to dial-in? (I am assuming that, mostly, you need to dial-in such because you are bouncing).
Flash exposure compensation is dialed in when you need more (or less) flash than the camera dictated. TTL flash exposure is affected by the overall balance of dark and light tones in your scene. Usually it works pretty well. But if your subject and scene are predominantly light tones, then the TTL flash (like any automatic metering mode), will tend to under-expose. Then you need to bump your FEC up.
You have to start pre-judging the tonality of your scene, and adjusting your FEC for that already.
Now, to your specific question whether you should dial in FEC because you're bouncing flash … theoretically, no. In practice .. probably.

That Pre-flash there is what the TTL flash metering system uses to calculate the actual exposure. By measuring how much of the pre-flash is returned, the camera knows how much  light to send out for the actual flash exposure.
So in theory, it shouldn't matter whether the flash is pointed forward, or bounced. In practice though, you might find that a specific camera model tends to under-expose with bounce flash. In that case, you know about it, and can set a default FEC when you bounce flash. Simple.
4.) Bounce flash & flash brackets
Correct me if I am wrong, but your methods seem to eliminate the need for flash brackets (particularly for portrait orientation). Would you agree? If so, are there any circumstances whatsoever when you would use a flash bracket?
That is all covered in the article on flash brackets. I have the Custom Brackets Pro-M rotating bracket (affiliate)
5.) Bounce flash and slow shutter speeds
I assume (I don't know why!) that bounce is not appropriate for ultra low-light dragging the shutter work? Instead direct flash is better? If so, where would you point the flash, would you use any accessories (stofen etc) and what -ve FEC would you dial-in?
I do pull the shutter speed down where I can. It depends. That it is bounce flash (vs direct flash), has no bearing on my shutter speed settings.
Here is an example and explanation of why I used a fairly high shutter speed at a wedding reception, while bouncing flash – shooting in low light – flash and incandescent light. But mostly, I would drag the shutter to some extent. Here is another related article – shutter speed choice with flash.
I hope this all helps to make more sense of the topic.
Related articles