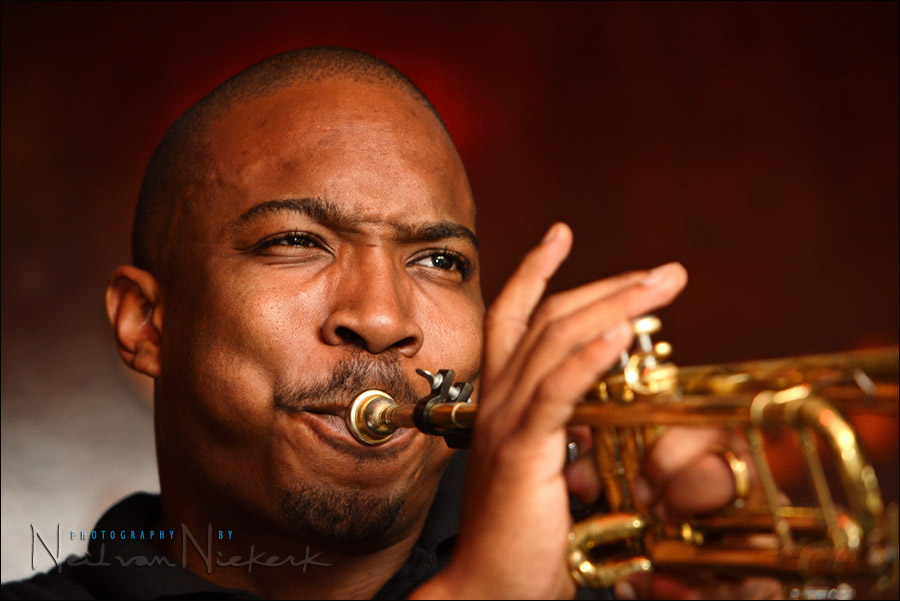 Tutorial: Bounce flash photography
An photo of a jazz trumpet player during a session in a club, lit by on-camera bounce flash. Since it's a perfect example of how I use on-camera bounce flash so that it looks nothing like on-camera flash, I'd like to use it to illustrate this summary of on-camera bounce flash technique:
The light in this image is nearly all from my flash. The red hue in the background, and spilling onto part of the trumpet and his skin, is from the strong red lights in the night-club. To eliminate this, I under-exposed the ambient light, by choosing my camera settings accordingly.  (See the comparison photo below.)
By under-exposing the ambient light, the flash becomes the main source of light … and this allowed me to control the quality of light.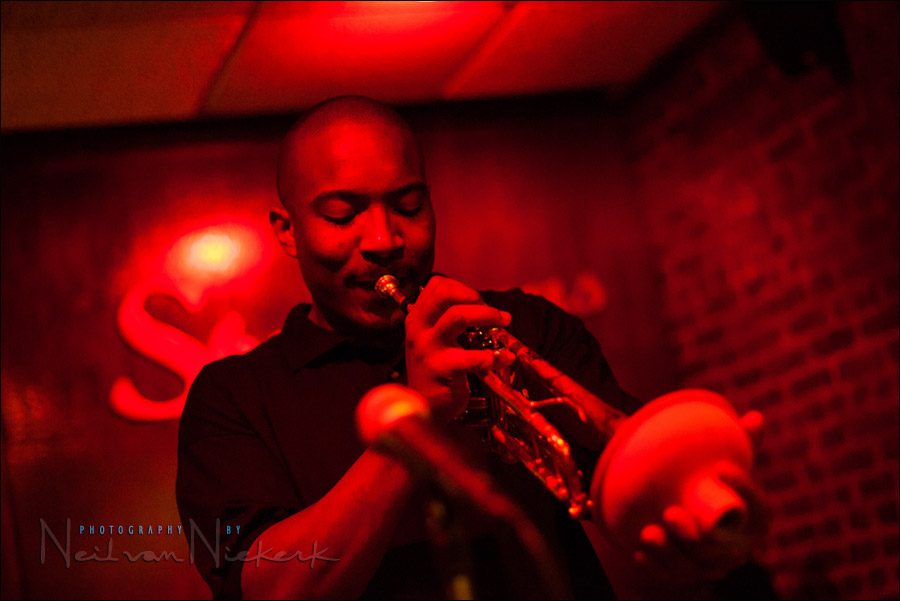 The available light levels in the club was very low. As comparison to the image at the top where I used flash, here is an out-of-camera image shot at 1/160 @ f1.8 @ 1600 ISO
The camera settings for the image at the top where I used bounce flash:
1/250th @ f4 @ 800 ISO,  flash exposure compensation at +1 EV
Canon 1D mark IIn; Canon 70-200mm f/2.8 IS; Canon 580EX speedlite
Without flash, the image is underexposed even at those settings. When I changed the white balance of the RAW file to 2500K, the color was still overly red.  So this situation really did need flash to give a color image.
Regarding the shutter speed in the top image (where I used flash), I was at the camera's maximum flash sync speed for a specific reason. Max flash sync speed is that sweet spot when you try to overpower strong available light with flash.
I specifically did not go into high-speed flash sync (HSS) territory, since this would've cut my flash power too much. To re-iterate: you can't "kill the available light" with high-speed flash sync. Shutter speeds higher than max sync speed drop your flash output faster than the ambient light exposure is affected by that same change in shutter speed.
Achieving quality light with on-camera flash …
I bounced the flash to my right, away from my subject. NOT towards him. This is a crucial element here. NOT towards my subject.
Even though the light levels were low here, I was bouncing flash off the ceiling and brickwork – in fact, off anything to my right and behind me. I didn't bounce  my flash off a specific surface, but rather in a specific direction – the direction I wanted my light to come from.
Since there is NO light coming from the camera's viewpoint, the light is directional. It is coming from the direction I bounced my flash into. This isn't an efficient way of using flash, but the light that returns is sweet indeed.
To control the light from the flash so it doesn't spill on your subject,
it helps to use something like the black foamie thing.
You simply can not get this kind of light from your on-camera flash if you use a plastic diffuser cup or such device. This is because it will throw light forward onto your subject. Then you lose that directional quality to the light from your flash. Then it will look less like awesome available light or off-camera lighting, but more like poorly handled on-camera flash.
Bouncing the flash like that, helps give form and shape to my subject. Bouncing flash above me would've delivered a flat image, and would've caused dark shadows under the eyes. Even with a flip card.
When there are surfaces to bounce flash off, this bounce flash technique is repeatable and can give remarkably good results. Results that look nothing like on-camera flash.
The next step? Practice and compare for yourself.
---
---
Materials for the flash modifier used – the black foamie thing
Related articles on bounce flash photography
Clarification
Since I've been taken to task by another photographer / musician for the photo shown at the top of this article, I feel I need to add this explanation:
I was there by invitation of the saxophonist of the band to take a few promotional photos of the band members while playing a small gig. I didn't intrude – I was specifically asked to take a series of photos. It was a daytime gig in Harlem, with few people there in the pub / restaurant. I doubt the people in the pub even really noticed me taking photographs, since it wasn't a concert as such. So, that photo (and others) were intentional, and not intrusive to the player or the audience.