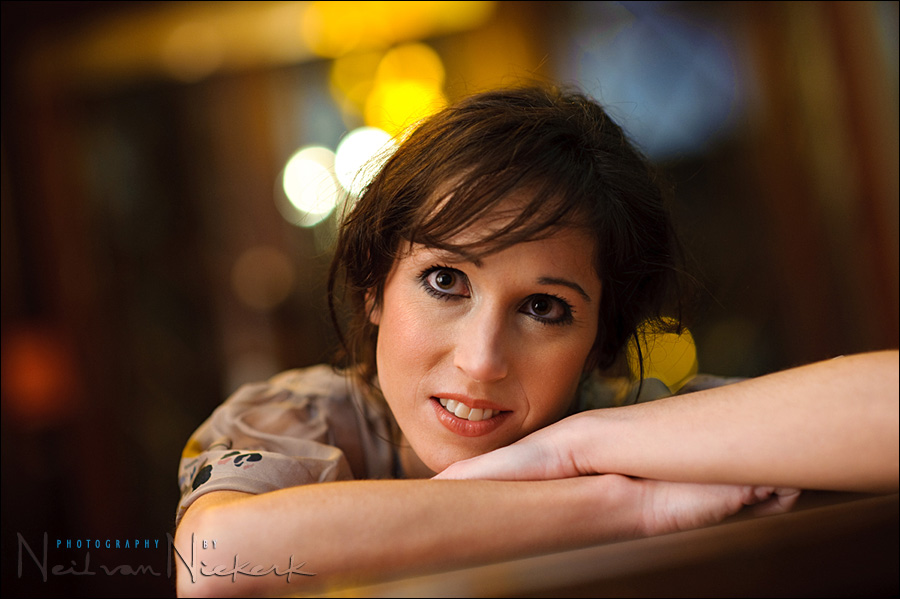 Bouncing flash off other surfaces
When I am stuck in an area where there aren't any white or near-white surfaces to bounce my flash off, I will look around for alternate areas.  In the image above, I bounced off the wood paneling and brick walls in this large enclosed entrance area of a restaurant.
As most of you already know, the problem with the bounce flash technique, is that you will pick up the color cast of the area that you are bouncing your flash off.   When this color cast is slightly warm, it is often simple enough just to switch to a Daylight White Balance.  This slightly cold color will off-set the additional warmth from the off-white surface you bounced your flash off.
This image will give you an idea of the color of the brick and wood that I bounced my flash off.
When an area is painted green or blue, especially a darker hue of those colors, then you will have difficulty getting a good skin tone out of the resultant color cast because you will invariably have a discontinuous spectrum.   In other words, some of the colors that make up a variety of hues, will be missing.  And with blue and green light, you miss out on the warm colors that make up skin tones.
This then is less of a problem when you're bouncing off wood (especially if the wood isn't dark), or if you bounce flash off brick walls. (Also hopefully not too dark.)   The colour cast that you will get from doing so, is quite warm.  Warm enough that you can often just set your camera's white balance to Tungsten.  Or around 3700K.  Or there-abouts.  You can dial in an approximate WB setting in Kelvin, and then fine-tune the colors as part of your usual post-processing of the RAW file.
With this kind of extreme color change, it is best that you shoot in RAW to have the data for such manipulation of your image.
Back to the image at the top .. I set my camera to Tungsten WB, which did mean the image straight out of the camera was quite close.  And then dragging the sliders in ACR, it wasn't that difficult to get beautiful skin tones.  And in bouncing flash off to my left, flagging my flash with the usual Black Foamie Thing, it was just as simple to get soft directional light.
My settings where:  1/100th @ f1.8 @ 1000 ISO
So next time that you're stumped for something to bounce your flash off, don't be too timid to try bouncing off a warm-toned surface like wood or bricks.  You might just be surprised.
related articles