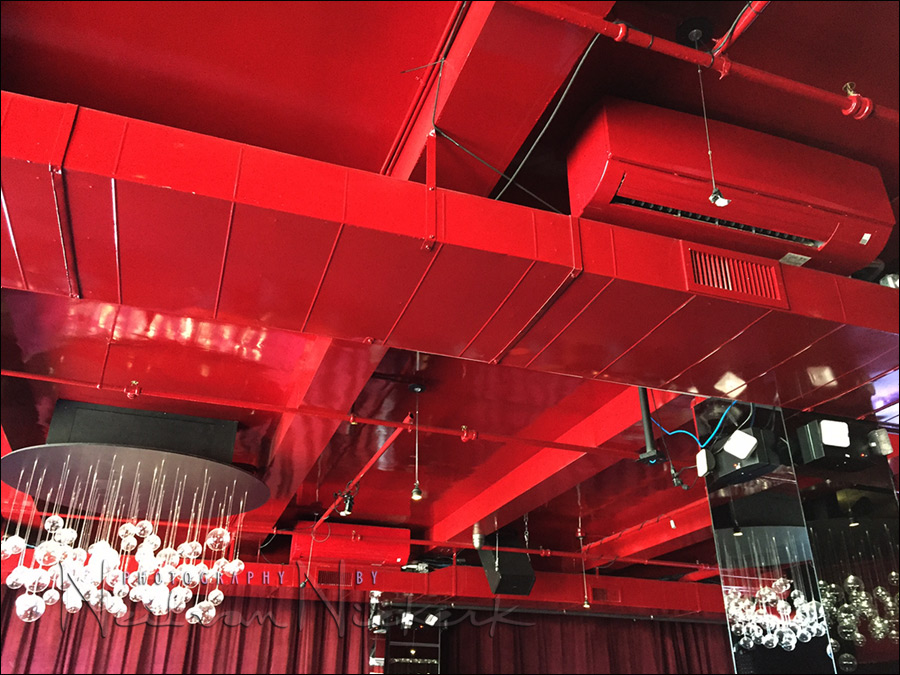 What do you do when you can't bounce your flash?
A question that I'm often asked in emails or on this site or in person is, "What if there is nothing to bounce your flash off?" Sometimes the question seems to be directed as a challenge, but mostly I think photographers are hoping for a great solution that may have evaded them. Maybe, just maybe there might be a technique that could help when faced with super-high ceilings and wooden walls. Or, as in this photo above, when you encounter a venue with red ceilings and walls. This would be a tough color cast to fix in post-processing!
When asked what we can do when there is nothing to bounce our flash off, my usual reply is that that little speedlight only has so many electrons that can be turned into photons.  Even thought we can get surprisingly good results with bounce flash in some touch scenarios (some of which are mentioned in the Related Articles links), there is only so much we can do with bounce flash. We have to improvise then.
For example,  with this church at West Point Military Academy, no flash is allowed, and you have to rely on the ambient light. Then a high-ISO capable camera and wide apertures are necessary to grab any of the available light.
Much of this website deals with ways of bouncing flash. Sometimes we can find innovative ways to bounce flash. (Check the Related Articles at the bottom.) But despite pushing the limits of our cameras and lenses and on-camera flashguns … there are those times when we're just out of reach of what is physically possible with our equipment.
Then we have to improvise or perhaps accept that we simply are in a situation where there are no easy options.  So while I did once reply to this question about bouncing flash in these impossible places, "you're screwed" ..  I'd still like to offer some suggestions and help.
We may have to use umbrellas and softboxes … although these aren't always practical at events,
We might very well have to resort to plastic diffuser cups on our speedlights, or even direct flash.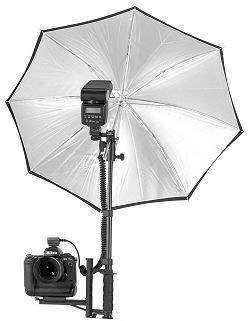 I've even seen suggestions of a portable umbrella bracket like this one.
Now, I wouldn't quite go so far as to say you'd look like a clown waltzing around with one of these at an event, but it can't be described as unobtrusive.

It will give you pretty awesome light in any venue where you have a black ceiling and black walls … but I don't quite think it will be practical at most events.

But, there is this option. Just so you know.
When the ambient light levels are so low that you can not get away with a reasonable shutter speed, then you have to use flash. Ideally, off-camera flash of some kind. But that isn't always practical. When there is nowhere practical to bounce flash off, and off-camera lighting isn't feasible … then you have to pick your favourite light diffuser for your flash, or even resort to hard direct flash.  I try and stay away from this last desperate option though.
I recently had to photograph a wedding at a museum where the reception room had black walls and a black ceiling. There was simply no room to put up additional lights. I had to resort to my usual technique when in a pinch like this .. I put a wireless TTL transmitter on my camera (such as the Canon ST-E2 or Nikon SU-800), and hold my speedlight up in my left hand with a diffuser over the speedlight. This way I am still trying to get directional off-camera light from my flash, even if it is a hard light from a small light source.
In the instance of the red ceiling shown above – I mostly worked closer to the big windows to use the available light at a reasonable ISO range of 800 – 1600 ISO. Deeper into the room, I used 3200 ISO, and relied on the stabilization of my lens. For the group shots, I used off-camera lighting.
Summary
Finally, there are no easy answers.  No quick options that will still give you wonderful light in such challenging indoor settings. You have to adapt and improvise .. and sometimes you accept the limitations of where you are and what your equipment is capable of, and use direct flash.
Related articles