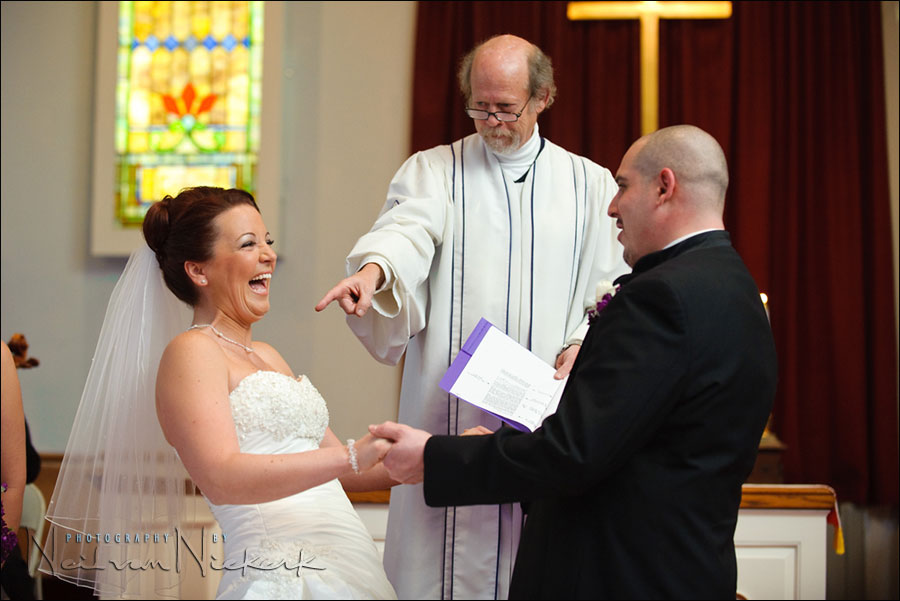 Using flash during the wedding ceremony in church
Whether or not to use flash during a wedding ceremony in a church, is a tricky decision to make. You have to weigh the solemnity of the occasion, with the contractual and artistic requirements to create awesomely awesome images.
When to use flash during the church ceremony?
– when there aren't specific church rules against using flash, and
– the light levels are too low to give correct exposure for the shutter speed, aperture and ISO combination we need.
The decision to use flash, and how to use flash, strongly depends on technology. Before high-ISO capable cameras, it was customary for medium-format film shooters to set up additional lighting. There would be at least one other off-camera flash to "double light" the scene along with the flash on the camera's bracket.
The modern trend of a more natural look has been made possible by high-ISO capable cameras, along with fast lenses.
For me, this is the way to go .. high ISO settings and wider apertures. Ideally, I'd rather just use the available light, and not use flash at all. However, the lighting in churches is sometimes less than ideal with top-heavy incandescent lights. Then I will use flash to augment the available light …
Even with flash, I'd still use high ISO settings and wide apertures. This allows available light in and gives a far more natural look to the images. The flash helps to lift the shadow areas and lift the contrast.
My specific technique depends on using the black foamie thing. I bounce my flash against the walls of the church so that the flash is indirect, and better yet, indistinct. It's a blip of light high up against a wall somewhere, hopefully unnoticed. The piece of black foam also helps to contain the flash so guests barely notice it. The flash then also doesn't blitz anyone in the eyes.
My starting point usually is to get the ambient light as close as possible to the correct exposure. Then the flash is used to "clean up" the light in the photo. This relates to the recent post on having the flash 'ride on top of' the ambient light. The flash is just enough to lift the exposure to the correct levels. As such, the flash is usually not the dominant light source. It's there to augment the available light.
The photo at the top is an example of this. My ambient exposure is pretty close to correct – and then I added bounce flash, partially gelled for Tungsten with a 1/2 CTS gel. Gelling the flash with either a 1/2 CTS or full CTS gel is essential to have the flash blend more naturally with the available light in the church. There is also the occasional extreme problem of mixed lighting – some incandescent light, some daylight and some light from stained glass windows.  But then I'd still use a 1/2 CTS gel as a starting point.
Back to the image at the top – I bounced my flash to my right so the light that returns, falls onto the bride and lifts the light on her face. This is customary for me here – to have the extra bit of light help lift the exposure and contrast of the bride's face and expression.
camera settings:
1/160 @ f3.2 @ 1600 ISO; TTL flash at 0EV
With this wedding, the church was large, but had white walls and ceiling which considerably helped getting enough light from my flash. There was also some daylight coming in from the windows.
Flash photography and the wedding processional
The one time I don't mind using flash, is with the processional. (Check the recent post on photographing the wedding processional.) My technique is still consistent in that I use the flash to augment the available light – but I will make sure I have enough depth of field and a shutter speed that won't show much subject movement. Therefore the flash might be more dominant with the processional than for the rest of the ceremony. Nearly all churches will allow flash during the processional, even if they have a strict no-flash policy for the ceremony itself.
From that same wedding:
1/125 @ f3.5 @ 1600 ISO
on-camera TTL bounce flash (gelled with 1/2 CTS)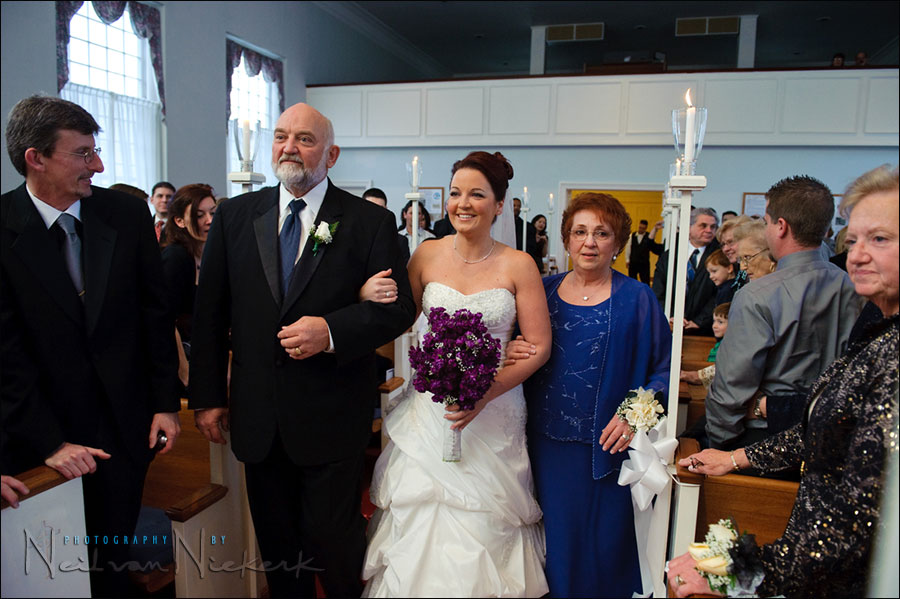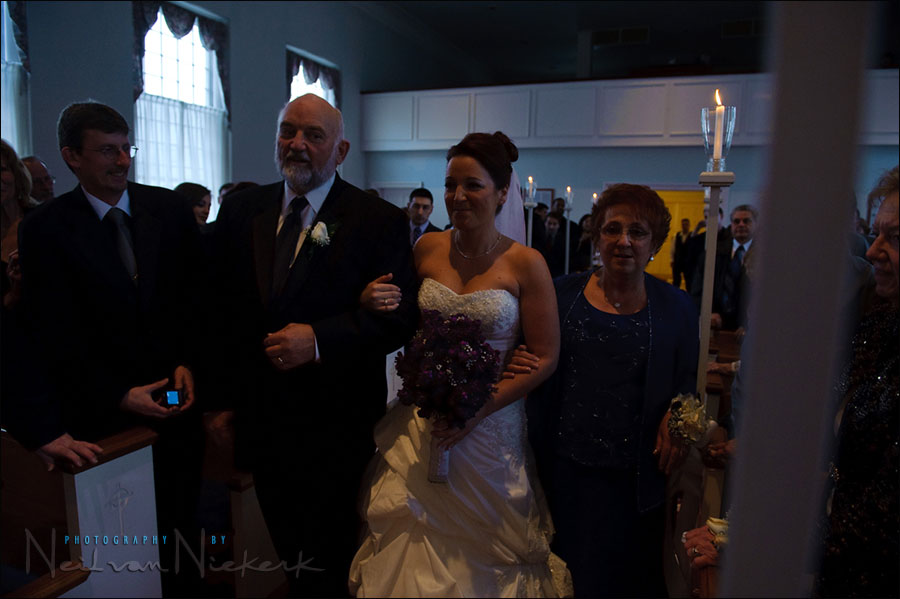 An out-take from my 2nd photographer, showing my position and the way the flash was rotated (and had the black foamie thing on) …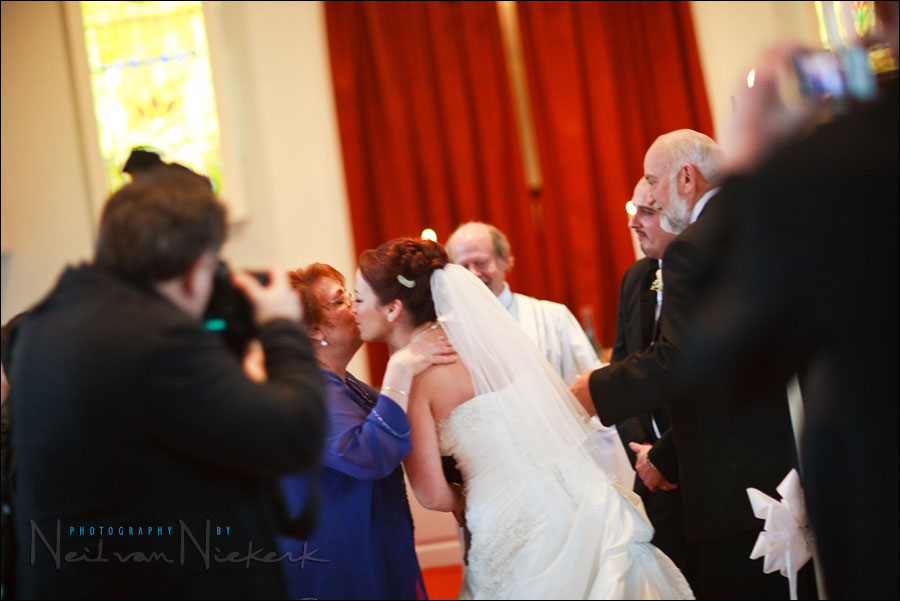 … and the resulting image from my camera: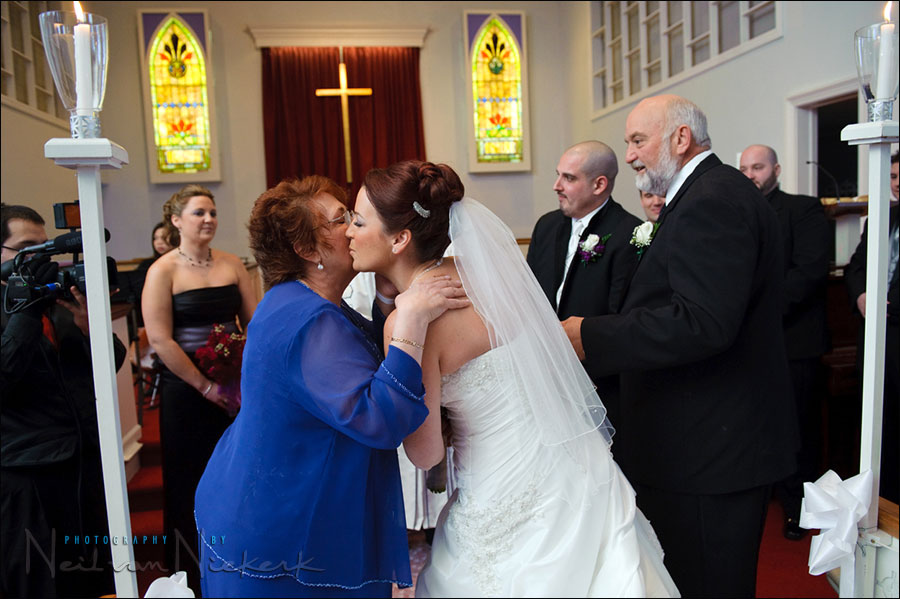 1/125 @ f3.5 @ 1600 ISO
on-camera TTL bounce flash (gelled with 1/2 CTS)
The second shooter's image was at 1/125 @ f1.4 @ 1600 ISO … which tells you how much more depth-of-field I gained with the use of flash.
With the available light reduced by 2.7 stops in my image, the impact of the incandescent lighting was lessened.  However, I still gelled with a 1/2 CTs, resulting in an image with a neutral color palette.
What if I have nothing to bounce my flash off?
If there is nothing to bounce my flash off, then I use a plastic diffuser cup on my speedlight, and point the flash upward, or perhaps slightly tilted forward. But I still use high ISO settings and wider apertures to allow as much available light as possible .. and not have the flash dominate.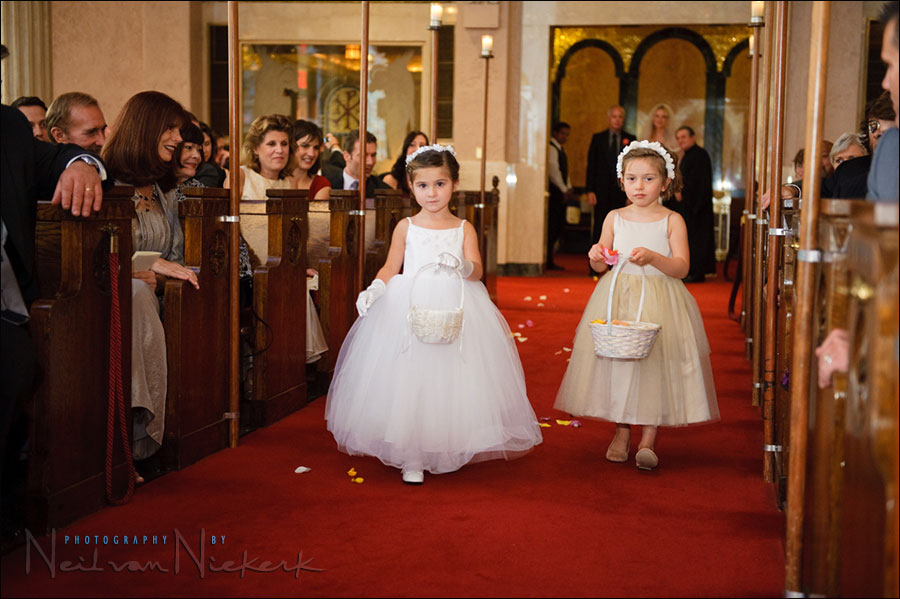 1/80 @ f2.8 @ 1600 ISO
on-camera TTL bounce flash (gelled with 1/2 CTS)
Quite often, in using flash with the black foamie thing and getting just that smidgeon of returned light from my flash … it isn't really possible to tell how much flash is in the final image. For example, in this photo – without an accompanying image with only available light – it is near impossible to tell how much of the light on the little girl's face is from the bounce flash, and how much is from the available light (and possibly flash) reflecting from the pages of the book. But I did use flash … and I wanted it to be imperceptible, but still enhance the existing light.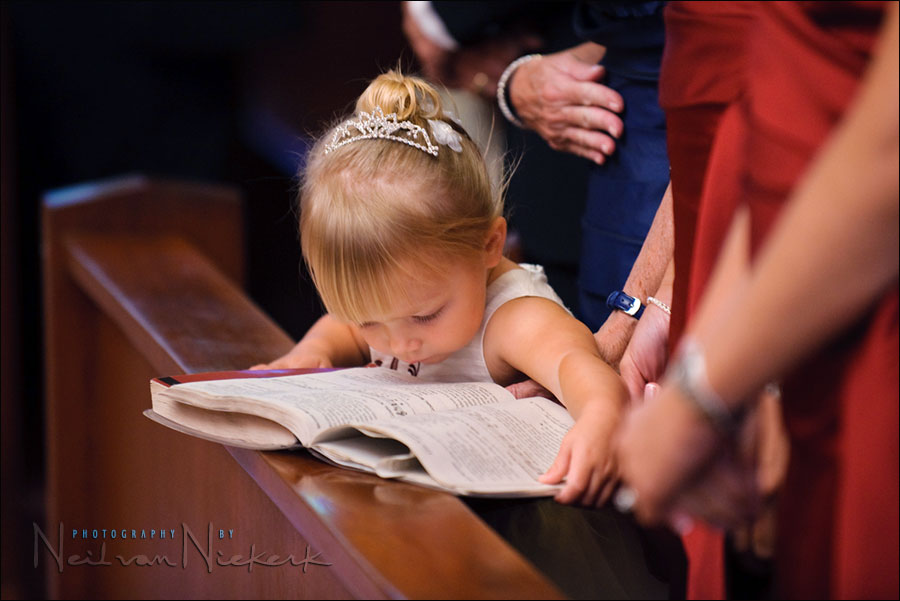 1/160 @ f2.8 @ 1600 ISO
on-camera TTL bounce flash (gelled with 1/2 CTS)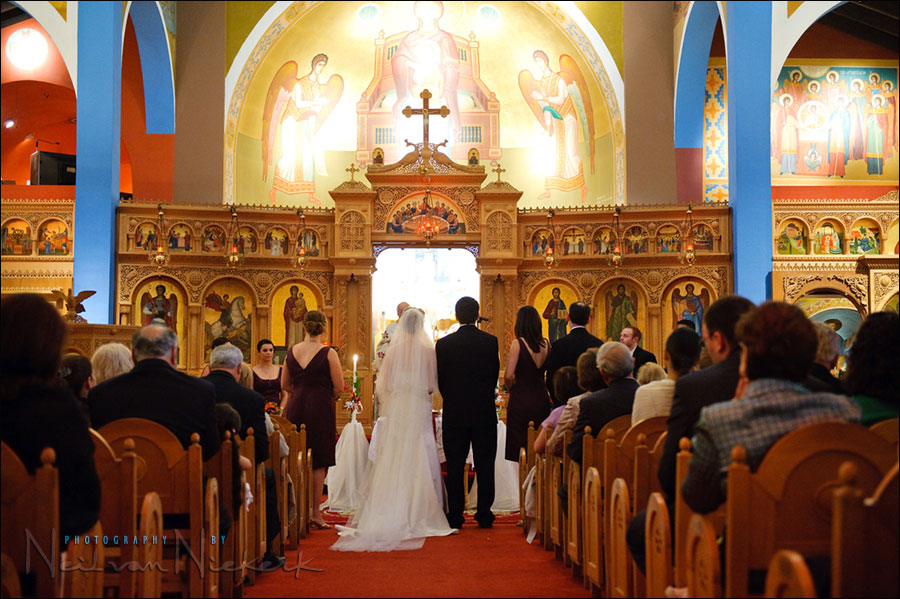 With this massively huge Greek Orthodox church, with colored walls, there's no realistic way to bounce flash … and direct flash would just intrude. So it had to be: high ISO / wide aperture / slower shutter speed.
1/30 @ f2.8 @ 2000 ISO … handheld 24-70mm f2.8 @ 50mm
Mostly though, it is that touch of indirect light from the bounce flash (gelled), to help with exposure and quality of light, as with these two images: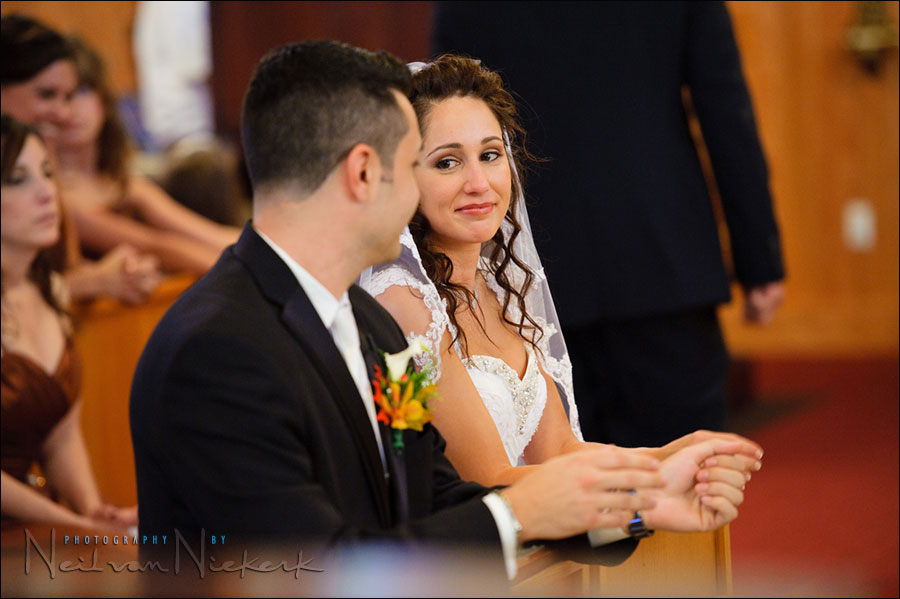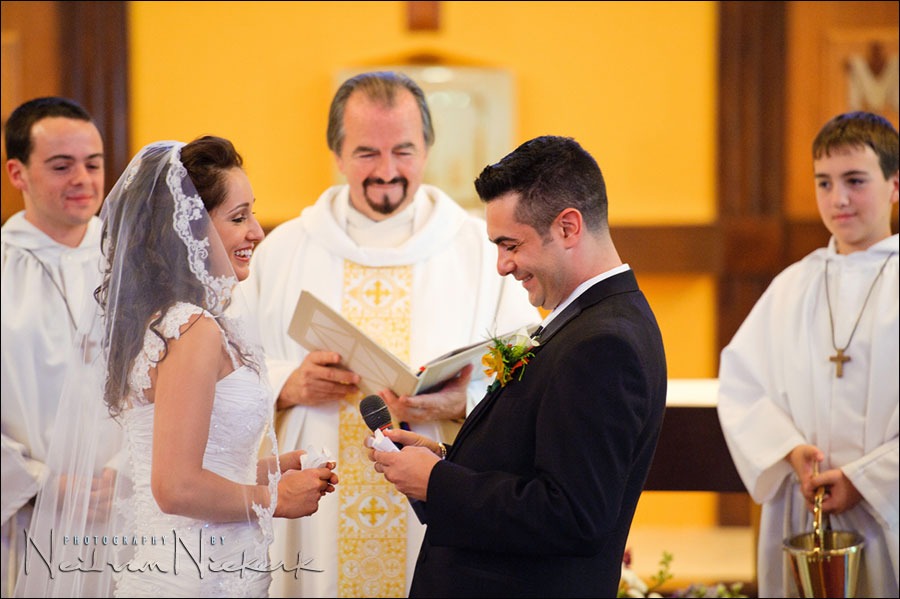 Both images: 1/80 @ f2.8 @ 2000 ISO
Where high-ISO capable cameras obviously shine, is in situations where there is just no chance of bouncing flash, and the available light is very low. The existing light might be of great quality – there's just not much of it.  With these two photos of a brother and sister, I relied on the vibration reduction / image stabilization of the 70-200mm f2.8 lens.  The latest Nikon and Canon models are outstanding in this regard.
Both images handheld at: 1/30 @ f2.8 @ 3200 ISO .. available light only
Nikon 70-200mm f2.8 VR II … at 200mm
(The Canon 70-200mm f2.8 IS II has just as remarkable stabilization.)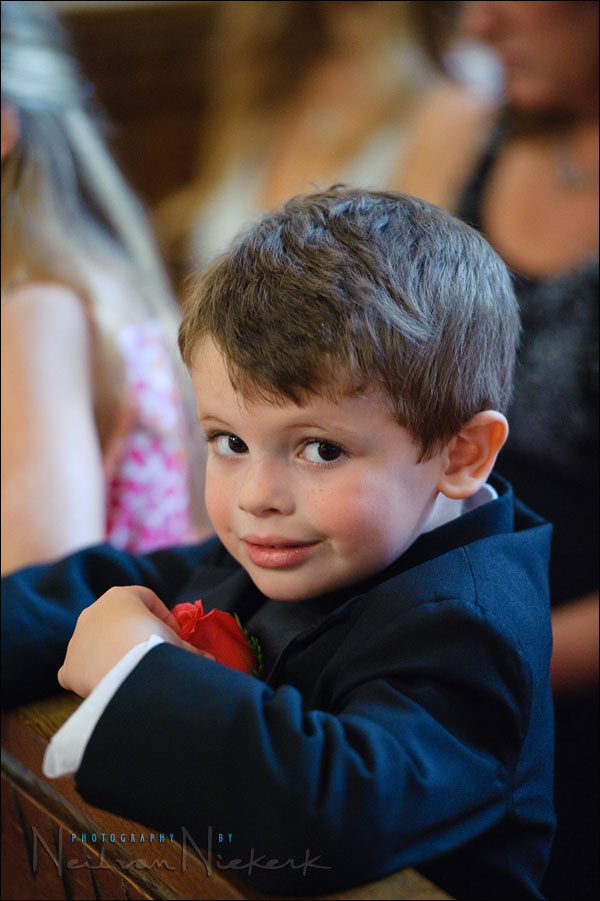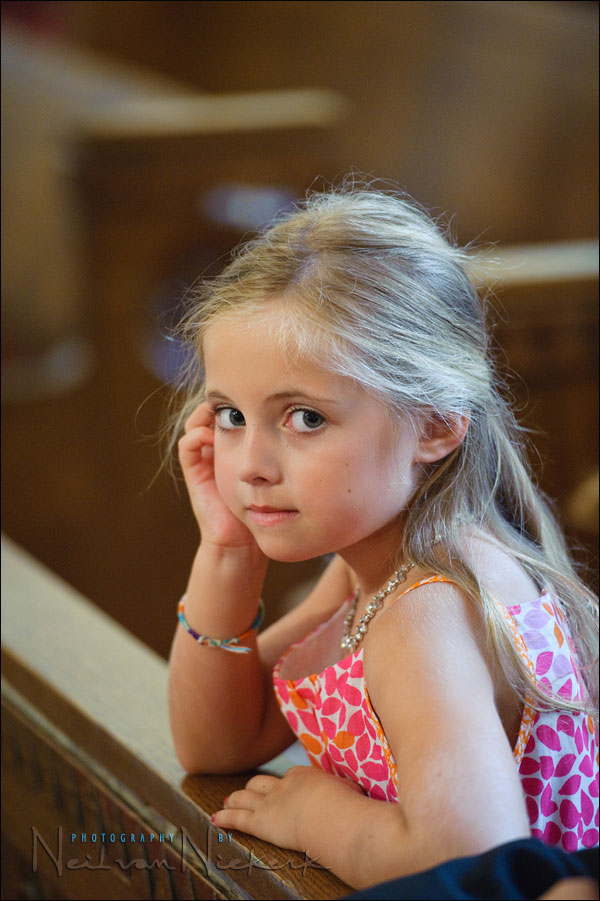 And in case you are curious just how sharp an image can be when it is handheld at 1/30 @ 200mm focal length, here is the 100% crop of the image above. I am very okay with that sharpness!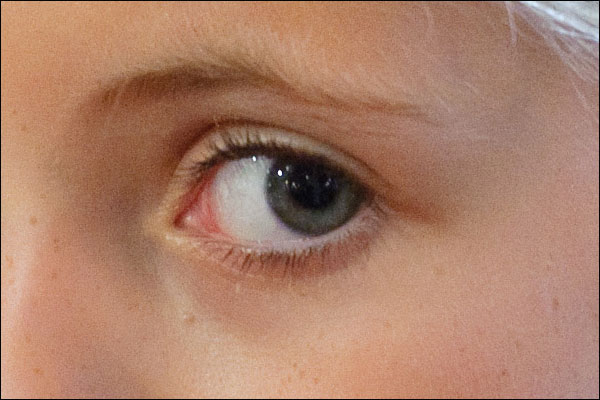 Ethicc wedding ceremonies
Mention should be made of ethnic weddings – in other words, weddings which veer away from the more traditional tuxedo-and-white-dress weddings. Ethnic weddings tend to be more colorful and expressive. People often move around freely, and the ceremony can even seem less structured than say, a Catholic church wedding. The guests can be shutter-happy as well, and you sometimes have to be more assertive to make sure you get a good position among them. I've even had Christian Orthodox priests call me to the front, right up there with the bride and groom, to make sure I get the photographs. That always surprises me, since I tend to want to pull back and shoot with a longer lens and be less visible.
With interesting and colorful customs, ethnic weddings are always captivating and great fun to photograph.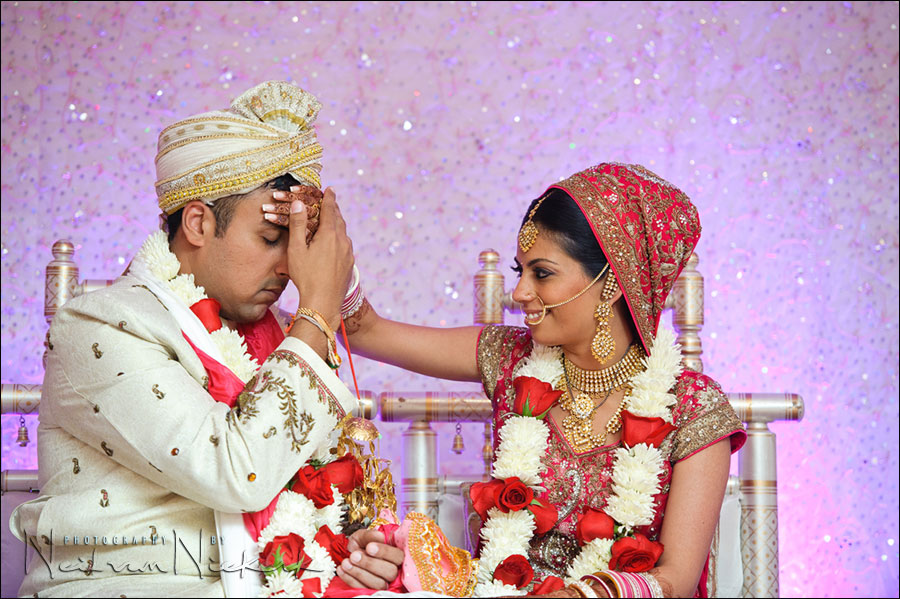 1/160 @ f2.8 @ 1600 ISO
on-camera TTL bounce flash (gelled with 1/2 CTS)
Summary
As described here, my approach to using flash during wedding ceremonies is simple enough – high ISO settings and fast-ish apertures to allow as much available light in. And then, where necessary and feasible, to add a touch of flash bounced in such a way that it isn't intrusive. The best of both worlds – getting images that look good, without you being *that* wedding photographer that stands out.
Oh yes .. wear black. Black clothing makes wedding photographers instantly invisible.
Related articles
Gelling your flash
Since I frequently gel my flashguns to turn the WB of my flash much warmer (usually for  Incandescent light), I use these gels that I cut up and tape to the top of my speedlight's head. One of these sheets (which aren't expensive), will give you a lifetime supply of these filters. For me, these gels are an invaluable part of flash photography. 
Tape the gels down on your lens hood when not in use.
You can buy gels through these affiliate links: