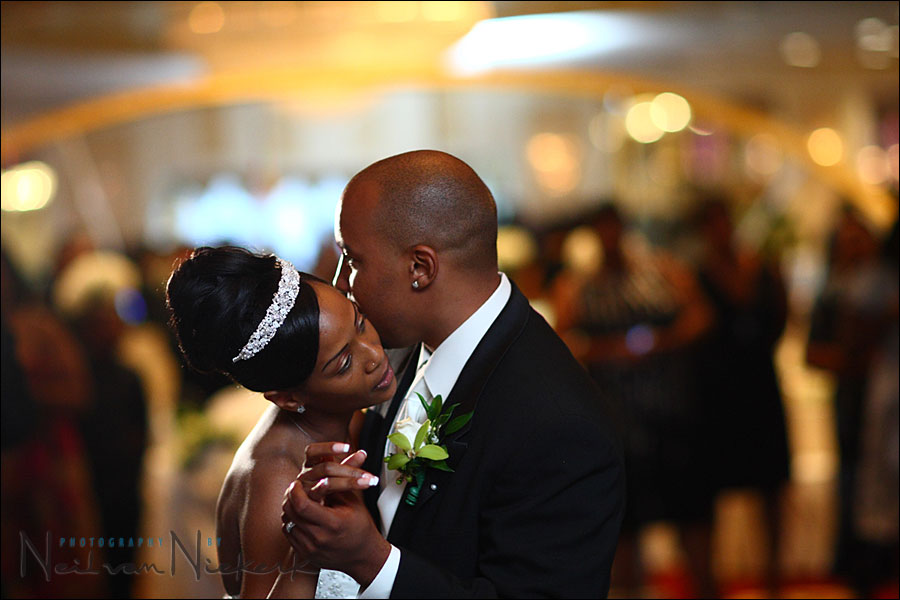 Using flash with incandescent / tungsten light
I have used this photograph several times in the past to illustrate various aspects of flash photography in low light, so it might be time to discuss this image more thoroughly.
We'll also pull together a few other topics and see how it all comes together at this one point:
---
---
Camera settings
While I often insist that scrutinizing the specific camera settings afterwards don't necessarily hold much value, they are pertinent in this instance.
1/200th @ f1.6 @ 1600 ISO … TTL flash, gelled for tungsten with 1/2 CTS
As an aside, the lens used was the magnificent Canon EF 85mm f/1.2L II (affiliate), and the camera was the Canon 1D mkIII along with the Canon 580 EXII speedlight.
I think what is interesting about my choice of settings here, is that the tendency for most photographers would be to take their shutter speed lower to bring available light in. That's the method behind "dragging the shutter", where you bring in more available light by taking the shutter speed lower and lower. I often go another route to bring in more available light when I use flash – I raise my ISO and shoot with wide apertures. This allows the available light in and give my photographs some context, since the background didn't go black.
Since I am shooting in TTL mode, my flash follows my settings to give me correct exposure. Or close enough that I can nudge it with Flash Exposure Compensation.  This way I can ride my ISO higher and go with wider apertures. I can change these settings at will, without having to adjust my flash output like I would've had to do with manual flash.
The reason then why I choose shutter speeds that are higher than normal for indoors … I personally don't much like ambient smear or subject blur. And that's a real risk with a videographer at the wedding. The video light adds enough light that the flash would not freeze movement like we are used to when working in darker environments. So the higher shutter speed gives me sharper images since it minimizes camera shake and subject movement. This would've been quite prevalent working alongside a videographer.
Also, the gel will mean that I am working in the same range of color temperatures as the videographer and every other light source in that environment. I usually gel my flash for Incandescent light when working indoors.
In this photo, you can see the video light giving a rim-light on the groom's face.
Note that I worked at a 90 degree angle to the videographer, specifically to use his light as a rim-light or back-light. It is important though, that we don't appear in each other's footage. So I will never shoot directly across from the videographer. As vendors at a wedding, we don't want to appear in our clients' images or video footage. It is advice that I give my 2nd shooters as well – not to work directly across from me.
Note though, that the videographer's light is a neutral color and doesn't appear as that orange grunge that you get when you mix un-gelled flash with tungsten.
My white balance at the time was 3700K, since I was gelling my flash. But I do adjust this in post-processing of the RAW file. Because the bounced light picks up different colors from the surfaces that the light is reflected from, it is necessary to finesse this when editing the RAW file.  (It really isn't an option to shoot in JPG format here.)
On-camera flash modifier – the black foamie thing
With the image at the top, I wanted the light from my flash to spill onto the bride's face. So I wanted the light to come in from my right-hand side. That's what would make the most sense … to lift detail there. So I bounced the light to my right-hand side, flagging it with the piece of black foam.
Bouncing my flash to my left wouldn't have made sense, since I don't want to light her hair in more detail and leave her face in shade. Also, bouncing behind me would've given a more flat look to the light. Therefore, bouncing flash to my right made the most sense in terms of placing my light source in relation to my subject.
I bounced the light into the large reception room. There was no wall. The light bounced back from part of the ceiling, part of the furnishings and table, and even the back wall. Just off stuff there. No specific area. But I did create a softbox effect, and controlled it with my camera
The shallow depth-of-field that the f1.6 aperture gives me, doesn't concern me here. I really just need one point in focus here – the bride's eye(s). Your attention is immediately drawn to her expression anyway. The rest is just context.
To overcome the chances of mis-focusing or the couple moving out of the plane of focus, it is necessary to shoot a number of frames. Then, the decisive moment is chosen in editing the sequence of images. Often, it all comes together in the post-production workflow.
Summary
With this photograph, I wanted to give an overview of several on-camera flash photography techniques. These techniques all play a part in creating an image which really captures a moment, without the technique being 'intrusive'. It is always about the moment.
Gelling your flash
Since I frequently gel my flashguns to turn the WB of my flash much warmer (usually for  Incandescent light), I use these gels that I cut up and tape to the top of my speedlight's head. One of these sheets (which aren't expensive), will give you a lifetime supply of these filters. For me, these gels are an invaluable part of flash photography.
Tape the gels down on your lens hood when not using the gels.