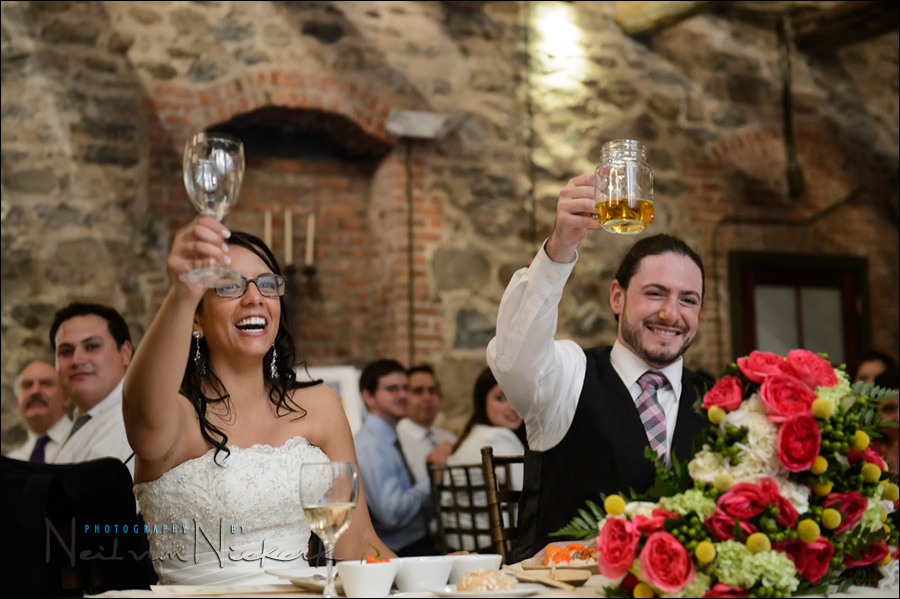 High-ISO bounce flash photography
One of the misconceptions about bounce flash photography that many photographers cling to, is that you absolutely need a white wall or ceiling near you. While it does help, this shouldn't stop you from trying to be a little adventurous with on-camera bounce flash to see if it gets you the results you want. There have been several articles on the topic of bouncing off various other surfaces, or, not any particular surface nearby:
Let's step through another recent example: Gaby and Michael's wedding reception was at a winery, with the reception venue a huge area with stone and cement walls. It was a beautiful venue, but dark. The top-heavy lighting didn't help either.
Sometimes … actually, very often … you just need to add additional lighting to the mix to get the results you and your clients want. Simple as that. Then it is up to you to figure out a way that best serves that need – good lighting while retaining the look and feel of the place.
I'm hesitant to use multiple flashes in the corners of a venue – the cross-lighting can look wonderful when it works, but very often leads to weird cross shadows. I prefer predictable results. So for me, multiple light sources wouldn't be a first choice.
I tried the Profoto B1 as a bounce flash into the area, but it wouldn't give predicable results, or … it would mean that my assistant would have to scurry around and help match the direction that I am shooting in. This can get a little hectic.
I then did a few test shots with on-camera bounce flash to see if it was feasible. And at full manual power, and selectively bouncing, I could get pretty good light at high ISO settings and wider apertures!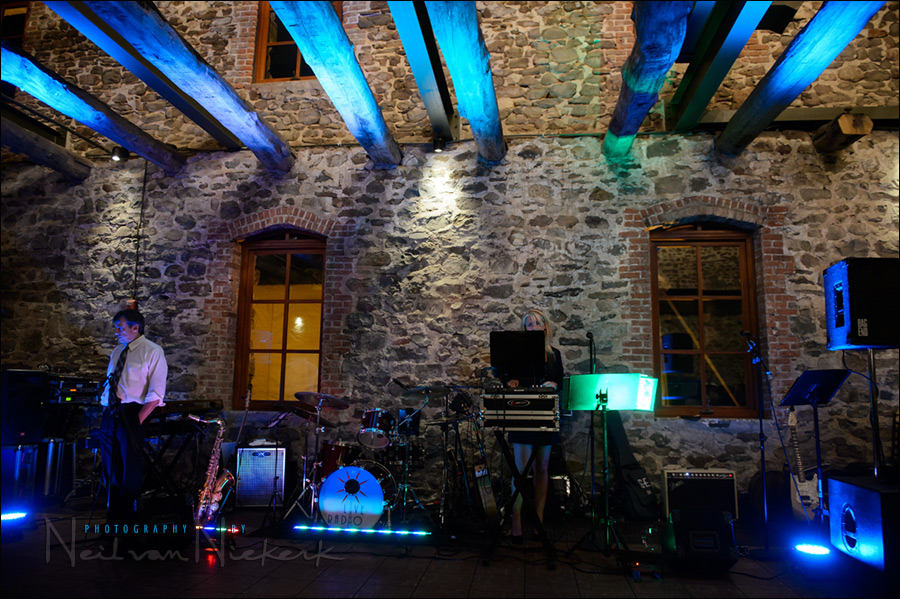 The area behind me that I was bouncing my on-camera flash off. Dark wooden beams and stone and cement. This was an available-light shot at the same camera settings as the main photo at the top: 1/40  @  f/3.2  @  3200 ISO
A comparison photo without flash. This too was shot at 1/40  @  f/3.2  @  3200 ISO.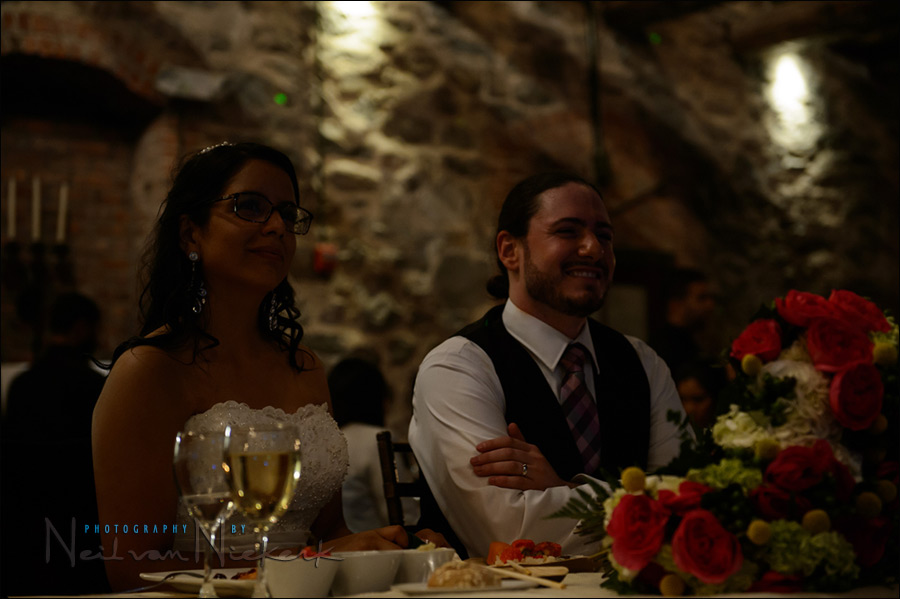 While we're here, can we just dispel entirely with the idea that high ISO settings and fast glass can get you usable results every time. The light levels here were too low for any meaningful and useful camera settings. The light would've been too uneven as well to give clean open light on their faces.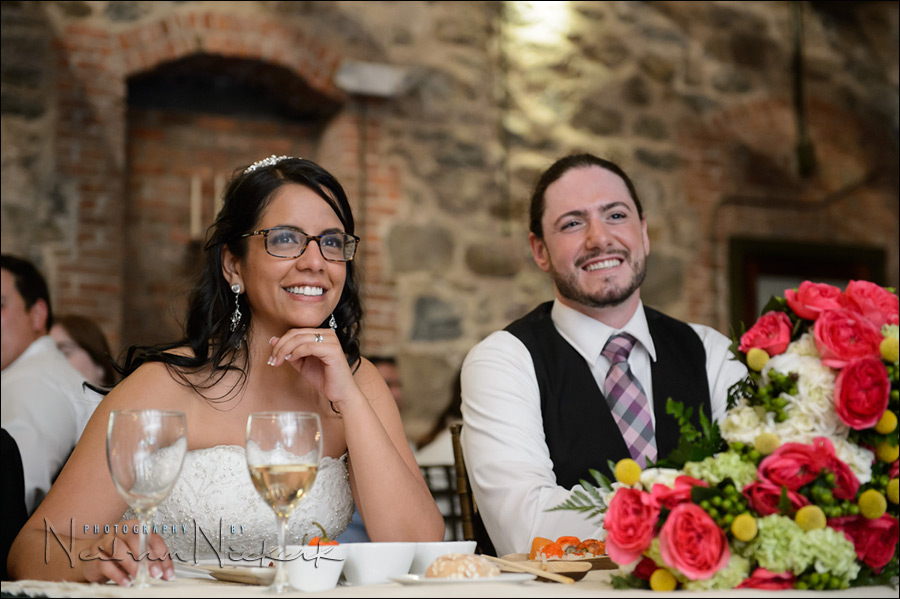 Camera settings and photo gear used (and equivalents)
1/40  @  f/3.2  @  3200 ISO
on-camera bounce flash, full power in manual mode.
1/2 CTS gel on the flash
You can buy gels through these affiliate links: High-ISO capable cameras
I've seen comments on photography forums and FB groups that amount to, "yes, but they use expensive DLSRs". Or something to that effect, implying that certain techniques – such as in this case, bounce flash in seemingly impossible situations – is out of reach of someone with a non-pro camera. Perhaps true.
The counterpoint is that this is actually within the reach of someone with a more modest camera, and a fast prime lens. Using the wider apertures bring extreme bounce flash within your reach, if the shallower DoF doesn't hamper the final image.
A slow general-purpose zoom is just not going to allow you the best results in challenging scenarios. Honestly, a 50mm lens or 85mm f/1.8 lens isn't that expensive! It's well within anyone's reach. And really, at some level we need to get serious about our equipment if we want to do work at a certain level. This means either faster prime lenses, and / or high-ISO capable cameras. And it need not even be the $6,000 beasts either.
Related articles