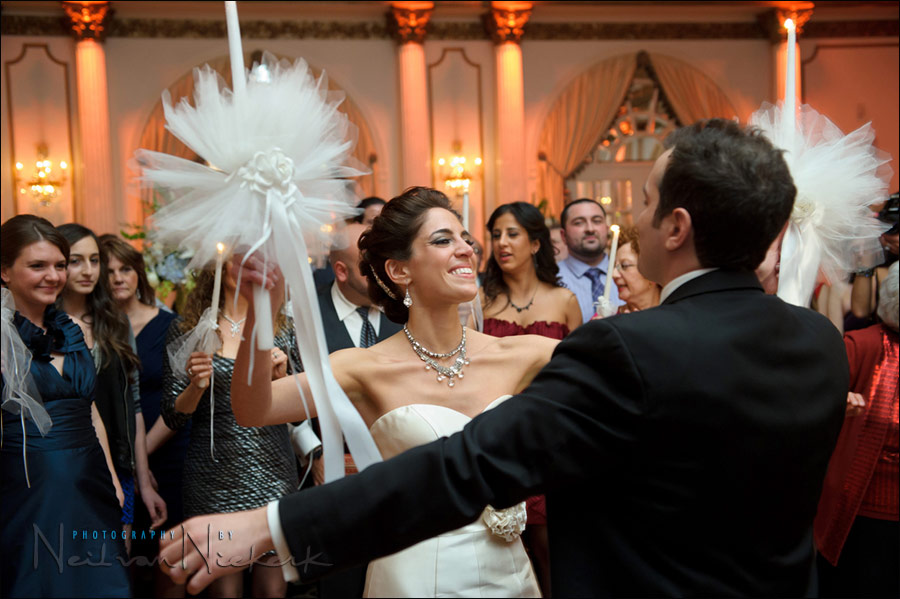 Bounce flash photography & The Inverse Square Law
After you're done noticing the decorated candles that the bride is holding while dancing with the groom (a tradition in Palestinian weddings), you may well notice how evenly lit this photograph is – from foreground to background.
The people visible in the background seen there between the bride and the groom, are nearly as well lit as the bride and groom. Because this was on-camera bounce flash, the background will be brighter than may have been anticipated. If I had used direct flash, or flash with a diffuser cup or bounce card, my background would've been much darker. This is because when we bounce flash behind us, the Inverse Square Law works for us.
This gets interesting, but hopefully we can make it less complicated than the topic often appears. So hang in there.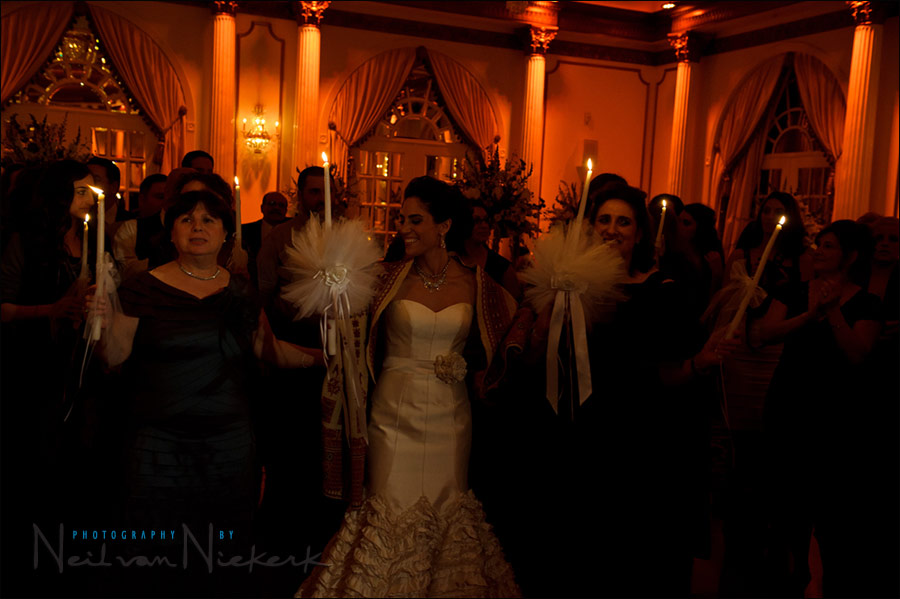 As comparison, here is an image taken shortly before, where I shot too fast for my on-camera flash to keep up. So this misfire will give you an idea of the effect the single flash had.
Camera settings & photo gear used (or equivalents)
the image without flash:  1/100 @ f3.5 @ 3200 ISO
the image with flash: 1/80 @ f3.2 @ 3200 ISO  /  TTL flash set to 0 FEC; gelled with 1/2 CTS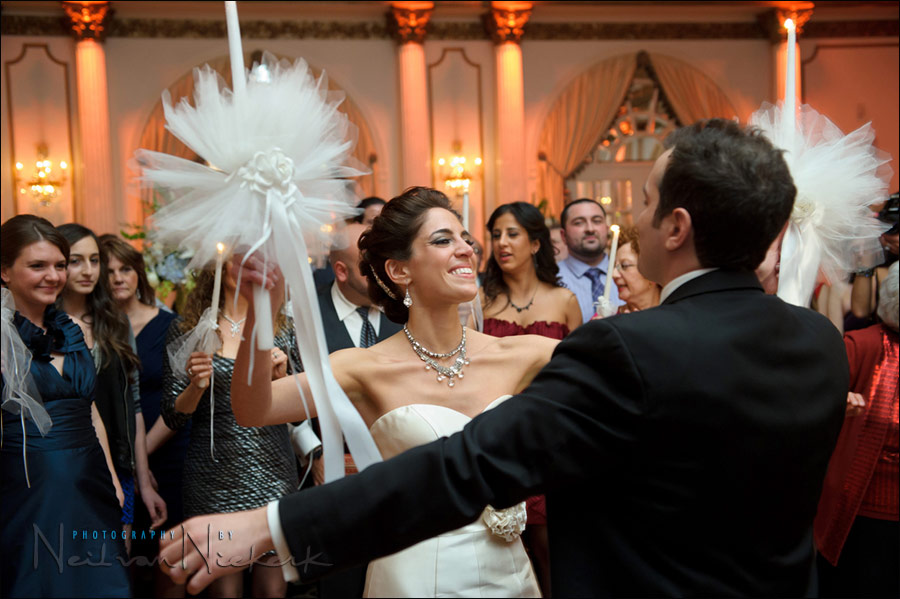 Looking at this image again compared to the image where the flash didn't go off, we can see just how much the flash lit up the entire room. Now, it helps to keep in mind that it was the flash riding 'on top of' ambient light, and not quite the flash doing all the work here in getting to the final correct exposure.
Even though this reception venue is quite large, I was able to use only an on-camera bounce flash. I bounced it over my shoulder, using a black foamie thing to flag it so I don't hurt people behind me with the blindingly powerful flash. I was able to do it because of the incredible high-ISO performance of the newer cameras which allowed me to comfortably shoot at 3200 ISO.
Now, when we bounce flash like this without a plastic diffuser or bounce card, we don't think of our flash as our light source anymore. Instead, the surface that we bounce off, becomes our light source. In this case it was the ceiling and walls above and behind me. The walls behind me were about as far away as the walls there in the back of the photograph. In other words, the de facto light source is now quite some distance away.  And this is where the Inverse Square Law kicks in to help explain why the background is relatively bright in comparison to the subject.
The Inverse Square Law
The Inverse Square Law implies that as we move away from a light source, the light becomes less bright in proportion to the square of the distance.
This video clip by Mark Wallace as posted on the Fstoppers site, is the best explanation of the Inverse Square Law that I've seen to date. Mark Wallace really breaks the daunting topic down to something which can be visually understood, and those 12 minutes will be a solid investment in your photography.
In a similar way, I want to make it visually understandable why bouncing flash behind you would open up the background of the image.  It might sound counter-intuitive, but here is what happens. And it relates directly to the Inverse Square Law.
Let's work through an example:
If we measure a (manual) flash at 12 feet and let's say we measure f8
then if we measure the same flash at twice that distance (24 feet),
we will lose 2 stops of light. Our light will measure now measure as f4
If we double our distance from the light, then we will lose another 2 stops of light.
So if we move from 24 feet, ie, where we measure f4.0
then at 48 feet, we will measure f2.0
Every halving or doubling of distance means a 2 stop difference in light.
This is where the gradient of light fall off becomes important.
If you move from 6 feet (which would measure f16 in this scenario)
to only 12 feet away (where we measured f8)
then a mere 6 feet change in distance implied a massive 2 stops drop in light.
But moving from 24 feet to 48 feet – a huge jump in distance,
would mean the same drop in light levels … 2 stops.
Those are the numbers. And the theory works in practice too. The clear implication is that the gradient of light fall-off is less steep, the further we move from the light source. This is hugely important!
How all this adds up with bounce flash photography on location
In a real shooting situation, we might not get as technical as that. We just need an innate understanding of what is going on.  The further our subject+background moves from the light source, the brighter our background will appear, relative to when our subject+background is much closer to the light source.
Now if we look at the image at the top … the people in the background are not twice the distance from my light source compared to the bride and groom. They are closer than that. Therefore, they will be only a stop or so darker than my subjects. Or even less than a stop. The fall-off becomes much slower now at this distance from our light.
If I had used direct flash, then the people in the background would comparatively have been much further from my light source than the bride and groom .. hence, the people in the background would've been much more under-exposed with direct flash …. than they would've been with flash bounced over our shoulder behind us.
Another example – bounce flash during church processional
I've used the next two images in the article on flash photography during the wedding ceremony in church.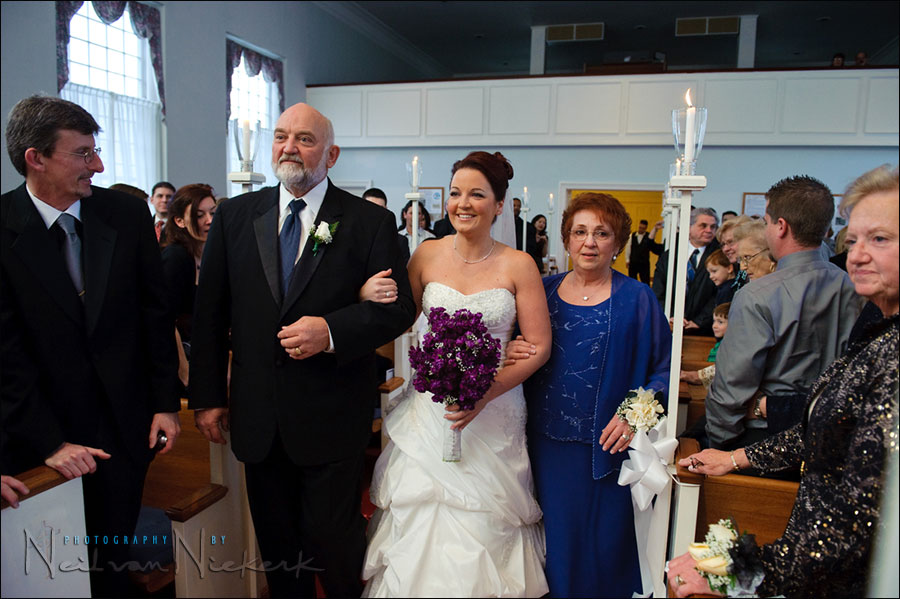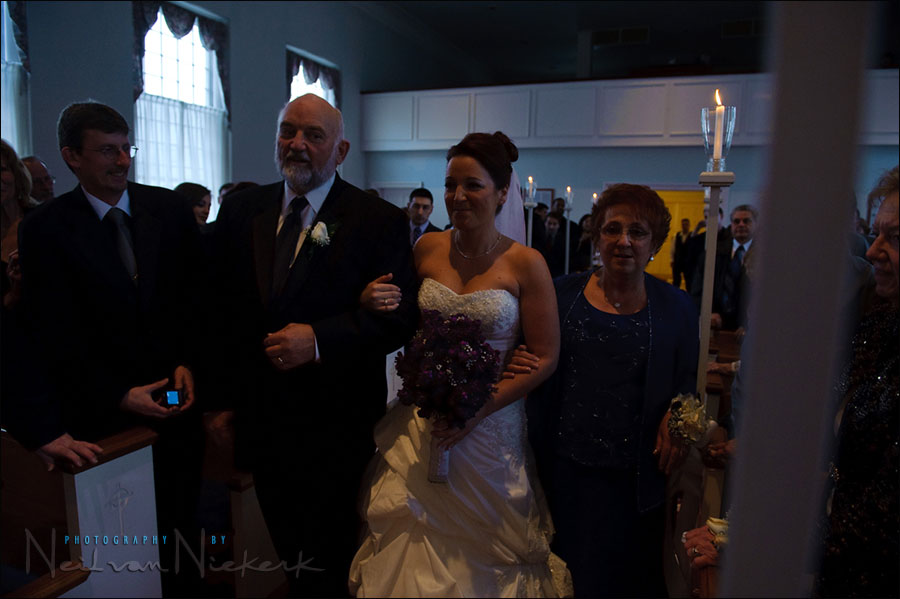 1/125 @ f3.5 @ 1600 ISO
on-camera TTL bounce flash (gelled with 1/2 CTS)
The shot without flash is uniformly dark. The shot with flash bounced behind me into the front of the church … the background brightens up considerably more than we might've anticipated. People behind the bride and her parents, are well lit by the on-camera bounce flash.
Again, it happens this way because the people in the background are not that much further from my light source, than the bride and her parents are from the light source.  The Inverse Square Law implies that the further our subject+background is from our light source, the less dramatic the light fall-off between our subject and background.
Summary
Hopefully this article helps easing in a subject which can be daunting from the outset.  And hopefully this article helps with the "feel" if not the immediate math. The part we need to intuitively grasp here is that if we bounce our flash behind us, our background opens up.
And for those already familiar with the top of the Inverse Square Law, I hope that this article brings it in again from a different direction.
Let me know if there are any questions, and let's work through this. Understanding all of this (to some degree at least), will help our understanding of flash photography.
Related articles
Gelling your flash
Since I frequently gel my flashguns to turn the WB of my flash much warmer (usually for  Incandescent light), I use these gels that I cut up and tape to the top of my speedlight's head. One of these sheets (which aren't expensive), will give you a lifetime supply of these filters. For me, these gels are an invaluable part of flash photography. Tape the gels down on your lens hood when not in use.
You can buy gels through these affiliate links: Video tutorials to help you with flash photography
If you like learning by seeing best, then these video tutorials will help you with understanding flash photography techniques and concepts. While not quite hands-on, this is as close as we can get to personal instruction. Check out these and other video tutorials and online photography workshops.