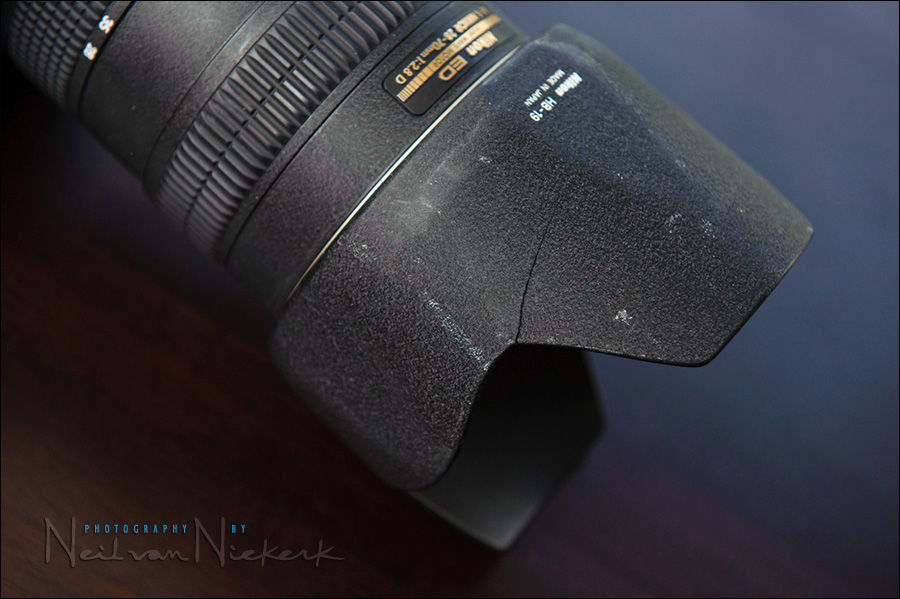 Lens hoods – the best protection for your lenses
Discussions about equipment where the pros and cons are weighed in favor of something, have flexibility to it. For example, I can see the debate about  filters on your lens – yes or no? lasting forever. There are valid points to either view about whether filters are detrimental or useful.
But one topic which shouldn't be up for discussion, is whether lens hoods are recommended. Not to be dogmatic about it, but I can't see how anyone could argue in favor of not using lens hoods. They are just so obviously useful. Mostly though people think of lens hoods as something to help minimize lens flare. But there is another additional advantage – protection of your lens. This alone make the use of lens hoods a complete non-debate.
The photo above is what the lens hood looks like on my trusty Nikon 28-70mm f/2.8 lens. It's taken quite a few dings over the years as you can see by the scuff marks and paint scrapes on there. But most obviously, there's that crack in the lens hood.
That crack is from a wedding a few years back where I stupidly put the camera on a plush chair, and the camera and lens rolled off and hit the wooden floor. I imagine that the plastic lens hood took most of the shock of the fall, since the camera and lens were fine. Many other times the lens hood has absorbed various knocks. I just cringe at the idea of how those impacts would've been on the lens itself if the lens had been unprotected by the lens hood.
As an aside – the camera and lens rolled off the chair because the camera was top-heavy with the flash bracket and Q-flash I was using on top of that bracket. Those were the clumsy days before I got wise to not really needing a flash bracket in how I use flash. I also have an additional use for my lens hoods that are deeper like that one.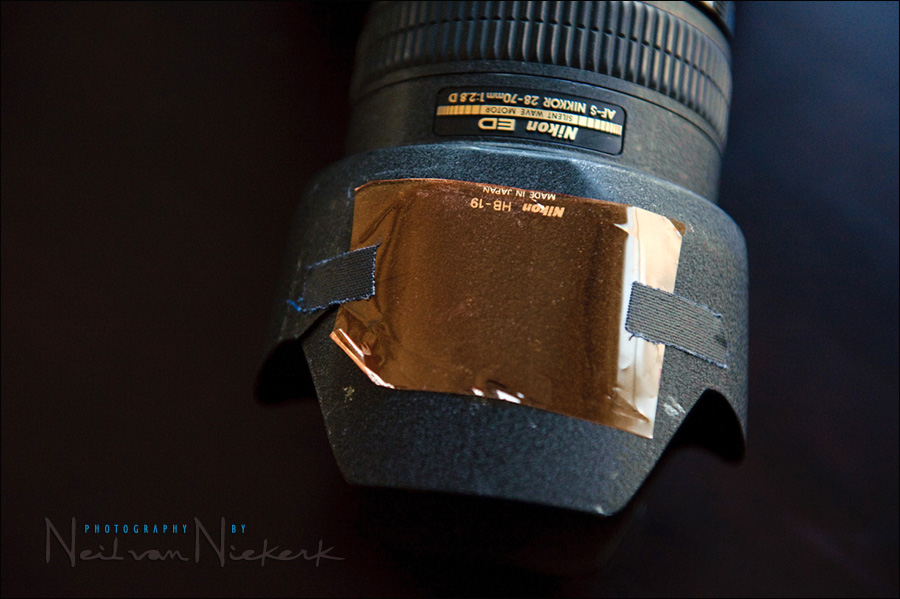 I use it as handy storage space for the gels that I use on my flash …
.. or to keep handy strips of gaffer tape ready.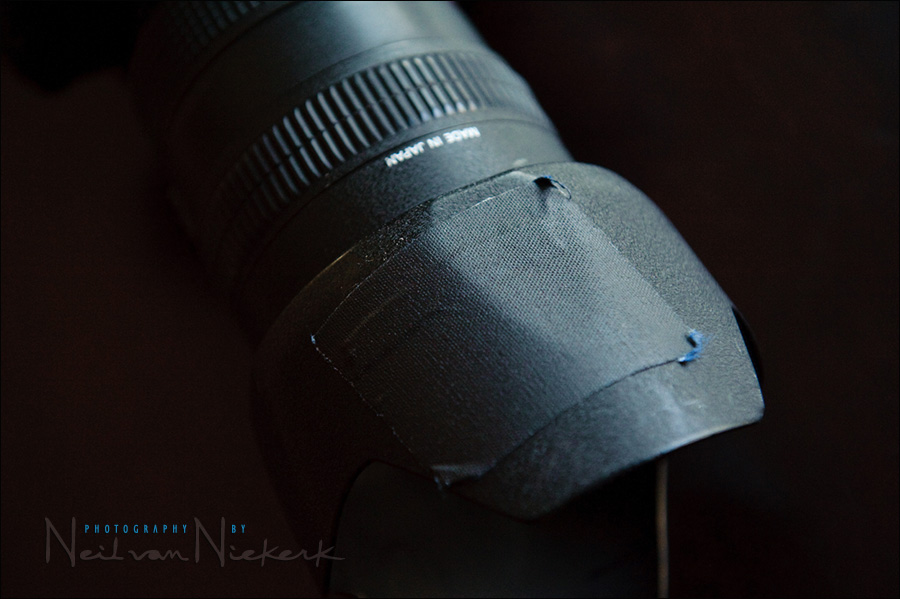 All of this means that you'll never find me using a lens without the lens hood.
Gelling your flash
Since I frequently gel my flashguns to turn the WB of my flash much warmer (usually for  Incandescent light), I use these gels that I cut up and tape to the top of my speedlight's head. One of these sheets (which aren't expensive), will give you a lifetime supply of these filters. For me, these gels are an invaluable part of flash photography.
You can buy gels through these affiliate links: