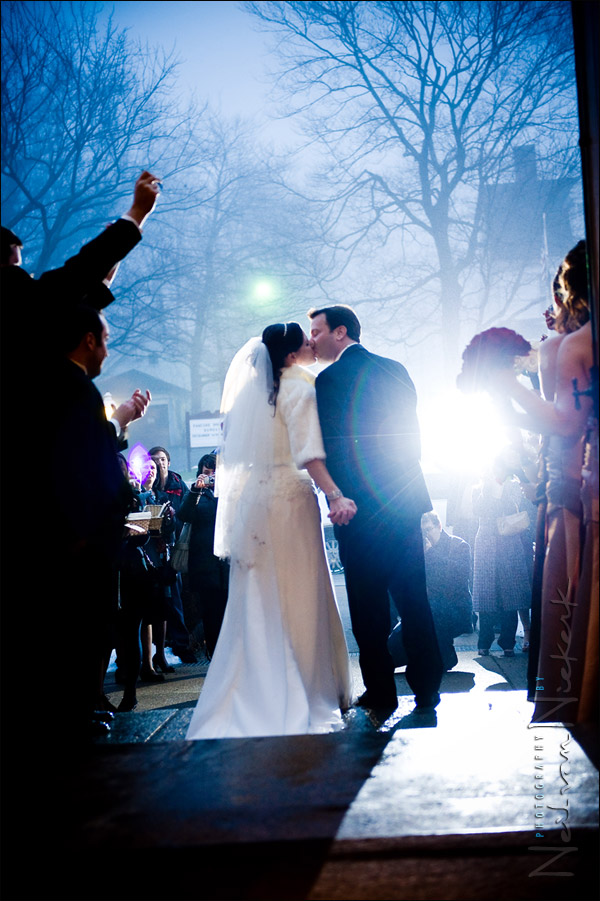 Tips & advice for the 2nd photographer at weddings
This eye-catching image was shot by a friend of mine, Josh Lynn, who worked with me on this wedding. As such it is perhaps the perfect image to lead this article with advice and tips for 2nd-shooting a wedding. It shows initiative at getting an interesting angle. Exposure is perfect. Framing and composition is great. Excellent timing .. with a little bit of luck thrown into the mix. This image is also a good point for the topic of the second photographer's business ethics.
For me, a second photographer isn't merely someone who assists in carrying bags and equipment, and takes the occasional photograph. Rather, a second shooter is a fully fledged photographer working independently, but closely with, the principal / main photographer. A second photographer is there to augment the main photographer's coverage of the wedding. As such, there are certain things that could be (and should be) expected from a 2nd shooter at a wedding.
Articles series – Advice for second shooting weddings
Tips & advice for second-shooting weddings
1.  Photographing the actual event
Much of this part of the topic is common sense really.
Take the initiative. Get something other than what the main photographer is getting, but augment the main photographer's work. Shoot with a different lens than the main. Get different angles. Don't merely copy what the main photographer is doing. As a challenge I also instruct anyone who second shoots for me, to surprise me. Get the non-obvious images. Turn around  – there's a whole other story going on behind you.
Yet, try and match styles where you can. An example: If the main photographer does matted albums, he might really prefer you not to crop too tightly. He would need that 1/4 inch cropping space to mount the print in the album. So if your style is to crop tightly in-camera, you would need to change it up, and allow the images some 'room to breathe'.
Details, details, details. Make sure you photograph enough details of the wedding day. Every part of it. A good rule to follow is that, "if they paid for it, photograph it."
Get reaction shots. Look for those moments that tell the story of the day.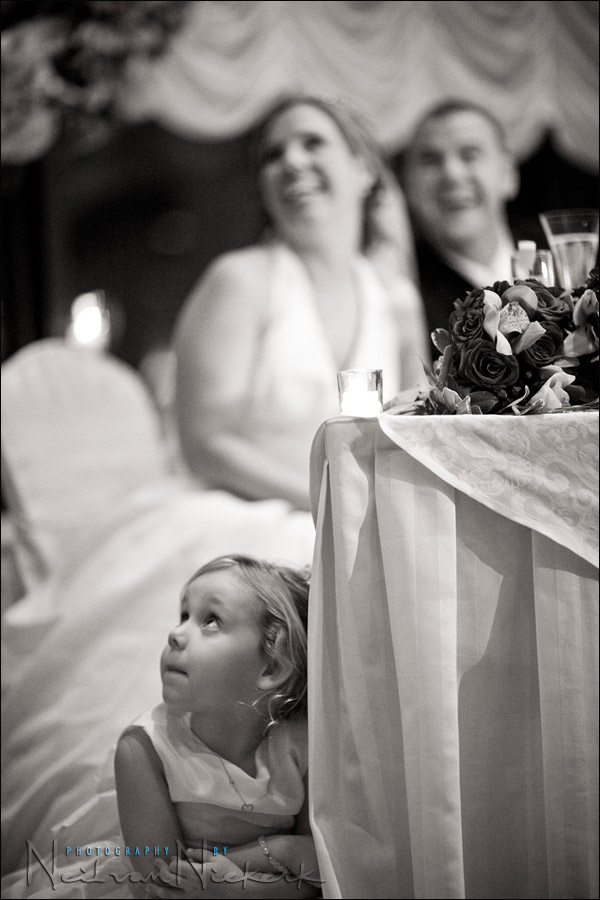 This beautifully caught moment of the flower girl raptly listening to the toasts at the wedding, was shot by Elisabeth Millay.
Be aware of the principal's position. Don't shoot directly opposite from them. Ideally, we should not appear in the photographs, and neither should other vendors. Get the shot, but make sure you stay out of the main photographer's way.
Anticipate where to be and how to position yourself. This photo is from a wedding that I second-shot with my friend, Monika Broz, who was the main photographer. I was waiting at the far end as the couple swept down the aisle. A good position to get a more panoramic view of the couple's exit, with guests looking on … and taking photographs.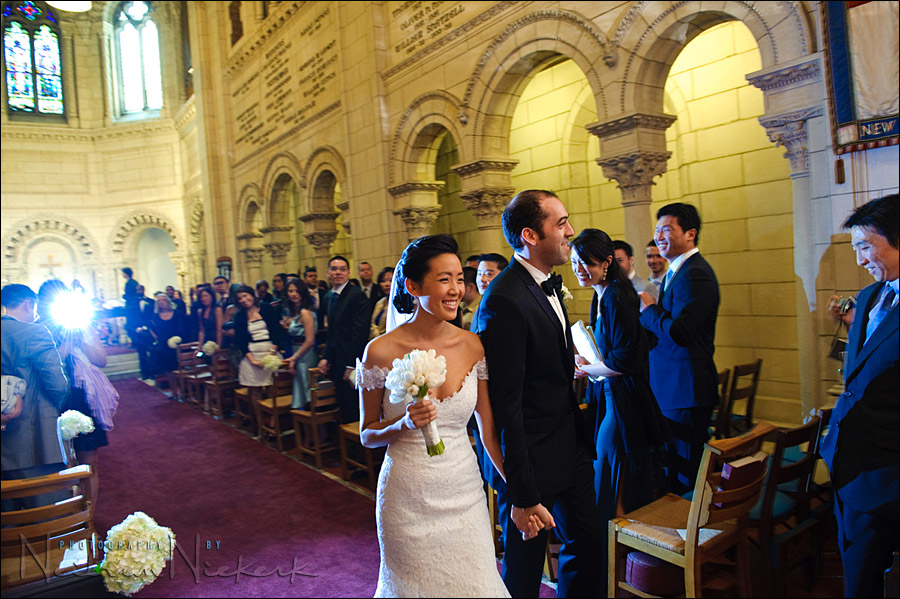 2.  Don't be more than the principal shooter
This is an important point for me. As the 2nd shooter, you have to take your cue from the main photographer's behavior, regardless of your own style. Make sure you ask the main photographer how they like to work. Some like it when the second shooter participates and comes up with their own ideas; others prefer the 2nd shooters to stay quiet and not interact much with the couple.
A few examples from my own and from others' experience:
I had a 2nd photographer who arrived at the bride's house to meet up with me before going to the groom's place. He was going to photograph the groom's preparation. He did a sterling job that day … however, when I arrived at the bride's house the morning to photograph her prep, the 2nd shooter was already there, flipping pancakes in the kitchen for the bride and her family, while they were seated at the breakfast table. True story! Now, no matter how personable you may think you are, and how great you are at connecting with people, this was just a bit too much. No harm done, but it does intrude on the way I prefer working with my clients.
Another example: A friend of mine works in a photo-journalistic style, but with an accent on the romantic portraits. Very similar to how I work. The idea is to record the day's events as it unfolds, but direct where you feel is necessary. At one wedding she used a 2nd photographer who also works in a photo-journalistic style, but is very active in his movements. It comes across as being a touch too hyper-active compared to the main photographer, and he then stands out in front of the clients and guests.
I've also had a 2nd shooter who, while he is a very nice guy and quite friendly, talks too much. Especially when he engages my client in idle chit-chat while I try to get candid moments.
In contrast though, there are photographers who has a similar style to mine who I love to have second shoot with me. Since our styles are similar, we can have a way of working tag-team when we photograph the bridal party or the romantic portraits of the couple. While I am shooting, the other photographer may find the next spot or set-up to work with. This way we can shoot very fast and come up with a variety of ideas. But this only really works with someone you have confidence in, in taking charge of your clients in that way.
So not only do you have to match your photography style to that of the principal shooter, you also have to match your behavior and temperament.
3.  Professional demeanor
Dress code and personal grooming. Find out from the principal shooter how you need to dress. Appear well-groomed and neat. (By the way, this even goes as far as me not using someone as a 2nd photographer if they have a limp handshake.)
Be professional and courteous. Represent the main photographer, and respect all clients and guests. Do look friendly. A constant smile will be overdoing it, but do smile and engage people in that way if they do come in non-verbal contact with you. Glaring at guests as you scan everywhere for "that moment", makes you a creepy presence.
Be on time!
4.  Equipment
Be self-sufficient with equipment as far as you're able, unless pre-arranged with principal shooter. You should have enough fully-charged batteries and enough CF cards, regardless.
Just owning a kit lens isn't going to cut it. A fast zoom or two, and a fast prime such as an 85mm f1.8 (or better), is necessary.
I would regard a 70-200mm f2.8 telephoto zoom as the staple lens for a 2nd photographer. You're most likely picking off candid moments, or photographing details or capturing some impromptu portraits. This lens allows you to hang back from the main photographer.
The lens that is essential here, is a fast 70-200mm zoom. I can't be without this lens. The wide aperture and long focal length will help separate your subject(s) from the background. Both the Nikon and Canon lenses here are outstanding.
5.  Know your equipment; know the terminology & necessary techniques
A wedding is not the place to learn about how shutter speeds and apertures inter-relate.  After you've shot the wedding is also not the time to figure out that shooting portraits in good light with a telephoto zoom at 1/40th @ f8 will give you blurred images. Neither is a wedding something you should photograph if you don't understand depth-of-field. If, for example, you call shallow depth-of-field, "that fuzzy effect", then you need to do some more homework before even taking your camera out.
And no, don't even mention the "everyone started from somewhere" nonsense. Sure, we are all on a constant learning curve with our photography. Even the very skilled photographers. But there are certain things you absolutely need to have a firm grasp of, before even thinking of photographing a wedding. Not negotiable.
The stories I could tell …
6.  Business ethics
In discussing this topic with a few friends to make sure I covered everything for this article, this specific item was mentioned by every photographer I canvased — the 2nd shooter's business ethics.
Don't hand out your own business cards.
It's not your gig, nor opportunity for you to try and establish yourself.
Don't befriend the main photographer's clients on Facebook! (This happens!)
Don't schmooze with the other vendors.
Don't pass this off as your own gig.
One of my friends was quite adamant about this topic:
"Get it into your head: when you're a second you're not supposed to get business from the shoot in any way. You're getting compensated for your images and that's it. Period."
And this brings me to the final part – use of images. This depends entirely on the principal photographer. Do figure this out before the time. Set guidelines. Better yet, agree to how you can, or can't use the images, before the actual event, and in writing.
A very broad summary of a topic that has been covered more thoroughly in library-sized mountains of books and articles — Copyright resides with the photographer who took the image, unless a work-for-hire agreement was entered into. However, as the second photographer you don't have a model release to use the images without consent of the parties involved. So owning the copyright doesn't automatically give you the leeway to publish the images on your blog … and doing so against the main photographer's wishes will definitely end that working relationship.
Back to the image at the top by Josh Lynn. I think it is an iconic image. Josh contacted me later on to ask me if he could use the image in his studio. I was fine with that. Nice of him to ask, and in this case, no problem for me to say, "go for it". I also know that if I had refused, Josh would not have used it. Ideally though, the use of images you shoot at a wedding for someone else, is the kind of thing that is best agreed upon before-hand. Preferably in writing. Set clear terms of how you can use the images, if at all.
7. Payment for second shooting
The payment you can expect for second shooting a wedding will obviously vary, depending on a number of factors.
For example, Manhattan weddings will generally be higher priced than say a more rural area. Therefore, the fee that a 2nd photographer could command would vary depending on the local economy.
Is the wedding a small intimate event, or a more lavish event?  The main photographer could very well have adjusted his prices for the smaller event. It is probably less hard work as well for the second shooter, compared to a sprawling lavish event.
how long coverage is needed for
For example, I sometimes just need a second photographer to go to the groom's house and continue until the portrait sessions. The wedding reception is easy enough for one photographer to cover usually, so I often just have a 2nd photographer for partial coverage on the day.
experience of the photographer
This has a huge bearing on how much I pay.
And I won't pay top fee if I haven't worked with you before. I've been burned by photographers whose websites looked pretty strong, but in reality couldn't deliver.
the equipment the photographer has
I don't see why I should subsidize another photographer by paying a full fee to second shoot for me, when I have to supply a good part of the equipment. If you only have a Nikon D200 or Canon 10D, then I can't pay you the same fee as I would for someone shooting with a Nikon D700 or Canon 5D mk2, since I would have to loan you a camera. Expect to be paid less. Actually, expect not to be used as a second photographer at all.
With that, I currently (2010) pay anywhere from $250 to $600 to a 2nd photographer.
As I said, it varies. And it will vary for other photographers in other areas.
It is something you have to negotiate with the main photographer before the time.
In writing is always the best, even if only in an email so that there is some track of it.
A final note
I really do enjoy second shooting on occasion for friends. The pressure is off in terms of dealing with the tight schedule and the day's time-line. And with that, I get to enjoy the photography and have fun with it, and even look for those images which truly define the day.
Related articles