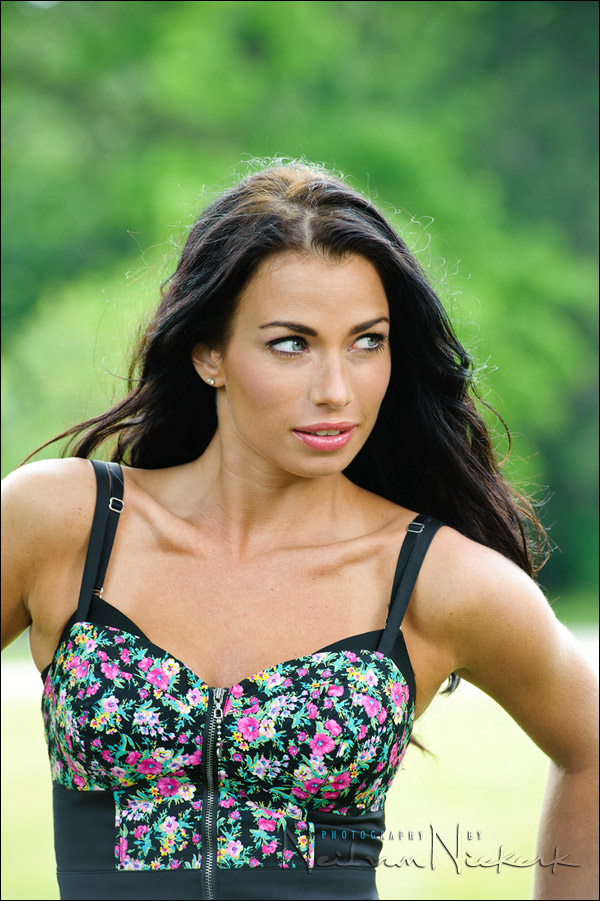 RAW workflow – the first step – changing your default settings
As a bit of a forward nudge to those who are entirely new to a RAW workflow, or who hesitantly moved to shooting in RAW – here's the next step forward – changing the defaults for your RAW file.
Before we even get there, shooting in RAW is very much part of the serious photographer's environment. Shooting just in JPG is rarely an option. As I have mentioned, there are few occasions where shooting in JPG might be an advantage. So with that in mind … RAW it is. And has to be.
Now, some notes for the newcomers to shooting in RAW.
There are a few things you have to keep in mind:
1.)  Your images will look different than the JPGs from the camera
Your camera processes the data it captures. You set your White Balance, and perhaps a few other Picture settings which determines how you like the Contrast and Saturation to appear. This processing is done in-camera, to give you a JPG.  Even if you shoot only in RAW, the camera's preview is what the embedded JPG of that RAW file looks like. So the preview shows a processed image of some kind.
As an aside – you don't have to shoot (RAW + JPG) to get the JPG image. There are software options which will allow you to extract that embedded JPG. (It might be of lower resolution though. This depends on the camera make & model.)
Most RAW convertor programs have no way to access the picture info that your camera wrote to the RAW file, such as Contrast and Saturation and other picture style settings. The only RAW programs that allow for this, are:
Canon's Digital Photo Professional (DPP) software.
Nikon's Capture NX / NX2 software.
Canon DPP is software that comes for free with your Canon DSLR, and is actually a great program to start off with. It will follow your camera's settings, and give you the same picture settings as your camera did. Since the Canon skin tones are superb, and is sometimes difficult to get right with other RAW program, DPP really is a nice way to ease into a RAW workflow. The controls are limited compared to Lightroom or Photoshop's Bridge / ACR, but the software is easy to grasp and use.
Nikon Capture NX2 software has to be purchased. Great image quality, and it mimics your camera settings for any specific image (just like Canon's counterpart), but I found it a fairly slow program to use for a workflow dealing with a large number of images at a time. These software programs are continually tweaked and improved, so it will definitely be a good decision to at least check out the free trial version.
So those two proprietary software programs will be able to give you JPGs that will look exactly like your camera would produce – but with all the flexibility in post-processing that the RAW file allows.
All other programs that you might use to process your RAW files, will give you results which look different than the in-camera JPG would. (In theory it is possible to calibrate your RAW file's profile to give you exactly that.)
2.)  You will have to adjust the RAW converter's default settings
Since your non-proprietary RAW editing software will only be able to decipher the White Balance you had used, you will have to change the default settings.
There is a variety of programs available to view and edit RAW files. The two most prominent software suites which offer a complete workflow, is Lightroom by Adobe, and Aperture by Apple. Both of those software programs offer a robust and complete workflow for RAW. If you want to dive head-first into a complete RAW workflow solution, either of those would be superb.
The program I still use to edit RAW files, is Photoshop's Bridge and ACR. ACR is the abbreviation for Adobe Camera RAW, and is the part of Photoshop with which RAW files are handled.
Comparing the image shown at the top, with one generated from the original default settings: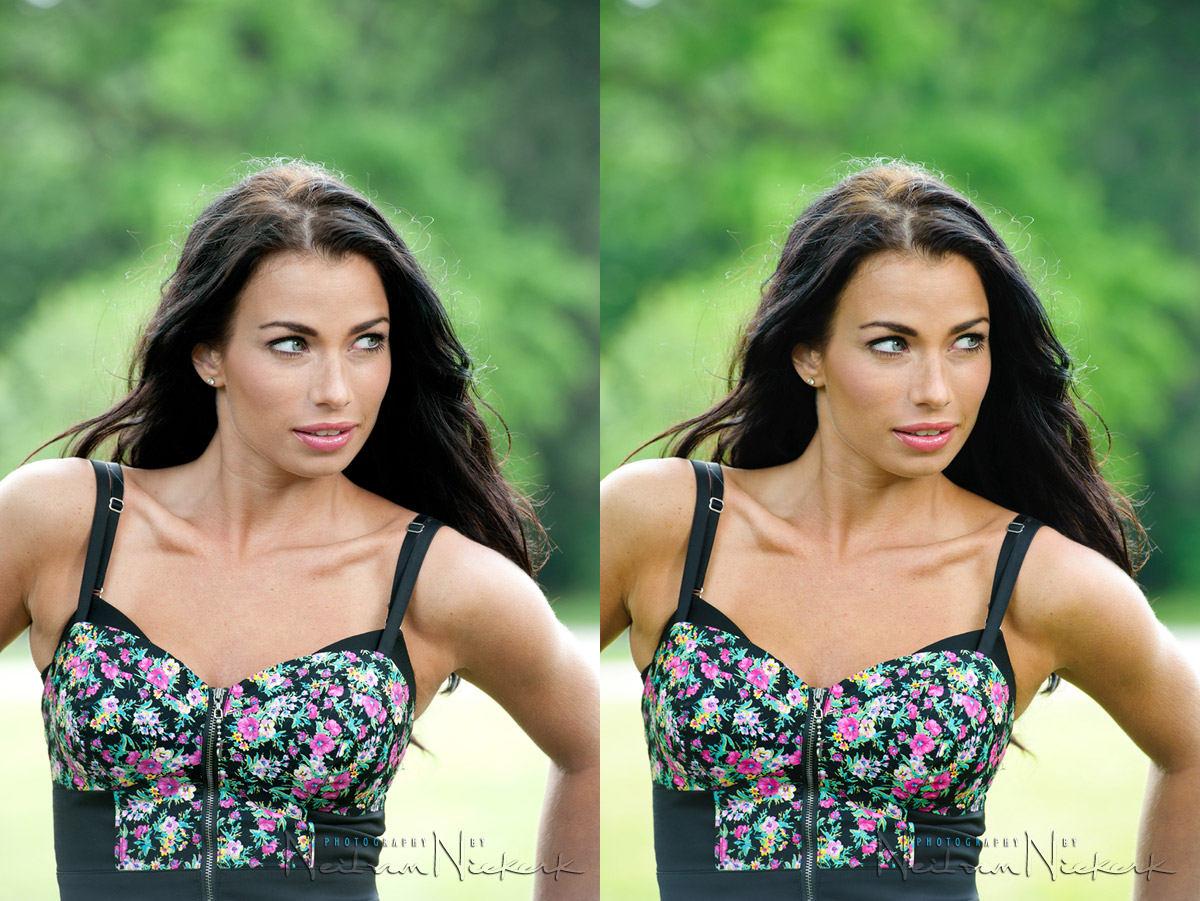 The left-hand image is with Photoshop Bridge / ACR at the default settings. The right-hand image is with my choice of default settings. It has more contrast and a bit more pop to the colors. Our model, Nikki had a nice tan to her, and wasn't as pale as the left-hand image.
For both of those images, I did pull up the exposure since I unintentionally under-exposed this image by firing the flash too fast. I also changed the WB for both the images. But the other settings remained at the default for the left-hand image.
The left-hand image looks good, but is a little flat, and lacks some contrast.
Here is what my settings look like in Bridge / ACR in comparison: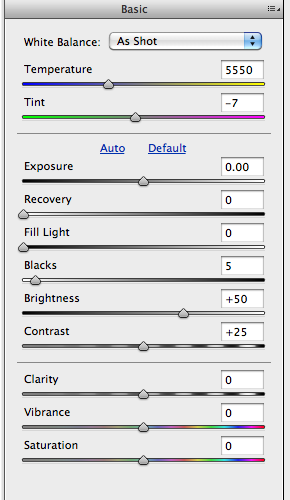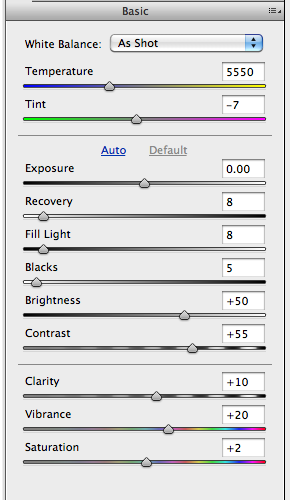 You'll notice the settings on the left-hand screengrab are mostly zero'd out. For my own default settings, I increased the contrast and bumped up the other settings as well. This gives me a punchier default image when I load my RAW files the first time, or view the images in Bridge the first time.
These are the settings I've arrived with in using my Nikon D3 bodies and wouldn't necessarily transfer to other cameras like that. I didn't go through a process of calibration via a color checker chart. These are simply changes to the default settings that gives me color and contrast and saturation that I like as a starting point to editing the RAW files. By a process of trial-and-error, I gradually adjusted my RAW files' default in Bridge / ACR to these to give me images which immediately have more punch.
Similarly, if you are just starting out with editing RAW files for the first time, you might find the images look lackluster, and even a touch under-exposed. You would then either through a process more scientific than mine, or by looking at your calibrated monitor, come to settings which look good.
I use Adobe Standard as the profile, since Camera Portrait profile often gave a green-purple color banding in darker areas. Not nice.
Because I don't shoot something as rigorously demanding of accurate color as commercial photography, there is a certain latitude here in my approach to this. I just want the images to look good, while relying on the benefits of the RAW capture.
Summary
With this brief introduction to a RAW workflow, I wanted to help newcomers that may be concerned with or frustrated by their RAW files not immediately popping with color. The idea here then is that it would be necessary to "take charge" and create defaults to your RAW files that give you basic images that look closer to the way you'd like them to be.
Of course, the beauty of working with a RAW file then is that it is impossible to make a mistake. You can always go back if you change your mind, or as discover more about digital photography and digital workflow.