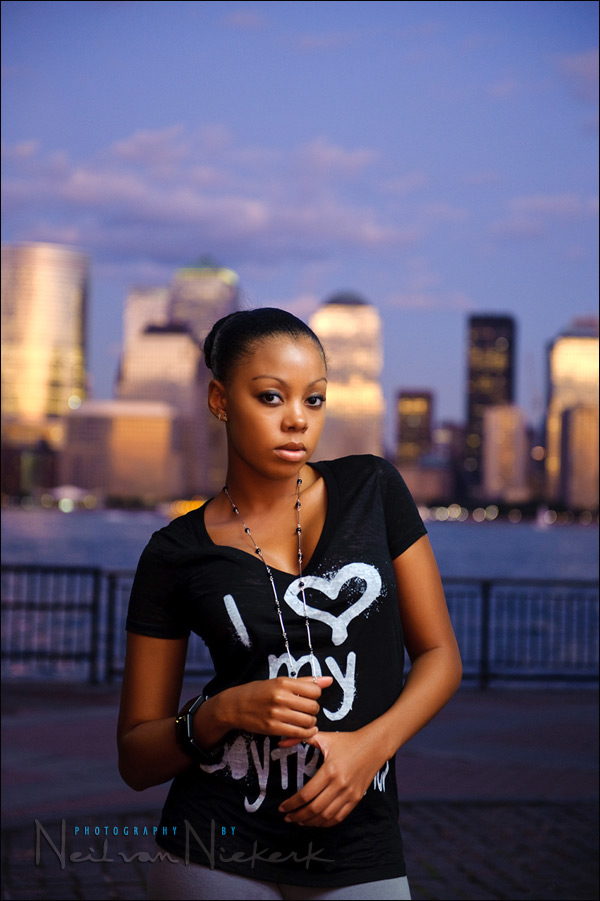 an example of using on-camera bounce flash outside
This photograph of our model, Precious, taken during a flash photography workshop, is an example from the practical session where we used areas outside to bounce our flash off. By adding that bit of light from our on-camera speedlights, we can sweeten the existing light.
Working in the early evening in lower light levels, it becomes easier to get effective light from our speedlight even when bounced off the side of a building.
camera settings: 1/60 @ f3.2 @ 800 ISO – on-camera TTL flash, bounced.
Nikon D3;  Nikon 24-70mm f2.8G ED AF-S (B&H);  Nikon SB-900
My starting point for my camera settings was to expose correctly for the city scene behind our model. Then I added the light from the speed light.
Here is the pull-back shot to show what we bounced our flash off …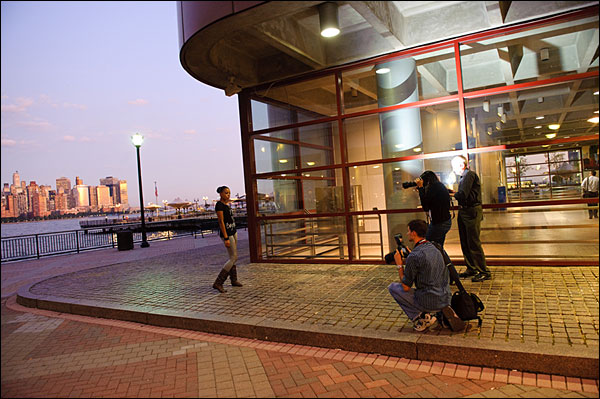 The side of the Path train station in Jersey City.  I bounced my flash a bit more forward of where you see that splash of light from the flashgun – part of the glass side, pillar and ceiling.  I used the black foamie thing to flag my flash so that I was able to bounce it 'forward' towards our model, but NOT get any direct flash on her.  This also gave me that directional look to the light from my flash. Note again, I bounced my flash forward, and not behind me where all the light would've been lost.
The key here is that we specifically posed our model here where there were surfaces to bounce our flash off!