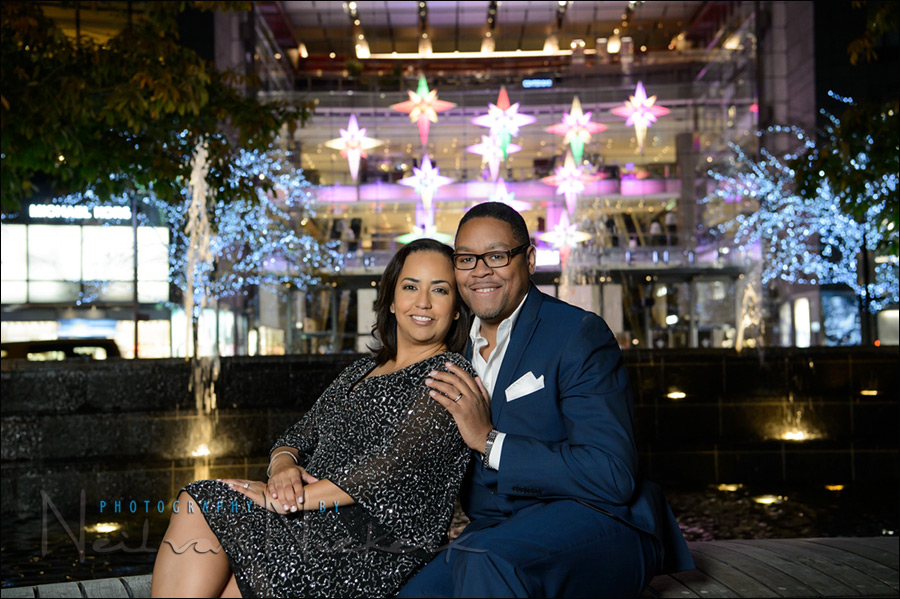 Bounce flash outdoors with a reflector
There are occasions where you really need to work fast with flash – time might be tight, or it might just be too cold outside to linger. After photographing John's surprise 50th birthday party, John and Stacie and I went outside to Columbus Circle for portraits of the two of them. After the high of the party, I wanted to keep the momentum as well by working fast. And since it was mid-November in New York, it was nearly certain that the late night air would be nippy.
I didn't want to use direct on-camera flash – I wanted that diffused off-camera flash look. However, single-handedly using off-camera flash with a softbox on a light stand, might slow the shoot down. So I made the decision here to use on-camera flash, but to bounce it into a hand-held reflector – the Lastolite 30″ / 75cm Trigrip reflector   (B&H / Amazon).
Holding the reflector up in my outstretched left hand, and then bouncing on-cameras flash into it, gave me the look I wanted. Using the new stabilized Nikon 24-70mm f/2.8E VR (B&H / Amazon), gave me more confidence that my one-hand grip on the camera would still give me sharp photos at slower shutter speeds.
Well, doing this gave me the look I wanted to the actual photos … but I'm not sure if doing this made me look super-cool or just dorky.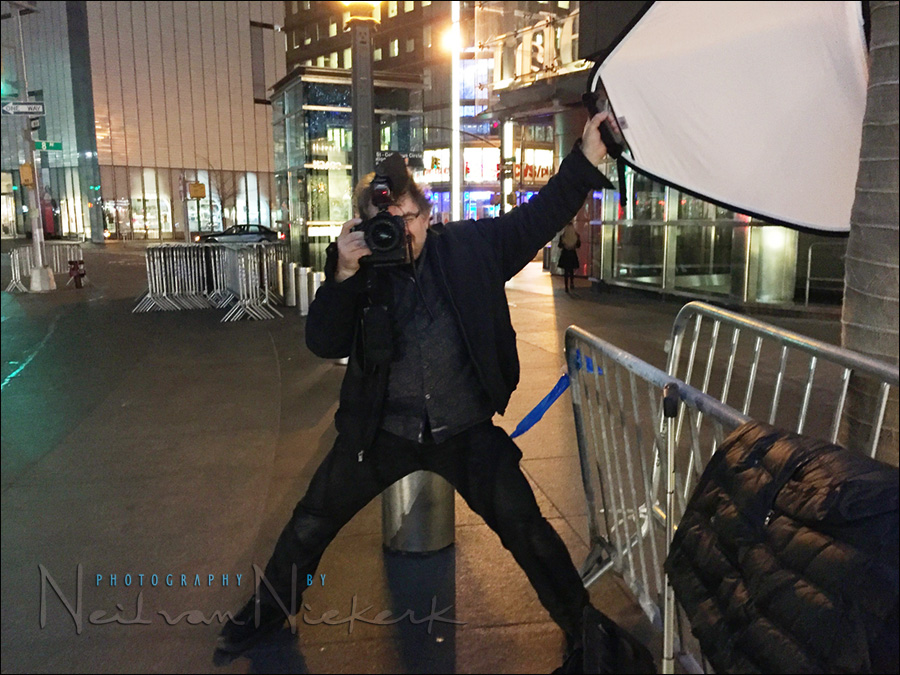 John snagged this for me with my iPhone, so that I can show how I held the reflector. The wide stance was so that I could shoot from a little lower. Also, it made me look … yeah, I'm still not sure if I look all that cool there. But the photos work! Oh, there is a larger 48″ version of that reflector as well.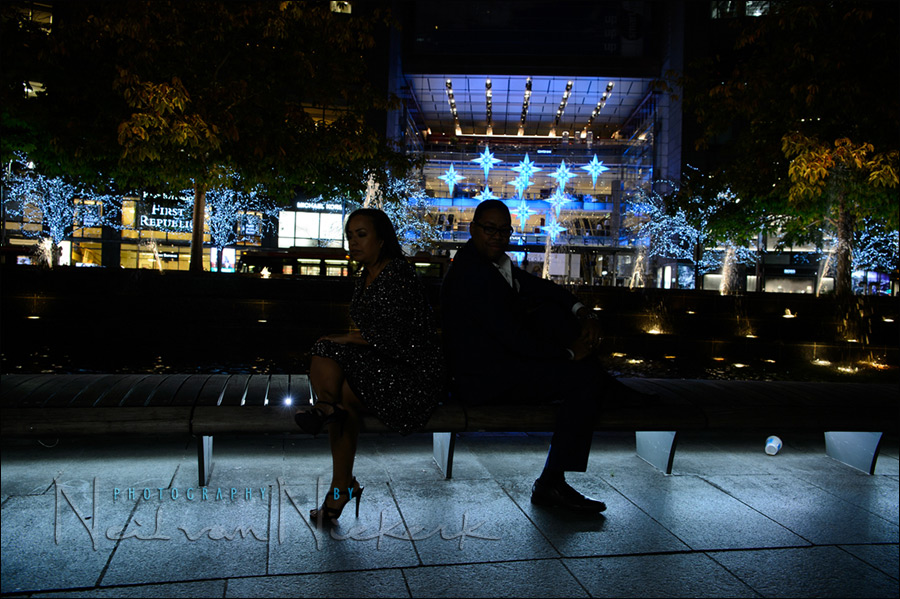 Here is the comparison photo to show the effect of the flash in the main photo at the top.
I had a 1/2 CTS gel on my flash, to bring the city lights to a more neutral rendering. I also used TTL flash, because the way the reflector moved in my unsteady hand, I couldn't rely on manual flash. It had to be TTL flash.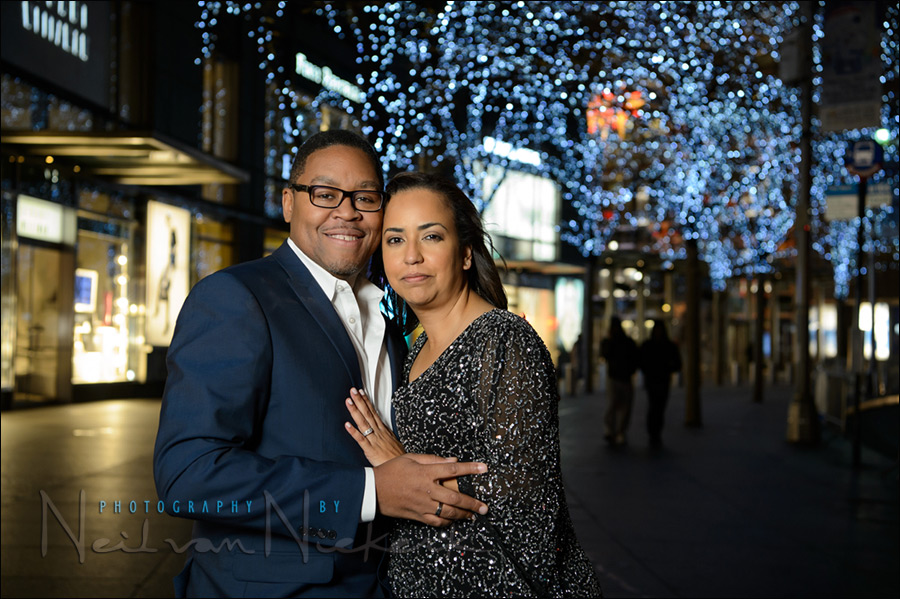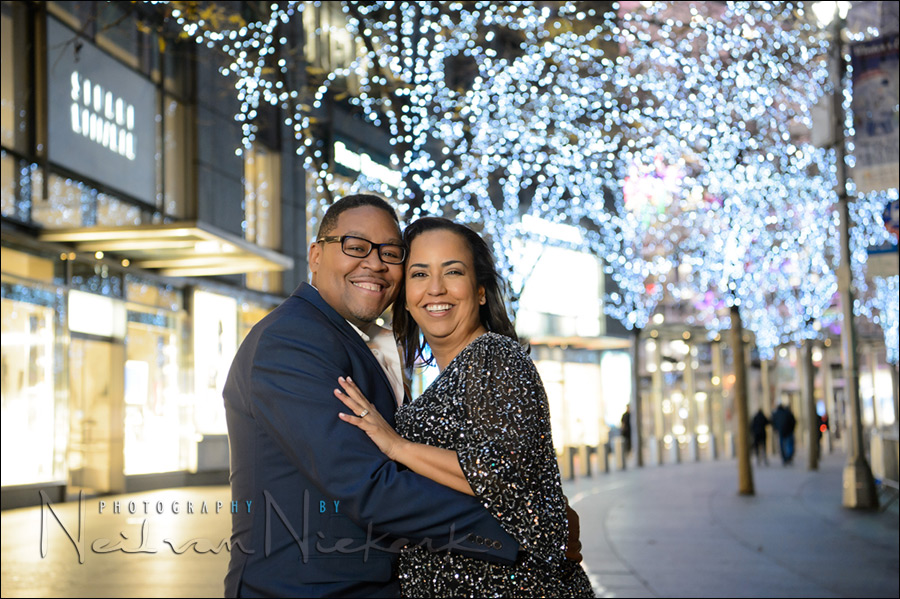 Dragging the shutter to allow more ambient light in, gave the 2nd image a brighter, more airy feel. No right or wrong here – both versions work.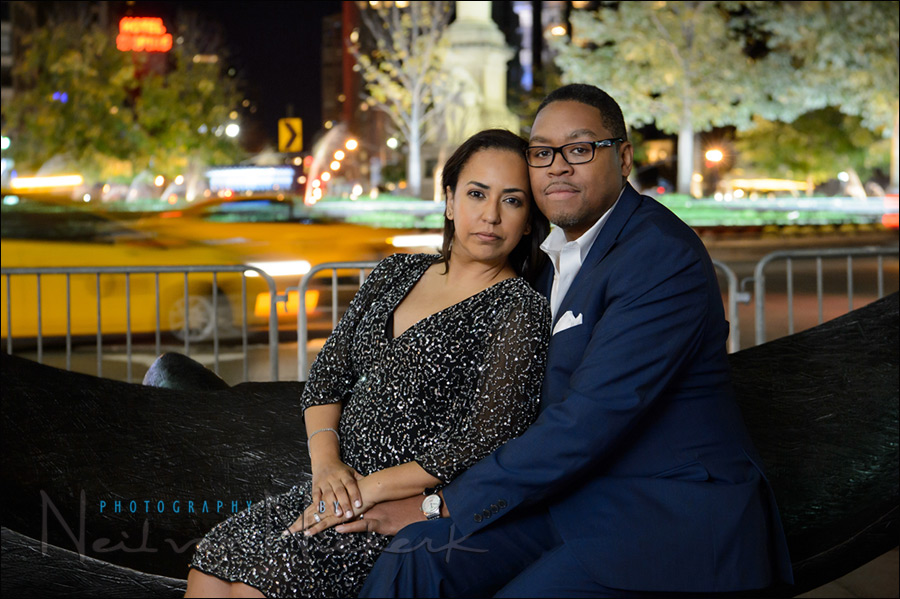 To get the streaking movement of the taxis going around Columbus Circle, I pulled the shutter speed down to 1/13 of a second. Even though the flash helped freeze any of my camera shake here, the stabilized lens gave me even more confidence when holding the heavy camera + lens with just one hand.
Summary
Even though shooting this way gave me some mobility, I lost a number of frames due to under-exposure when the reflector swung in my hand. Not ideal. Still, I think this is a work-able solution in a pinch, or when needing to shoot with less constraint, but still wanting good quality light from a speedlite.
Part 2: Bounce flash off a dark ceiling
About the Nikon 24-70mm f/2.8E VR
There will be some skepticism about the use of  stabilization on a wide-ish lens like this – the  Nikon 24-70mm f/2.8E VR (B&H / Amazon). But the vibration reduction came in useful several times. With this portrait of John, I wanted to use the reflection of the city lights and car lights off this metallic surface.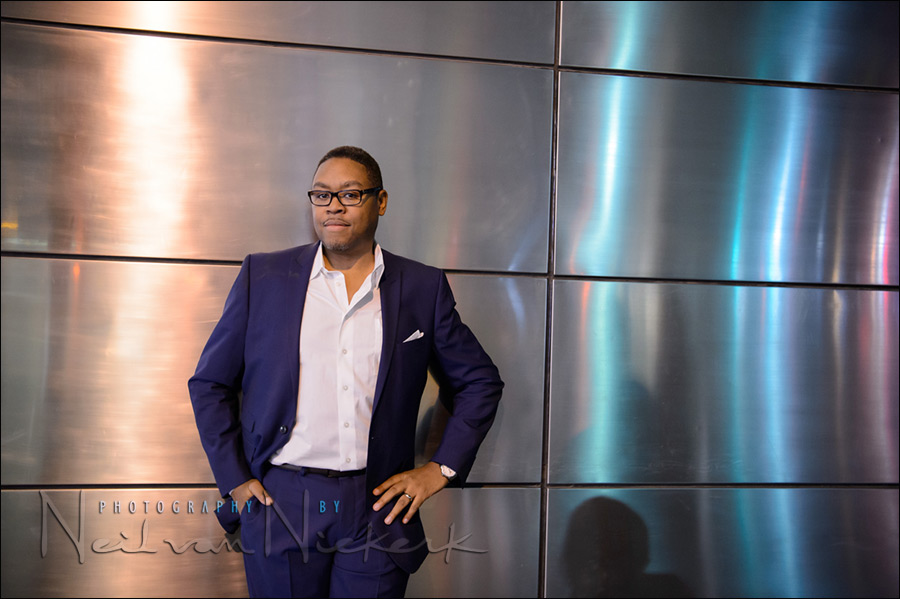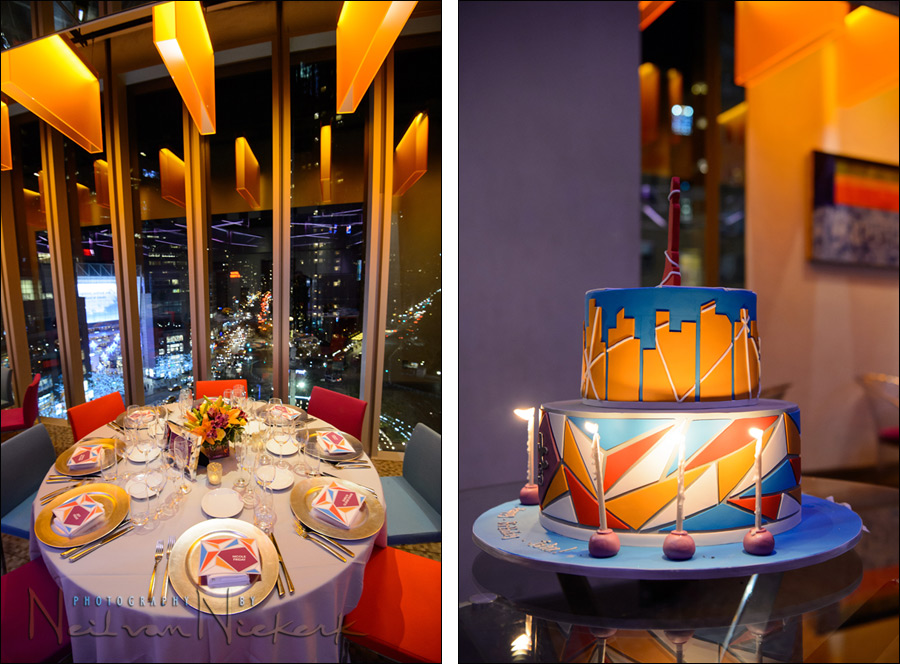 For detail shots of the party at the Robert Restaurant, NYC, I used the available light, retaining all the atmosphere. I'm not a fan of using a tripod – it's extra weight to schlep around, and cumbersome to set up for a variety of photos when time is tight. Usually with this I would shoot with a wider aperture on a prime lens, or machine-gun images to make sure I have a few that are adequately sharp.
Here I used shutter speeds around 1/20th and with this lens, had razor sharp images, hand-held.
Part 2: Bounce flash off a dark ceiling
Related articles