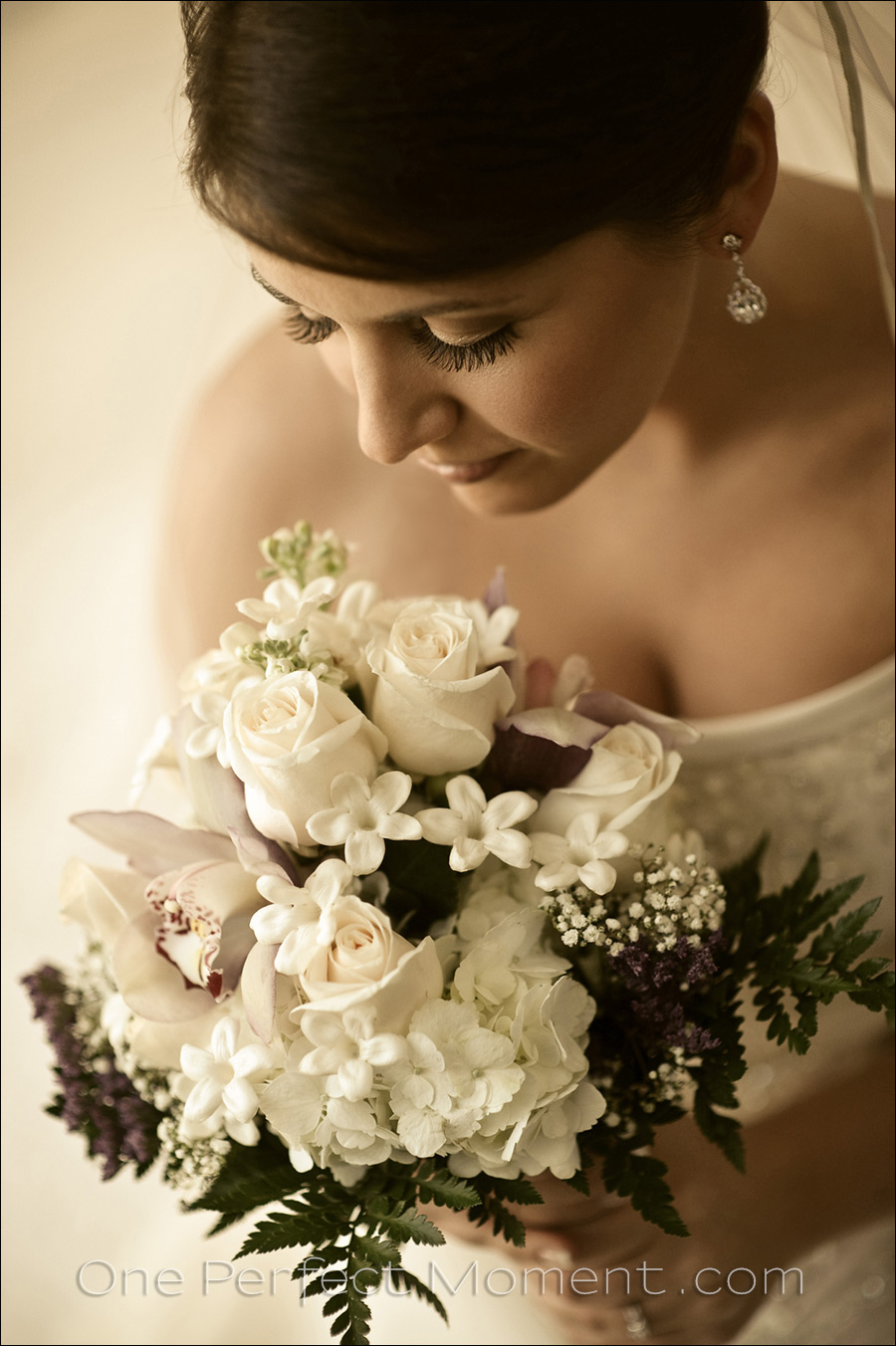 Bounce flash photography technique – mimicking window light
The classic shot – a beautiful bride lit by soft window light.
That's a yes on the beautiful bride – but it's a solid no on the window light.
What you see there is on-camera flash.  (Which most likely won't be a surprise to regular readers of the Tangents blog.)
This image is from a wedding this past weekend, and it makes a great example of how light, choice of lens, composition, angle and technique come together to make an image work. With a bit of post-processing added finally for that vintage feel.
Let's look at the light first .. how I used on-camera bounce flash for my lighting here.
---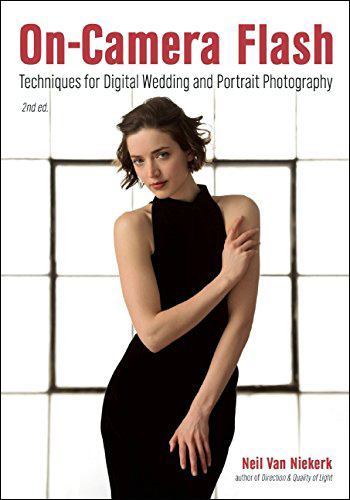 On-Camera Flash Photography – revised edition
This book is explains a cohesive and thorough approach to getting the best from your on-camera speedlight.
Particular care was taken to present it all with a logical flow that will help any photographer attain a better understanding of flash photography.
You can either purchase a copy via Amazon USA and Amazon UK, or can be ordered through Barnes & Nobles and other bookstores. The book is also available on the Apple iBook Store, as well as Amazon Kindle. Also check out the Amazon Kindle store.
Learn more about how the cover image was shot.
---
As is usual when working indoors and I want fine control over how I bounce my flash, I use the black foamie thing.  I had my flash pointing 'straight up' into a vertical position from the camera, and pointed slightly forward.  Which means that with this photograph, my flash was pointing directly to my left, and slightly towards the bride.   But the piece of black foam shielded any direct light falling on her.
The wall that I am bouncing my light off, now becomes my light source.  With a larger area like that, and how it is positioned, it now gives the appearance of soft window light.  Simple.
I stood on a chair over the bride to get this angle, and focused on her one eye-lid.  With the plane of focus, there is part of her bouquet that is sharp too .. but her eyelashes need to be sharp here.
My choice of lens in this instance was the Nikon AF-S 85mm f/1.4G (affiliate)  on the Nikon D3.
My camera settings were:  1/160th @ f1.8 @ 800 ISO,
That f/1.8 aperture means that the Nikon AF-S 85mm f/1.8G (affiliate) would've worked just as well.  And similarly, the Canon EF 85mm f/1.2L II USM (affiliate), or the  Canon EF 85mm f/1.8 USM (affiliate), would've been perfect too.
This first image below is the comparison photo where I disabled my flash, so that you can see what the ambient light levels were at those settings.
Switching my flash on, and being specific about how I bounce my flash, the next one is the image out of the RAW converter, with the WB adjusted.  The skin tones are a little too saturated, but this is a good starting point for me to play around with the image further in ACR / Lightroom.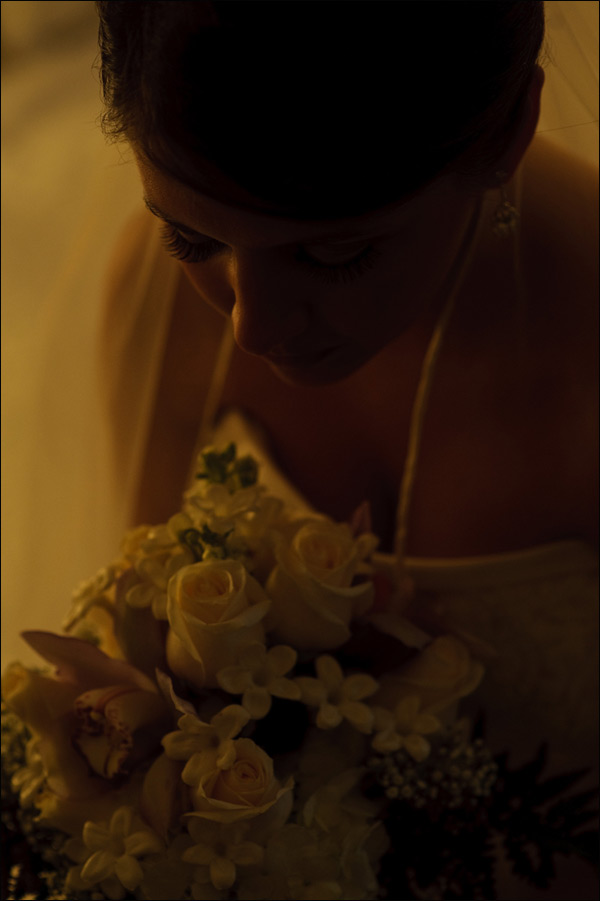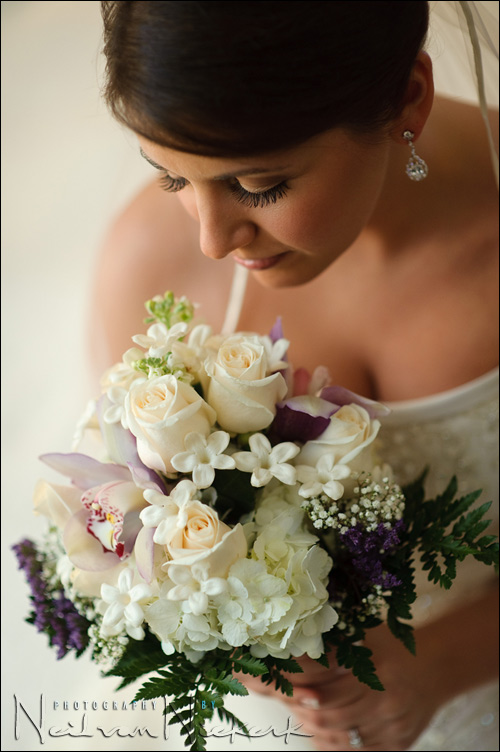 The first thing you will notice is that the colors were muted in the first image at the top.  This is intentionally for effect.  I wanted a vintage feel to the image.  You will also notice that I cloned out the white line that leads from the bride's chin to the flowers.  That's the edge of her veil, and I found it distracting.  Ideally I should've taken care of it at the time by positioning the veil slightly differently.    A few minutes work in Photoshop simplifies it by removing it all together.
To get to the vintage look with the muted colors for this image, I changed some settings in ACR, which is the program I use to edit the RAW file.  It should work similarly for Lightroom.   Since I liked the settings, I saved them as a preset for future use.
I pulled down the Vibrance and Saturation …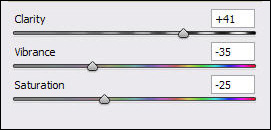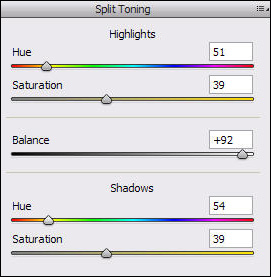 … and also adjusted the settings for Split Toning. There is also a slight vignette that was added in ACR (and editing out the edge of her veil later in Photoshop). The final result is this image, as shown at the top.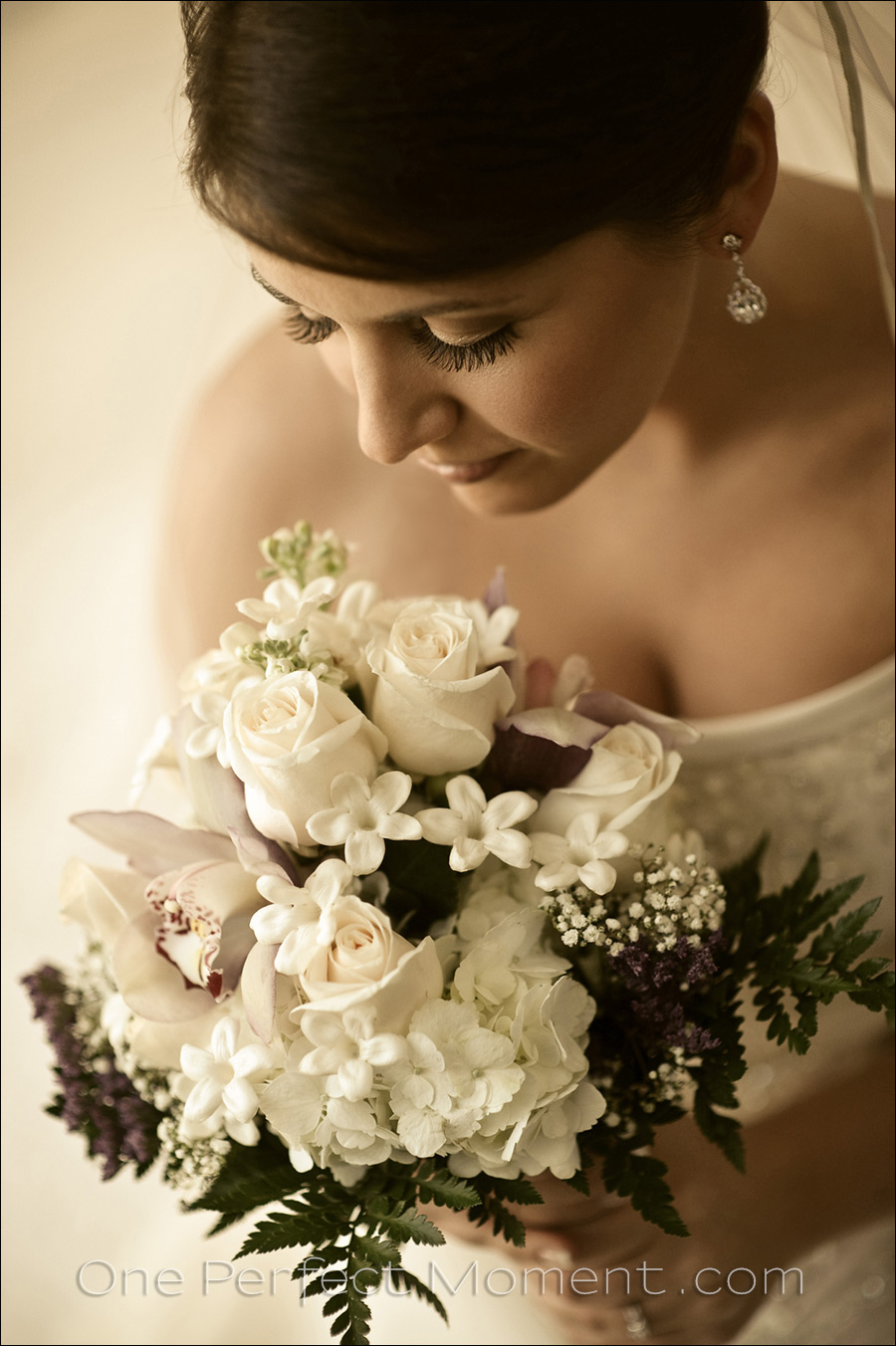 As is most often found, it is an intersect between a number of factors to create an image that has impact.  In this case, (as mentioned at the start), a number of things have to fall into place .. light, choice of lens, composition, angle and presentation / post-processing.
On-camera flash modifier – the black foamie thing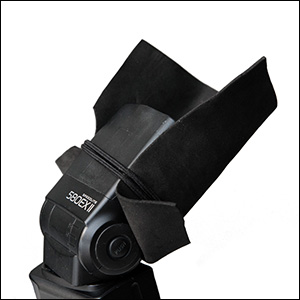 I use the black foamie thing (BFT) as a truly inexpensive flash modifier to flag my on-camera flash to give me lighting indoors that truly look nothing like on-camera flash.The
piece of foam
(
Amazon
), can be ordered via this link. I cut the sheet into smaller pieces.
The BFT is held in position by two
hair bands
(
Amazon
), and the BFT is usually placed on the
under-side
of the flash-head.
The linked articles will give clearer instruction, especially the
video clip on using the black foamie thing
.