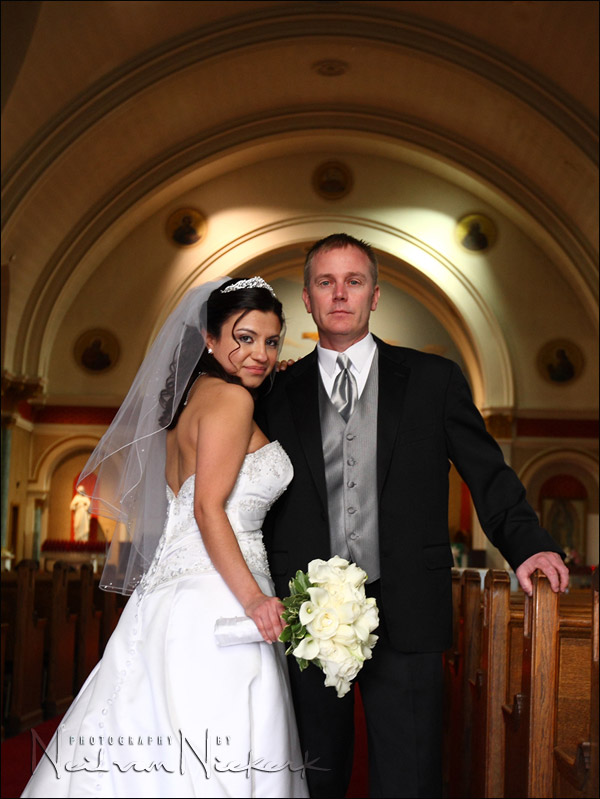 wedding portraits: finding something to bounce your flash off
One of the frequent questions that come up, is what to do when there is nothing to bounce your flash off.  When working indoors and there are bounce-able surfaces around me, my first instinct is to use on-camera bounce flash. It is easy to use, and the results can look surprisingly good, especially if you consider the minimal effort that went into it. No extra gear to carry around and set up. But when there is nothing to bounce flash off, you have to adapt your technique …
With wedding photography, when I photograph the formals of the bride and groom and their families, it is easier though to set up proper off-camera lighting. I usually try that we photograph the formals outside or at the reception venue or somewhere else, but quite often the couple wants the formal photos inside the church. No problem … 1 or 2 flashes with umbrellas set up next to you, and fired with radio slaves, and you're all set. Of course, manual flash in this instance!
Sometimes a couple wants their photos done elsewhere, but at the last moment decide on a few images inside the church of themselves. Instead of running to my van to fetch my lighting gear and take the time to set it up, I'll rely on what I have on hand … on-camera flash. Inside the church though, it is tough to get a decent ISO and aperture for formal portraits, if you're relying solely on bounce flash. Churches are usually just too large for that, and often have walls and ceilings that aren't white.
So … time to adapt. I have to find someplace to bounce my flash off. Here's a neat trick I often use during this situation. Instead of photographing them right there up at the altar, I'll move them all the way down the aisle towards the main door, until I have a wall behind me that I can use for bounce flash.
Then I base my exposure on the background … think of the piano player photo! it's exactly the same deal … and then in manual mode on my camera, get the exposure I want for my background. Then I will use TTL flash bounced off the wall up and behind me to get great light on them. Simple and elegant, and the results look great.
camera settings:
In this example, my settings were: 1/40 @ f3.5 @ 800 ISO
TTL flash (on-camera)
While I could've had a lower ISO because the wall behind me was fairly close, and my bounce flash could've reached 400 ISO for that aperture, I was limited by the available light that I was exposing for.
I wanted detail in the background … and 1/40 was as slow as I wanted to risk it. Flash freezes movement and camera shake if the ambient light is 4 stops or more, under the flash exposure. But with this example (of which I don't have an ambient-only test shot), there was enough available light around that I really didn't want to go below 1/40 hand-held.  (My tripod is in the van along with my Quantum flashes that I use for off-camera lighting.)  f3.5 is a good aperture here, giving a bit more 'bite' to the image than f2.8 would, and 800 ISO isn't a scary high ISO anymore.
So that's about where I decided to balance my settings to get the ambient light to register on the background … 1/40 @ f3.5 @ 800 ISO.
equipment used (or equivalents)
While this was shot with a 35mm lens (on a 1.3 crop sensor), I had to straighten the image in Photoshop, so the image is tighter than a straight 35mm shot would be.
related articles